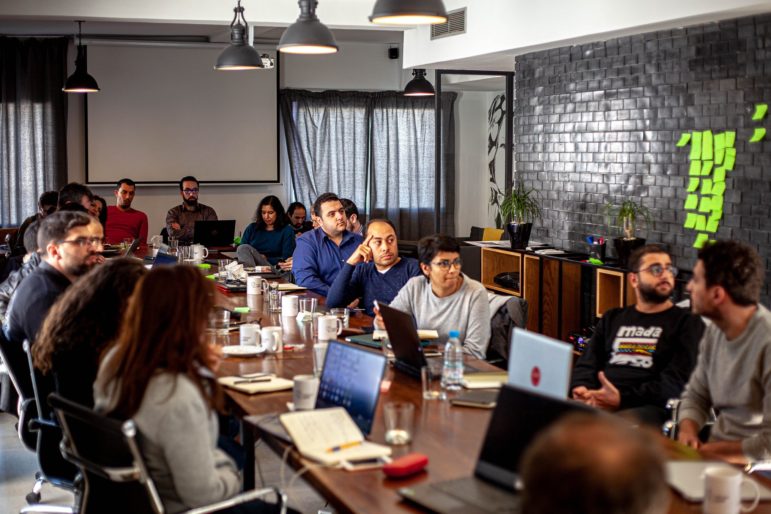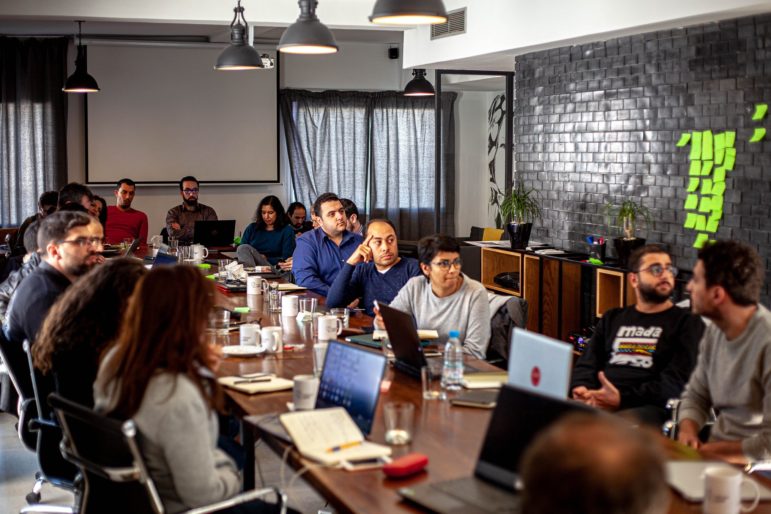 Inkyfada journalists attend a workshop on audience measuring tools at their offices in January 2020. Photo: Courtesy of Inkyfada
The Tunisian Journalists Who Built a Business Model That Frees Them to Investigate
 Français | العربية | বাংলা |中文
Three years after the Tunisian Revolution in 2011, the independent media outlet Inkyfada was founded just as the country was enjoying an unprecedented abundance of free expression: talk shows exploded, dirty laundry was aired, and unscripted opinions flowed.
But Tunisia was also experiencing a dearth of information, says Malek Khadhraoui, director and co-founder of Inkyfada. "Everyone could speak, people wrote editorials from morning to evening. But there was little information [about] what is really happening right now and this system that is collapsing," he said.
The founding editorial team of Inkyfada — a group of journalists who had previously worked together at independent media outlet, Nawaat — wanted to move beyond the polarization between Islamists and secularists that had dominated Tunisia's post-Arab Spring politics and media. Instead of news and opinion articles, they were determined to dig into issues impacting people's lives, like corruption and tax evasion, as well as social issues like terrorism, access to water, and human trafficking.
They set up a nonprofit organization called Al Khatt to be a "space for reflection on the future of journalism in the digital era." In 2014, Al Khatt launched Inkyfada as its primary project.
Telling Stories Big and Small
One of the biggest priorities for the new publication was to invest in state-of-the-art storytelling, says Sana Sbouai, another co-founder, currently an independent journalist and media trainer in Tunis.
This includes delving deep into personal narratives using illustrations, videos, and other multimedia, such as the illustrated testimonies of two Ivorian migrants to Tunisia — one a trafficker, the other trafficked. It also includes macro-level storytelling through data visualizations and interactives, like their first interactive map showing all the terrorist attacks carried out on Tunisian territory since the revolution.
Inkyfada has broken major stories in the years since. Its 2016 investigation into tax evasion among the liberal professions, such as medicine and law, influenced a parliamentary debate on a new finance law. In 2018, as part of the Implant Files — a global investigation into medical devices coordinated by the International Consortium of Investigative Journalists (ICIJ) — Inkyfada highlighted the faulty breast implant operations being performed on medical tourists to Tunisia, and the lack of transparency about the risks of the procedure.
Following the outbreak of the coronavirus pandemic, the team visualized the estimated trajectory of the virus in Tunisia based on the number of confirmed cases in the country so far and the growth rates seen in other countries, alongside data on the insufficient number of intensive care beds available. Inkyfada's color-coded map demonstrating regional disparities in the number of the beds, which are primarily concentrated in the historically privileged north and coastal regions, was widely shared. Other stories produced during the pandemic have focused on how it is impacting migrant workers and domestic staff.
Tunisia imposed a curfew to quell the spread of the virus in mid-March, closing down the streets from 6 pm each evening. While those measures have been eased slightly and some shops and have been allowed to reopen, public transport between different regions is still locked down. The Inkyfada team has had to pause some projects that require travel, such as in-person trainings, but continue to work remotely from isolation using communication tools including Discord, Slack, and Jitsi.
A Model for Maintaining Independence
What differentiates Inkyfada from other publications is its independence, says Monia Ben Hamadi, editorial director at Inkyfada.
The organization is trying to maintain financial independence by reducing its reliance on donors and diversifying sources of income. In 2019, Inkyfada's parent organization Al Khatt earned an impressive 65% of its annual budget of 1.5 million Tunisian dinars (around $524,000) from services sold to other media and NGOs, such as website development, graphic design, and journalism training. The remaining 35% was core funding from donors such as the Open Society Foundations and International Media Support. They do not feature advertising or offer commercial sponsorship.
Inkylab, the research and development team within Al Khatt, is developing investigative tools that can be used in their newsroom, and then later sold to other media outlets as another way to become more financially autonomous. Their content management system inku.be was developed in-house to facilitate creative story layouts and to create bespoke content for other organizations. One work-in-progress is a program to summarize documents and extract pertinent information such as proper nouns and company names.
Inkyfada's team of 18 is multidisciplinary — eight are editorial staff, while the lab consists of 10 developers, graphic designers, illustrators, and a data scientist — and they work in close collaboration throughout the editorial process.
The publication's financial independence was especially important when the staff joined the global Panama Papers investigation into offshore finance, in collaboration with ICIJ, says Ben Hamadi. Their investigation into Tunisians implicated in the investigation stood in contrast to other coverage in the country. "[For example], the media picked up information on [Tunisian politician] Mohsen Marzouk and other political figures, but they did not pick up the information on businessmen that could have caused problems as they finance the media," Ben Hamadi said.
Roxane Farmanfarmaian, a lecturer in international politics at the University of Cambridge, says that Inkyfada's business model has been critical to enabling them to carry out investigations without facing political or economic conflicts of interest.
In Tunisia, like in many other countries, there is a great deal of overlap between media and politics. For example, the owner of channel Nessma TV, Nabil Karoui, ran for president in 2019 and is now leader of political party Qalb Tounes. "[Inkyfada] have maintained their integrity and independence and have been able to do so in a non-politicized way," Farmanfarmaian said.
Reaching Across Divides Through Podcasts
Farmanfarmaian describes Inkyfada as a "pocket of media [that demonstrates] the resilience of young people in the post Arab Spring." She chose the word "pocket" because of the limited size and scope of Inkyfada's audience — something the editorial team is trying to change by experimenting with new media, such as its podcasts launched late last year.
According to Google Analytics, Inkyfada's readers are mostly people between the age of 25 and 45, with a higher level of education and concentrated in Tunisia's three biggest cities: Tunis, Sousse, and Sfax. Around 65% to 70% of readers are based in Tunisia and 15% to 20% are based in France.
The site publishes in both French and Arabic, and soon will launch English articles. But the mainstay of the audience is Francophone, says Khadhraoui. The podcasts are in the Tunisian spoken dialect of Arabic, which they hope will be more accessible to both those who read French and Arabic, bringing their Tunisian audience together. They plan to translate some Arabic-only articles into the Tunisian dialect for their podcast series Inkystories, as part of a project to transform existing articles into audio format.  "This was a super way to solve the language question- – we have different layers of the public with the same product," said Khadhraoui.
https://soundcloud.com/inkyfada
Their first podcast episode since the launch of Inkystories focused on #EnaZeda — which means #MeToo in the Tunisian dialect — documenting Tunisians' personal stories of sexual harassment. The country has been engaged in a national debate about sexual harassment since a politician was pictured apparently masturbating outside a school in October 2019 (he denied the allegations). This is not the team's first foray into audio: in 2017, they produced an audio documentary about a sit-in by unemployed youth near a gas pipeline and oil fields in the middle of the desert.
This year, on the ninth anniversary of the revolution, Inkyfada produced a series on the events of January 14, 2011 from the perspective of various people affected. As part of its COVID-19 coverage, Inkyfada's latest podcast explores the strange collective experience of being alone by zooming in on one person's quarantine, after he attended a party in which one guest was later confirmed as the fourth coronavirus case in the country.
Ben Hamadi says it is too early to measure how successful the podcasts have been in attracting new audiences, but she is optimistic. "Even podcasts on philosophy are attracting incredible audiences and this is a subject that is not usually very accessible," she said. "[Podcasts] make the experience more intimate. [They are] more effective in terms of getting into a universe."
---

Layli Foroudi is a freelance journalist based in Tunis. She writes for The Times, Financial Times, and Reuters, among others. Previously, she worked on Al Jazeera English's media analysis program, The Listening Post.