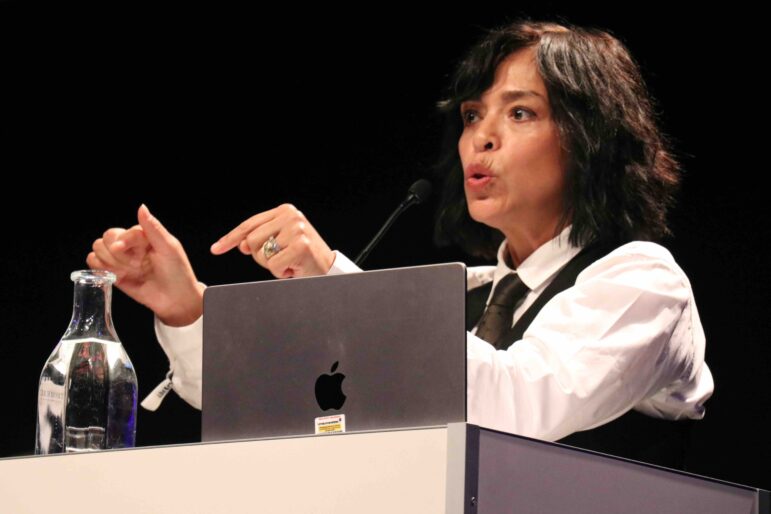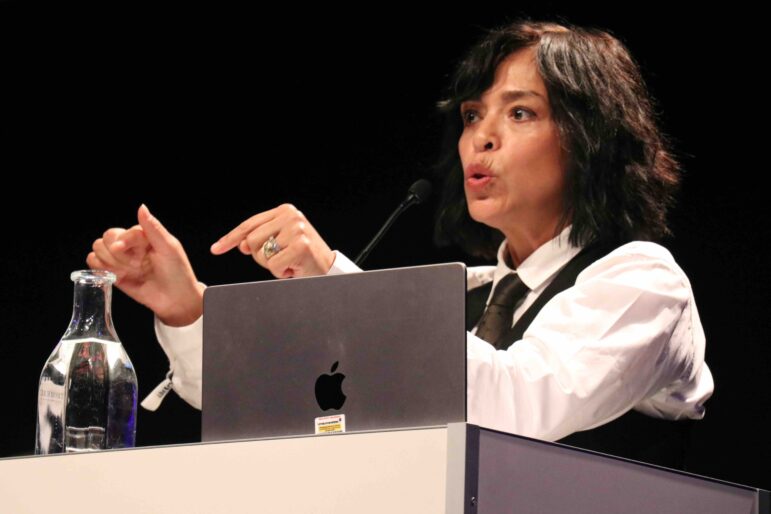 Mexican investigative journalist Anabel Hernandez addresses the New Organized Crime panel at GIJC23. Image: Rocky Kistner for GIJN
The New Organized Crime: How to Catch Up With Criminals
Read this article in
Investigating organized crime is like exploring human nature, argued Paul Radu, co-founder of the Organized Crime and Corruption Reporting Project (OCCRP), as he moderated a panel on the subject at the 13th Global Investigative Journalism Conference (#GIJC23) in Sweden.
Radu, an expert on Eurasian crime and cross-border financial schemes, explained that organized crime is much more than criminal activity — it's a lifestyle. "Despite accumulating vast wealth, these criminals continue to buy stolen goods."
The panel was composed of a collection of veteran journalists who shared their insights on how organized crime has evolved over the past decade and what investigative journalists can do to keep up. Anabel Hernandez has exposed links between drug cartels and government officials in Mexico; Bertil Lintner is an author and expert on organized crime in Asia's 'Golden Triangle'; Giulio Rubino, director of IRPI Media, and IRPI senior reporter Cecilia Anesi have extensively covered Italy's mafia groups.
Rubino discussed the generational shift occurring in Italy's organized crime landscape. Traditional mafia bosses, he explained, once shrewd and influential, are aging or have been caught. This vacuum has allowed a younger generation to rise — although he notes that many of them "are not the sharpest knife in the drawer." The Italian mafia's control over certain ports in northern Europe has slipped to groups from Albania and Morocco, signaling a changing dynamic, he added.
Rubino also noted that criminal organizations are taking a more business-oriented approach. They are investing their illicit profits from drug trafficking in real estate, causing gentrification, and increasing rents. To expose this, IRPI partnered with a think tank at the University of Milan to develop an algorithm to detect sudden capital increases in businesses, particularly cash-based ones such as restaurants. By identifying mafia-linked businesses, they were able to show local residents how they were affected by organized crime-led gentrification. As a result, residents were more willing to cooperate with them.
Hernandez, a renowned Mexican journalist who has spent decades battling the world's most notorious cartels, emphasized that investigating organized crime requires looking beyond the criminal groups themselves. She pointed out that elements of the government, businessmen, banks, and even major international corporations are complicit in various criminal activities. In addition to drug trafficking, these criminal organizations are involved in human trafficking, environmental degradation, and other illegal enterprises.
"In my years of investigating the Sinaloa cartel, I've learned not to rely solely on official accounts, including judiciary and police reports, as they often have vested interests. To uncover the real story, we need to turn to two other key sources," said Hernandez. She stressed the importance of talking to victims and the members of organized crime: "The true investigative work starts after we have these different parts of the puzzle."
Radu also pointed out that professionalism and providing criminals with the opportunity to respond can help journalists establish a long-lasting relationship, but warned that "journalists must be cautious in this endeavor, because the criminals might want to use your channel to attack their rivals."
Lintner shared his experiences dealing with criminals and gang members in the Golden Triangle, including a memorable encounter with "Broken Tooth Koi" — Wan Kuok-koi, a former Triad leader — in a Chinese prison. "You would be surprised how open they can be sometimes," Lintner said, adding that journalists must always consider their own safety, and that of their sources, before embarking on such journeys.
When discussing favorite tools for tracking organized crime, Lintner said there is not much specialized software for investigating such crimes. "But this hardware is essential," he said, tapping his knees. "Hit the streets, talk to people, and be present in the field," he advised. Interact with NGOs, locals, and individuals who may not have the power to take action against crime, but have valuable knowledge about the situation and are willing to share.
Anesi, IRPI senior reporter, said that although criminal organizations in Italy are constantly evolving, their main income is still cocaine trafficking. She also explained the challenges of investigating and infiltrating organizations such as 'Ndrangheta, which is active in Calabria: "It is difficult to convince someone that you are the seventh son."
Anesi also noted the emergence of sophisticated brokers who speak multiple languages and are tech-savvy, changing the landscape of organized crime. A particularly remarkable trend Anesi's IRPI team discovered was criminal organizations' use of fake banks — often shell companies registered in offshore tax havens with fake banking licenses — that allow organized crime groups to invest in financial tools such as bonds.
Anesi stressed the importance of traditional investigative work, but cited leaks such as the Paradise and Pandora Papers as an innovative way to track down criminal organizations. "These leaks have shed light on the flow of illicit money through Switzerland and elsewhere and into real estate investments worldwide. As organized crime operates internationally, journalists must also work cross borders," she said.