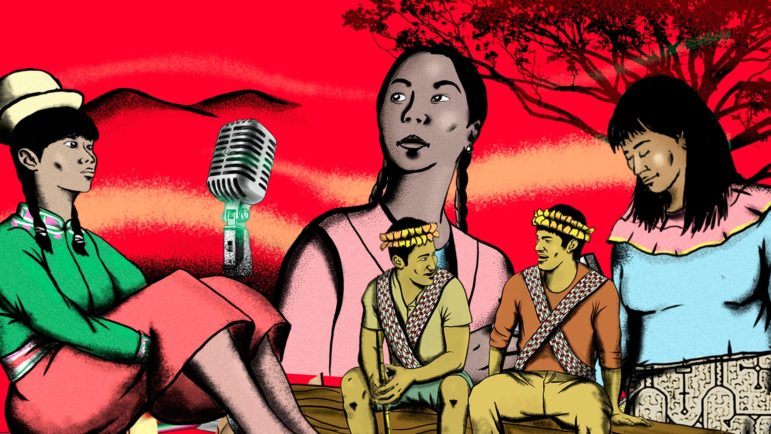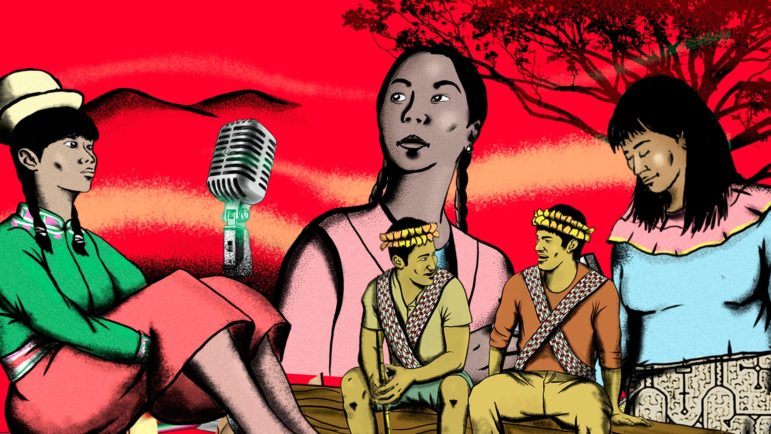 The Indigenous Voices Fighting Disinformation in the Andes and Amazon
Read this article in
An alliance of regional radio stations, backed by Peruvian investigative network OjoPúblico, has begun an unprecedented effort to fight disinformation in Indigenous languages for people living in the Andean and Amazonian regions. To date, hundreds of explanatory pieces about COVID-19 have been created in five Indigenous languages, and broadcast by 15 radio stations in eight different regions. The initiative brings together interpreters, community journalists, and specialists from different disciplines. This is the story of a crusade to combat the pandemic.
One morning in August 2020, Yanua Atamain realized the magnitude of the work she had begun not so long before. She is an Iinia woman and she had begun publishing stories about her identity five years previously. People from her community and areas neighbouring Rioja, in San Martín in northern Peru, where she lives, knew who she was because of the recipes, tales, and folklore knowledge she published on social media. In other places — in Peru, and overseas — she was also seen as a strong voice among the Indigenous people: the nonprofit organization Global Voices named her an important Indigenous languages activist. But it was only on that morning in August 2020, the year of the pandemic, that Atamain understood that her voice could also save lives.
Atamain, who is also an OjoPúblico correspondent in the San Martín region, had agreed to interpret and publish messages about COVID-19 for the project Chequeos en Lenguas (Fact-checking in Indigenous Languages). She would receive articles in which disinformation about the coronavirus was debunked or pulled apart, such as that vinegar can be used to diagnose infection, that mouthwash prevents someone contracting COVID-19, or that the virus can be passed on to babies through a mother's breast milk. She would then adapt this information to her reality, to her worldview, and into her language.  
Through her work, she was able to share a message warning about recommendations from pseudo-scientists and even politicians to take the anti-parasite drug Ivermectin, used to treat scabies and lice, to prevent COVID-19. Some people didn't heed her warnings and got sick, but others, like a 60-year-old Iinia man, did: "It saved my life," he told her when they met walking down the street that morning in August.
By the time that Atamain was broadcasting this information about Ivermectin, 21,921 Indigenous people in the Amazon had been infected with the coronavirus, according to the National Epidemiology, Prevention, and Disease Control Center of the Ministry of Health of Peru. It was also around that time that the nonprofit organization Avaaz estimated that misinformation on the pandemic on social media could reach 500 million personal accounts — a figure around 15 times the population of Peru — in a month. That number is also higher than the total global Indigenous population, which according to the United Nations measures 476 million people in 90 countries.
The alarm had been raised early in the Andean and Amazonian territories of the country. In April 2020, a group of members from the community of El Pilar, in the Amazonian region of Madre de Dios, marched with their faces covered by plantain leaves instead of face masks. Their leaders told an international television network that they were preventing access to their land to stop someone with the virus entering. "Loreto, the largest Amazonian region, is the place with the highest infections after Lima," noted the Interethnic Association for the Development of the Peruvian Rainforest, one of the most influential Indigenous organizations in the Amazon. "We asked for urgent action to prevent tragic outbreaks or even new ethnocides in some groups."
These Indigenous organizations added a key request to their demands for medical attention and better public services: information in local languages, so people could be informed about what was happening regarding the new virus. The situation was being aggravated by the spread of messages containing misinformation about COVID-19, ranging from supposed contagion through 5G telephone antennas, to false treatments using disinfectants, to a conspiracy theory that the government would force on people a vaccine prepared with the mark of the devil (666).
It was in this context that the project Chequeos en Lenguas by OjoPúblico was born. The project seeks to fight mis- and disinformation about COVID-19 by taking an intercultural approach. It is the first fact-checking journalism initiative in Indigenous languages in Peru, and represents an unprecedented effort to respond to the national emergency. The project mostly broadcasts by radio, because it has proven to be a powerful means to inform about self-care, prevention, and the problems that affect Indigenous communities. According to the Third Census of Native Communities, conducted by the National Institute of Statistics, 50.3% of native and farming communities use radio as their main media platform.
A Regional Alliance
Atamain's voice travels through a speaker, the only broadcast medium in Rio Soritor, a locality that notwithstanding its 1,200 inhabitants, isn't geo-referenced in the Indigenous Communities Database of Peru's Ministry of Culture. The speaker is the only means through which local authorities can broadcast important information to members of the community. This December morning, for example, Atamain talks about one of the most widely spread falsehoods regarding the vaccines: "Vacuna aidau canceran sukagtawai tuina duka dekaskechuim," says the message, "It's false that vaccines cause cancer." During the next few minutes, Atamain can be heard giving three facts that debunk the falsehood linking vaccines to cancer, all based on interviews with doctors carried out by the fact-checking team of OjoPúblico in Lima.
"It's a thousand times better to communicate in the native language," says Atamain, suggesting that interpreting not only implies changing words from one language to another. "The Iinia language transmits feelings and thoughts that cannot be expressed in Spanish. I feel I'm making history, resistance, by participating in this project."
In April 2020, OjoPúblico's fact-checking unit began translating the false and misleading information relating to the virus that it debunks every week into two Indigenous languages: Iinia Chicham (known as Awajún) and Quechua in its Collao dialect, which is spoken in most of the Andean southern zone, and especially in the cities of Cusco and Puno. Starting in June, with the support of the Canadian embassy, the initiative gradually included three other Indigenous languages: Shipibo-Konibo and Kukama-Kukamiria, for the Amazonian region, and Aimara, for the Andean region. This happened while the pandemic worsened in different regions, to the point that the National Organization of Andean and Amazonian Indigenous Women of Peru filed a protective action case against the Peruvian state "for placing Indigenous communities at risk during the pandemic."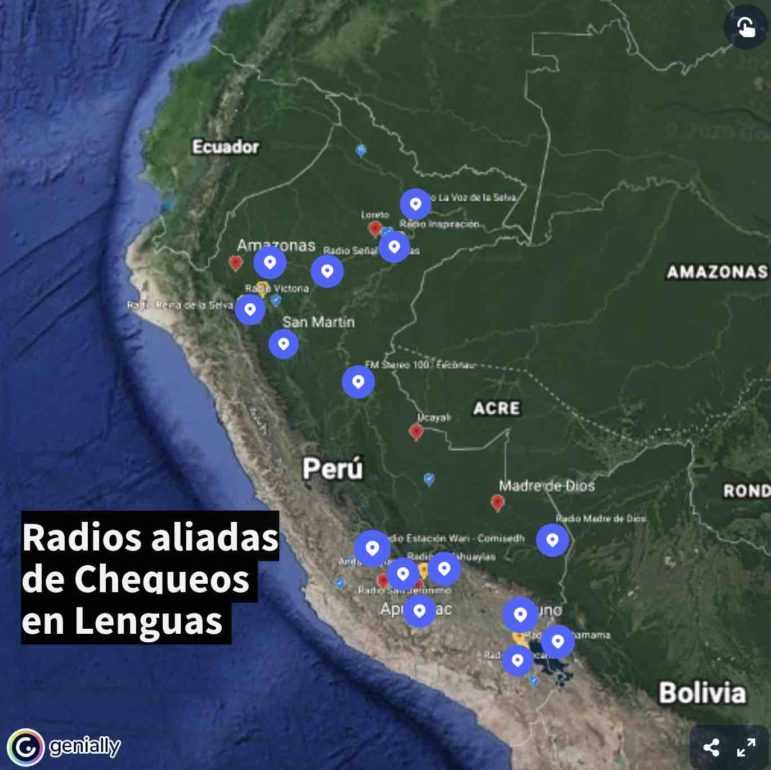 Interactive map: click on this map published by OjoPúblico to see the icons and learn more about these radio stations
The fact-checking initiative in Indigenous languages also included versions in another Andean dialect: Quechua Chanka, which allowed the team to communicate messages containing reliable information to various regions, such as Ayacucho and Apurímac, both south east of Lima.
In June 2020, the Pan American Health Organization said effective communication intended for ethnic groups should be transmitted in Indigenous languages and use accessible formats, "with culturally appropriate messages, using symbols and images whenever possible, validated by the community." Community and regional radios fulfil this function and transmit a wide array of messages: from possible threats, like mining conflicts and social demands, to the current effects of the pandemic.   
To date, there are 15 radio stations collaborating in this initiative against coronavirus disinformation, in at least eight regions in the country, from Loreto in the Amazonian north to Puno, near the Chilean border, from Ayacucho in the south to Atamain's region of San Martín.
In late August, the OjoPúblico initiative strengthened with the creation of a collaborative alliance with regional and local radios whose main audience are people who identify as Indigenous. This group effort led to more than 100 radio transmissions spreading scientific evidence, in a way that is easy to understand, and that counters the string of disinformation that has been heard during the pandemic: that chlorine dioxide cures or prevents COVID-19, that the use of an anticoagulant like Warfarin has positive effects against the disease, that the use of face masks supposedly prevents the intake of oxygen. The effects of this disinformation could even be fatal: one doctor in Arequipa reportedly encountered patients in the emergency room with heavy blood loss as a result of some treatment they heard about on a radio station.
Click here to listen to a message in Iinia Chicham.
Click here to listen to a message in Quechua Collao.
The first radio station to join Chequeos en Lenguas was Pachamama Radio, the Voice of the Andean South, which has a reach of up to 1 million listeners in the Puno region. With 17 years of experience, in September 2019 it was considered to be one of the five radio stations with the highest audience in the region's capital city, which is also called Puno, according to a study conducted by the Marketing Studies and Public Opinion Peruvian Company. It was here that OjoPúblico released content in Quechua Collao and Aimara.
Verification content is transmitted at 4:30 a.m., a few minutes before the main news segment. At this time, rural communities that speak these languages tend to call the radio station to express their concerns. Many of them are people that work in agriculture or cattle farming, and older adults who are not familiar with Spanish. "The radio is a bridge between them and the authorities," says producer Wilber Laquise.
At the other end of the country, in the Amazonian region of Loreto, Radio La Voz de la Selva (LVS), broadcasts verified content to audiences in Peru's largest region and the one that has been most affected by the COVID-19 pandemic. It was the second radio station to join the broadcast of fact-checking in Indigenous languages, and in this case, in Iinia Chicham (or Awajún). LSV belongs to the Social Amazonian Promotion Institute (IPSA, in Spanish). It transmits at a regional level in the mornings and the afternoons, with a reach that extends to localities like Islandia, on the border with Colombia and Brazil.
Every morning, at 5:45 a.m., the fact-checking broadcasts in Iinia are aired in a prime-time news hour conducted by Oraldo Reátegui, the director and presenter. The station covers conflicts related to Indigenous territory, and has dialogue sections conducted by teenagers and young people interested in problems regarding their age group. It also broadcasts debates about national current affairs, sports segments, and even tropical music. Ricardo Dávila, head of radio programming in LSV, told OjoPúblico that its audience is estimated at more than 20,000 people in the region.
During the first part of the year, when the pandemic in Loreto was at its worst stage, LVS doubled down on its efforts to conduct extraordinary coverage in the main health centers, collecting complaints about the absence of medical attention, and producing information regarding prevention measures against COVID-19. The team sought creative ways of spreading useful information.
"We played the song 'Take Each Other's Hands,' by José Luis Rodríguez 'El Puma,' and then Oraldo [the presenter] would say: 'Stop! Before you do, think of coronavirus, and wash your hands,'" says Dávila. They also created messages about social distancing and other measures. "But there wasn't a great deal of reliable information," he recalls.
This was so much the case that many communities feared the arrival of health brigades, because they could carry contagion with them. Since LVS began its alliance with Chequeos en Lenguas, it has broadcast material on topics generating concerns among listeners at different points in time. So they ran segments around the misinformation like: "It's false that drinking water helps you eliminate coronavirus," and "It's false that smelling vinegar is an effective way of detecting the virus." Then they ran: "It's false that young doctors do not catch the virus," and "It's false that the sun and heat protect against COVID-19 contagion."
The alliance includes 13 other radio stations that together create a network of fact-checking around the country. These radio stations are not only transmitting at the regional and local level, but also in digital and alternative channels: in spite of connectivity and internet issues in some areas, most have decided to bet on app development to reach their audiences live. Other effective strategies include streaming platforms on their webpages and broadcasting their programs through Facebook.
The Challenge of Translation
Some concepts don't have a direct translation. There is no Quechua or Iinia word that is equivalent to "scientific" in the modern sense. There also isn't a way to literally translate the expressions "scientific evidence" or "virus" to Shipibo-Konibo, or to Kumama Kukamiria. While part of the world grabs onto the advances of modern knowledge, other communities take refuge in ancestral knowledge. In order to build a bridge between the two when explaining her fact-checking work, Atamain talks to her parents, who help explain some ideas, terms, or situations in her Indigenous community's language.
In the Peruvian Amazon, where only one in five people have access to health insurance (according to the 2017 census), it's important to make an effort to translate medical concepts, such as "virus" and "vaccines." Juan Carlos Celis, the medic who is the head of the Infectious Disease Department of the Loreto Regional Hospital, in Iquitos, found this to be true when he first started work here. "Some people from the communities didn't even understand what a chronic disease was, because for them nothing could affect you during your entire life," says Celis, who was also part of a communications workshop run as part of the Chequeos en Lenguas project. "It's not about literal translations, but interpreting the messages according to the worldview of the Indigenous community," he says. 
Karin Chacón and Ecker Ramos, two Indigenous journalists from Puno, are trying to do just that. She is Quechua Collao and he is Aimara. They learned to speak Spanish in school but spoke their mother tongue at home. They have used their languages to find work: filming spot locations, reading the news on the radio, and creating fiction programs called "radionovelas." Now their voices are heard by thousands of people as they explain why a certain alarmist message is false, or why a given product doesn't cure COVID-19 and, instead, could be dangerous.
"I like this work because I feel people in rural areas can listen to this kind of message and feel less uncertainty," says Chacón, 38, who is also an OjoPúblico correspondent in Puno. One of the most important messages he broadcast was debunking the idea that holding your breath was a good way to detect coronavirus.
In the course of this campaign, cultural gaps between different communities in Peru have been more obvious than ever before. OjoPúblico consulted with experts from different fields that had experience in intercultural communication, to better explain concepts and ideas that have appeared during the pandemic. Linguist Carolina Rodríguez Alzza said it's very challenging to translate some of these concepts to the 48 Indigenous languages which are spoken in Peru. "It's not about translating messages, but adapting the message to the language. It has to be transmitted according to a community's reality," said Rodríguez Alzza, who during the pandemic worked with speakers of Shipibo-Konibo to create terms that could better explain the new disease. This lead to some new phrases being born, like:
Kashi Isin: The bat sickness
Bero maxkobaon oko isin: The cough disease from China
Jakonma isin: The bad disease
One of the main ideas behind this use of language, according to Rodríguez Alzza, is comprehending "language as a way of being in the world and a way of building our diverse identities." In this sense, the project's translators, who know the idiosyncrasies of their communities, have been careful to use language as a tool to breach the gaps.
"The Aimara are very wary, by nature," says Ramos, 24, who next year will work on Jiwasanaka, the Aimara program on TV Peru. "Even though there have been deaths and infections, many didn't believe the disease was real. They said it was a lie. When we began to speak in their mother tongue, they began believing." Through his work, he could explain the symptoms felt by people after contracting COVID-19.
Elizabeth Humareda, a translator in Quechua Chanca for the project, has also tried to do this from the city of Ayacucho.
"I don't like mixing Quechua and Spanish. I always try to use the language I'm working on to explain scientific terms," she says.
Humareda studied business management and since 2015 she has worked as a translator on political violence-related cases, especially for displaced people. According to her, this is a way of healing her own wounds, because she and her family had to flee the community where they lived when it was destroyed by Shining Path [the Peruvian revolutionary organization]. In 2020, Humareda began translating fact-checking messages, a job that brings her satisfaction because her voice reaches remote rural areas. "I'm always willing to help people access information. This is real inclusion," she says. Through her work, she managed to help Quechua-speaking women know that their breast milk didn't transmit the virus, even if they were infected.
Segundo Curitima, a Kukama-Kukamiria translator, believes his work has led to a kind of historical revindication. His parents slowly renounced their Indigenous identity during the 1980's, during the years of terrorism, when people from the city were distrustful of those who spoke an Andean or Amazonian language. First, they left their native community Achual Tipishca, on the Huallaga river, in the Lagunas district, to settle in the Amazonian city of Iquitos. They later assumed an urban lifestyle. Finally, they stopped speaking their mother tongue, even at home. It was only when he was 21, when he studied the Bilingual Teachers for the Peruvian Amazon Training Program, that Curitima became fully aware that he belonged to an Indigenous group. Since then, he has tried to gain a deep knowledge of his traditions.
"Wherever I am and whatever I do, I'm always working on my identity," he says.
Since 2013, Curitima has been an official translator for the Ministry of Culture. His work involves maintaining the Kukama-Kukamiria language, which is spoken by 10,000 people in Peru. He also teaches, and a few weeks ago he began translating the messages of Chequeo en Lenguas that are broadcast by radio stations in Loreto and Alto Amazonas. He does it with such determination that he frequently resists speaking Spanish. When Curitima talks about health, for example, he uses the expression "ima aikua." It means "being well."
Additional Reading
How They Did It: Collaborating Across a Continent on Latin America's Untold Migrant Stories
How a Comic Series Reveals Heavy Metal Poisoning in Peru
Editor's Pick: 2020's Best Investigative Stories from Latin America
---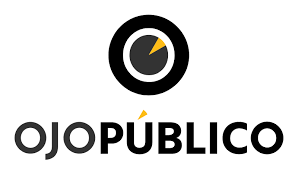 This story was written by Miguel Ángel Farfán and Gianella Tapullima and was published by OjoPúblico. The original story, in Spanish, can be read here. It is republished with permission. This translation is by GIJN's Spanish Editor Andrea Arzaba.