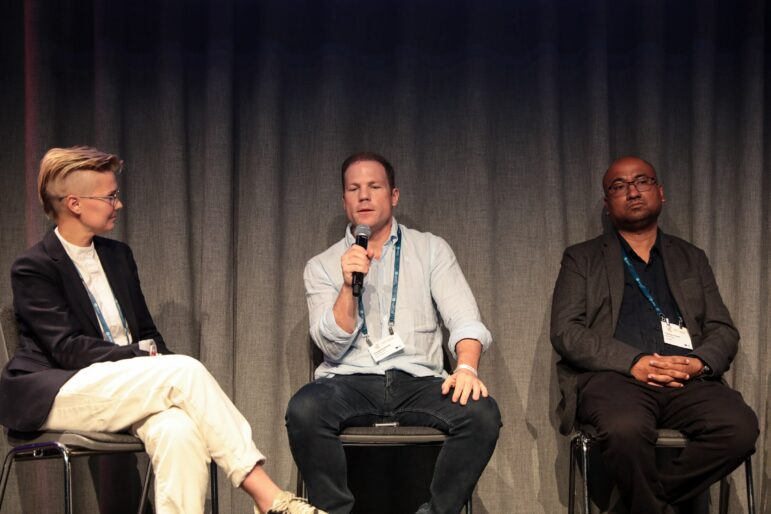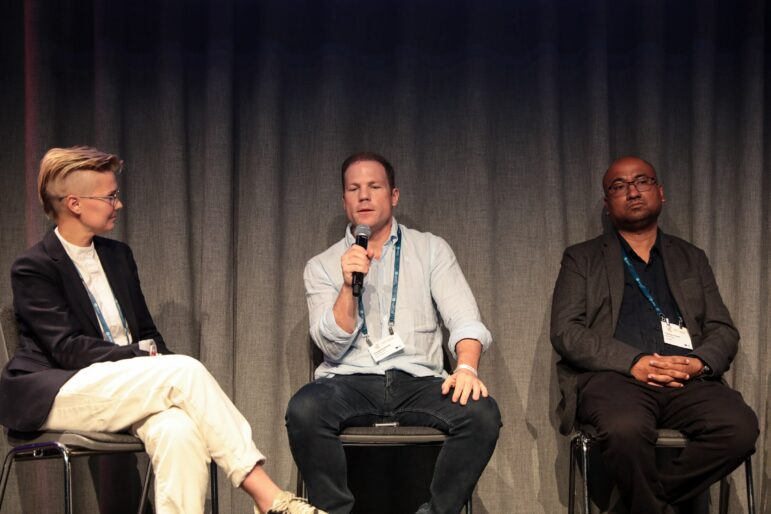 Armando.info's Joseph Poliszuk addresses the Exiled Media panel at GIJC23 alongside Polina Machold (left) and Tasneem Khalil. Image: Smaranda Tolosano for GIJN
Survival Strategies for Exiled Investigative Media — and Any Independent Newsroom
Read this article in
From Myanmar to Venezuela, Russia to Bangladesh, investigative and independent newsrooms are being forced into exile by authoritarian regimes.
Whether facing legislative threats or blocked websites, the decision to work in exile is a decision to keep investigating and keep publishing journalism — but doing so comes at huge personal cost, brings emotional and physical stress, and can throw previous operational and business models into disarray as staff and newsrooms move countries.
At the 13th Global Investigative Journalism Conference (#GIJC23), Polina Machold, publisher of investigative news site Proekt, formerly based in Russia, and exiled Bangladeshi journalist Tasneem Khalil, founder of Sweden-based Netra News, shared their first-hand experiences of running a newsroom in exile and the business, personnel, and editorial strategies needed to survive — and deliver groundbreaking investigations.
Planning for Crises
All speakers recommended having an emergency action plan in place before a crisis hits, covering what happens if a reporter is arrested, if your newsroom is under cyberattack, if you need to relocate, or other emergency scenarios. Base it on your evaluation of legal, financial, physical, and digital risks, and update them periodically, said Machold.
Think about what the "last signal" would be before putting that emergency protocol into action, she added. For Proekt, the moment came when it became the first Russian media outlet to be labeled an "undesirable" organization by the state in June 2021. The newsroom engaged its emergency plan and took the following immediate steps:
It moved people out of Russia securely.
It shut down its legal entity.
It unlocked an emergency fund it had been saving up.
Crowdfunding/donations — that could endanger potential donors — were stopped.
It reached out to partners for help.
An office was established in a new location.
Then breathe and think what to do next, said Machold: "Have an emergency protocol even if you don't consider yourself at risk of going into exile."
Relocation and Your Network in Exile
Part of your emergency plan should involve having all staff passports and visas up-to-date and ready to use. Proekt originally relocated to Georgia, but after some team members were refused re-entry after business trips, its staff in exile now work from five or six different locations. Maintaining geographic proximity can help operationally and boost morale, Machold suggested.
When planning your emergency fund, include money that will help people who are relocating — for rent, taxes, and other logistical costs. Renting an office space for your relocated newsroom can also help teammates feel safe and better cope with the transition.
Learn the codes of conduct and legal and business requirements of the country to which you have relocated, added Netra News' Khalil: "Forget that you are an exiled newsroom; to all intents and purposes you are a newsroom in the country that you are based in."
Having a network of international friends and allies can help exiled media survive too. Netra News got a takedown notice from Facebook just hours after its launch in December 2019; someone had sent a fraudulent copyright notice to Facebook asking for Netra News' page to be taken down, said Khalil. By contacting one of the top cybersecurity experts in the US, they were able to resolve the issue. Connecting with media foundations and organizations such as Citizen Lab, Access Now, and Qurium — which also provides secure hosting — can provide a lifeline.
Dealing with Pushback
Of course, leaving your home country doesn't mean that you're going to stop investigating the people or regimes that led to your exile. It also doesn't mean they are going to stop targeting your newsroom. Prepare for the pushback, said Khalil. Expect takedown notices and fake copyright infringement notices to be sent to you. In Netra News' case, investigations into the newsroom have been run by pro-regime media.
Netra's website is blocked in Bangladesh; Netra News uses a Google Mirroring service to reach audiences there. To block the mirroring, the Bangladesh government would need to block a large part of Google's infrastructure.
"Use your adversary's power against them," said Khalil. In late December 2019, Netra News published an investigation into the luxury watches of a prominent Bangladesh government minister. The government responded by banning its website in the country — a move that was reported on by international media. "No one knew about Netra News before that," said Khalil. "By blocking our website the government hands over the biggest PR victory we had had."
Make Security a Priority
"Don't think of it as paranoia — you are investigative journalists. You are in danger whatever country you are in," said Proekt's Machold.
Redeploy old technologies — especially for media working in a hostile environment — and consider using burner phones, for example.
In an emergency plan and beyond, consider the security of those connected to your newsroom, from the audience and partners to team members' families. "Give every resource possible to a journalist so they can evaluate the risks," said Machold. "I can't decide for an author whether they work on a story or not."
Proekt still works with freelancers in Russia, so it thinks carefully about how it pays those freelancers to ensure those transactions won't allow Russian authorities to identify them as people working with a banned media outlet. Payments via cryptocurrencies could be explored, but only if it allows payments to be anonymized. A system involving several "air gapped" contacts to get money to freelancers — where each link in the payment chain doesn't know who is involved in the next stage of the transfer — should be established.
Reuse and Recycle
When it comes to tools for creating and publishing investigations, make open source materials and recycling "your best friend," said Khalil. "You don't have the deep pockets of a mainstream newsroom," he said. "You need to find things that you can reuse — video templates, music collections. You don't have the budget to do things from scratch."
Rethinking the Relationship with Your Audience
Exile may change the audience you can or want to reach. For Proekt and Netra News, reaching audiences and decision-makers in their home countries remains the focus. Proekt lost its distribution channels to that audience overnight when Russia forced it to relocate and blocked its website. It is now using YouTube and Telegram to circumvent censorship and restrictions and reach a domestic audience.
Despite operating from Sweden, Netra News has a one-person audience in mind, said Khalil: "The prime minister of Bangladesh with a briefing [about a Netra story] that makes them say 'Shit!' If you can maintain that focus, you will produce impactful stories."
Moments of crisis, such as a raid on your newsroom, website shutdowns, or forced relocation can be good times to ask your audience for support, if it is safe to do so. You may need to provide payment options that won't put donors at risk of identification.
"It not only brings you additional income, but also shows the importance of your work," said Machold.