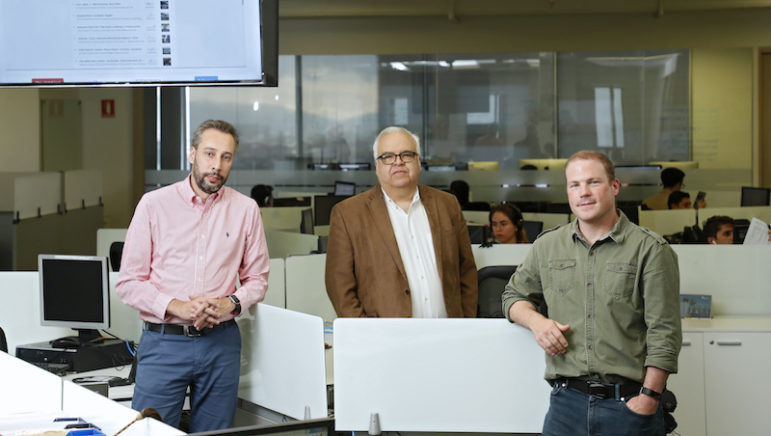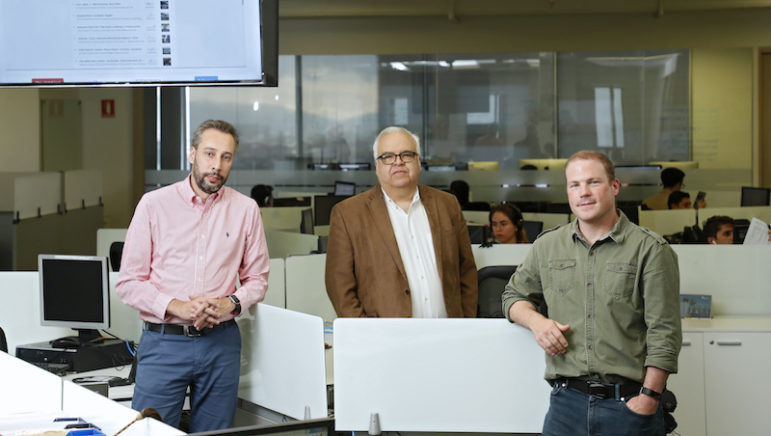 Editor's Note: The Global Investigative Journalism Network has 185 member organizations in 77 countries. Many work on the front lines of independent media and innovative journalism. In this series, we look at the extraordinary work they're doing and the formidable challenges they face, from financial survival to attacks on press freedom. This week we profile Venezuelan online site Armando.info. Co-founder Ewald Scharfenberg will be a featured speaker at the Global Investigative Journalism Conference this September in Hamburg.
---
On a Monday morning in June, Joseph Poliszuk and Roberto Deniz, two journalists from a Venezuelan investigative website called Armando.info, gathered for their editorial meeting. There was no buzzing in a crowded room, no board to write down the assignments of the week, just two steaming cups of coffee, pastries, and an old laptop on a dining table in a recently rented — and nearly empty — apartment in the north of Bogotá, Colombia. For more than a year, the two journalists have only been able to meet with their newsroom in Caracas via an encrypted video-conference software program.
Through a confidential Internet link, journalists in Caracas, in Bogotá, and in Miami gathered virtually to discuss angles for their upcoming stories and share their worries.
"It's safer than Skype," said Poliszuk, one of the founders and the editor of Armando.info, who, along with Deniz, a reporter, and Ewald Scharfenberg and Alfredo Meza, editors and co-founders, had to leave Venezuela in a rush. In early 2018, the entire editorial team of Armando.info was on the brink of being arrested — a reliable source tipped them off. A criminal defamation lawsuit had been presented by a lawyer who represented Alex Saab, a businessman with close ties to President Nicolás Maduro, whom Armando.info was scrutinizing closely.
Months before, in a series of articles, Armando.info revealed how Saab and his partner, Álvaro Pulido, controlled Claps (Local Committees of Supply), a flagship government program to provide subsidized food to impoverished Venezuelans. (In 2017, Venezuelans reported losing an average of 11 kilograms in body weight and almost 90 percent now live in poverty, according to a survey.) Saab and Pulido allegedly were making a fortune by selling overpriced, low-quality products. It seemed like a big scoop, but Armando.info's staff didn't expect much to come of it: They had grown used to the fact that their investigations did little damage to a regime that seemed immune to criticism, accountability, or revelations of corruption within its fiefdom.
However, unexpectedly, the Claps story caused a harsh response from Saab who, six months after the first of a series of stories, sued them. The judge prohibited the reporters from mentioning Saab again but, according to Deniz and the others in the lawsuit, the court has not allowed their attorney to review the file.
"I couldn't believe it," Deniz said, recalling the morning when, as he was leaving home, two plainclothes police officers approached to notify him of the lawsuit. That week, he had received threats on Twitter and some of his personal information was revealed by anonymous accounts.
"It's a sort of sophisticated censorship," said Poliszuk. "But it is not the one that worries me most."
He said Armando.info's website has been the target of constant cyber attacks, a situation increasingly common to other independent news outlets, as reported in a 2018 study by such organizations as the Open Observatory of Network Interference (OONI). Armando's reporters in Venezuela use a satellite Internet connection, since the only Internet provider is state-owned and, they believe, it can compromise their privacy (besides having poor service).
Events came to a head in Venezuela when the team was tipped off to a potential attack on their headquarters (a house in Caracas) and a possible attack against one of their reporters in Bogotá.
"The information came from a source of total credibility," Scharfenberg said, adding that they had to evacuate their newsroom in Caracas.
With a crumbling economy and prolonged political turmoil, Venezuela is on the brink of becoming a failed state. Industrial capacity has been dismantled, health services have collapsed and inflation has surpassed a ludicrous 1,000,000%. In the past five years of Nicolás Maduro's rule, the GDP has been roughly halved. Economic agony has sent more than four million Venezuelans into exile, according to UN estimates. Some 1.5 million have crossed the Colombian border, setting off the worst humanitarian crisis in the region.
Armando.info's Claps series gave the organization wide visibility, although for three years the website had broken other big stories: how military personnel were being fed with government contracts; the Venezuelan chapter of the Panama Papers; the bribes of Odebrecht, the Brazilian infrastructure firm that financed political campaigns; and an HIV epidemic among Waraos indians in the Orinoco delta.
"Armando.info is part of a boom of independent digital news outlets that came as a reaction to 20 years of 'Chavismo' and restrictions to press freedom and censorship," said Marianela Balbi, director of Instituto Prensa y Sociedad Venezuela (IPYS), a journalism NGO that promotes freedom of speech and access to public information in the country.
President Hugo Chávez (1999-2013) government started trying to control news organizations that were critical, a strategy that his pupil Maduro continued. In 2013, Globovision, a major TV station, and two important national newspapers, El Universal and Últimas Noticias, were bought by people close to the regime. The same happened with radio stations across the country. In addition, the government has restricted access to paper, a move that has pushed several newspapers to close.
According to IPYS, in 2018 alone, 26 newspapers stopped circulating and 20 of them closed permanently. Since 2013, 55 newspapers have disappeared.
Maduros's power depends largely on an amalgam of support by the military, who enjoy abundant privileges; constant rhetoric against the US and its allies; and a brazen silencing of any form of opposition or criticism, including the imprisonment of political adversaries. Despite a fall in production and exports, oil revenues allow Maduro to cling to power.
Armando.info was the first digital journalism start-up in Venezuela to try crowdfunding. In its first campaign, the group collected 40% of its $10,000 goal. Today, its $200,000 annual operation is mostly financed by grants from the Open Society Foundation, a global philanthropy fund, and the National Endowment for Democracy, a US government-endowed fund. It is also experimenting with a membership model.
"Keeping it up has been the labor of ants," said Scharfenberg, the most veteran journalist at Armando.info and a seasoned reporter who worked for El País of Spain and Reporters Without Borders. In five years, Armando.info has published some 500 stories and the journalists still feel they work for a niche audience. "Investigative journalism is meant to generate change in society," Scharfenberg said. "But in Venezuela right now, that is totally impossible."
Under an authoritarian regime, their stories have little impact in terms of judiciary action or political change but, Scharfenberg said, they rock the boat of the top leaders and their entourage. "We are documenting what happened in Venezuela during this period of history; if something changes in Venezuela in the future, that information can become valuable," Scharfenberg said. "That's our daily motivation."
"Armando.info focuses on investigative journalism, and is distinguished from others for its emphasis on data journalism and transnational stories," Balbi explained. Once alone in the field, Armando is now joined by other Venezuelan digital media that do investigative work: RunRun.es, Efecto Cocuyo, and El Pitazo.
The job of these gutsy outlets plays a vital role in Venezuela today, as the government withholds such crucial public information as homicide rates, public health data (there is a growing trend of malaria, according to the Pan American Health Organization), and even oil production. Until recently, Central Bank inflation figures were not public.
"We have a military regime, so secrecy excites them a lot," Scharfenberg said. "Official information has become a mystery — even the most basic information."
That is also why Armando.info runs a good number of public databases — some they have built and others they have "scraped." Its data sets include records on Venezuela's Supreme Court sentences, a national register of contractors, and a list of the country's judges.
Most of Armando.info's website traffic comes from Venezuela, followed by the US, Spain, and Colombia, the main destinations of Venezuela's diaspora.
"Readers don't necessarily reward the effort you have invested or the methodology you use in a story," Scharfenberg observed. One of its most read stories, for example, was a relatively straightforward report using US public databases. The team exposed the Venezuelan owners of apartments in the luxurious Porsche Design Tower in Florida, a recurring destination for the "boliburguesía," the new oligarchs that have blossomed during the last two decades of Venezuela's so-called Bolivarian revolution.
"Our stories are transnational because corruption in Venezuela is transnational," Poliszuk noted.
Keeping a newsroom running from abroad is sometimes hard. "You have to maintain a newsroom spirit, but it is not easy," Poliszuk said after finishing the virtual editorial meeting and closing his laptop. "We currently work with reporters that we haven't been able to meet in person." Most of these reporters are young; they work out of the headquarters in Caracas.
Since they arrived in Bogotá, the exiled journalists of Armando.info have been hosted in the newsroom of Semana, a Colombian newsweekly. They say that Semana has given them an umbrella of confidence, respectability, and protection, as well.
"Having the Armando team sitting in our newsroom has been a way of keeping a source of information from a neighboring country where truth is withheld by a despotic regime," said Alejandro Santos, Semana's managing editor.
Doing journalism in Venezuela today is difficult not only because the government has clamped down on the free press, but also due to rough conditions for classic shoe-leather reporting.
"There is no transportation, no food, power outages, day-long lines for gas, a massive devaluation that makes currency impossible to handle, and credit cards are unreliable," Deniz said. He added that his colleagues, like millions of Venezuelans, are "mentally exhausted," overwhelmed by the shortages in nearly every aspect of their daily life.
Despite this situation, Armando.info's exiled journalists said that they intend to go back to Caracas the minute they can. Working from Bogotá has, nonetheless, offered some advantages.
"I got in touch with sources that also had to flee, and I have cultivated new ones I never imagined," Deniz said.
Bogotá has become a convenient haven for a lot of high-profile exiles, such as Luisa Ortega Diaz, a former Attorney General, various judges from the Supreme Court, opposition figures, and military defectors.
"I didn't expect this to last so long," Poliszuk said, recalling that it's been more than a year since he and his colleagues left Venezuela. So far, there are no signs that they will be able to return soon. But he wishes he could: "In Venezuela there is a pervasive scarcity of almost everything, except news," he said.
---

Lorenzo Morales is a Colombian journalist and editor of Fondo ODS, a fund to support stories on sustainable development in Latin America. He previously worked as an editor at the weekly Semana, on the investigative team at Radio Nacional de Colombia, and at Cerosetenta, an online magazine he founded. He teaches journalism at the Universidad de los Andes in Bogotá.