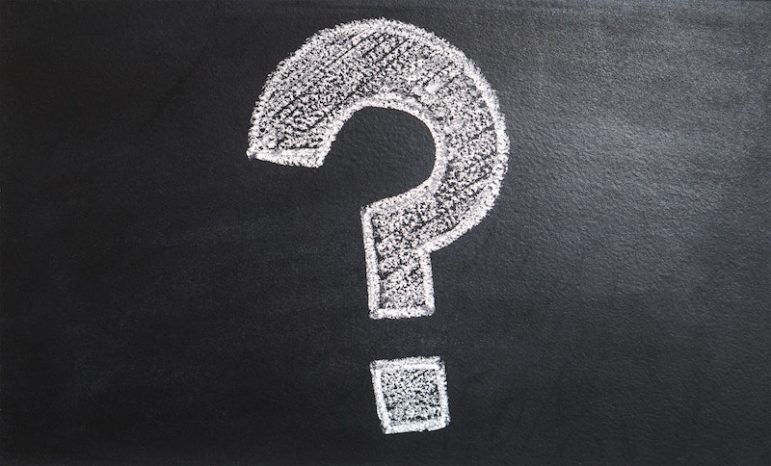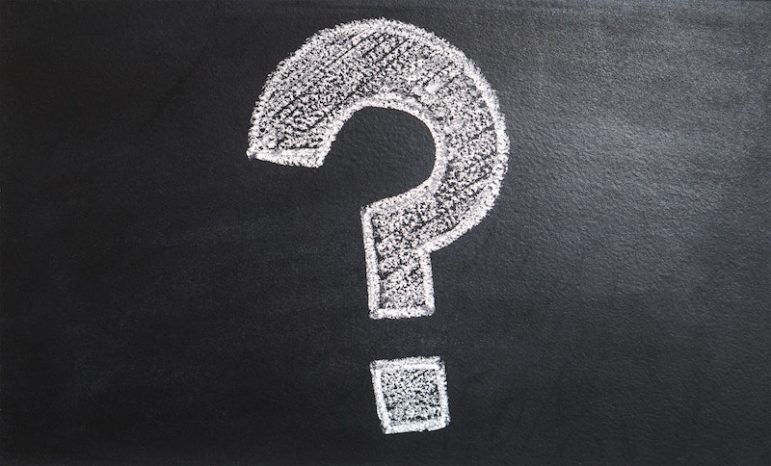 Now Taking Your Questions: Ask ProPublica Illinois Shows Readers How Journalism Works
Editing and re-editing stories is part of life for journalists. Reporters are trained to do their best to minimize errors and make sure every fact is accurate.
Of course, mistakes still happen — journalists are human, after all — and in many cases that's all readers see. They get frustrated by the typos without understanding all the work that goes into editing and fact-checking stories.
That's why Gale R. Greenleaf, a ProPublica Illinois reader, recently asked the site about how journalists catch typos. "Are there no more human eyes on the prize? What the Hades is going on?" she asked.
The question was asked as part of Ask ProPublica Illinois, a series the Illinois-based ProPublica site created last year to shed light on how journalism actually works.
"I share your frustration … But the problem, to my mind, is not that there aren't human eyes on the prize, as you suggest, but that there are. We're painfully human. We make mistakes," deputy editor Steve Mills wrote in response, explaining the challenges of publishing in the digital era and how editing staffs have been cut back.
This question was among more than a dozen ProPublica Illinois has answered from readers since it started the series last year.
In this piece, Solution Set, the weekly report from The Lenfest Institute for Journalism, digs into Ask ProPublica Illinois to learn the thinking behind the project, how the site manages it and how it helps promote transparency.
Here's the TLDR (Too Long; Didn't Read) version of what you need to know:
TLDR
The Challenge: ProPublica Illinois wanted to help its readers better understand how journalism actually functions while also being more transparent in its work.
The Strategy: Last year, the site created a new series, Ask ProPublica Illinois, which invited readers to ask whatever questions they have about journalism. ProPublica Illinois staffers then answered the questions in posts on the site.
The Numbers: About 50 questions have been submitted, and ProPublica Illinois staffers have answered 13 thus far.
The Lessons: ProPublica Illinois has involved its entire staff in the project, which has enabled it to build a culture of transparency and community-focused journalism.
The Future: The site plans to continue Ask ProPublica Illinois while continuing to make transparency a focus.
Want to know more? Scroll down to learn how other newsrooms are educating their audiences about the ins and outs of journalism.
The Challenge
As soon as it launched in 2017, ProPublica Illinois, the Chicago-based ProPublica offshoot covering the US state of Illinois, knew it wanted to develop an email newsletter. As it began thinking about what its newsletter would look like, ProPublica Illinois decided to use the platform to share "scenes from behind our reporting," Pro Publica Illinois engagement reporter Logan Jaffe told me.
"[It] let our reporters expand on the things that are going through their head while they're reporting and open up the door to our newsroom a little bit more so our audience can see us as humans," Jaffe said. "That's the larger goal. We're not just journalists churning out work all the time … What makes a good human relationship is what should make a good relationship with your audience."
Staffers take turns writing the newsletter, and they provide insight into everything from stories they've reported, ProPublica Illinois' coverage plans and links to other journalism they're reading.
In December 2017, editor-in-chief Louise Kiernan wrote an issue of the newsletter that focused on the costs of producing ProPublica Illinois' brand of investigative reporting.
She included a screenshot — featured below — of how reporter Jason Grotto fact-checked a story on issues with local property assessments:
"Jason underlined and assigned a number to every fact in the 4,000-word article," she wrote. "Then he created a spreadsheet that included the fact number, a flag to indicate if it had been checked, a flag for any needed change to the fact, the source of the fact and a notes field for any other pertinent information about the fact. He did this for 291 facts. And then he went through and fact-checked the entire story again. Yes, just like Santa, Jason made a list and checked it twice."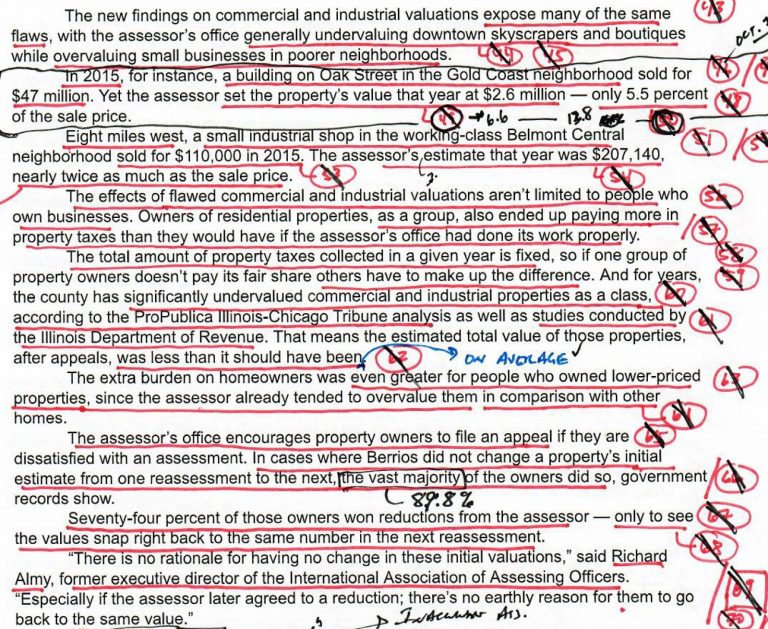 The newsletter was cross-posted on ProPublica Illinois' site (this is a good newsletter best practice!) and it took off on social.
One of the responses caught Jaffe's attention:
https://twitter.com/PhilipFRipper/status/947504608108167168?ref_src=twsrc%5Etfw%7Ctwcamp%5Etweetembed%7Ctwterm%5E947504608108167168&ref_url=https%3A%2F%2Fwww.lenfestinstitute.org%2Fsolution-set%2F2019%2F01%2F03%2Fask-propublica-illinois-journalism-education%2F
That tweet — along with the response to Kiernan's piece — made Jaffe realize that there might be an opportunity for ProPublica Illinois to find new ways to help readers understand journalistic processes and what goes into investigative reporting.
"We were like, 'Wow, there's a real interest here.' It takes a lot for someone to write and say, 'Thank you. I really didn't know how much I didn't know.' We wanted to use that as an opportunity."
The Strategy
In January 2018, the site created a new series, Ask ProPublica Illinois, which invited readers to send ProPublica Illinois any questions they have about journalism so staffers could answer them in a regularly published column.
"If we are going to be transparent in our journalism, which is very much a value of the organization, how do we be more intentional about that? We can't always predict what are the things that people don't know that they don't know," Jaffe said. "It gets a little meta. We decided to ask people to then ask us what they wanted to know and things that they're confused about when it comes to journalism as a whole and how we at ProPublica Illinois do our own work and think about our jobs."
Jaffe wrote a post introducing the series, and ProPublica Illinois promoted it on social media and in the newsletter. It asked readers to send their questions to ProPublica's staff-wide email address. (More on that in The Lessons section below.)
She monitored all the incoming questions and put them into a spreadsheet. Once a significant number had been submitted, Jaffe sent an email to the entire staff and asked her colleagues to pick which questions they'd like to answer. She continues to update the spreadsheet as more questions come in.
ProPublica Illinois publishes an answer to one of the questions every few weeks. It posts them on its website and also uses them in its newsletter. The site will publish the Ask ProPublica Illinois stories when it has a break in its publishing schedule or in response to news events.
Last August, after President Donald Trump tweeted that anonymous sources aren't real people, the site resurfaced an earlier Ask ProPublica Illinois story it had run about how journalists verify anonymous sources. It sent it out as an issue of the newsletter titled "Why Trump Should Have Read 'Ask ProPublica Illinois' Before He Tweeted" that re-purposed archival coverage (read more on reusing old stories here) and attracted new readers to the series.
Once a reporter decides to answer a question, they'll often follow up with the person who submitted it and will also email them once it is published.
The Numbers
To date, readers have submitted about 50 questions to Ask ProPublica Illinois, and the site has published 13 answers. In addition to taking questions via email, staffers have received some over Twitter as well.
Ask ProPublica Illinois has covered a wide array of topics. For example, the site has published answers about FOIA, dealing with biases, deciding when a story is ready to publish, and why journalists sometimes compete and sometimes collaborate.
Each story contains a call-out for questions at the end, and Jaffe said the site will receive additional questions after it publishes an Ask ProPublica Illinois story. While the site, as it names suggests, is focused on Illinois, many of the questions have come from elsewhere.
"We definitely prioritize serving our statewide audience, but I think there's room for a national audience and national news organizations to look at how a statewide organization and a local organization is going about looking at issues of transparency in their work," she said. "There's something for everybody to learn."
Eleven ProPublica Illinois staffers have answered questions. Sixteen people work for the site.
The Lessons
Involve everyone: ProPublica Illinois intentionally designed Ask ProPublica Illinois to include the entire staff, and Jaffe said people have generally been eager to participate.
Jaffe also made a point to make it as easy as possible for reporters and editors to pick out questions they'd like to answer. She put all the questions in a spreadsheet and emailed the list to the newsroom so it was simple for them to select the ones that interested them.
It helped that a culture of transparency was "baked into our newsroom from the very beginning," Jaffe said.
"We're still really new to the state and we all decided to take a job at ProPublica in part because of its strong value of transparency," she said. "It's something we're all thinking about anyway and this is just one manifestation for that."
The set-up has also allowed staffers to draw on their expertise. One of the early questions the site answered was, "How do young journalists get their training?" Natalie Escobar, who was then ProPublica Illinois' emerging reporter and a senior in college, answered the question. She was able to draw on her experience as a journalist who was still training.
"I've learned a lot the hard way about how to be a good journalist, both in the classroom and in professional internships," she wrote.
By involving the whole newsroom in engagement projects like this, outlets can start to build a culture of transparency within their organizations and also draw on their staff's expertise.
It doesn't need to be fancy: You don't need expensive technology to set up a project like this. ProPublica Illinois directed readers to email their existing staff-wide email address, Jaffe then put the questions in a spreadsheet, and the answers were just posted like typical stories on its website. (Though it did design a logo for the series.)
It's that simple.
Because ProPublica Illinois created such a straightforward workflow, it was able to move quickly and get the project up and running within days. Kiernan's initial newsletter that inspired the project was published on Dec. 29, 2017. Jaffe published the first call-out for Ask ProPublica Illinois questions on Jan. 5, 2018.
"It was pretty informal," Jaffe said. "We used our regular staff-wide email address — illinois@propublica.org — and started doing social media around that. And we kept getting all of these wonderful questions."
You can very easily use your existing infrastructure to start having a more interactive relationship with the communities you serve.
Back to school: Ask ProPublica Illinois has had an unexpected side effect — teachers are using the posts in their journalism classes.
"There's  a real interest from students and teachers in applying what they're learning in a classroom environment to the real world. There's an argument that you never really stop asking these questions about the fundamentals of journalism. That's something I learned from all of this … It has become an opportunity that I had not anticipated to have more public discussions and dialogues about how these fundamentals of journalism stack up and how they're evolving."
This is a good reminder that you can never totally predict the impact your journalism will have. When it makes sense, publishers should embrace the unexpected ways readers interact with their reporting. This can be a way to build new, loyal, audiences; expand the reach and impact of the journalism; and to have important conversations about the basics of journalism.
Jaffe said one of her favorite questions was when someone asked about how news organizations decide when to collaborate and when to compete against one another.
"It's an audience member advocating for our media to collectively better serve us rather than competing against each other for the same stories," Jaffe said. "This reader is reminding us that it's not always in their interests all the time. Can journalists be more strategic about how they go about covering things?"
The Future
ProPublica Illinois plans to keep publishing the Ask ProPublica Illinois series in its current form for the time being.
And while there are no plans or real discussions about changing the format, Jaffe said she could imagine the project evolving in interesting ways.
"I'm just rattling off here, but why not have every story we do have a box encouraging people to email the reporter or say, 'Hey! Do you have a question about how we did this story?' right in the story," Jaffe said. "There are so many ways that this mentality and this effort could evolve."
In the meantime, ProPublica Illinois plans to continue to make transparency and collaboration core components of its work.
Reporter Mick Dumke acquired databases that included lists of people state authorities accused of being in gangs. He found that they were "riddled with dubious entries, discrepancies and outright errors." Not only did he publish stories about the databases, but ProPublica Illinois made the data freely available to access for other journalists and the public.
News applications developer David Eads has also worked with Chicago nonprofit City Bureau to help them build an app to better track and document public meetings in the city. (See the section "Want to Know More?" to learn more.)
"The effort to keep a relationship with our audience that is human-centric is really important," Jaffe said. "If people feel like they understand us a little better they might ask better questions about our own work."
Want to Know More?
---
This post first appeared on The Lenfest Institute website and is cross-posted here with permission. Solution Set is a weekly report from The Lenfest Institute for Journalism and the Solutions Journalism Network.

Joseph Lichterman is a senior business associate at The Lenfest Institute for Journalism. He previously wrote about journalism innovation for the Nieman Journalism Lab, reported for Reuters, Automotive News, Michigan Radio and was editor-in-chief of The Michigan Daily.