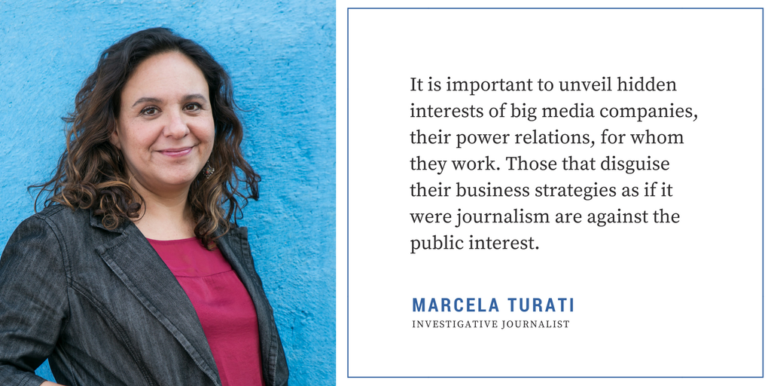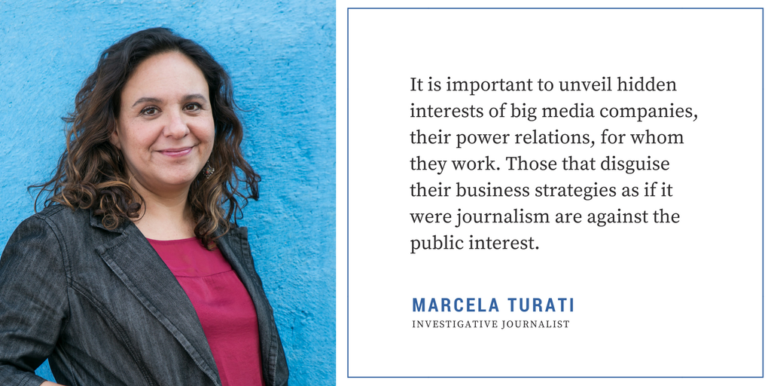 Marcela Turati: Expose the Hidden Interests of Big Media Companies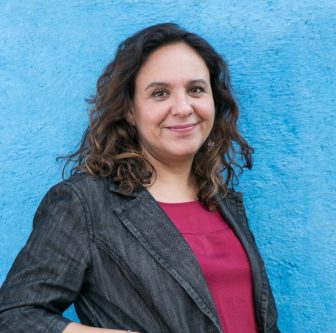 Marcela Turati is an investigative journalist who specializes in covering the impact of the Mexican drug war on society. Turati also has experience in human rights activism, and reports on poverty and marginalized groups. She has been vocal against the murders and exile of journalists in Mexico. Turati works for Proceso, a leading news weekly in Mexico. She co-founded Periodistas de a Pie (Journalists on Foot), an organization dedicated to training journalists in improving the quality of their journalism and to defend freedom of expression.
This year, Turati is a Knight Latin American Nieman Fellow at Harvard University's Nieman Foundation for Journalism where she is studying cases of systemic violence and its impact on people, communities and institutions, with a focus on the role of the press.

Her investigations into the deaths of Mexican migrants lost in the Arizona desert and the unresolved massacre of indigenous people in Acteal led her to become a finalist, twice, for the Gabriel Garcia Marquez International Award, given annually by the Gabriel Garcia Marquez Foundation for a New Ibero-American Journalism. In 2014, she received  the Recognition for Excellence award from the same foundation. She also received the Louis M. Lyons Award, the Lasa Media Award and the WOLA Human Rights Award. In 2011, Turati was awarded the Walter Reuter German Journalism prize for a story about Mexican families searching for their vanished loved ones.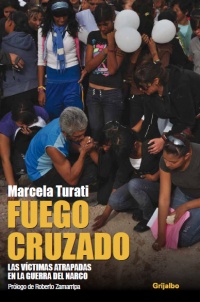 Her investigation series "Child Laborers," an account of the lives of hundreds of Mexican children forced to work the fields in unjust, precarious and dangerous conditions which often lead to death, was also awarded by the United Nations Development Program and the Inter Press Service News Agency.
Turati is the author of several books. In Fuego Cruzado (Crossfire) she tells the stories of victims of the war on drugs. Entre las cenizas: Historias de vida en tiempos de muerte (Among the Ashes: Stories of Life in Times of Death), which she co-authored and coordinated, tells the story of Mexicans who have come together to resist the violence in their country.
Q: How did you become interested in investigative journalism?
Marcela Turati: Every journalist is an investigator. If you do not investigate then you are a transcriber of the statements made by people or powerful groups, and that is not journalism. To do journalism is to discover issues of public interest that some do not want to be known.
I learned to investigate when I began to cover poverty because I wrote stories about how poor people live. Frustrated, I felt the need to reveal the mechanisms through which corruption operates, the different tricks that politicians create to steal money from the poor. Since then I have always felt the need not to [merely describe] social problems, but to discover the mechanisms through which injustices are perpetuated.
Q: What do you think is the biggest hidden or ignored problem in the media right now? What should we uncover, and cover, as journalists, about our own field?
Marcela Turati: It would be very important to be able to unveil the hidden interests of the big media companies, their power relations, for whom they work. That is [an issue] not spoken [about] because we have a saying, "dog doesn't eat dog," which means that we cannot criticize each other. But I think that companies that disguise their business strategies as if it were journalism have done much harm and are against the public interest.
Q: What are some positive developments in journalism and the media in general? Which individuals, organizations or movements are making a difference right now?
Marcela Turati: The use of technology to search for information with greater impact has been important. Everything we know that can encrypt dangerous information, or search for and process data, and technologies that can be used to [cover] sensitive issues such as human rights are advances that help us to run investigations that can have impact; they also help collaborative work between reporters and experts.
However, I do not think that we have to only recharge ourselves with data, technology and computers. It should not be forgotten that our work begins in the street, gathering information from people.
Q: If you were conducting this interview, what would you ask yourself — and what would you answer?
Marcela Turati: I would ask if there is a future for specialized investigative journalism now that everything seems to be against it.
We must return to the basics, learn about the history of journalism and how it has impacted history, and, above all, remember our ancestors, those journalists of previous generations who carried out great research and achieved change without the technology, money, tools and the channels of dissemination that now exist, without the support of huge media enterprises and with the government against them. In them, we can find an answer, and a source of hope and inspiration.
---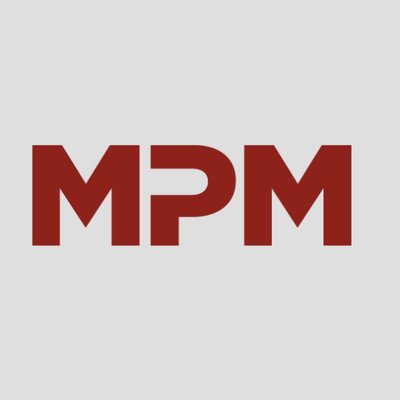 This post first appeared on the website of Mediapowermonitor.com and is reproduced with permission. Mediapowermonitor.com is a community of journalists and researchers writing "about the state of independent journalism and the thorny relations between media and the powers that be."