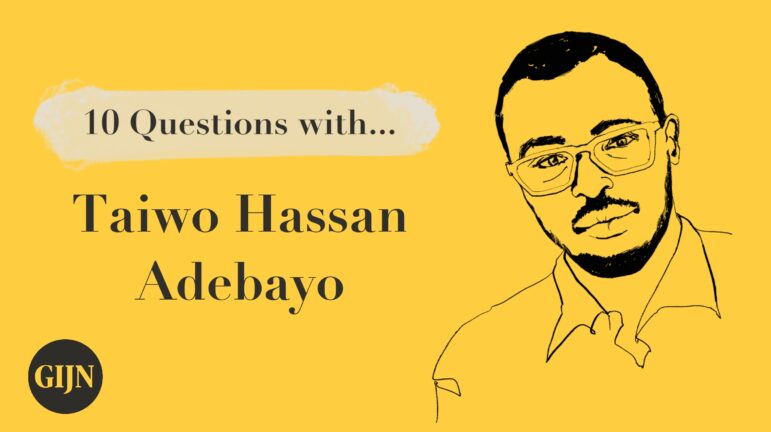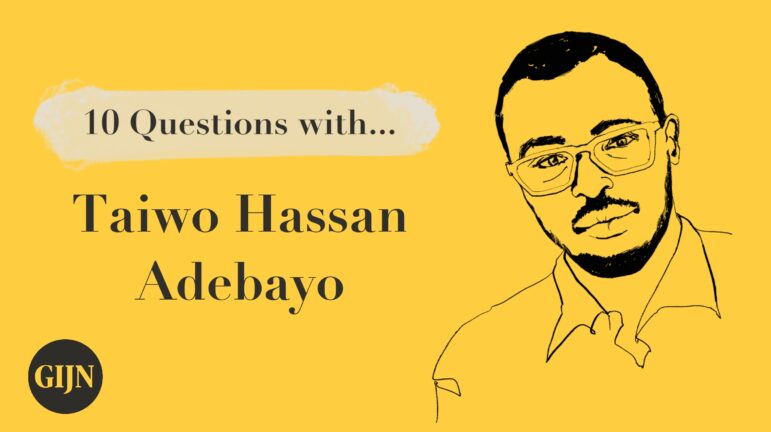 Illustration: Smaranda Tolosano for GIJN
Lessons and Advice from Nigerian Investigative Journalist Taiwo Hassan Adebayo
Taiwo Hassan Adebayo, the head of investigations at Nigeria's Premium Times, has spent years digging into corruption and financial crimes. His investigations under the Pandora Papers project unmasked the hidden owners of offshore companies and revealed secret bank accounts, private jets, yachts, mansions, and artworks. One story, published in 2021, unmasked how a serving Nigerian senator secretly acquired four London properties worth $10 million by using an anonymous offshore vehicle.
One year later, Adebayo won the Wole Soyinka Award for Investigative Reporting — one of the most important in the region — for a series he reported under the project. That was only one of several awards and nominations he has earned over the years. He also won the Investigative Reporter of the Year at the 2021 Diamond Awards for Media Excellence (DAME) with his report on an allegedly massive railway fraud that lingered from the regime of former President Goodluck Jonathan to the current head of state Muhammadu Buhari's administration.
He has reported across Nigeria and internationally, focusing on human rights and financial crime. He has also covered terrorism and violent extremism in Nigeria extensively, including their financing mechanisms. But reporting these kinds of stories brings risk — and Adebayo has faced threats of physical attacks, cyber threats, and surveillance because of his work.
In this Q & A, part of GIJN's ongoing interview series with leading investigative journalists around the world, Adebayo shares his experiences telling difficult stories from Nigeria — Africa's most populous nation and largest economy — and some tips that have kept him going through challenging times.
GIJN: Of all the investigations you've worked on, which has been your favorite and why?
Taiwo Hassan Adebayo: The investigation exposing rampant child labor in the supply chain of a multinational dairy company is my favorite because of the impact it generated. The Dutch Foreign Ministry issued a statement of condemnation; the company hired a UK firm to conduct a social audit of their operations in Nigeria and to tackle child labor; and the company reviewed their raw milk purchase price to enable their suppliers to hire proper labor, and so farmers could enroll their children in school.
GIJN: What are the biggest challenges in terms of investigative reporting in your country/region?
THA: Many times — as a result of weak civil society — the authorities fail to act on investigations to deliver justice or punish a corrupt official. That's frustrating.
GIJN: What's been the greatest hurdle/challenge that you've faced in your time as an investigative journalist?
THA: Personal danger. Primarily, my work as an investigative journalist involves digging to expose wrongdoings, including human rights abuses and corruption in the public sector and corporate circle. That can sometimes lead to threats that impact my personal safety. To highlight two examples, I realized I had been followed after my report exposing Nigeria's railway fraud, and I faced online threats after my Pandora Papers series, which caused me to fear for my safety and I had to restrict my movements.
GIJN: What is your best tip or trick for interviewing?
THA: It's always difficult to do interviews for investigations, because subjects typically dodge; so, when I get an opportunity, I just fire a direct shot. Otherwise, when I have a lot of time, I start softly before cutting to the chase.
GIJN: What is a favorite reporting tool, database, or app that you use in your investigations?
THA: ICIJ's Datashare and I-Hub, which I have used in some important illicit financial flows (IFFs) investigations like the Pandora Papers and the FinCEN Files. Datashare eases the search when you have to pore over several thousands of documents that usually come from ICIJ leaks. I-Hub facilitates collaboration and learning among hundreds of colleagues working on such global investigations as the Pandora Papers.
GIJN: What's the best advice you have received thus far in your career and what words of advice would you give an aspiring investigative journalist?
THA: Stay on strong ethical ground; perception is not always the reality; verify, if possible; conduct independent on-the-ground reporting so that journalism does not become a tool to pursue anyone's selfish ends. Remain bold. Don't pander to the mob, nor seek validation.
GIJN: Who is a journalist you admire, and why?
THA: My editor, Musikilu Mojeed, and Finance Uncovered's Simon Bowers. They seek to establish public interest value in any reporting venture.
GIJN: What is the greatest mistake you've made and what lessons did you learn?
THA: In the Pandora Papers reporting, there was not enough humanizing of the stories that I reported, to enable readers to relate more easily to how IFFs undermine democracy and people's livelihoods. Lesson learned. Consequently, I now center people and society in reporting on corruption, delivering something illuminating enough for people to see how theft or illicit use of public resources contributes to the soaring nature of the poverty seen in Nigeria.
GIJN: How do you avoid burnout in your line of work?
THA: I take a break to enjoy conversations on light issues like lifestyle and travel fantasies with my partner, mostly by phone and chats. It's always refreshing. In addition, I listen to a lot of music; KWAM 1 and King Sunny Adé. K1 and King Sunny Adé, respectively, are the legends of the African Fuji and Juju genres popular among the Yoruba of Nigeria's West. I am mostly for K1; his music is rich in traditional percussion and Western instruments, making an exciting blend. I sing along and dance and it provides a lot of joy and relief from stress.
GIJN: What about investigative journalism do you find frustrating, or do you hope will change in the future?
THA: Authorities not acting following investigations. More active citizenship and a stronger civil society can help cause a change. When journalists produce their work — rich in evidence and compelling — the civil society and individual citizens should take it from there, using the investigative stories to ask questions and demand accountability from the authorities.
Additional Resources
Lessons Learned from Investigative Journalist Hayatte Abdou, from the Comoros
Lessons and Advice from a Veteran of the Panama Papers Investigation
#NotebookGate: How Nigeria's Dataphyte Exposed Corruption in Government Contracts
---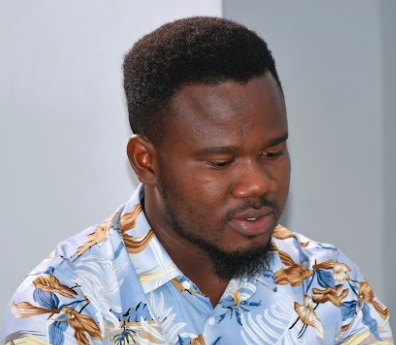 Arinze Chijioke is a freelance reporter based in Nigeria. He has worked for Al Jazeera, IJNet, International Policy Digest, and the International Centre for Investigative Reporting (ICIR). He is interested in global health, climate change and environmental journalism, human rights, and conflict reporting.