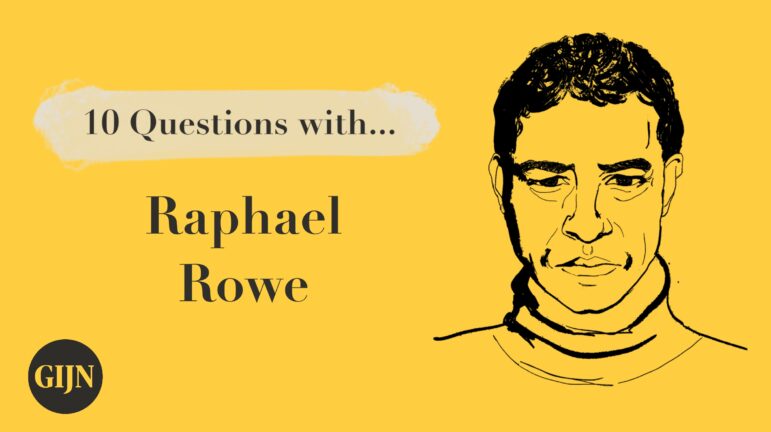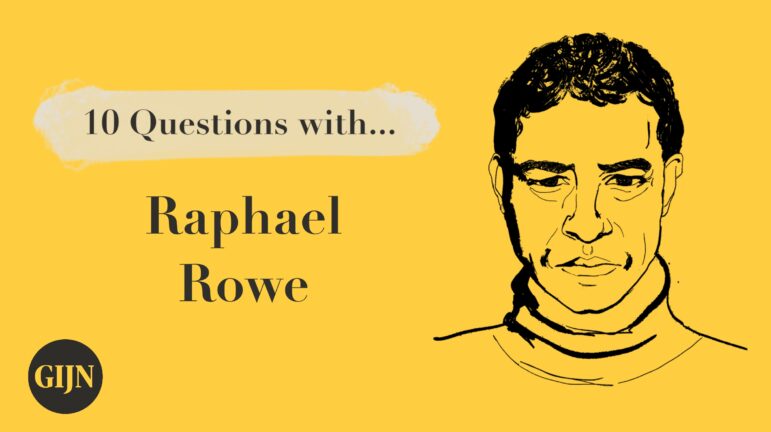 Image: Smaranda Tolosano for GIJN
From Tracking Blood Diamonds to Investigating a Wrongful Murder Conviction
While serving time in prison for a crime he did not commit, Raphael Rowe would go on to teach himself the secrets of in-depth investigative reporting: How a focus on the details can make or break a case. How important it is to get the facts right. How every story should give the people affected a voice.
"Those 12 years in prisons I did not have a voice, especially when I was in the dark part of the UK max security prisons system. I relied on people outside to advocate on my behalf. No one heard what I had to say, no matter how hard I shouted," he says.
He studied journalism inside, and when his conviction was overturned after 12 years, was hired by the BBC. He would spend more than a decade working as an undercover journalist and reporting for leading programs like Today and Panorama.
"I've smuggled diamonds to expose the conflict trade. Put trackers on logs to see who is chopping them down. Spent months undercover investigating the Manchester drugs trade. I had some very hairy experiences," he recounts.
Partly, he says, his time in prison gave him an edge when going undercover: "A part of it is the jargon: it's about what to say and what you can learn about what they say… In prison I got to know every man there is in terms of personality and character."
Since he left the BBC, his work has been less strictly investigative, but in his hit program Inside The World's Toughest Prisons, his podcast Second Chance, and his latest audiobook, "You Are Accused," his focus on exploring the topic of justice, and how we treat those affected by crime, continues.
"The work I do is still rooted in investigative journalism," he tells GIJN. "We're all driven by something: you want to get at the truth, right a wrong. That is what makes you an investigative journalist."
GIJN: Of all the investigations you've worked on, which has been your favorite and why? 
Raphael Rowe: The very first investigation I did was into conflict diamonds and the consequences of what we put into our engagement rings. A lot of musical artists were talking about bling and glorifying these diamonds. I went behind the scenes to try and expose where they came from, going undercover to try and find diamonds in one of the most challenging and dangerous places in the world, Sierra Leone. But I also smuggled them to the UK to expose the certification process that had just been set up — the Kimberley process — to prove it did not work.
I'd also say the investigation I did into the Jill Dando murder [a BBC journalist who was shot outside her home in 1999] and the wrongful conviction of Barry George was an important investigation. I spent 12-18 months going away on my own time. Beating the pavements. Knocking doors. Speaking to people, questioning them about information that I was aware of. It's what I do best, getting away from the desk, meeting people, asking them questions that can provide answers, and speaking to people to get answers.
GIJN: What are the biggest challenges in terms of investigative reporting in your field?
RR: There are things that you find that you want to expose that you can't because of all the legal requirements. I accept them — for the most part — but you can be frustrated by them. Working for the BBC, every time you are running a story up the flagpole, you have to get legal approval at various stages. Sometimes it is, I believe, unnecessary and it hinders what you are trying to do, getting certain permissions. I was the kind of journalist who would clamber over a wall to get the evidence. My academic colleagues would be wanting to knock on the door. I'm of the school of thought that you are never going to get to that evidence unless you go and find it. Sometimes you have to bend the rules, not break the rules that will get anyone legally in trouble, but bend the rules or go around the corner to find that evidence.
GIJN: What's been the greatest hurdle or challenge that you've faced in your time as an investigative journalist?
RR: Getting the story commissioned has always been one of the biggest challenges. When I was at the BBC I had dreadlocks, and I'd sit in a room and my colleagues were very different to me. Their story ideas were not the same as mine. I was trying to reach a completely different audience. That's why I was brought in, they needed diversity, different types of journalists. Not only did I sound different, look different, I had a completely different background from 99% of my colleagues. I always thought what they did and what I did could complement each other, but they would often be heard in their ideas because they spoke the same language.
That class difference made it harder for people like me who were breaking down the doors. I was the first person of color with dreadlocks, with a prison background, to report on the 6 o'clock news. It was not tokenism, it was my investigative background. My time in prison investigating my own case gave me a skillset to be a meticulous researcher. I would leave no stone unturned. I knew — from personal experience — the consequences of your actions. If I did a story that might expose a company or an individual, I was invested more in what I did as an investigative journalist because of that.
GIJN: What is your best tip or trick for interviewing? 
RR: My best tip is to let the person lead your interview and do all the talking. The less you ask the more information you get. Drive the conversation but don't interrogate the conversation. And be genuine. Interviewing a politician is different to interviewing a mother who has lost her child. You have to be flexible and adapt to it. Acquire a number of different skill sets to interview very different people and be comfortable with that. That comes with integrity, honesty, your morals, and values, that shines through and makes people be more forthcoming.
GIJN: What is a favorite reporting tool that you use in your investigations? 
RR: I don't have one. I think it all comes from instinct. Do I follow that lead, that information? Do I do this? Do I do that? That's how I built my reputation and credibility, I followed my instincts and learnt from my mistakes. Tech changes all the time, right? What you have in your brain, you can't lose that, what you have seen with your own eyes and heard with your own ears.
GIJN: What's the best advice you've gotten so far in your career and what words of advice would you give an aspiring investigative journalist? 
RR: The best advice that I was given came from the editor of Today who gave me the opportunity to become a reporter and gave me the advice to be confident in what I was doing and believe in what I was doing. He recognized the skill, the ability I had, but at that point, I didn't. I was quite fresh out of prison and did not how to adapt my skillset to the world of journalism.
My advice is to try and stay as true to who you are and what you are trying to do as you possibly can. Be mindful of the other person. Be mindful of the consequences of your actions. So, if you are reporting something that could collapse a government, or bring a company down, or ruin an individual's life, don't just do it because you think it's a good story. Do it because you think it's the right thing to do. It's justified. So you can sleep at night without worrying because you know you are doing the right thing.
GIJN: Who is a journalist you admire, and why?
RR: John Sweeney, Jane Corbin, Tom Giles, Sandy Smith — who was my editor — who were all BBC journalists, committed to what they were doing and had their own personalities, they were not whipped into shape. I witnessed many stand-offs with editors. They really stood up for what they believed. I admired the team I worked with, the Panorama staff reporters, other investigative journalists I've worked with around the world who are very brave and very courageous.
GIJN: What is the greatest mistake you've made and what lessons did you learn?
RR: One of the very first stories I did, when I joined the Today program, was back when we used microphones and mini disks. I went to do the interview with the police officer who arrested the Kray twins. I went off to interview him, and recorded it. I was untrained and didn't know what I was doing but pretended I did. I was thrown in the deep end and because we were pressed for time I tried to edit the interview on the train on the way back and deleted it. He was kind enough to do the interview again over the phone — me holding the mic against the phone. That was a big lesson for me: I realized that unless I understand something in terms of tech and recording equipment, don't use it. Know what you are doing. Be prepared, don't pretend you know something you don't, you'll be exposed. It's better to learn, understand, be shown, than pretend you are already on top of it. I never made that mistake again.
GIJN: How do you avoid burnout in your line of work?
RR: During an intense investigation, of three, six, 18 months, it's very difficult but I do think you have to step away. You have to be brave enough to stand in front of your editors who are demanding delivery of the project and say; 'For you to get the best of what I'm doing I need to take some time out to recoup, recover, reflect on the work that we've already done.' And just walk away from it, enjoy time with your family, and whatever it is that you do to recoup. But to stop. And I mean stop. I did that all the time.
GIJN: What about investigative journalism do you find frustrating, or do you hope will change in the future?
RR: It should be more resourced. And reporters should be given the quality, space, the tools, and equipment [they need]. It would be great if investigative journalists were given the same tools that many of the biggest companies in the world use to reach their audiences.
But it's really exciting and really inspiring to know that an investigative journalist does not have to be a trained IJ. Someone with the equipment can reveal and expose something through social media or any platform they choose. They just need to make sure they have got it right.
---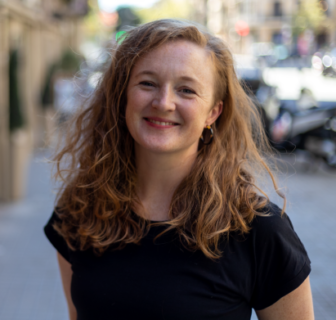 Laura Dixon is a British freelance journalist. She joined GIJN as an associate editor after four years reporting from Colombia, and previous freelance stints in Paris and Austin, Texas. Her work on the end of Colombia's 52-year conflict with the FARC guerrilla group and the Venezuelan migration crisis was published by The Times, The Washington Post, The Atlantic and US News, among others.