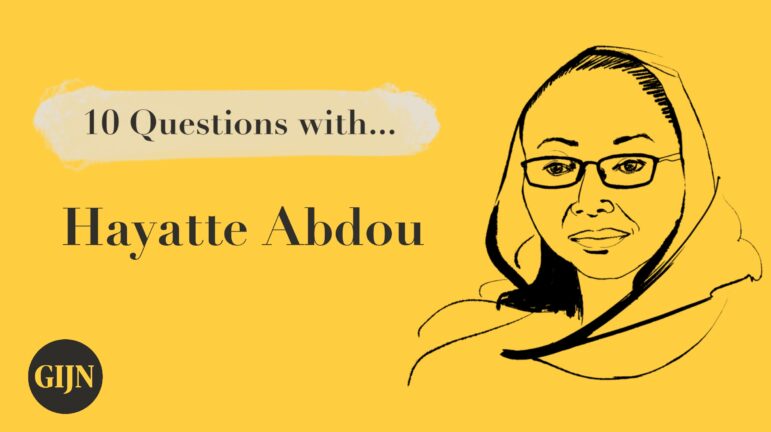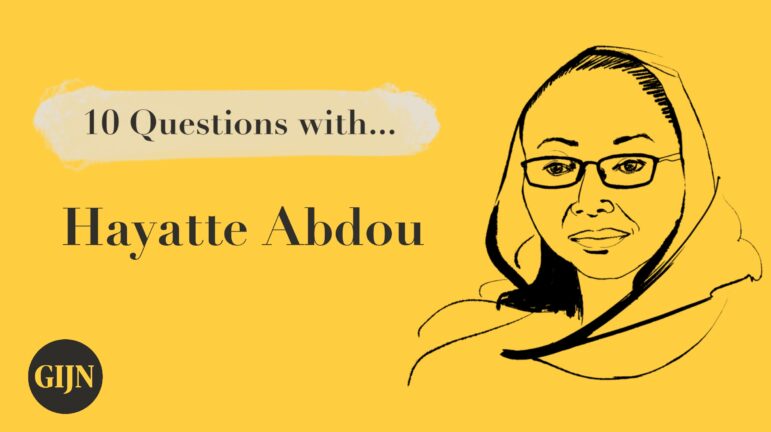 Lessons Learned from Investigative Journalist Hayatte Abdou, from the Comoros
Read this article in
As part of our ongoing interview series, GIJN talks with Hayatte Abdou, reporter for the National Magazine in the Comoros. As one of just a few investigative journalists in the small island country, which is dominated by state media and where press freedom is under duress, Abdou has faced intimidation for her undaunted watchdog reporting. She has won acclaim for her courageous reporting into the killing of fellow Comorien journalist Ali Abdou (no relation), whose suspicious death was brushed aside by authorities.
1. Of all the investigations you've worked on, which has been your favorite and why?
Hayatte Abdou: My favorite investigation is one about corruption within the ranks of the AGID, the Comorien tax authority. I enjoyed the act of writing it — and my hands weren't trembling as they were when I was writing about rape carried out with impunity or the death of colleague Ali Abdou. Most of the time, my investigations involve pain, sadness and anger. But when I was reporting on the tax authority, I was at peace. Everyone knew about this story, they had just decided to remain silent about it. All I did was say what almost every Comorien was thinking — and I believed it was time that we spoke openly about the issue. So, yes, I really enjoyed writing that one.
2. What are the biggest challenges in terms of investigative reporting in your country?
HA: I don't want to speak for other people, but, in general, it's a struggle to make ends meet as a journalist in the Comoros. Many journalists aren't able to make a living from their profession. So everyone gets by however they can, often lining up other work.
Carrying out an investigation is expensive and a lot of people don't have the financial means to start one of these projects. And those who do dare might write an article only to discover on publication day that those aren't their words in the paper — everything has been censored or changed.
I decided that these dictates weren't for me.
But my greatest difficulty is the fear I have deep down inside, this habit that we have of doubting ourselves. Asking ourselves: Was I fair? Did I correctly relay the facts? Was the information balanced enough? Am I good enough for our readers?
I try to use these fears to push me to work better, to always question myself and push myself to go a bit farther. I like to say that the day I go to prison, that will be an injustice, not because I'm an investigative journalist, but because I did my work so well. And that's the fear that I channel and use.
3. What's been the greatest hurdle or challenge that you've faced in your time as an investigative journalist?
HA: I don't work in local news. And my boss, Christèle Bourdeau, is the kind of person who says "Green light, ma'am, go ahead. It's a great subject." She never leaves me on my own for too long. She always keeps abreast of how the investigation is evolving. She trusts me. That's extremely important. She often says that we are the exception, not the rule. In the time since we started working together at our online media outlet National Magazine, she has never once censored my words or blocked one of my subjects. She always tries to understand the process and definitely doesn't impose. So I've never dealt with censorship, or self-censorship, for that matter.
The one time when I really felt like I was in danger was when we published a piece about the death of fellow journalist Ali Abdou. (He is not related to Hayatte Abdou.) The former prosecutor general in charge of the case scared everyone, especially journalists. But I had a lot of support, umbrellas to shelter me from the rain. I'm not just talking about my fellow journalists in the Comoros — though they really showed solidarity with me, they've been very invested in the situation. But I'm also talking about the Global Investigative Journalism Network (GIJN), which brought me out of the shadows. GIJN went above and beyond in its role of supporting and promoting the work of investigative journalists no matter where they come from.
Today, I'd say the biggest obstacles are pressure, discouragement… phrases like, "Why do you want to stir all of that up?" or "Everyone knows about it and has decided to stay silent, it isn't news." But just because something is considered the usual course of things doesn't mean we should accept it. Sometimes, people will say things like, "Aren't you afraid as a woman?" or "Why don't you leave this kind of topic to your male colleagues because women are fragile by nature." Or even, "Stop your nonsense!"
4. What is your best tip or trick for interviewing?
HA: Generally, I get along well with people. For me, it's most important with interviewees to listen, to adapt to the person, to understand and to not seek to always be right. Even if the person in front of you is lying, they are his or her lies. You should listen and remain polite. Politeness and respect are very important, no matter who is in front of you. You can often get what you want with a smile and a "please." I often say to people who tell me their stories, "Even if I play the devil's advocate by asking so many questions, it's not that I am against you, it's just so I can understand better."
5. What is a favorite reporting tool, database, or app that you use in your investigations?
HA: Before, I just did the basics, like doing searches on Google. Working with organizations like GIJN, the International Consortium of Investigative Journalists (ICIJ), and the Norbert Zongo Cell for Investigative Journalism in West Africa (CENOZO) as well as being trained by the Media & Democracy Project taught me a lot. Today, it depends on the topic. And when I don't know where to look, it's simple — I ask.
6. What's the best advice you've gotten thus far in your career and what words of advice would you give an aspiring investigative journalist?
HA: The best advice that I was given is "shut up and do your work." And it is the same advice that I would give. Our readers don't want our opinions or our points of view, they want information, facts. This is even more important because we aren't working for ourselves, we are working for the people, for citizens. Do your work and let the people for whom you work judge you. Investigative journalism can sometimes be painful, for both the journalist and for the people involved in the stories we tell. For me, it's better to do it in silence.
7. Who is a journalist you admire, and why?
HA: This question is slightly complicated for me because I have not one, but three! There are three journalists who left a mark on the history of the Comorien press, who fought for freedom of expression and for their profession. If we are able to work today, it's because they showed us the way.
First, there is Aboubacar Mchangama, a former AFP correspondent and the founder of Archipel, a local paper. Then there is Kamaleddine Saindou, a former journalist with RFI, who was also a consultant with the National Council of the Press and Audiovisual. Together, they created the independent monthly magazine Kashkazi. And then there is Ahmed Ali Amir, the former director of the publication Al-Watwan. They are, without contest, the models of the best journalism in the Comoros. And they are my models as well.
8. What is the greatest mistake you've made and what lessons did you learn?
HA: My biggest error was to go into the field with preconceived notions, with prejudices, to have forgotten that it is what you find on the ground that determines the investigation, not the hypothesis that you set out with at the start.
After journalist Ali Abdou died, I went to a training workshop in Tunisia. I was there when, one day, I had a discussion on Messenger with Ali Abdou's sister, who was convinced that her big brother didn't die a "natural" death.
I was extremely naive, and my ideas were shaped by the press conference about Abdou's death by the then-prosecutor. Because of his comments, I didn't take her seriously, I told myself that this young, grieving woman just needed someone to listen to her.
When I got back to the Comoros, I went to see her and the Abdou family, with the words of the prosecutor still in my head. I was convinced that he wouldn't lie about a story like this. For me, that was just impossible. And even after listening to the family, my head was still full of questions.
Later, I was angry at myself because the reality was so different from what I had thought. When I saw the photos of Ali Abdou's body, I had to accept that I was wrong and totally change course. (In her reporting, she said she learned that Abdou's body was found lying in blood and that one eye showed signs of possible assault. She also claimed that the prosecutor who conducted the inquiry was related to people involved in a land dispute with the victim.)
And that's the hardest thing to do, to accept your own errors. So I learned: I still start with a hypothesis, but I began my reporting by forgetting everything I know. I leave it aside, I listen, I learn, and I let the reporting guide me.
9. How do you avoid burnout in your line of work?
HA: When I decided to start working on investigations, I knew it would be hard, but I didn't know just how hard. There was one time when I got sick. At the time, I didn't know what was wrong but when I went to the hospital, the doctor saw me and told me that I was in a state of exhaustion.
Sometimes, I can't sleep — that might go on for as long as a week. In order to sleep, I have to exhaust myself with some kind of physical activity. I run until I can no longer feel my legs. I start most days with exercise. That helps me relax, to feel good and to sleep better.
It's also important to spend time with trusted people, who can hold your hand and find the right words to convince you to take care of yourself, tell you when you need to take a day off, to 'do nothing and rest'… even if that means confiscating your computer.
10. What about investigative journalism do you find frustrating, or do you hope will change in the future?
HA: What I find most frustrating is to spend months reporting an investigation and then to still be waiting for some kind of impact. I'm not talking about the number of shares or likes or even the number of followers I might have. I'm talking about reactions, consequences, repercussions, the things that you can hope for like an action within the judicial system or that the relevant authorities hold someone to account.
But, sadly, most of the time, you fall from very high when nothing happens. In some cases, it's you who gets judged, harassed and threatened.
In the end however, I always come round, console myself, and reassure myself. After all, what we do is, above all, an act of conscience, of memory and of record. The most important thing is to maintain a clear conscience by saying to yourself, "I did my work, the rest isn't up to me" and go on to the next thing, even if it leaves a bitter taste.
Additional Resources
What I've Learned: Lessons and Advice from The Caravan's Vinod K. Jose
Editor's Pick: 2021's Best Investigative Stories in French
Guide to Investigating Organized Crime in Africa
---

Maxime Koami Domegni is GIJN's Francophone Africa Editor and an award-winning investigative journalist. He has worked as editor-in-chief of the Togolese newspaper L'Alternative and, based in Dakar, Senegal, for BBC Africa as a journalist and planning producer for French-speaking Africa.