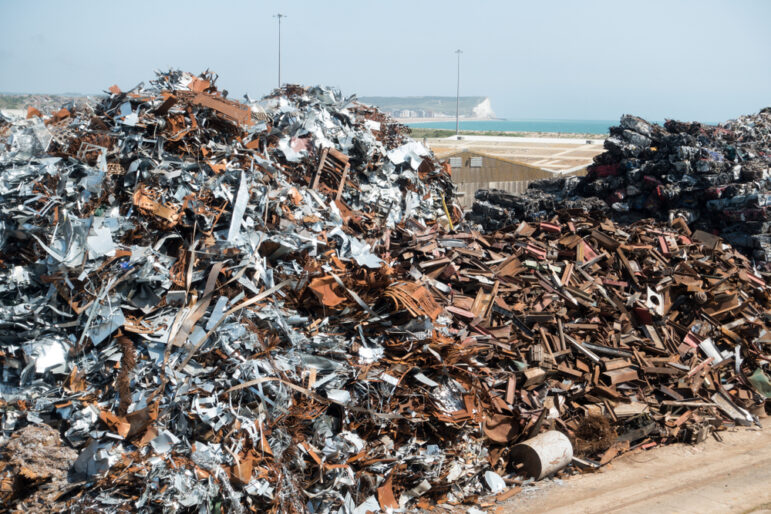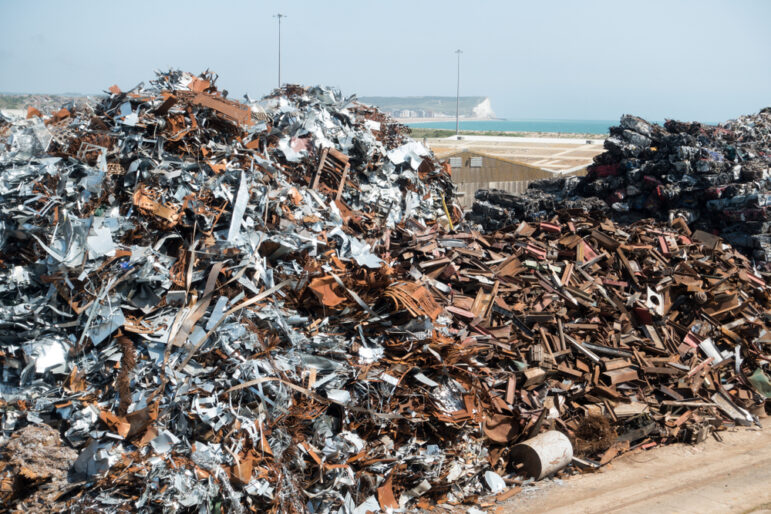 Case Studies: Investigating Where Garbage Goes Around the World
Read this article in
Rubbish, trash, or garbage — whatever we call it, what we throw away is a big problem for society, and journalists around the world have set out to investigate what happens to our discarded items, using drones, trackers, and databases to interrogate a global trade in waste.
According to a 2022 OECD report, the world is producing twice as much plastic waste as two decades ago, and the bulk of it ends up in a landfill, incinerated, or leaking into the environment. Only 9% is successfully recycled.
In the US, around 221 kilograms, just under 500 pounds, of plastic waste is generated annually per person (in weight terms that's the same as an upright piano), while in Europe, it's around 114 kg. In Germany alone, over 380 million pairs of shoes are thrown away every year, almost five pairs per person.
Investigations into where our rubbish goes and the implications for the people and environment play an important role in raising awareness, says award-winning US-based investigative journalist Mark Schapiro, an Environmental Investigative Forum (EIF) board member.
"When things get thrown away they don't just disappear. Investigations that reveal the hazards that waste can present are extremely important from a public health point of view, and in revealing another dimension to the profound inequities of who gets exposed to the toxic leakage from the waste stream," says Schapiro, the author of "Exposed: The Toxic Chemistry of Everyday Products and What's at Stake for American Power."
Using Trackers to Follow the Rubbish
German journalists who investigated the fate of discarded sneakers in the "Sneakerjagd" or Sneakerhunt investigation — a 2022 European Press Prize-nominated story — demonstrated that while recycling may ease the consciences of consumers, it offers no easy answer to the garbage problem.
The journalists behind the project, Christian Salewski and Felix Rohrbeck, co-founders of investigative journalism publication Flip, had already used GPS trackers in an investigation into illegal exports of electronic waste, and decided to rework the idea to examine the fast fashion industry.
They chose sneakers because production is booming, their layers of glued-together molded plastic make them hard to recycle, and the inner soles provide a convenient hiding place for trackers.
"We thought, why don't we use celebrities' sneakers? We wanted to have a social media impact and publish the story on different channels, using people with social media followers who are not necessarily interested in investigative journalism. We wanted to target younger people online, sneaker buyers, addressing the problem on their own timeline," Salewski says.
The reporters recruited celebrities to film selfie-videos donating their used shoes, which were then placed into recycling bins provided by retailers, sneaker brands, nonprofits, or textile recycling firms. Inside were hidden tiny trackers equipped with GPS technology (which uses satellite technology to calculate position), GSM antenna (a wireless transmission system that connects cell phones), and movement detectors to conserve the batteries in sleep mode. They were programmed to transmit only in certain circumstances — after a significant movement, for example — helping to eke out tracker's communication time for as long as possible.
Working with their media partners NDR and Zeit, the team constructed an interactive website to tell the story of each pair in different episodes with a dedicated data team using an API interface to transform the raw data from the trackers into an informative visual journey, with maps, images, videos, and text putting the tracker pings in context.
They filmed themselves tracking the shoes' progress and in some cases traveled to the transmission sites to see what was happening on the ground.
"GPS is a very powerful tool for investigating where things end up once they are thrown away and GPS leads to data, which you can visualize on a map," says Salewski. "Tracking is always in our toolbox. You need a little knowledge about the tech but it's fun — it creates a natural cliffhanger: follow me as a reporter, I don't know what will happen."
The technique paid off. In one of the investigation's biggest scoops, the team found that new Nike shoes were being destroyed instead of recycled.
And pair of white Pumas belonging to TV presenter Linda Zervarkis led them all the way to Nairobi, Kenya, where the reporters traveled to find out more about textile imports into Africa and the problems they cause, including huge, environmentally-damaging landfill sites largely made up of unwanted old clothes.
Sneakerjagd had a broad impact, reaching around 10 million people, Salewski says, with high-profile TV shows including Tagesschau helping boost its profile even more than social media.
"These stories are highly important to capture the trail of toxicity that waste creates," says Schapiro. "It's got to be reminded to people over and over and over. When waste comes out of your house or workplace, it doesn't disappear. Part of these investigations is also about throwing the responsibility back on the manufacturer — often there are much less toxic alternatives available."
Interrogate the Figures
A painstaking trawl through data — followed up by on-the-ground reporting — was the basis for an investigation by journalists at Ojo Público, which published Latin America: the Repository for Other People's Garbage in November 2022. That story highlighted the huge environmental and ethical problems created by exports of plastic waste to the region.
Journalists at the outlet, a GIJN member, found that the recycling process itself is fraught with problems and the surrounding industry is not transparent.
The trigger for the investigation? "A small report that said Latin America was the landfill for the world," says Ojo Público journalist Kennia Velázquez, who worked with Moníca Cerbón and other colleagues on the story.
Mexican and Peruvian journalists partnered up to delve into the issue, using a data platform providing information about the shipping industry to pinpoint plastic garbage shipments.
The way that governments present plastic waste and recycling as problems for individuals to solve spurred their efforts. "There is a big discussion about what we do with plastic. Industry and governments say 'you have to recycle your trash, be responsible.' They put the responsibility onto the consumer, not the industry," Velázquez says. "When I started to think about this investigation, I saw around me that plastic is everywhere, in the supermarket, at my house. We wanted to look at the dimensions of this."
The team painstakingly trawled data showing containers of trash arriving in Latin America, separating out plastic waste from other shipments such as used batteries, contaminated water, and chemical products.
"That gave us an idea that the problem is bigger than we thought. Only in Mexico, we found 50,000 shipments," Velázquez says.
Other countries ship trash to Latin America, supposedly for recycling by private companies in a lucrative business stream. The journalists found that the waste is often not ready for recycling, needs to be washed using polluting chemicals and water, or eventually ends up dumped in landfill, potentially contaminating the surroundings with microplastics. Some companies involved in the recycling process did not meet environmental regulations.
"One interesting thing about stories that reveal the export of waste is how these show, explicitly or implicitly, companies that manufacture goods including toxic components often are under no pressure to deal with the waste part of their product," Schapiro says.
The Ojo Público analysis was done manually, using Excel, checking every line of description of each container — because each container description was different and automating the process might have meant missing valuable information.
The journalists then contacted the companies and governments responsible for the shipments. They got only one answer. "We saw a lot of opacity. We wrote to many governments, they never answered. Only one company answered and said everything was perfect," Velázquez says. "There is no official data available in the countries, that's why we went to the platform."
The team decided to zoom in on individual sites, to highlight the scale of the problem and make the huge numbers easier for readers to comprehend.
Images played an important role and the team's photographers even resorted to going undercover to take photos of a municipal waste site in Mexico, while drone images also helped build up a picture of the trash situation. "One of the things I wanted to illustrate is that we have a lot of trash — so why are we importing trash?" Velázquez says.
A Global Problem
In many parts of the world the coronavirus pandemic drove single-use plastic use higher and has sharpened the focus on the big question of what to do with used plastics. Back in Europe, in the two years since Sneakerjagd, the problem of Europe's waste has certainly not gone away.
Last month, Investigate Europe published a large-scale investigation into the region's plastic problem entitled Wasteland — Europe's Plastic Disaster, aiming to shine a light on all areas of the plastic waste problem, using a data-driven approach.
The investigation uncovered the shortcomings of Europe's circular economy, highlighting issues such as the pollution involved in incinerating rubbish and the illegal trade in waste.
"There was a lot of data crunching, but we used simple techniques, like spreadsheets, Excel, etc.," explains Nico Schmidt, the lead researcher for the Wasteland investigation.
As for the Ojo Público reporters, the data-combing revealed a huge transparency problem. "The data comes first but then comes the story, so you look for peculiarities, you question the data and end up with a set of questions," Schmidt says. "With waste you have many different data sources, and of course then you have to look at where the data is coming from, who is actually providing it."
Sometimes data from plastic producers is presented almost as official data, he notes. "A lot of effort went into comparing the different data sources and even understanding very basic principles because sometimes things are just hidden in the footnotes."
Other Notable Investigations
Sweden's premier investigative program, Mission Investigate from public broadcaster SVT, joined international colleagues to reveal how organized crime earned millions of euros by stealing clothing from charity collection boxes. This 2021 documentary used GPS trackers, hidden cameras, drones, and on-the-street sleuthing to catch an international gang operating in multiple countries.
This recent Reuters special report looked into claims by the petrochemical giant Dow, which said it was working with the Singaporean government to transform old, donated sneakers into playground equipment and running tracks inside the tiny nation. But after using GPS trackers to monitor 11 pairs of donated shoes, Reuters found that 10 of them instead ended up being re-shipped through middlemen and, eventually, scattered across Indonesia. The team ultimately tracked down three of their target pairs of shoes, which had ended up in secondary shoe markets. None of the shoes followed the recycling path claimed by the corporation.
In 2022, this Slovenian investigative site undertook an ambitious series that examined the fate of that country's rubbish across several different consumer categories. To study where these items went, the team outfitted trackers to 30 common household products, including plastic bottles, a TV, computer, baby doll, backpack, and vacuum cleaner. It found many recyclables ended up in regular trash streams, and other items traveled to Croatia and Pakistan. Oštro also published a helpful methodology piece on lessons learned and advice for others looking to replicate this line of investigation.
This reporting project was prompted by a waste company being caught illegally dumping recyclable material in the capital of Brasilia. To understand if this was a one-time incident or emblematic of a systemic problem, the Brazilian online site attached more than five dozen trackers to common recyclable items and followed their progress for one month. The reporters found recyclables were frequently misdirected or mixed into common trash and ended up in landfills. The story spurred several waste companies and a municipal agency to respond to try to fix the issues. For its pioneering use of remote trackers to do accountability reporting on waste, Metropoles won a 2022 SIGMA Award.
These stories from Finland, released in 2020 and 2021, drew international attention. Journalists from the country's public broadcaster, Yle, hid six small trackers in used clothing in poor shape, put into charity bins and drop-off boxes where high street fashion chains collect used and unwanted clothes. Despite claims by charities that they don't export clothes in bad condition, the team traced them to Latvia, Pakistan, and Africa — where they are called "dead white man's clothes."
Additional Resources
GIJN Resource Center: Investigating Supply Chains
My Favorite Tools with Russia's Roman Anin
Tracking the Illegal Trade in Artifacts
---

Helen Massy-Beresford is a reporter and editor based in Paris, France. She covers business, sustainability, aviation, science, and food among other subjects.