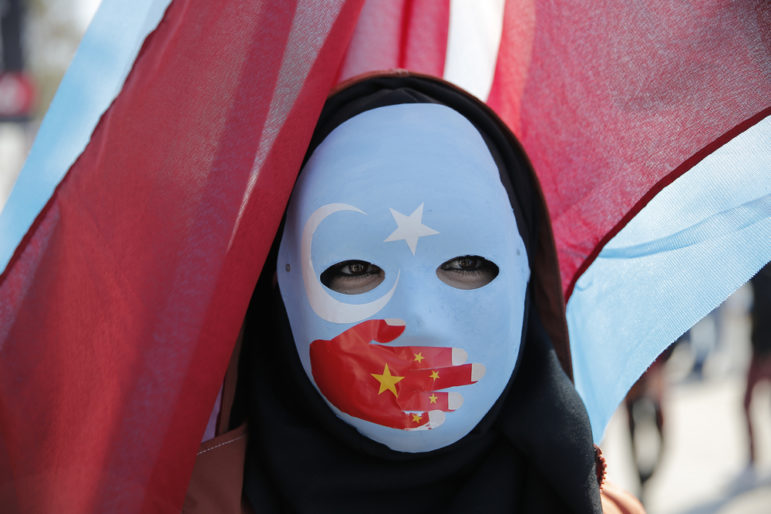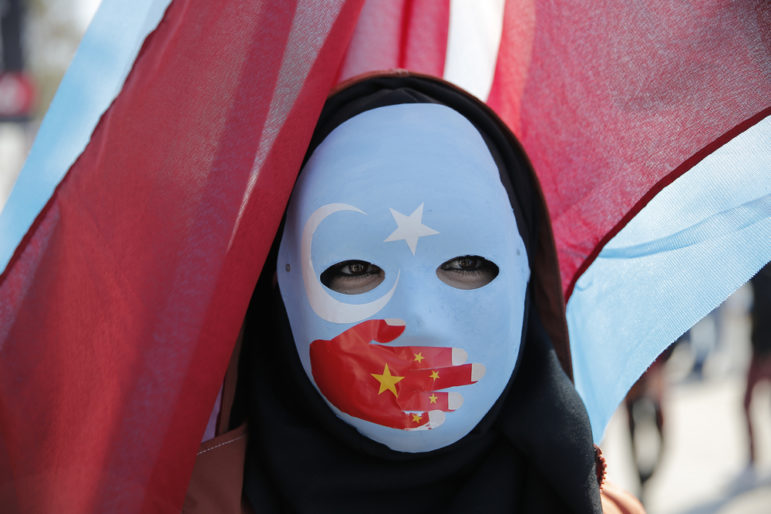 Interrogating China's "Google Maps" to Investigate the Xinjiang Detention Centers
Read this article in
Editor's note: Last year BuzzFeed published a series of investigations into the detention centers being built by China in Xinjiang, where the region's Uighur and other minority groups have been sent for "education and vocational training." Key to those investigations were the open source and geospatial analyses carried out by the team. Architect Alison Killing — who worked on the project with BuzzFeed's journalists — explains how they did it.
The world first heard about China's program of mass detention in the northwestern region of Xinjiang in 2017. Radio Free Asia reported the existence of these camps in the spring of that year. By the autumn, Megha Rajagopalan, then the China bureau chief for BuzzFeed News, was one of the first journalists to visit one of these internment camps for the region's Muslims.
We met at a workshop a year later. Rajagopalan had worked in Xinjiang for a number of years and broken major stories about the region, but the Chinese government declined to renew her visa. It was mid-2018 and there were credible estimates that 1 million people had been detained in camps which had sprung up across the region. But while the work of one anthropologist, Adrian Zenz, suggested there were around 1,200 camps at that time, only a few dozen facilities had been found. 
The Chinese government initially denied the existence of the camps but, in late 2018, it claimed that the centers were for education and vocational training. Meanwhile, leaked government documents from 2017, obtained by the International Consortium of Investigative Journalists, described measures to prevent escapes from the camps and indicated the presence of armed guards.
We got talking about how we might investigate further despite not being in China, and how we might use satellite imagery to do so. I'm an architect and urban planner by trade and had been working on a documentary project to map migration to Europe; I had done a lot of spatial analysis, satellite imagery, and cartography work. Not having a Chinese visa obviously restricts your access to report in Xinjiang, but even reporters based in China were facing difficulties. Movements in Xinjiang were restricted and there was ubiquitous surveillance, while the threat of being sent to the camps made it difficult to work with sources.
The sheer size of the region — it is nearly four times bigger than California — combined with frequent detentions of reporters made it impossible to investigate the camp system from on the ground. But within a few months we came up with a strategy that we thought could be viable.
I had read an article in WIRED about how buildings were sometimes removed from Baidu Total View, the Chinese equivalent of Google Street View. Power station chimneys and factories would sometimes be painted out of the street scene, often quite clumsily, and it occurred to me that if industrial buildings were being removed, more sensitive buildings such as internment camps might be, too. There were a handful of Xinjiang camps that had been visited, photographed, and corroborated by journalists, and which we could therefore be certain were detention facilities. I went to look at these locations in Baidu Total View.
There was no street level imagery available near the camps, but zooming in on one of the locations in Baidu I noticed that the satellite imagery tiles didn't seem to be loading properly. Over the location of the camp was a blank, light grey tile. Zooming in further, both the blank tile and the satellite imagery tiles disappeared, to be replaced by standard reference map tiles — the ones which show simple lines for roads and outlines of buildings. Zooming out and back in again, the same thing happened, with the blank tile appearing over the camp location, then disappearing as I zoomed further in. When I found exactly the same thing happening at other known camp locations, it seemed we found a strategy we might be able to use to find the rest of the camp network.
Examining a Secret System of Detention
We worked with developer and data specialist Christo Buschek, who previously worked on preserving digital evidence of human rights abuses at the Syrian Archive, to examine the mask tile locations. We'd initially expected there would be a few hundred thousand locations to sort through, but we had just over 5 million.
These tiles covered all sorts of facilities and land uses — from solar panel arrays to industrial plants and military firing ranges and, of course, internment camps and prisons. We narrowed those 5 million down by choosing to focus on areas in and around towns and along major infrastructure routes. We knew that camps would need infrastructure to get construction materials and workers to their locations, and would need amenities such as electricity and telecoms that are most easily accessed close to existing settlements. Roads and proximity to towns were also useful for transporting detainees and for workers to commute. We knew anecdotally that some detainees were travelling regularly back and forth between their homes and camps, so it was likely that the camps would be close by. That left us with around 50,000 locations to check. I began to work through those systematically.
It took one week to check 10,000 mask tile locations. That helped us to do two things:  see the range of styles of internment camps, from old pre-trial detention centers to the makeshift camps created in former schools and purpose-built high-security facilities; and to determine the sort of locations where they were likely to be. A typical location was an industrial estate on the edge of town. This information helped us to narrow our search further. We also realized that there seemed to be at least one new camp in every county in Xinjiang, and this also helped us to know to keep searching when we hadn't yet found a camp in a certain area.
There were a few ways we were able to determine that a given location was likely to be a camp. We weren't able to go to Xinjiang and check each of the locations ourselves and we didn't feel that it would be safe for a local journalist to do so either. First of all, we had a list of a few dozen locations that had already been identified as camps, some in media reports and some from the work of Shawn Zhang, a Canadian student who had located a significant number of camps through government documents such as tenders.
These allowed us to identify the hallmarks of camps and develop a rubric — features such as barbed wire pens in courtyards, high perimeter walls, and guard towers — with which we could identify other likely detention compounds. In several cases we also had photographs taken at ground level, which allowed us to confirm that what we thought we were looking at in the satellite imagery was correct. This existing list of known camps served as a key to help us find the others. 
When it came time to publish, we were careful to explain our level of certainty about each location to our audience. Did we have eyewitness testimony to corroborate a given location? Had other researchers found evidence? How strong was the satellite imagery evidence in each case? We found 268 detention compounds (many of which contain two to three camps and prisons) and were also able to show a dramatic shift in the detention program. While early camps had often been makeshift conversions of schools and hospitals, the Chinese government were now building higher security, permanent detention facilities, with the largest able to hold some 42,500 people.
In response to a detailed list of questions about our article on the camp network as well as a list of GPS coordinates of facilities identified in the article, the Chinese Consulate in New York said "the issue concerning Xinjiang is by no means about human rights, religion, or ethnicity, but about combating violent terrorism and separatism," adding that it was a "groundless lie" that a million Uighurs have been detained in the region.
"Xinjiang has set up vocational education and training centers in order to root out extreme thoughts, enhance the rule of law awareness through education, improve vocational skills, and create employment opportunities for them so that those affected by extreme and violent ideas can return to society as soon as possible," the consulate added. But it also compared its program to "compulsory programs for terrorist criminals" it said were taking place in other countries, including the US and the UK.
China's Foreign Ministry and Baidu did not respond to repeated requests for comment.
Throughout the investigation we had a clear split of the work among the different members of the team. At the beginning, while we set up, Christo was doing the bulk of the work to build an online database tool that would allow us to map potential camp locations and record key information about them. Once that was built, I could start work with the spatial analysis to actually find the camps and populate the database with information about them.
Megha focused on interviewing former detainees. We were in touch constantly and refining our work according to what the others had found, adding new features and fields to the database in response to a pattern we'd noticed in the camp construction or verifying a location that we believed one of the former detainees had been held. When it came time to tell the story, this combination of skills was useful; we could show the scale of the detention program through the data I had uncovered, while the detainee interviews showed what this meant at a human level.
We hope that our work will have significant impact. Until recently, policy makers have lacked detailed information about the abuses taking place in Xinjiang. That's now slowly starting to change and our team has been approached by both human rights lawyers and those working in policy to say that our reporting helped to inform their work. A bill is currently moving through the US Congress that seeks to ban all imports from Xinjiang where, for example, forced labor has been used with the onus on the company to prove that this is not the case.
Additional Reading
Resources for Finding and Using Satellite Images
How Exiled Journalists Keep Investigating in China, Burundi, Venezuela, Russia, and Turkey
When a Picture Tells the Story: 9 Investigations That Used Satellite Imagery
---

Alison Killing is an architect and expert in open source and geospatial investigations. She runs Killing Architects, where the team use architecture and urban planning skills to investigate urgent social issues, from surveillance in cities and migration to uncovering secret networks of prison camps.