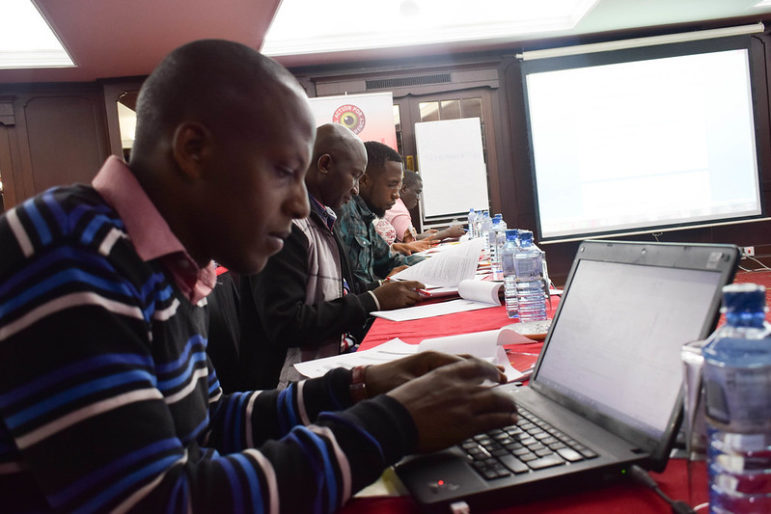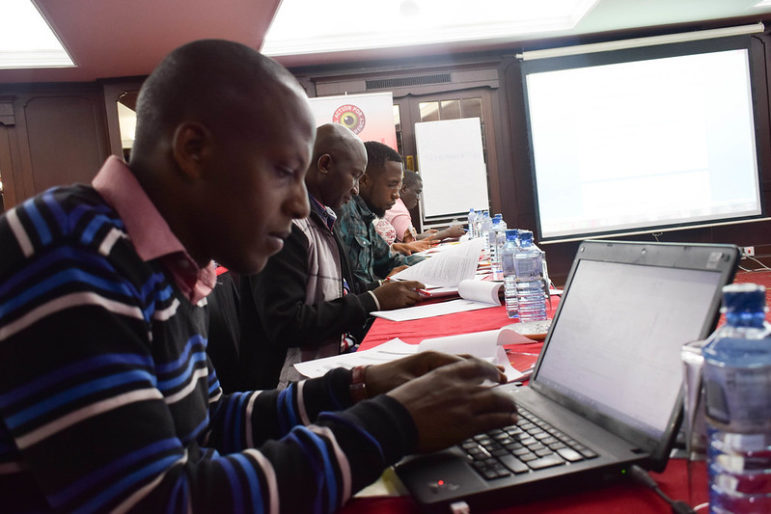 TI Kenya's Programme Officer, Samuel Komu, during a mentorship training. Photo: Courtesy A4T Kenya
In Kenya, NGOs Bet on Investigative Journalism to Boost Transparency
It started with the image of a bus that appeared in Amina Wako's mind, when she and other trainee reporters were competing for investigative reporting grants from Transparency International.
Prior to applying for a new reporting program at Transparency International Kenya, Wako had worked as a civic awareness officer for a Kenyan NGO. While she was there, she noticed numerous hints of corruption in county government audit reports. And on "pitch day" in Nairobi, in 2017, she remembered the non-delivery of a bus to a primary school buried in one of those reports.
After months of reporting, and guidance from a project mentor, Wako's report showed that the would-be school bus had, in fact, been diverted by a local politician to ferry supporters to election events, and had never benefitted a single student.
In a partnership between TI Kenya and Sweden's Fojo Media Institute, the project Action For Transparency (A4T) was launched in 2015 to raise public awareness about the real-world and personal impacts of corruption, and to empower citizens to become involved in monitoring how public money was spent.
In 2017, the project co-developed and provided a digital tool for citizens to anonymously report cases of malfeasance. To date, the "A4T" app has received about 3,000 downloads, which has triggered at least two investigative stories and various referrals to state anti-corruption organizations.
Later that year, the project leaders decided to become directly involved in investigative journalism, with training, mentorship, grants, and stories published in major media.
Wako was one of 45 trainees initially chosen for A4T's first investigative journalism program in 2017. This included 15 staff reporters working at various news outlets, 15 freelancers, and 15 students. Thirty-seven completed the training, and grants and mentor assistance were awarded to the 10 winning pitches.
Abraham Mariita, civic engagement officer for TI Kenya, said the three pillars of the broader A4T program – public engagement, the A4T app, and investigative reporting support – were now beginning to intertwine and reinforce each other.
"We always wanted to promote the coverage of corruption, and it was the right time to work directly with reporters in 2017, when our own CPI (Corruption Perceptions) Index showed that Kenya was 143 out of 180 countries, which is really bad," said Mariita. "Fojo Media Institute does great work in media development and TI works on governance and accountability, so we were able to integrate our strengths in this partnership."
"We decided the ideal would be to induct new journalists into investigative reporting, and not just train staff reporters," Mariita added. "We needed reporters [trained] to understand financial documents, because some government departments actually plan how they are going to steal resources ahead of time."
Public accountability reports were produced by nine grant recipients in the past year, and published on media platforms like The Daily Nation, The Star, public radio, YouTube, and the Kenya Television Network. Professional journalists and editors served as mentors on the projects, and experts from Code for Africa provided training on everything from data journalism to source development in the initial week-long workshop.
In some cases, the stories led grantees directly to staff reporting jobs in the commercial news media.
Now another group of 10 journalists are working on a new batch of grant-driven, mentor-guided stories, as part of TI Kenya's Eye on Corruption project, which was launched in 2018.
The project is part of a trend in which NGOs are increasingly moving into investigative reporting in which the lines between journalism and advocacy are becoming blurred. For example, Global Witness – an NGO that campaigns against environmental exploitation and human rights abuses – is just one major nonprofit that hires investigative reporters, and directly probes targets of its activism.
In her chapter on the trend from the book Global Teamwork: The Rise of Collaboration in Investigative Journalism, Anne Koch, program director at GIJN, argued that the  increasing role of NGOs in newsgathering lay at the heart of a core debate for journalism itself: "whether truth and transparency, rather than neutrality, should be in the forefront." While the traditional newsroom notion of impartiality "is at odds with the mission of NGOs," she noted that this notion was changing, or had even been abandoned, in many newsrooms.
Koch wrote that greater transparency in the relationship between nonprofit advocacy groups and professional journalists could lead to healthy outcomes, and noted that "the work of NGOs in the area of investigative journalism is important …  where media freedom is weak or nonexistent."
Mariita said TI Kenya's focus has been on spending in the education and health sectors, and that the story pitches from both the AT4 class and the Eye on Corruption class have echoed those themes.
"I can't say the impact of our stories has yet reached the policy level, but I can say that with the bus story, for example, the MP involved with the bus was not re-elected, and we believe that it was because of this story," he said. "Another story exposed [excessive] spending on a school swimming pool, and now the public is being charged to use the pool and there is no record of where these funds have gone — something being investigated by the authorities. But the more important impact has been in strengthening the landscape for journalism and public accountability."
Wako dreamed of being a reporter as a high school student, "because I thought it was the only way to tell the stories of those who could not." After college, she found the barriers to newsroom entry too high as a freelancer, and sold computers before she joined a civic empowerment NGO, PAWA 254.
She said the A4T program catapulted her directly into a staff reporting job at The Nation media group last year, where she has since produced several stories on public asset mismanagement and abuse.
The highlight of the bus reporting, she said, was using clues from a politician's own grandstanding to expose corruption.
"I found that the MP behind the abuse had actually brought the bus to the school where it was supposed to be delivered – so he could pose for photos to put on social media," she said. "Of course, the bus then disappeared. But I was able to use the number plate on the bus seen in that [photo-op] to find out where it went next, and how it was being misused."
Wako also found that the bus should never have been approved in the first place, with immediate health crises – including open sewers and a lack of drinking water – representing far more urgent budget items for the school.
The origins of Kenya's A4T project can be traced to unsuccessful transparency initiatives in Uganda and Zambia in 2012, where Fojo Media Institute attempted to roll out earlier versions of the A4T app.
Anki Wood, Fojo's international program manager, said: "It has been very exciting to see the project grow organically. The main difference in Kenya is that it is the right time. Unfortunately, the mobile penetration [in Zambia and Uganda] was not advanced enough [in 2012]."
Wood said the civil society partnerships and public engagement had promoted "a common sense of responsibility," but that the investigative reporting grants had provided the critical final piece to the transparency model.
"At the end of the day, there have to be consequences if you misuse the system, and that is why the media component is so crucial for the project," said Wood. "The most thrilling thing for me has been to see that A4T is not only revealing suspected corruption and misuse of funds, but we see signs that it is starting to also prevent corruption. For example, several head teachers have asked for an accounting feature in the mobile app, so they can better control their funds, and we are developing such a feature. We also see more audit activities in the school system in Nairobi."
Sarah Nanjala was the only student among A4T's first group of grant recipients — and also the first among them to have her story published. The story exposed a sanitation crisis within Nairobi's  public schools, and the budget mismanagement behind it.
Nanjala's only prior reporting experience had been as a contestant on Kenya's Top Story reality journalism TV show.
She said the guidance from her mentor, media consultant William Ogonda – as well as from more experienced fellow trainees – helped to launch the story and her new career in journalism.
"Perhaps it was my inexperience, but I never knew that investigative journalism required that much planning," said Nanjala. "At first, I wanted to do a story on the water crisis in Nairobi, [but] it was too wide, complicated, and would take a longer time than was stipulated. The questions [the trainers] asked helped me focus and narrow down to the story that I finally did. My mentor guided me from start to finish. We would discuss new angles and had a work plan for each week."
Late last year, TI Kenya received a grant from the Swedish Institute to run a similar program – this time, in partnership with Sweden's Eye on Corruption mentorship network. Two of the Swedish NGO's leading investigative reporters – Carolina Jemsby and Nils Resare – have since led the training and mentorship of ten trainees.
Mariita said the 3,000 downloads to the A4T app had flowed directly from outreach events, and that the app had not yet been marketed widely. But he said the platform had the potential to directly trigger numerous investigative stories in future.
"Not all challenges have been addressed, and the A4T project still has an opportunity to reach more people and motivate them to take action against corruption," he said. "Currently, we use a WhatsApp group that has the 65 journalists we have trained and some who have received grants. We are planning a platform with our app developer for journalists to view and follow up the reported cases."
The lasting legacy of these NGOs' foray into investigative reporting may turn out to be creating reporters who didn't know they could be reporters.
Nanjala said: "Most investigative journalists learn on the job, and this kind of training is not available in colleges. A4T helped me jump-start my career experience right after college." This, she said, helped her land a reporting job at the Daily Nation.
She added: "There is a growing mistrust of the media in Kenya by the public, and I believe more investigative journalism will help regain that trust."
The original version of this story was updated to reflect that the Eye on Corruption project was funded by the Swedish Institute, not the Swedish embassy in Kenya.
---
Editor's Note: Fojo Media Institute is a GIJN partner that provides support to our program in Bangladesh. Both Fojo and Transparency International have been co-sponsors of GIJN conferences. 

Rowan Philp is a multiple award-winning journalist who has worked in more than two dozen countries. Currently based in Boston, Philp was the chief reporter and London bureau chief for South Africa's Sunday Times for 15 years.