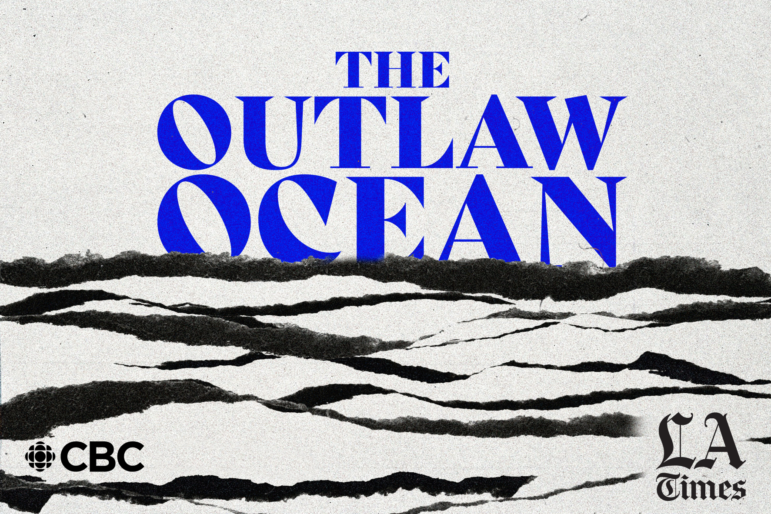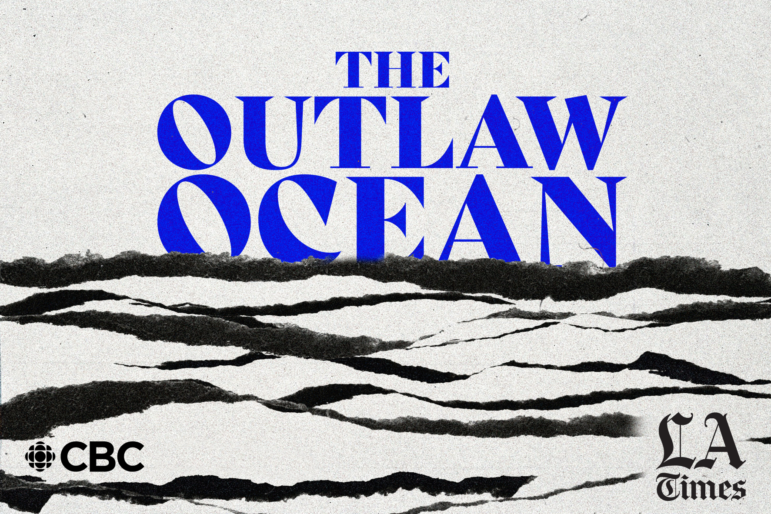 How We Turned Years of Reporting on the High Seas into a Podcast: Tips from Ian Urbina
Read this article in
The Outlaw Ocean Project is a nonprofit journalism organization that reports on the "watery two-thirds" of our planet, often beyond the reach of the world's media but ripe for investigation. Oceans are often seen as too remote or too challenging to cover, but they are an arena for pressing issues such as human trafficking, modern slavery, smuggling, piracy, and environmental crimes. The high seas — too big to police — are a legal gray area that people exploit to "murder, dump, and steal," but for the same reason they also provide freedom for those who want to escape land-bound laws for less nefarious reasons. 
Director and founder Ian Urbina, a Pulitzer Prize-winning investigative journalist, set up The Outlaw Ocean Project in 2019 to fill some of the gaps in reporting on what he calls one of the world's "last frontiers." Prior to launching the project, Urbina had covered this topic for several years while at The New York Times.
The latest venture of the group is a seven-episode podcast series, drawing on eight years of multimedia reporting on the world's oceans, in partnership with the Los Angeles Times and the Canadian Broadcasting Corporation (CBC). The series covers a broad range of topics, including slavery at sea, the longest law-enforcement pursuit in nautical history, sea-bound abortion providers, a World War II-era sea fort-turned-libertarian micro-nation off the coast of England, and vigilante conservationists. 
GIJN spoke with Urbina about bringing complex stories to life in audio, what it takes to produce a podcast, and his advice for other small investigative outlets that would like to harness the power of audio to tell their own stories. This interview has been edited for length and clarity.
GIJN: Tell us why you wanted to create a podcast about the world's oceans?
Ian Urbina: Our work focuses on the watery two-thirds of the world, and quite specifically on the human rights, labor, and environmental abuses that happen out there. It's a type of reporting that takes us to a very otherworldly place. And it's also a line of reporting that is often quite gritty and dark. For both of those reasons, converting the last eight years of reporting felt like a good idea: I think audio has this distinct power — emotionally, almost intellectually — to grab people. Because this place is so foreign, we wanted people to close their eyes and imagine, and we also wanted people to feel these issues a bit more than just think about them. The podcast format allowed us to do that better.
GIJN: The new podcast has seven episodes, each with a different theme. Why did you decide to delve into the podcast thematically rather than focusing on one investigation?
IU: Our goal, in an ongoing fashion, is to establish the breadth and diversity of stories on the ocean, to define what's happening out there to help the public reimagine the space. When you speak about stories offshore, I think people typically think of BP, of oil spills, Somali piracy, and plastic pollution. These are big and legitimate topics journalistically, but we're aiming to stretch that spectrum out, to fill out the taxonomy of people's understanding of what's happening. And so while we could have conceivably hosted a series that just stuck with one story, that didn't have as much capability to demonstrate the many characters and surprising issues happening out there. Going broader felt like the right move.
GIJN: Many of the stories that appear in the podcast were originally written investigations. How did you convert text stories into something suitable for audio? Were you always looking forward to what you might do in a different format?
IU: One aspiration of our reporting — though we don't always achieve it — is that for every story we do, part of it should be reported offshore. Partly that's because you get stories you might not get if you're just relying on on-shore interviews. But the second big advantage is video. By being in the realm, we can actually capture visually what's happening out there. So all the stories that have involved travel, I've had a videographer at my side. And that's been the case since 2014, when I started this reporting. We have this haul of visual content and it's from there that we pulled the audio. The quality turned out to be sufficient.
GIJN: How did you staff this? Did you have to bring in people with extra expertise? How about as a project for your organization — what did it involve?
IU: Before staffing comes funding. You've got to pay people to work for you. And so we applied for a NatGeo fellowship to build this. Once I had the funding in place, then I knew exactly who I wanted to turn to. He's a freelance videographer named Ryan Ffrench. He had spent several months going through all the footage we had before the podcast to index it. He knew the footage extremely well so I thought, why not leverage that? Ryan had never made a podcast before — he was an amazing videographer and storyteller, but he had not worked on audio. I saw that as an advantage because he was less likely to be tainted by the established norms within the field. He would be starting creatively from scratch. I think the end result shows that. We spent a year working on scripting and recording the whole process. We're a small team — we're only eight people on staff — so for a lot of these sorts of things we hire up, and this was the case here, we had a team of freelance consultants.
GIJN: How much does it cost to make a seven-part podcast like this when you've already got the material?
IU: The grant was around US$110,000, $120,000 and that was too little. We ran out of money and we needed to do some extra preparation, so it probably cost around $140,000, all told. 
GIJN: The podcast is broadcast under a partnership agreement with the LA Times and CBC. Were they involved in the making of the podcast, or just the promotion element?
IU: The money went towards recording sessions and editing, music rights, and about a year's worth of labor. And then we didn't actually put up any money on marketing. The way we work — whether it's a written story, video, documentary, or podcast series — we self-fund everything to maintain control, the intellectual property rights, and the copyright. And then we take it out to market and offer it for free to the world. And that was the case here. From a social change model perspective, if you're looking to get impact from journalism, I'm a big believer that you shouldn't be locking down your content with one venue. If you can find a way to prevent the exclusivity copyright clause then you should. So this was so fun to get out to market, and CBC and the LA Times are very excited about it.
GIJN: Did you reach new audiences?
IU: Some people are really into podcasts, and this was our first foray into this realm. So I think the medium helped with a market that we hadn't accessed before and then CBC really opened this up. They are the big player, so we found a lot of new subscribers on the newsletter.
GIJN: Do you have any idea of the numbers yet, and are you happy with them?
IU: I never pay attention to these metrics. But I do know that I think we hit number one in Canada in the first 48 hours. 
GIJN: Obviously language is going to be an issue in terms of having this podcast heard in other parts of the world, but are you interested in getting an audience in places where some of the victims you've met have come from?
IU: We make an extra effort to figure out how to get our content further, especially in the developing world, and non-European/American contexts. This was tougher because of the language, but what we did is we wrote a piece that was adjacent to each podcast, a short 500-word piece, then offered partners the opportunity to run the written piece in their own language, and also to run the podcast as an adjacent product or embedded product. I haven't seen numbers on that, but the principle of trying to ensure that all the journalism goes back to the regions, and runs in the regions the stories come out of, was worth doing.
GIJN: You had a sound designer come on board. How did you approach doing music with narrative?
IU: Because we have The Outlaw Ocean Music Project — a robust project that still recruits musicians from all around the world to interpret journalism and use sounds from it — we thought, let's have that as a backdrop to the storytelling. The question when you're dealing with a place so distinct, so foreign to many of us, such as the seafaring world, is how do you try to convey that other than just using words? So, a heavier use of music as a journalistic tool was baked into the plan.
We had disgruntled artists in December of last year, a subsection of artists who were not happy with the terms of the project. [Editor's note: Urbina apologized "unequivocally" after a controversy about royalties but added that the project had not earned him "a cent."] So we blew up the terms essentially, we redesigned the project, flipped the ownership structure, and said, "OK, from here forward, and retrospectively, all artists now own 100% of their music, and any revenue made from the music is 100% going back to the artists." We backed away entirely from any monetization of the music. There are genuine frustrations from artists who are struggling to get by, and so we radically changed how we handled the intellectual property of the music. We had, I think, 500 musicians at the outset, 420 — most musicians — are still on the program and very happy. We then chose music, obviously, from the "happy" musicians who remain in the project.
GIJN: What advice would you give to other small nonprofits who want to turn their investigative work into a podcast? Where do you start and what are the steps that they should take? 
IU: I think that there's a lot of noise on the internet. And there's not a lack of people producing content — there's too much of it. And so the challenge isn't, how do we make a good thing, that's pretty obvious. But how do you get it to rise above the noise? And that's a distribution question. That's planning ahead and thinking about it, and being not just motivated to do it, but committed to doing it. There's an old saying that there's nothing worse than a bad story widely consumed — except a good story that no one listens to. So I would say to places interested in doing a podcast, or entering the audio space: go for it, listen to some really good quality stuff, but then spend time thinking about how you are going to ensure that folks consume it.
Additional Resources
A Global, Best-of List of Recent Investigative Podcasts
How Taiwan's The Reporter Created a Chart-Topping Podcast
Using Comics, Music, and Theater to Bring Investigative Journalism to New Audiences
---

Alexa van Sickle is an associate editor at GIJN. She was previously a senior editor for the foreign correspondence magazine Roads and Kingdoms, editing and writing features and producing the magazine's award-winning podcast. She has also been an editor at the International Institute for Strategic Studies and a publisher at an international law non-profit in London. She lives in Vienna, Austria.

Laura Dixon is an associate editor at GIJN. She was previously a freelance correspondent reporting from Latin America and her work has been published by The Times, The Washington Post, The Atlantic, and US News, among others. She has received grants and fellowships from the International Women's Media Foundation, the Pulitzer Center, and Journalists for Transparency. She is based in the UK.