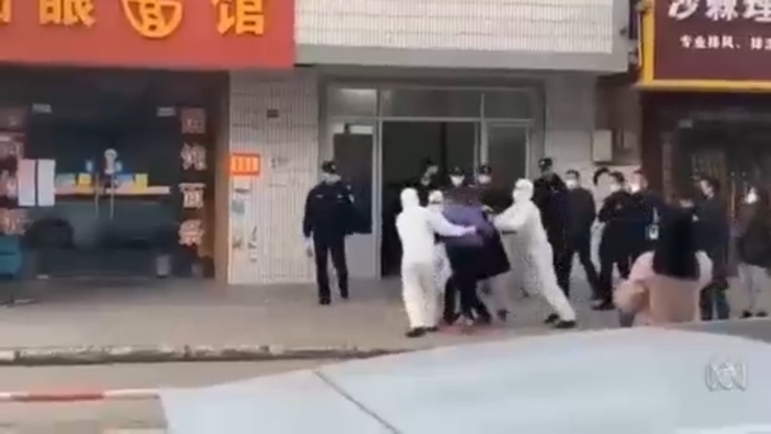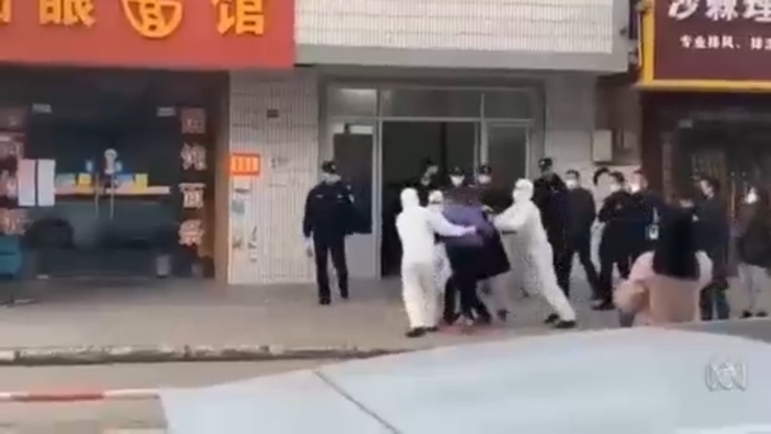 When Australia's ABC Four Corners television team first decided to produce a program on the coronavirus outbreak in China, most of the critical footage had already been shot.
The clips were filmed on mobile phones by residents and visitors to Wuhan, the city at the epicenter of the outbreak. They showed people with the virus being dragged into vans by police, bodies left on the street and on hospital floors, and — perhaps most shockingly — officials welding the doors of apartment buildings as neighbors looked on, expressing fears that this was being done to seal people inside.
Four Corners sourced, verified, and wove the video together with its own reporting, producing the entire 45-minute documentary in just three weeks. That timespan, which is one third of the usual production time for a long-form program, included verification efforts like matching hospital floor patterns among different sources and examining a street poster captured in one clip to test that the footage they had been sent was true.
Broadcast on February 24 — at a time when the world was still trying to understand the threat — the program demolished misperceptions that COVID-19 was just another kind of flu.
The documentary — titled Coronavirus — has received upwards of 12 million views on YouTube and achieved sky-high ratings for Australia's premier current affairs program.
Sean Nicholls, the reporter on the project, says their confidence in user-generated content (UGC), such as videos, audio, and photographs sent by people on the ground, was bolstered by the experience Four Corners had in producing a major documentary on Australia's 2019 wildfire crisis, which was broadcast 24 hours before the decision was made to make the Wuhan film. That documentary relied heavily on amateur video and social media footage from the front lines.
"That was largely shot by people in the middle of this firestorm; people battling to save their homes, fleeing for their lives, really dramatic stuff, and it was incredibly well-received by our audience," says Nicholls. "We learnt a lot about user-generated vision from that experience. And when you ask people what they remember about the [Coronavirus] film, it is always what people on the ground shot with their own iPhones — precisely because it was so raw, the unvarnished truth getting out of the country."
The Wuhan documentary was built on a scaffold of UGC from China, studio-style interviews in Australia, a collaborative arrangement with the BBC, timeline-based reporting, and parallel personal narratives. It told the story of a city in fear but also showed how a chilling government repression campaign failed to rein in information about what would quickly become a global pandemic.
The documentary follows two Australian visitors to Wuhan — Tim McLean and Ying Wang — and their increasingly desperate efforts to escape the city.
Wang's story illustrates the problems posed by Chinese government disinformation, in that she and her family chose to travel from Australia to Wuhan on vacation in January, based on an assurance made by the Wuhan authorities at the time that "the disease is controllable."
In his video diary, McLean provides a moment of sharp emotional drama in two clips taken hours apart after he had spent six weeks living with the virus and the subsequent chaos it created. In the first video, McLean — a Tasmanian farmer — is exuberant, having acquired permission to leave with his Chinese partner Xu Qiong on the last evacuation flight to Darwin, northern Australia.
In the next clip, having missed the flight due to quarantine-related travel restrictions within the city, McLean speaks to the camera in dismay: "I am absolutely f***ing petrified now, 1,300-odd people are dead here. The police are actually knocking on doors, taking temperatures, and if they've got a temperature, they're dragging them out, mate. You don't get an option. It's beyond quarantine now. I don't even know what to call it."
Nicholls says he gave McLean "some direction" in February, following his solo social media efforts in the last two weeks of January, but that his clips remained UGC in nature.
McLean, who is 52, has yet to leave China, but speaking to GIJN on May 2 he said his attitude on escaping Wuhan for Australia has changed since his footage was used in the documentary.
"I have to leave China by the middle of June, and I'm afraid to leave for Australia now to be honest," he said. "I feel much safer here. Restrictions have relaxed; we wear masks, but we have apps to get into shopping malls for track and trace, and the government seems to have a handle on it. I'm not confident about Australia's response at all."
McLean said he sent his video diaries to ABC Australia via the WeTransfer app, after acquiring a VPN account — a virtual private network which shields internet users by encrypting their data traffic. "I'm not computer savvy, so it was a bit laborious," he said. "I just really wanted Australians to know what was happening, to get prepared."
Nicholls says one of the lessons the team has learned from the UGC documentaries is the need to plan for the fact that many older people need additional help in compressing or sending large video files.
He said that further reporting by other media outlets later confirmed McLean's assertion that police had demanded to take some residents' temperatures during the lockdown.
He says much of the initial work involved a broad-focus search for relevant UGC, whether through social media or contact with McLean and Wang, and then sifting the content for clips that told the story.
Verifying the Images
For the Four Corners team, the key sourcing breakthrough happened when they discovered a YouTube channel where Chinese UGC producers had stashed their Wuhan street scene videos to protect them from deletion by Chinese government censors.
"Our researchers followed the digital breadcrumbs from people re-posting digital vision elsewhere," he says. "We found that some people in China and Hong Kong had been archiving posts [from other social media sites] on a YouTube channel that were being torn down by Chinese censors."
Their next challenge was the central problem faced by journalists everywhere when using UGC: verifying the location, time, and factual context of social media video posts.
Nicholls says that, ironically, one Chinese propaganda video that showed the interior of a Wuhan hospital proved important in confirming the location of other videos showing chaos in the same facility.
"The verification was done by looking at the pattern on the floor, the type of [plasterboard on the] wall, and the design of the door frames between the different videos," he says.
Whether the scenes showed action footage like people in white hazmat suits removing a family of four or simply images of empty streets, researchers on the team in Australia verified the time, place, and context for every clip. The team used reverse image searches from freeze-frame images and also worked with a professional video content agency in China.
Nicholls says the only story element used that they could not verify was the claim that footage of welding on apartment doors represented an effort by officials to seal people inside, which if true would represent a radical enforcement of the quarantine. The verification effort included area tracing of car registration plates seen in the images, but they were unable to fully corroborate the material.
However, the team showed two separate clips of the same kind of welding — footage that revealed the evident fear of those filming — while also being careful to let viewers know that these reports had not been corroborated.
"The narration essentially said: 'People started posting (video) claiming people were being welded into their homes,'" Nicholls explained. "We did that very deliberately to show we had not verified it, which is an important consideration with UGC."
Other key choices made for the project included:
Using online street view tools, in this case China's Baidu Total View, not only for geographic verification of UGC, but also for date confirmation. The Four Corners team noticed a new poster on a Wuhan street corner on the time-stamped Baidu platform, and so were able to confirm that the same faded, tattered poster on a social media clip was shot during the outbreak.
Hiring a professional translator to back-up a native Mandarin speaker on staff. Nicholls says having a second opinion on translation proved critical in the editing phase.
Excluding compelling, verified content not directly relevant to the story. Nicholls said: "You don't just use this stuff just because it's dramatic or cool. You need to use the material that fits into the story you're trying to tell."
Getting permission to use city footage from a private drone operator in Wuhan.
Re-shooting video of a Chinese dissident using local iPhone video after Skype interview footage proved to be low quality.
Using reverse image searches and freeze-frames from social media videos.
Working backwards from reposted social media posts to find the original archived videos.
Finding a collaborative partner through old-fashioned networking. The team reached out to Stephen McDonell, the BBC's China correspondent and a former ABC Australia reporter, for a key contribution on police activity at the border into Hubei province, where Wuhan is located. The BBC allowed the use of some of their visuals in exchange for attribution.
Nicholls shared many of the tips and strategies reflected in this piece in a GIJN webinar, part of the Investigating the Pandemic series. GIJN's next free webinar in English, Evaluating the Evidence, will be held on May 7, at 09:00 AM Eastern Time.
---

Rowan Philp is a reporter for GIJN. Rowan was formerly chief reporter for South Africa's Sunday Times. As a foreign correspondent, he has reported on news, politics, corruption, and conflict from more than two dozen countries around the world, and has also served as an assignments editor for newsrooms in the UK, US, and Africa.