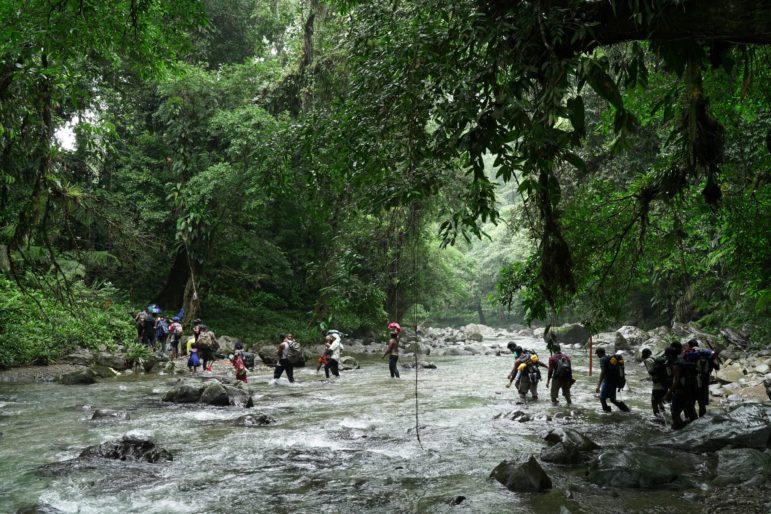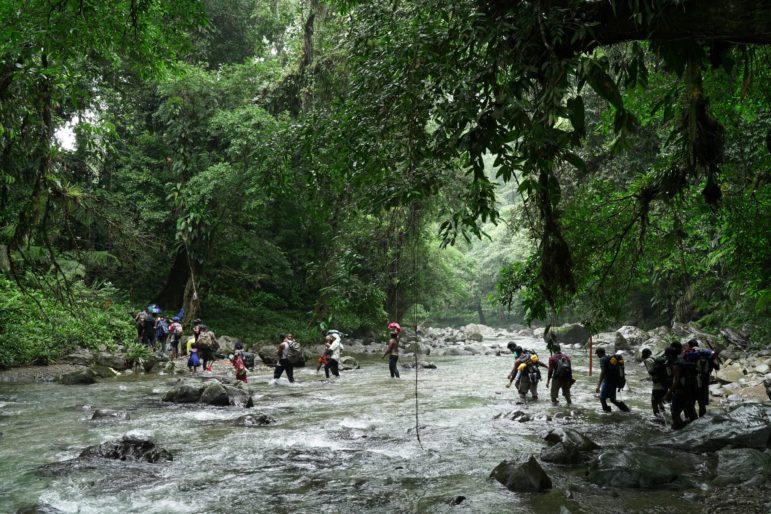 How They Did It: Covering One of the World's Most Dangerous Border Crossings
Read this article in
Every year thousands of migrants from Africa, South Asia, the Middle East, South America, and the Caribbean cross one of the most dangerous borders in the world: the Darién Gap, a magnificent and deadly rainforest that connects Colombia and Panama.
In Spanish, the name of this strip of land is "El Tapón del Darién." Its literal translation in English would not be the Darién Gap, but the Darién Stopper, a name that perhaps more properly conjures the nature of this dense and inhospitable jungle.
Several planned infrastructure projects for the area, from roads to railroads to interoceanic canals, have all been abandoned in the past and it remains a border wilderness, a territory controlled by organized crime and guerilla groups. The rugged landscape brings myriad other risks, like snake bites, tropical illness, extreme rainfall, and treacherous terrain. And telltale reminders of the deadly risks involved with crossing the Darién Gap are ever-present, as the unburied skulls, shoulder bones, and femurs of migrant corpses can be found along the seven-day trek through the heart of the 5,000 square-kilometer rainforest.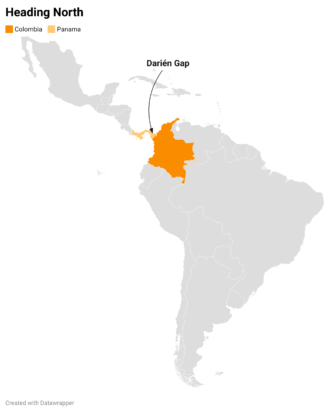 "What was more worrisome to me than an accidental run-in with the guerrillas or the Urabeños [a drug trafficking cartel mainly led by paramilitaries] were criminals who were not part of an organized structure," explains Nadja Drost, whose reports about this desperate border crossing for The California Sunday Magazine would earn her the Pulitzer Prize in feature writing for 2020. She also reported the story for the PBS NewsHour. "The reports that we had been receiving of systematic robbing and sexual assaults to migrants along the trail was, I would say, the top security concern."
Drost, along with video and photojournalists Bruno Federico and Carlos Villalón, joined one group of migrants on foot, following the same perilous path many others have taken, sleeping in hammocks, protected from the rain with just a tent, and guided by a local smuggler.
The Pulitzer Prize jury described Drost's magazine piece as "a brave and gripping account of global migration that documents a group's journey on foot through the Darién Gap, one of the most dangerous migrant routes in the world." While other migrant crossings, such as the Mediterranean or the US-Mexico border, are widely covered, the Darién is shielded from journalists by the dangers of the rainforest and the armed groups. Prior to their reporting, Darién Gap coverage — like this Wall Street Journal account, which also had Villalón as a photographer — mostly relied on dispatches from towns in Colombia or Panama, where the migrants departed or arrived, without venturing onto the migrant trail itself.
Crossing Continents
Last year 133,000 migrants made the crossing, and in 2022, the figures are estimated to reach even higher. Most people arrive at the Colombian side of the Darién Gap through another Latin American country, and are usually headed north to the United States. Haitians make up the majority of migrants undertaking this dangerous crossing, followed in number by Cubans and Venezuelans. But others come from as far away as Cameroon and Angola in Africa, and Pakistan and Sri Lanka in Asia. They arrive here via a circuitous journey that often begins when they learn from social media about specific South American countries in which immigration laws are lax.
"There are some conditions that enabled this route," notes Federico. "One of them was the total closure of European borders. Immigrants that try to reach Europe end up in detention centers, drown in the Mediterranean, or are blocked at some point." With pathways to Europe increasingly untenable, migrants from the Global South have shifted to taking advantage of migrant-friendly policies in countries like Ecuador, Brazil, and Peru.
From these initial locations, migrants then follow constantly shifting routes heading north to the Darién, and then by land up through Central America to Mexico's northern border, and, finally, the US.
Reporting on these smuggling routes is almost non-existent and there is little reliable information about the specific organizations or individuals managing them. How many routes are under the effective control of a single criminal organization? Is each stretch of the trail independently run?
"I think there is a human trafficking system run from China or Bangladesh," says Villalón, a Chilean photojournalist who has lived in Colombia for 20 years. "A Bangladeshi migrant once told me his debt in Bangladesh was US$40,000, which means somebody in Bangladesh lent him money to travel all the way to New York. If they still have to pay that amount of money to someone in their home country, I would think there is a very well-organized system that covers many countries."
Crossing the Darién
The three journalists who worked on this story were freelancers. Canadian-born Drost has lived in Colombia since 2009, working first for Global Post, then later as a freelancer publishing in outlets such as Time Magazine, Al Jazeera America, The Globe and Mail, and the BBC.
Federico began making independent documentaries in Colombia in 2010, and since 2016, has done regular feature reports for PBS NewsHour. His coverage of the Colombian peace process with the FARC guerrillas, done in collaboration with Drost, earned the pair a 2017 Overseas Press Club Award.
For his part, Villalón began reporting on the Darién Gap in the early 2000's and it was his deep knowledge of the terrain, and the contacts he'd established for decades, that allowed the team to safely travel the route.
"When I began visiting the Darién I traveled the rainforest with some contacts I made at a local bar, but it was a disaster, and these same guys tried to rob me and abandoned me. Then I traveled the river with Indigenous local guides. They also abandoned me," recounts Villalón. "Having a guide I could trust was a top priority for me. So, after years of working in the Darién, I asked a friend from a local family in the town of Acandí, who lived there since the town was founded, to introduce me to a good guide."
That guide was a man who had explored the Darién Gap for 40 years while hunting or searching for gold and who knew everybody that went into the jungle. Villalón traveled the migrant trail with him several times and understood the value of working with him: "When we went with Nadja and Bruno in 2019, we saw thieves operating very close to the border with Colombia, and our guide knew who they were, who their families were," he says. "They were young guys that ran away when they saw us."
Villalón explains that robbers always attack migrants on the Panamanian side of the border, never on the Colombian side, probably because the illegal armed groups that operate in Colombia forbid criminals from stealing in the territories they control. People in the Darién have told Villalón that the revenue these groups could receive from the migrant trades pales in comparison to what they earn from trafficking drugs.
But still, the presence of these gangs and the general insecurity on the Colombian side of the border was a complicating factor. Villalón says their guide made sure that those who posed a threat knew journalists would be covering the migrant trail, for how many days, and along which routes. According to Villalón, these precautions mitigated the risk of someone harming them: in a sense, they had been unofficially authorized by those in control in the region.
"We had very strong things going for us," says Drost. "One thing was any potential thieves recognized our guides. The second thing going for us was that we were traveling in a very large group, so there was also a certain safety in numbers. There were, I believe, a total of five guides, and at the end of the trip we were with upwards of 35 migrants."
Each guide charged $200 a day to take the journalists through the jungle. But the cost was worth it, Villalón explains: "If you go into a place like this without the proper local support, you'll most likely not achieve anything, or something very bad will happen to you."
When it came time to depart, the journalists brought, as a useful precaution, twice the food that was needed, water, a first aid kit, anti-venom medication against snake bites, several IV bags of saline solution, a satellite phone, and a GPS tracker to send a daily signal to the producer of PBS NewsHour, with their approximate location.
The week-long trek on foot through the heart of the rainforest was demanding. All equipment, including fragile electronics, had to be carried in backpacks or duffel bags, through one of the most humid regions of the world. The team spent their nights in hammocks hung on trees, and there were no villages or possibility of reprovisioning along the way. Even a simple accident, like a sprained ankle or a fall, could risk the whole reporting trip, or worse.
Nonetheless, a grant from the Pulitzer Center, a GIJN member organization, included an insurance policy – something not usually supplied by media organizations to freelancers. This policy included coverage of the costs of an emergency evacuation.
Still, as freelancers, Drost points out the added complications of undertaking a reporting project as complicated and risky as this one: If staff journalists from a news organization are injured and cannot work, they still receive their paychecks. As freelancers, an injury from the trip might have prevented any of them from working for months, unpaid beyond the fees received for their arranged pieces.
Reporting on the Trail
Drost and Federico spent six months exclusively working on this ambitious project, while Villalón mostly supplied the logistics and contacts for the trip, and photography for The California Sunday Magazine. The reporting stage involved three weeks in the field: a week in Capurganá, Colombia, a week walking on the migrant trail, and a week in Panama. Then, Drost and Federico took two to three months to write and edit three television packages. Similarly, Drost finished her magazine piece after three months of intense around-the-clock work.
The personal trust Drost established with her sources was essential to bring the story to life, given the potential risk migrants might perceive from being identified in a reporting piece. "Going through a joint experience helped tremendously," Drost explains. "My reporting approach for the magazine piece, at least, was I did not conduct any in-depth interviews with migrants while on the trail, although I knew that I would really need that for any people that would become protagonists of the piece, and that I would have to interview each of them for many, many hours." She said her focus on the migrant trail was simply to meet people, get a sense of them, and build a relationship with them.
Drost spent 24 hours on the trail with the Cameroonian and Pakistani groups that ended up being the protagonists in the magazine piece. She interviewed them only after they reached the migrant camp in Panama, where everyone had to wait until being taken to the border with Costa Rica.
Federico said his first challenge was producing two kinds of images at the same time: magazine photography and video for a longform TV journalism format. With just 10 camera batteries available, one for each day and no way to charge them, he filmed much less than usual. The group also carried a drone to capture the immensity of the rainforest and its beauty, but it was cumbersome and difficult to carry through the jungle.
"I tried to capture images that were born from our personal relationship with the migrants," says Federico. "We actually still meet up with some of them in New York for lunch. It has been three years and we still haven't lost contact with them."
In January 2021, Drost narrated on Twitter what she described as an "incredible encounter." Two years after publishing her piece, a Bangladeshi man who was delivering her food in New York recognized her from the PBS NewsHour report. He had gone through the same trail as the journalists a few weeks after them. "Ripol [the Bangladeshi migrant] has shared the video with friends and family; it helped them understand what he went through to get here," explained Drost in her Twitter thread. "Now that I've reconnected with many who made it to the US, some of these asylum seekers have told me how much it meant to them to see their journey reported."
Drost noted that it makes the migrants feel seen after undergoing such a harrowing experience, and that having the hardship recognized by others alleviates the burden of carrying it alone. She also wrote, referring to others like Ripol: "Even if journalism doesn't change the reason he had to traverse a treacherous jungle to get here, or how he is treated here within a dehumanizing asylum system, it can still mean something to the people who live a story: the simple act of telling it, and speaking someone's truth."
Editor's note: The reporting earned Drost the Pulitzer Prize for her report When Can We Really Rest? published in The California Sunday Magazine, the 2021 Michael Kelly Award (also for the magazine piece), while Drost and Federico won the 2021 Peabody Award for their Desperate Journey report, aired by PBS NewsHour.
Additional Resources
Reporter's Guide to Investigating Organized Crime: Human Trafficking
How They Did It: Collaborating Across a Continent on Latin America's Untold Migrant Stories
Mapping Migration Deaths with GIS Modeling
---

Santiago Villa is an award-winning journalist who has written for Latin American news outlets for more than a decade. He is currently based in Colombia, and writes an opinion column for El Espectador. He has previously worked as a foreign correspondent in South Africa, China, Venezuela, and Ecuador.