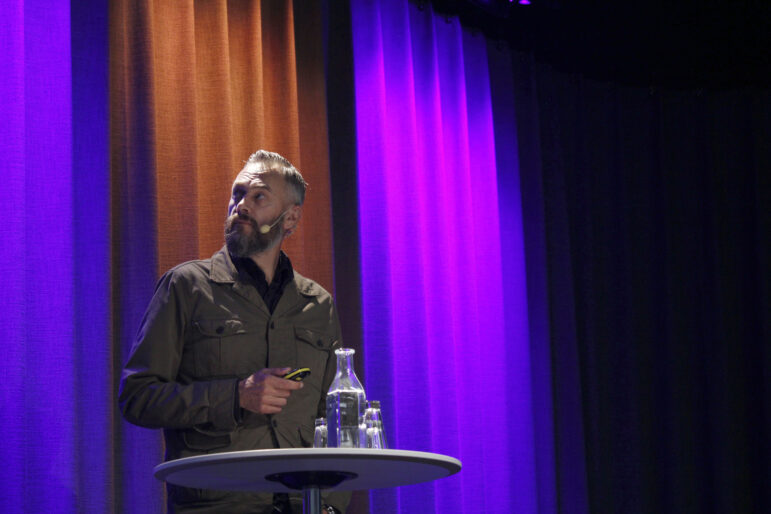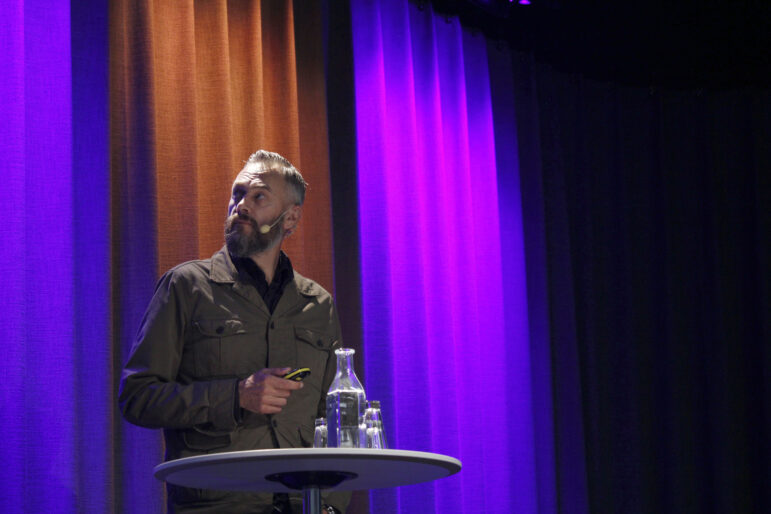 Olof Lundh, a reporter for TV4, who has investigated a series of stories from the world of football, speaks at GIJC23. Image: Heino Ollin for GIJN
How — And Why — Journalists Should Investigate Sports
Read this article in
"Sport is an under-investigated area," Danish investigative journalist Jeppe Laursen told the 13th Global Investigative Journalism Conference (#GIJ23). "There are easy stories out there, and it's quite approachable because there are so few people looking into it."
Laursen, from the Danish newspaper Politiken, spoke on a panel with Emelie Rosén, a reporter for Swedish Radio, and Olof Lundh, columnist, author, and reporter for Swedish station TV4. The trio of Scandinavian journalists offered behind-the-scenes insights into their investigations, including stories on everyday steroid use, the death of an Olympic long-distance runner, and financial corruption in football.
While the world of sport can appear quite closed, all agreed there are routes in for investigative journalists, often through paper trails or human sources. As a subject for investigations, sports shouldn't be overlooked, added Lundh: sports stories intersect with politics, social issues and health, and often involve lots of money — providing reporters with multiple entry points.
Kicking Off
Speaking to people working in sports — athletes, agents, doctors — can give good leads. Members or club supporters can help put pressure on sporting bodies to tell the real story, said Lundh.
Rosén's investigation into sexual exploitation, drugs, and suspected murder within elite-level athletics became a podcast, "Löparkriget," or "The Running War." Part of the investigation looked into the deaths of former 10,000-meter world record holder Agnes Tirop and fellow athlete Damaris Muthee Mutua in the same town in Kenya. While investigating Tirop's case, Rosén discovered a story of control and exploitation.
"The people that for years had earned money from her success — her sponsors, her agent — what had they known and what had they done about it? These were the questions I wanted to ask," said Rosén.
Rosén said she has multiple conversations with sources during her investigations, using the first chat as a chance to establish common ground. She makes notes of specific phrases or areas that the source felt strongly about, and returns to these in follow-ups to build trust and show how actively she was listening.
Getting to Know the Field
For journalists without a background in sports, Rosén recommends starting with a smaller investigation to build your understanding of a sport or topic. Rosén, who doesn't identify as a sports journalist, said her "outsider" status can be an advantage, offering a fresh perspective on events. Some sources have welcomed the fact that she is not inside their sport, and she often starts conversations making contacts aware that she may misuse specific terminology. This can help build trust, and re-emphasizes why you are speaking to sources as experts.
The flip side of this is having to report on everyday sports news after running an investigation on a club, sporting organization, or sport: Investigating human rights abuses in Qatar and then having to return to the country to cover football World Cup matches for his commercial broadcaster was challenging, said Lundh.
Team Talks
Many sports, especially the major football leagues in Europe, can be very hard to penetrate, the panelists agreed. "It's also very difficult to cultivate sources within football, because access to players is restricted," said Laursen. While agents may often be protecting their own interests, they can be good sources, sharing tips or leads about bad practices they have witnessed.
Be patient: cultivating sources in such a closed environment can take time, and sometimes those long-held sources turn out to be the "bad guy," added Lundh.
When investigating football, social media can provide useful leads, said Laursen. For example, in Denmark, clubs have been known to hire agents linked to players involved in transfers to save them from paying so much tax on deals. Social media posts can show which agents have links to which players.
Think Internationally
For inspiration, look at what sports investigations are happening in neighboring countries — can you replicate the same story, but for your national sports institutions or organizations? Think internationally too: sport is a cross-border phenomenon involving international bodies, brands, and fandoms, said Laursen. Working with journalists in different regions can help you chase down valuable leads and access a wider range of supporting sources.
Laursen shared how a team at Politiken had run an investigation into everyday steroid use in Denmark and the Danish owners of an online marketplace for drugs. The investigation took the journalists to India — a Mumbai address appeared repeatedly on drugs seized by Danish customs officers. The investigation involved multiple documents from a range of international sources; Laursen recommends organizing your investigation into a timeline or spreadsheet to keep track of research, and link sources to each event in the timeline.
Documents Are Hard to Come By — But Invaluable
Getting documents is one of the biggest challenges. There's no transparency in sport, especially football, said Lundh: "I would like to go into the Swedish Football Association and see what they pay for travel, but it's impossible."
Again, reporters may have to be very patient when waiting for crucial evidence: Andrew Jennings had to wait more than 10 years for a list of who had received bribes during his investigations into corruption at FIFA, said Lundh.
Still, paper trails for other business-related aspects of sport can prove invaluable, whether that's company records or documents from auditors or accountants. Following the money has been a critical part of many of Lundh's investigations. His stories include investigating why a Swedish football club paid a player an extra 1 million Krona (approximately US$91,200), and reports on allegations of tax evasion by referees when working for UEFA and FIFA.
On occasion, Rosén has been granted power of attorney or made a legal proxy by athlete sources, which has helped her access documents and secure important interviews.