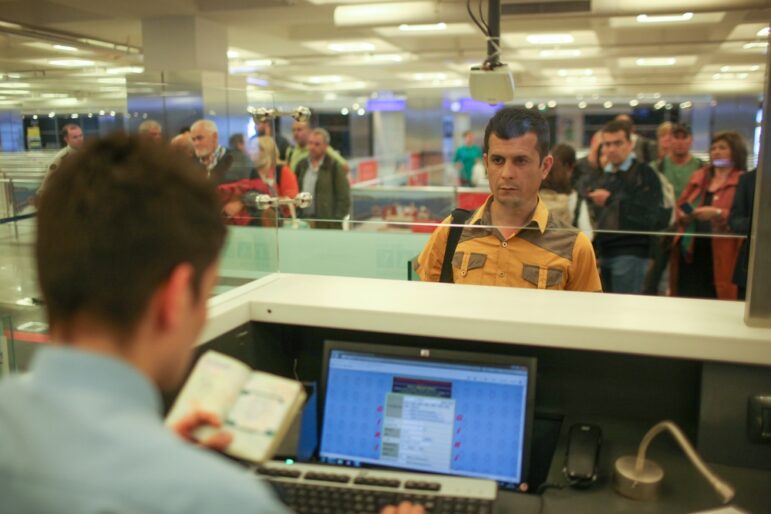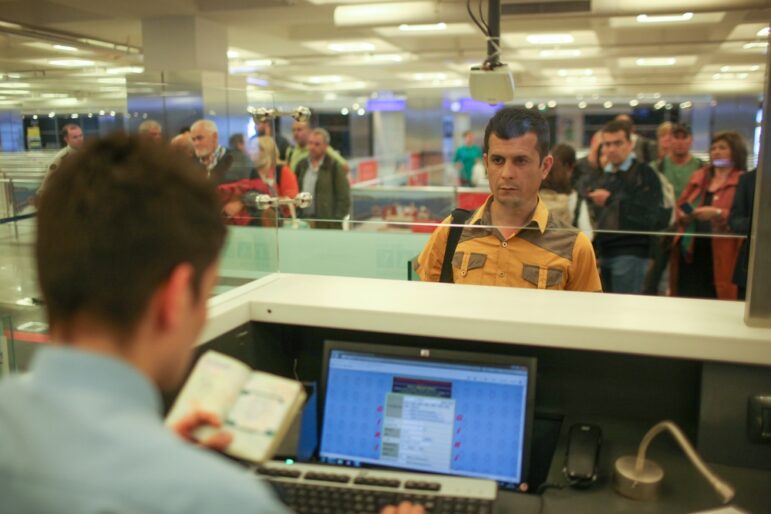 Travel Woes: The Challenges Investigative Reporters Face When Crossing Borders
Read this article in
In an era where corruption, financial crime, and illicit trade routinely span the globe, so too must the investigations that uncover them. But one of the least discussed and often unexpected obstacles in that pursuit involves the difficulties investigative journalists can face when trying to physically cross borders.
Whether it's being confronted with corruption or threats from border guards, or being repeatedly stymied by consular officials while applying for a visa to attend a conference, travel issues can frustrate even the best-laid plans of a good reporter.
Crossing borders can be a nightmare for investigative journalists, particularly in Africa, where reporters are sometimes subject to arbitrary detention or ominous demands for bribes by customs officers. Faced with these obstacles, many African journalists are forced go to great lengths to keep reporting — including hiding their profession or, in rare cases, choosing to enter a country illegally. This puts their physical security and professional stature at significantly higher risk.
Besides these potential threats, journalists from the Global South also face insidious discrimination when trying to travel abroad. In her blog, Iranian journalist Sudabeh Rakhsh set out the onerous and humiliating additional hoops that some women journalists have to jump through to get — or fail to get — a visa from a Western consulate in Iran.
"When it comes to inequalities, most people think of those established economic or political ones. The Global South, however, including Iranians and Middle Eastern citizens, are living through a double inequality of opportunity," Rakhsh wrote. "Which Western citizens have ever crossed the time-consuming and sometimes offensive high barrier of obtaining a visa?"
Sparse Data, Alarming Trends
Perhaps the most notable aspect of the plight of journalists' travel challenges is how little is really known. Plenty of reporters have anecdotes about intrusive digital searches, physical harassment, or extortion attempts by border guards, but no definitive dataset exists. Likewise, data on region-specific denials of visa applicants is hard to come by (and precise figures on media visa denials even more scarce). As a result, taking a broader look at visa rejections in general offers some insight into the scale of the problem.
For example, one recent UK parliamentary committee report on African visa applicants to Britain painted an alarming picture of what Global South citizens, including journalists, are up against. The committee found that African travel visa applicants overall were denied at more than twice the rate of the rest of the world. Similarly, according to an analysis of Schengen Visa Statistics in 2021 by Atlys.com, citizens of African countries were disproportionately excluded from travel to Europe, as more than half of all Schengen visa requests from Nigeria, Guinea Bissau, and Senegal were rejected in 2021. (Schengen visas grant access to 26 European countries.) In addition, applicants from India were rejected at a rate of 42% by Sweden and 30% by Norway.
Simply getting a travel visa for a Global North news event or conference is a huge challenge for journalists in Africa, Latin America, and the Middle East — and unaccountable visa discrimination against reporters in the Global South is emerging as a press freedom issue.
"This is an issue that many colleagues have experienced," says Troye Lund, editorial manager for the Investigative Journalism Hub (IJHub) in Southern Africa. "The application process requires one to submit a complex list of documents, a significant fee as well as a return airline ticket that has been paid for — an itinerary and letter from the host organization in the Schengen country is not enough. This means if one's visa is denied, or if it is not issued in time for the flight, one loses that money."
South Africa-based Khadija Sharife, senior investigative journalist at the Organized Crime and Corruption Reporting Project (OCCRP), says this discrimination often targets certain nationalities, rather than ethnicity or religion — though these too play a role. "An applicant from Nigeria or Zimbabwe will face a far higher decline rate than South Africa."
Sharife adds: "Even where things are done perfectly, citizens carrying 'high-risk' passports may be declined by default for arbitrary reasons they don't need to even explain."
One example: GIJN once booked an award-winning journalist from southern Nigeria to attend its global conference in Rio de Janeiro. A day before the conference, the reporter called from Lagos airport in tears, as the airline would not let her board. The reason: She was routed through Paris, and the French would not let her transfer without a "transit visa" — a separate visa just to change planes. (Without time to get a new visa, GIJN had to instead reroute her through Dubai — to Rio — where she turned up 24 hours later.)
In a recent piece on "passport privilege," Kenyan journalist Richard Oduor Oduku described the non-refundable application fees of up to US$200 and marathon wait times for consular interviews that Kenyan journalists must overcome. "The visa process racially profiles, discriminates, and humiliates," Oduku concluded.
Confrontations at the Border
Even when a reporter has the proper visa or travel documents, some border crossings can be especially perilous. This risk can be amplified further if you're an investigative journalist traveling into a country where watchdog reporting or open criticism of the government can trigger threats of detention or physical harm.
Togolese journalist Bonaventure N'Coué Mawuvi ran into trouble crossing the border between Ghana and the Ivory Coast for a story. Though both countries are signatories to the ECOWAS agreement that mandates freedom of movement — and free passage — graft and corruption have plagued some of the region's border crossings for years.
"I had to pay for the stamp on my passport," he says. "The agents didn't even back down when I showed them my press credentials." Mawuvi brought up the ECOWAS agreement. "The police officer told me to go talk about freedom of movement with the people at ECOWAS and that, here, at this border, he and his colleagues were in charge."
Investigative journalist Ibanga Isine says that such conditions make it tough to conduct a cross-border investigations in Africa, especially in West Africa. While digging into a network of human trafficking and prostitution between Lagos and Accra, Isine was arrested by Ghanaian immigration officials, who threatened to further detain him if he didn't pay a "fine."
"I told them that I was a well-known investigative journalist on the continent and that I had won the CNN Multichoice African Journalist Award as well as winning the Wole Soyinka Award on two occasions," he says. "However, it wasn't until a senior immigration official who I knew at [Accra's] Kotoka International Airport intervened that I was finally let go."
Basic Tips to Improve Traveling as a Journalist
Arnaud Ouédraogo, coordinator for the Norbert Zongo Cell for Investigative Journalism in West Africa (CENOZO), says his organization runs workshops to train journalists in travel security.
Recently, Ouédraogo saw firsthand the potential for border corruption when crossing into Niger to cover the second round of the presidential elections. Customs officials were charging people from Niger 1000 CFA (US$1.60), but doubling the price to 2000 CFA for people from Burkina Faso. When the border guards realized that Ouédraogo was a journalist, they separated him from the group, he believes, to prevent him from witnessing their graft.
One tip from Ouédraogo: always carry a press card or identification with you. While it might make it easier for customs officials to single you out — as it did in the aforementioned case — it can also offer some means of protection. "That doesn't work in all situations, but sometimes it can help," he says.
Here are other best practices to help journalists travel abroad for reporting trips or professional development.
Travel alone. It's not common practice for journalists traveling abroad for work to bring spouses or other family members along, but it's a good idea to leave them at home when planning to attend a professional journalism event. Consular officers are notorious for (incorrectly) deeming accompanied travel from the Global South to be a risk of undeclared migration. This also makes physical security much easier.
Apply for visas early. The next available appointment time for a visa interview at a Western consulate can be months in the future, and time may also be needed for additional document requests, and for processing time ahead of your outbound flight. Journalists are notorious for waiting until the last minute — don't do that here.
Get event documentation. If you're traveling to a conference or fellowship, have the organizer in the host country write to the relevant ministry or government department to describe the purpose and history of the coming event, and to alert them to expect visa applications from professional journalists from Global South countries. Make sure you also get a letter of invitation or registration confirmation from the organizer, including your name as it appears — exactly — on your passport.
Keep itineraries simple. Only apply for travel dates you can prove are professionally necessary, and request a single-entry visa. Requesting days or weeks in addition to the stated dates for reporting or for attending a conference can lead to rejection as well as unwanted attention from immigration officials. Western consulates now tend to grant visas only for the dates specified, plus a couple of days after to cover any return flight contingencies.
Take no chances. Don't give a host-country consulate any easy excuses to refuse you. Ensure your passport will be valid for the required period past the end of your trip (six months, in the case of Schengen visas); that you have blank pages in your passport; and that you have travel insurance to cover unforeseen circumstances (which tends to be surprisingly affordable). If a visa interview is required, assemble your documents carefully, point by point, following any directions on the consular website. Be sure to include printed copies of months of bank statements — not just account summaries — as well as any documents you can think of to prove your financial and family ties at home.
Know the local laws and regulations. While you're unlikely to win any legal argument with an armed border guard, a well-informed traveler is less susceptible to being harassed. Corrupt customs officials like easy marks, so someone who — politely — asks relevant questions and seems to know their rights is more likely to be seen as not worth the trouble.
Practice digital data austerity. To avoid officials snooping through your electronic devices and compromising your work or sources, cross borders with as little digital information as possible. A best practice is to securely store your data elsewhere so it can be downloaded later at your travel destination or once you return home. Also: don't make it easy for border guards to open your phone or laptop by leaving biometric access turned on — instead, turn off fingerprint and facial recognition and ensure you have a strong alphanumeric password in place. The Electronic Frontier Foundation offers a guide to protecting your digital devices at border crossings.
Additional Resources
State Censorship: The Other Travel Ban
Grants and Fellowships for Journalists
---

Sinatou Saka is co-founder of Ekôlab, a nonprofit dedicated to developing journalism in West Africa, and editorial project manager at France Médias Monde, which comprises the news channels France 24, the international radio station RFI, and the Arabic-language channel Monte Carlo Doualiya.

Rowan Philp is a reporter for GIJN. He was formerly chief reporter for South Africa's Sunday Times. As a foreign correspondent, he has reported on news, politics, corruption, and conflict from more than two dozen countries around the world.