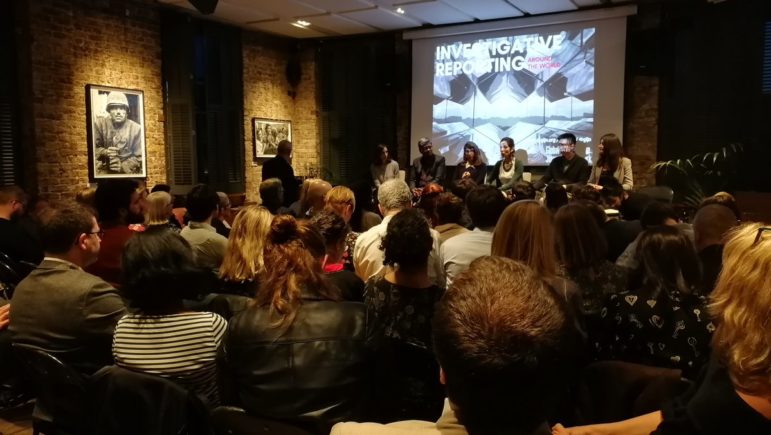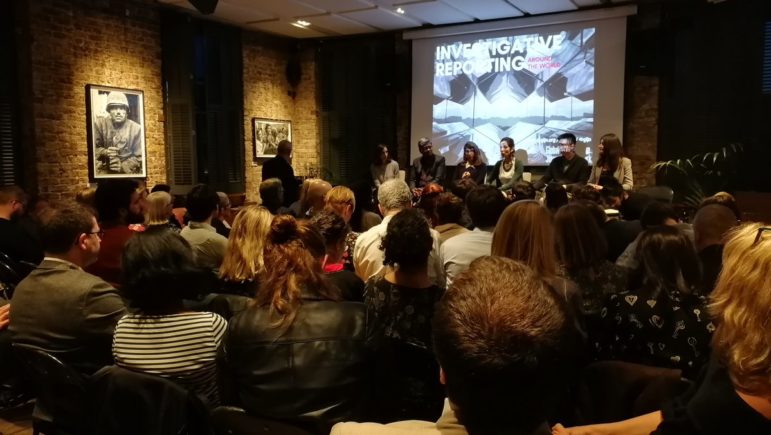 Most investigative journalists and others interested in our work don't know much about what goes on behind the scenes at GIJN. But on April 10 at the Frontline Club in London, over 100 people heard about the challenges faced by GIJN's regional editors and the journalists they work with around the world.
The Frontline is a gathering place for journalists and other like-minded people. Started by Vaughan Smith in 2003 in honor of colleagues at the Frontline News Television agency who died pursuing their work, its atmospheric brick-lined, war photo-studded meeting room hosts numerous discussions at the heart of international journalism. In the second half of this month alone there will be talks on the role of media during the time of mass atrocity in Rwanda, on open source investigators and on why "The Satanic Verses" still provokes furious debate.
GIJN's mission is to strengthen and support investigative journalists around the world. We do this through building networks, providing resources and a help desk, and convening skills-based conferences and workshops. Our first level of support is a global network of regional editors who monitor what is happening to the world's investigative reporters and produce daily feeds on social media in seven languages (English, Arabic, Bangla, Chinese, French, Russian and Spanish). Our staff had convened in London for GIJN's annual retreat, also held at the Frontline, to brainstorm, strategize and improve the work we do that reaches into over 100 countries. With nearly all our regional editors in one place (save our Africa editor from Uganda, whom British authorities declined to admit on time), we thought it a good opportunity to share their observations with London's impressive journalism community.
Our editors spoke about the increasing pressures on journalists everywhere – from widespread and growing legal obstacles, including criminal libel laws and travel bans, to physical and cyber threats, censorship and self-censorship, misuse and abuse of data, and unprecedented financial challenges to the sustainability of independent media. They detailed the threats which stymie the work of investigative journalists everywhere, including young enthusiastic recruits who are plugged in to the potential of journalism around the world, but scarcely able to practice it at home.
Despite the difficulties presented by all six regional editors, they also spoke about extraordinary investigations that have been published, including massive cross-border cases of Russian money laundering, revelations of a Chinese vaccine scandal and the disappearance of 37,000 people in Mexico – to name only three. People in the audience later said many of the stories were new to them. Often they are investigated by small nonprofit groups, among them GIJN's 177 member organizations in 76 countries.
The editors spoke, too, about the continued growth of collaborative networks of investigative journalists, including Latin America's Lava Jato (Car Wash) investigations, West Africa's Cenozo investigative network and the new francophone network Réseau 31, along with more established groups like the International Consortium of Investigative Journalists and the Organized Crime and Corruption Reporting Project. They also described how, in some regions, large media organizations increasingly are cooperating with small journalism outfits.
"Despite the many challenges faced by investigative journalists — physical assaults, jailings, lawsuits, compromised owners, a lack of resources and training — our ranks are growing," noted David E. Kaplan, GIJN's executive director. "Today, we have more investigative reporters in more places with better tools going after tougher stories than ever before. That's what keeps us going."
The GIJN staff also gave an overview of our global work – our daily multilingual feeds on investigative journalism, our Help Desk and Resource Center with over a thousand tip sheets, guides and videos, and our upcoming 11th Global Investigative Journalism Conference in Hamburg. The Frontline event was attended by a cross-section of the very community we seek to serve: journalists from larger media organizations like the Times, Telegraph, Financial Times, Guardian and the BBC; smaller nonprofit investigative journalism organizations (and GIJN members) The Bureau of Investigative Journalism, the Centre for Investigative Journalism and Finance Uncovered; kindred NGOs such as Article 19 and the Media Legal Defence Initiative; freelance writers, citizen journalists, academics and media trainers. Several journalists present at the meeting said later that they never before realized not only the scope of GIJN's network but also its granular reach to journalists in so many parts of the world, something Journalism.co.uk highlighted in its article on the event.
Interested in learning more about GIJN? Follow our regional editors' multilingual feeds here. Subscribe to our newsletters in English, Arabic, French and Russian here. And join us in Hamburg for the Global Investigative Journalism Conference in September. Finally, here's a small bonus: our eclectic staff, which hails from a dozen countries and cultures, put together this playlist of their favorite music. (Let us know what you think!)
---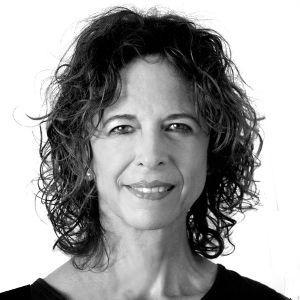 Anne Koch is GIJN's program director. She worked at BBC News for nearly 20 years, most recently as deputy director of the English World Service. Until 2017 she was a director at Transparency International.