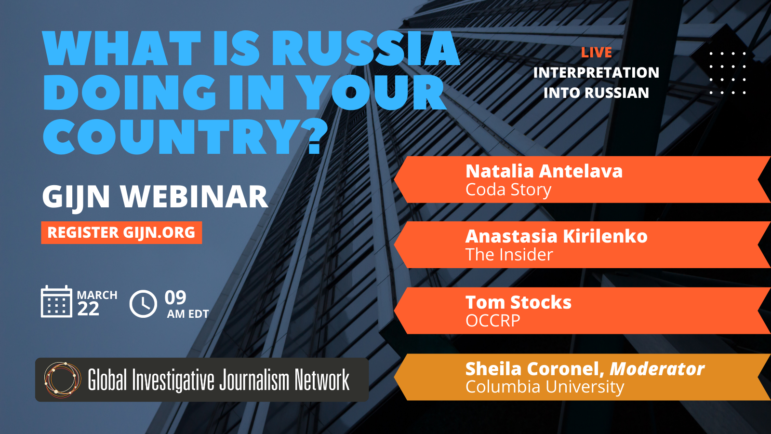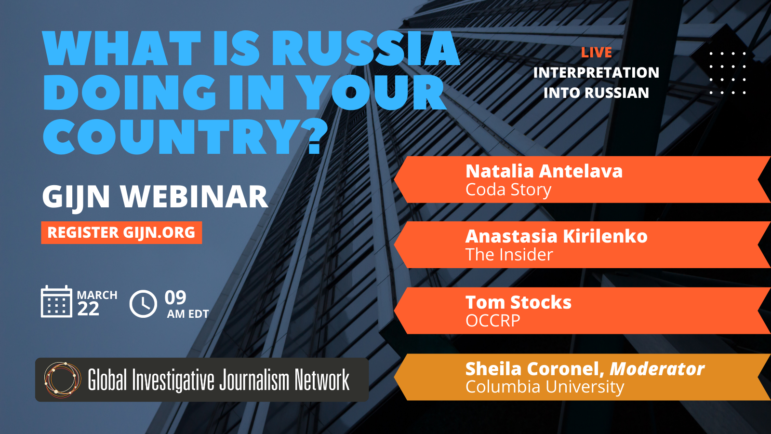 GIJN Webinar: What Is Russia Doing in Your Country?
Read this article in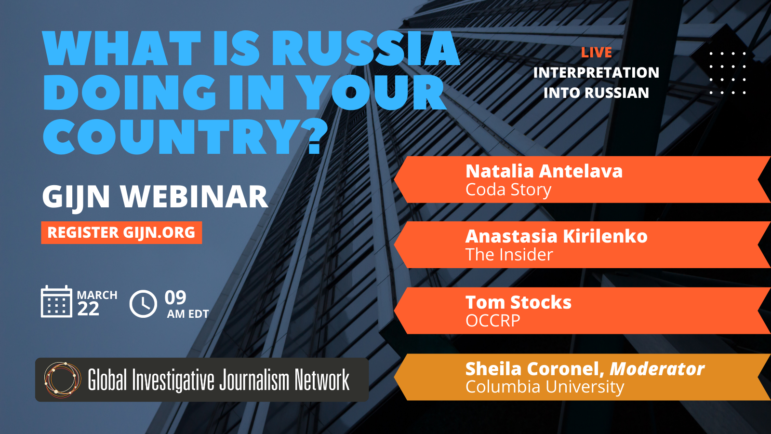 Russia's war against Ukraine has sparked growing interest in what Moscow is up to around the world. The use of military force abroad is the ultimate tool, but Russia deploys many forms of influence, overt and covert, including financial and economic influence, disinformation, and political interference. 
In this GIJN webinar, we bring together three senior journalists with broad experience in investigating Russia. They will offer tips and tools on tracking Russian disinformation, following the money, digging into its oligarchs, and identifying Kremlin political interference abroad.​​
Natalia Antelava is co-founder and editor-in-chief of media start-up Coda Story. Originally from Tbilisi, Georgia, Natalia freelanced in West Africa before becoming a BBC correspondent, and reported from the Caucasus, Central Asia, Middle East, Washington, D.C., and India. She covered the Russian invasion of Georgia in 2008 and the war in eastern Ukraine, and reported undercover from Burma, Yemen, and Uzbekistan.
Anastasia Kirilenko is a Russian independent investigative reporter and radio journalist. Currently based in Paris, she contributes to The Insider. She co-produced the documentary "Putin and the Mafia," on the links between Putin and organized crime, shown across Europe. From 2009 to 2015, Kirilenko was a reporter at the Russian Service of Radio Free Europe/Radio Liberty. 
Tom Stocks is a senior investigator at the Organized Crime and Corruption Reporting Project. He investigates cross-border money laundering and corruption, and provides research, analysis, and training to OCCRP's network. Previously, he worked in London, directing asset tracing and corruption investigations in support of litigation and arbitration, with a focus on Eurasian countries.
The moderator is Sheila Coronel, professor of journalism and director of the Stabile Center for Investigative Journalism at Columbia University's Graduate School of Journalism in New York. She began reporting in the Philippines during the Marcos dictatorship, co-founded the Philippine Center for Investigative Journalism, and served as the Center's first executive director.
GIJN has released a number of resources for journalists since the invasion of Ukraine. You can check out Investigating Russia Around the World: A GIJN Instant Toolkit and 15 Tips for Investigating War Crimes.
The webinar will include Russian interpretation.
Watch our Twitter feed @gijn and newsletter for details on future events.
Note: This webinar is intended for working professional journalists.
Date: Tuesday 22 March 2022
Time: 9:00 AM EDT – What time is it in my city?