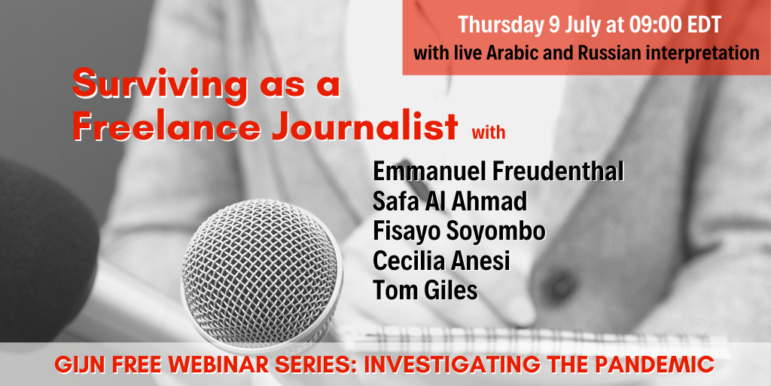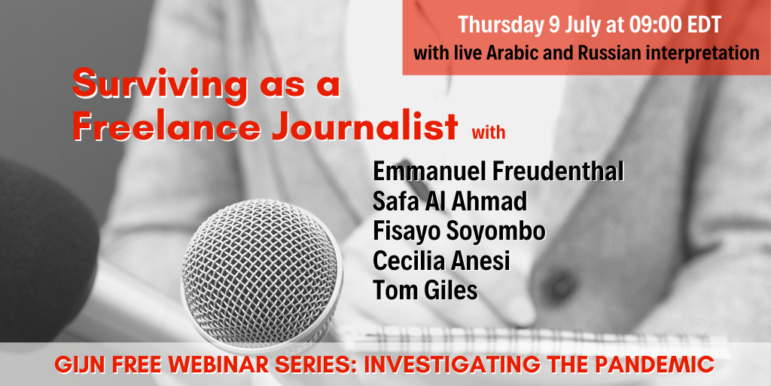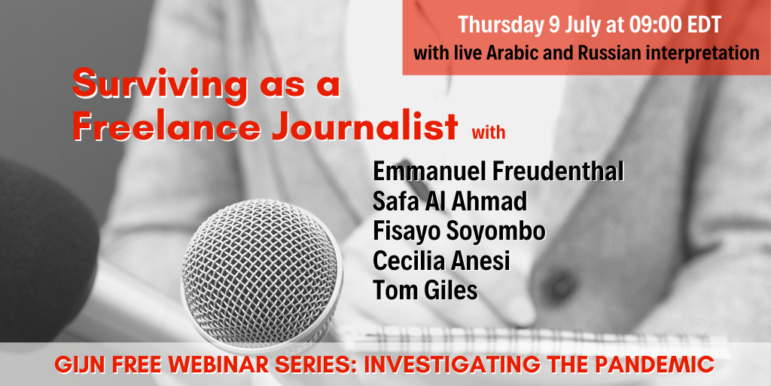 Editor's note: This webinar has now taken place. You can see the recording on GIJN's YouTube channel.
If you think journalism is tough, try being a freelance journalist or an independent producer. Worse, try freelancing during a pandemic. COVID-19 has accelerated the crisis in journalism: staff reporters are being fired in unprecedented numbers, advertising revenue is weak at best, and commissioning budgets are being reduced. At the same time, the pandemic has crowded out other stories and investigations, restricted travel and, to top it off, prompted crackdowns by authorities around the world. It's a tough time for freelancers and independents, even though they produce some of the best investigative stories.
In this GIJN webinar, Surviving as a Freelance Journalist, we bring together five senior investigative journalists, four with hard-won years of freelance experience and one who has commissioned and worked with freelancers and independents for decades. They will suggest concrete steps to improve conditions for freelance investigative reporters, and share the best services and resources.

Emmanuel Freudenthal is a freelance investigative reporter based in Nairobi who has conducted investigations across Africa for a decade. He focuses on stories that break new ground, from data analysis to war reporting. Two of his corruption investigations have led to ongoing police inquiries in Australia and Canada. His stories have been published by numerous outlets, including the BBC, Le Monde, Paris Match, Sydney Morning Herald, and The Daily Telegraph.

Safa Al Ahmad is a Saudi freelance journalist and filmmaker. Her BBC documentary about a mass uprising in Saudi Arabia's Eastern Province brought international attention to the violence meted out to the demonstrators. She is now working on an investigative podcast on the murder of Saudi journalist Jamal Khasshoggi. Safa also served on the board of the London-based Frontline Freelance Register, which is run by freelance journalists.

Fisayo Soyombo is a Nigerian freelance investigative journalist who focuses on exposing corruption and injustice. Among other recent works, in a three-part series, he tracked corruption in the Nigerian criminal justice system, using a pseudonym and spent two weeks in a police station and in prison as part of his investigation. Previously he was editor at TheCable, SaharaReporters and the International Centre for Investigative Reporting in Nigeria.

Cecilia Anesi is an Italian investigative journalist. After working briefly as a freelance reporter, she co-founded the Investigative Reporting Project Italy (IRPI). She has investigated such topics as corruption, public finance, fraud, and organized crime, including the award-winning investigative documentary Toxic Europe. Anesi has worked on cross-border investigations in partnership with OCCRP, ICIJ and Correctiv.

Tom Giles is Controller of Current Affairs at ITV in the UK, one of the largest national commercial media companies focusing on television. At ITV he is responsible for commissioning current affairs programs and factual documentaries. Previously he was editor of Panorama – BBC Television's weekly flagship investigative program — and he has made numerous television documentaries.
This one-hour webinar is free and designed for journalists interested in investigating the pandemic. It's the sixteenth in a GIJN series, Investigating the Pandemic. Coming soon: using open source information with an Africa focus. Watch our Twitter feed @gijn and newsletter for future events.
NOTE: GIJN will offer Arabic and Russian interpretation for this webinar.