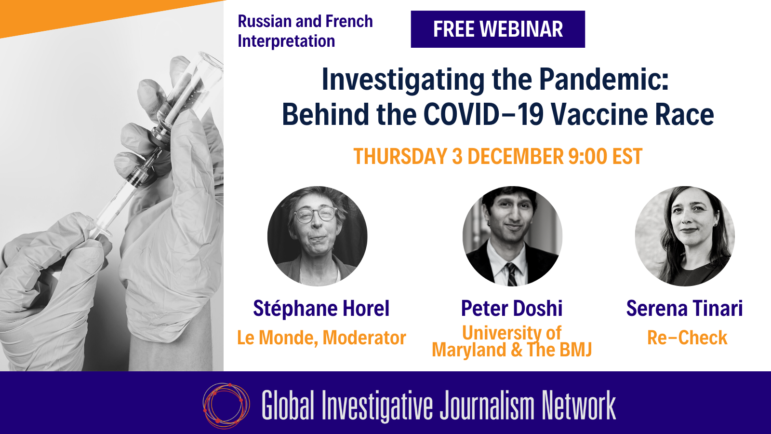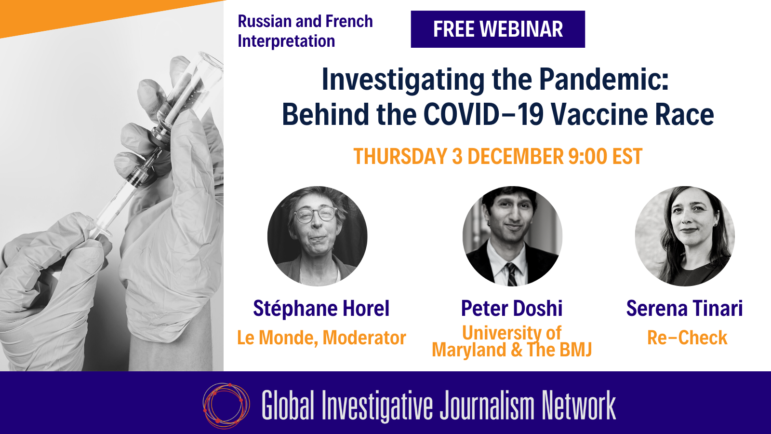 GIJN Webinar — Investigating the Pandemic: Behind the COVID-19 Vaccine Race
Read this article in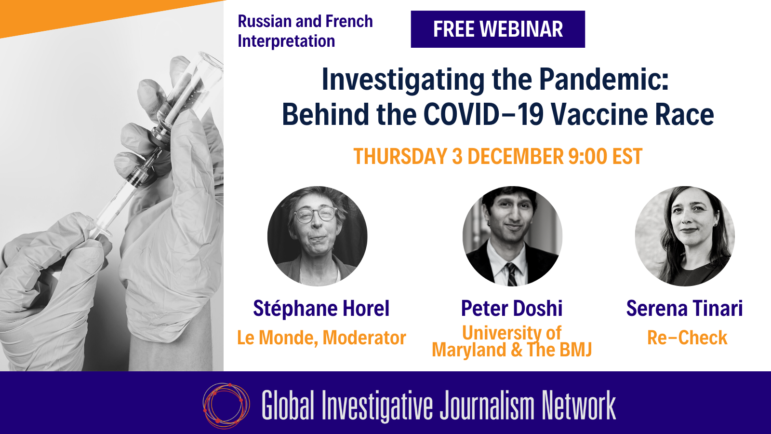 Editor's note: This webinar has now taken place. You can see the recording on GIJN's YouTube channel.
Announcements about vaccine breakthroughs are filling the news as the world waits expectantly for a way to mitigate the far-reaching impact of the COVID-19 pandemic. A handful of the more than 200 pharmaceutical companies in the race to develop an effective and safe vaccine are in the last stages of their accelerated trials, as stock markets make steep gains at any sign of positive news, governments rush to sign advance deals, and international organizations work to secure speedy distribution. But developing a safe and effective vaccine — especially in such a short time — is fraught with difficulty. How rigorous is the science underlying a drug company's study? What level of clinical trial was used? How large was the sample size? Are there conflicts of interest?
Public expectations are high, adding to the challenge to journalists to report these developments in an accurate and knowledgeable way.
GIJN's webinar "Behind the COVID-19 Vaccine Race" is the second event to mark the publication of our new guide, "Investigating Health and Medicine." This 90-page manual covers such issues as the COVID-19 pandemic, drug development, medical studies, assessing evidence, corporate influence and conflicts of interest.
In this webinar, we are pleased to present a scientist who focuses on the drug approval process and an award-winning health journalist. Together, they will cut through the fog to show what red flags to look for both before and after a vaccine is approved. The speakers will also explain how to assess a scientific study, and will share tips to avoid common pitfalls in medical investigative reporting.
Peter Doshi, PhD, is an associate professor of pharmaceutical health services research at the University of Maryland School of Pharmacy and associate editor at The BMJ. His research focuses on the drug approval process, how the risks and benefits of medical products are assessed and communicated, and improving the credibility and accuracy of evidence synthesis and biomedical publications.
Serena Tinari is a medical investigative journalist and co-founder of Re-Check, a Swiss nonprofit organization dedicated to investigating and mapping health affairs. She is co-author of the new GIJN guide. She has worked across print and electronic media, radio and television since 1994. Tinari specializes in drug safety, Evidence-Based Medicine, and conflicts of interest. A trainer, speaker and moderator, she has reported extensively on Swine Flu and Tamiflu.
This session will be moderated by Stéphane Horel, an investigative journalist at Le Monde, who specializes in corporate lobbying, conflicts of interest, and the use and abuse of science. She is co-author of the "Monsanto Papers," winner of the 2018 European Press Prize.
NOTE: This webinar includes French and Russian interpretation.