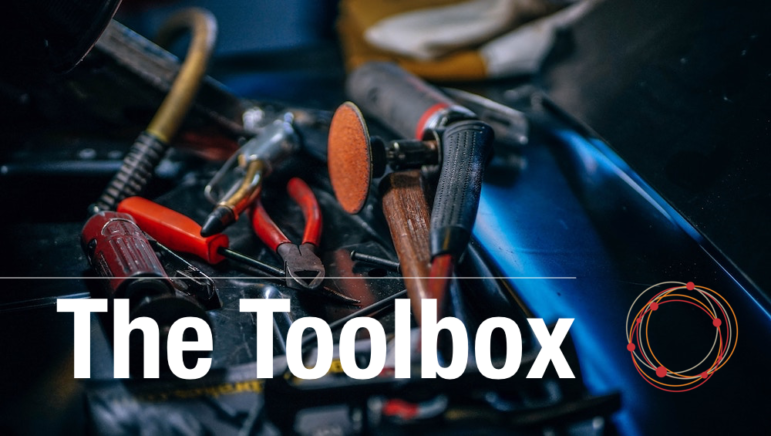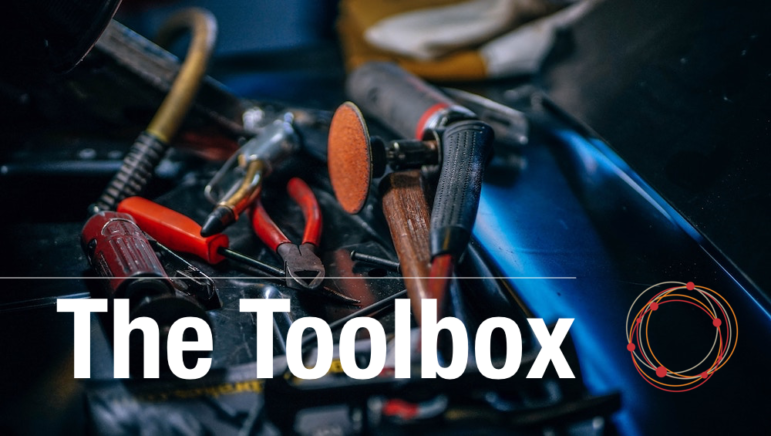 العربية  | বাংলা | 中文 |  Français | Português | Русский | Español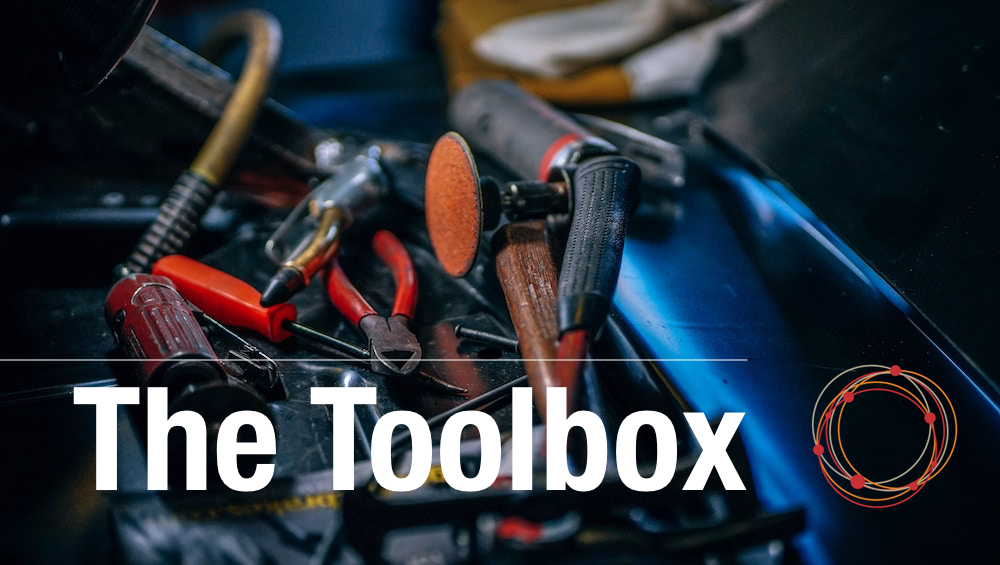 When it comes to doing investigations using online tools, there is no one tool that will answer all of your questions. Instead you'll most likely need to build slowly toward the answer using a jumble of jigsaw pieces — a name here, a connection there. The good news, though, is that thanks to the internet and social media, there are dozens of tools that can be used to find the pieces to your puzzle.
With this in mind, this month's Investigate Toolbox has a strong focus on the kinds of tools that can be used to find the necessary snippets to build a profile of someone.
Swing the Hammer
The first tool up is the interestingly-named peoplefindThor. peoplefindThor bills itself as a "journalistic tool for finding people on Facebook." Which is what it does, and does well.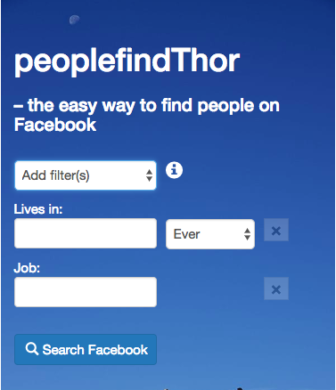 The tool offers a simple interface which makes it easy to find people on Facebook using a range of filters which progressively narrow down your searches.
These filters could be used in a number of different ways. You could, for example, search for people that are friends with, or worked with, the person you're researching. Or you could search for all the people that worked for a particular company in a particular city, which may greatly simplify the process of finding new sources for a story.
The filters on peoplefindThor take a little practice to get right, but once you've got the feel of them, it's a useful tool to have in your arsenal.
All the People
One of the tricks to doing good online research is to find one piece of information on someone and then use that to find another piece, and so on until you've built up a well-rounded profile. One of the best places to start when looking for information on people is the aptly-named PiPl.
PiPl is literally a search engine for people, with more than three million records in its database.
PiPl is fairly simple to use: input a person's name, select a location if you think it will help, and hit search. If you're searching for common names you'll likely be rewarded with hundreds or even thousands of results, in which case you'll need to do a little more work to filter the list.
In most cases, however, you'll get a few manageable results. Clicking on these will pull up all the relevant information on the person, including other people they know or have a relationship with, their social media accounts — some of which even they may have forgotten about — their various online usernames and much more.
Where's that Phone?
There's a lot of technical information and three-letter acronyms on the HLR-Lookups page but it's worth a little perseverance for a few nuggets that the site can offer your investigations. HLR stands for "Home Location Register," which is a register created by network operators to keep track of all the unique international mobile ID numbers. These unique mobile IDs tell operators which networks every device is on and where they should route messages and calls to reach the right recipient.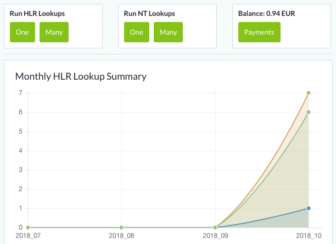 Using the same network data HLR-Lookups makes it easy to find out network information for any mobile number. For investigative purposes this helps, for example, to see if a particular user suddenly appears on a new network that isn't their usual one, probably outside their country. HLR-Lookups will alert you if a user is "roaming" and tells you which network they're currently connected to. There's a lot more information available when you do the search but depending on how deep you need or want to go, this may be more than you need.
HLR-Lookups can do both single searches as well as search for a list of numbers; useful for keeping tabs on a network of phones.
The free version of HLR-Lookups gives you a fairly generous number of free searches before you need to pay to continue to use the service.
The People of Business
When it comes to finding out about the business interests and connections of people, there are many country- or sector-specific registers that can be searched, but finding this information across different registers can be extremely difficult.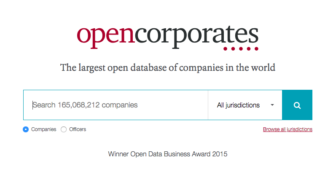 OpenCorporates (OC) is specifically a database of companies and company officers from around the world that can be searched in one place. It collects these disparate registers of company interests and officers and combines them into a single source. At the time of writing OpenCorporates listed more than 160 million companies and more than 200 million company officers around the world. And because allows for searching across geographic regions it makes it a lot simpler to find links that may span multiple countries.
This enormous OpenCorporates database can be searched to find either companies or officers and the results can be filtered by a wide range of criteria, from the country of origin to the type of company, the status of the company, and the type of record data OC has on the company.
Get Some Help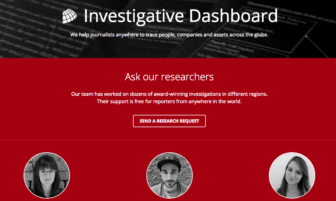 Very often while doing investigative research into someone or something, you'll hit a brick wall. You'll run out of ideas or leads and come to a grinding halt. This is where OCCRP's Investigative Dashboard comes in.
The Investigative Dashboard is a free service available to help journalists with research requests anywhere in the world. The service includes access to a number of topic, language and regional experts that can help with specific research requests.
The Dashboard also makes it easy to search through the various databases of information that OCCRP has collated, such as the Aleph Database which simplifies searching through an enormous range of public and leaked sources. At the time of writing the database included 178 million records and leaks.
Download Social Media
With the advent of social media there has been an exponential growth in the amount of information posted by users online, from photos and personal information to company information and videos. Twitter specifically is a potentially rich source of information for anyone looking to track groups of like-minded users or particular people that may help them with new sources of information.
But extracting all the information you may need from Twitter can be time consuming if you're not ready to do some programming to scrape the data you need.
Twlets is a Chrome extension that does all the hard work for you. To use it, sign up for a free account. Once you're signed in, visit any of the aggregate pages for any Twitter uses. For example, you could open their list of tweets, or their list of followers, or the people they follow. Once you've chosen the information you want, click the Twlets button in the bookmark bar and it will download the most recent posts, images, videos or usernames to your computer.
By default Twlets will download 10 tweets, images, followers etc. But this can be changed by right-clicking on the Twlets icon in the bookmarks bar and changing the various defaults. With a free account, the limits for various downloads can be increased to between 3,500 and 50,000 results.
The results are downloaded as an Excel spreadsheet and include a range of information from the various follower counts through to a sentiment score for tweets (positive, neutral, negative) that can be used for analysis or visualization.
If you have any tools or tips that you think worth sharing, you can email them to me at alastair.otter@gijn.org.
---

Alastair Otter is GIJN's IT Coordinator. He is also a managing partner of Media Hack Collective, a data journalism initiative based in Johannesburg, where he programs interactive data visualizations and manages a number of online media sites.