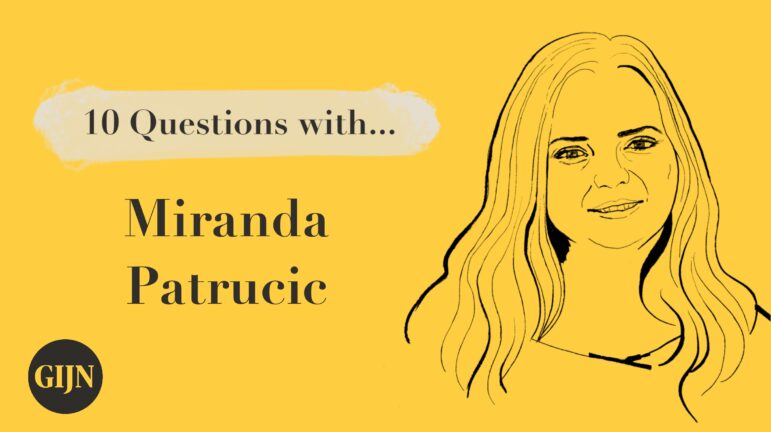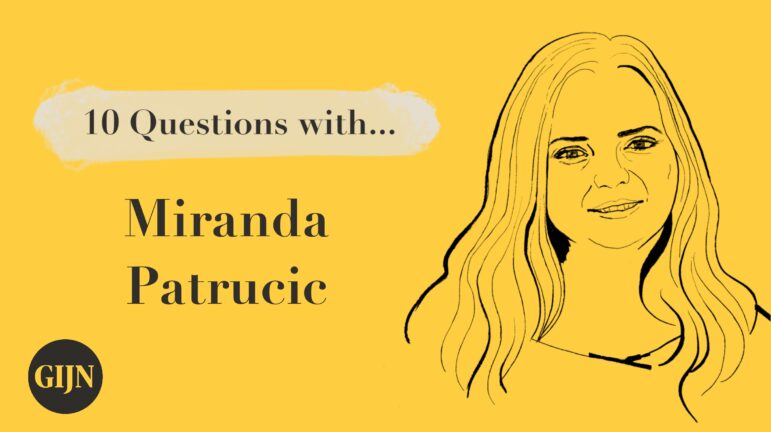 Illustration: Smaranda Tolosano for GIJN
From Fact-Checker to Editor-in-Chief: How One Woman Rose to the Top at OCCRP
Read this article in
Miranda Patrucic has steadily risen up the ranks of the Organized Crime and Corruption Reporting Project (OCCRP), a nonprofit that has pioneered cross-border investigative journalism by hunting down wrongdoing in some of the world's most difficult places to report.
She started as a fact-checker with the organization in Sarajevo in 2006, as one of its first employees, and has been at OCCRP ever since: uncovering corruption and financial crimes at the highest levels in the Balkans, across Europe, and in Central Asia. Earlier this year, she became editor-in-chief.
Early investigative successes included the "Khadija Project," where a team continued the investigative work of Khadija Ismayilova, who had been imprisoned in Azerbaijan; an exposé on the massive wealth of the daughter of Uzbekistan's president; and the Panama Papers, where she helped expose a web of secret companies in offshore havens. Other big-name credits include work on the Paradise Papers, the FinCEN Files, the Pandora Papers, and the Azerbaijani and Russian Laundromats.
She has received the Knight Award from the International Center for Journalists (ICFJ), for reporting that has a major impact, One World Media's International Journalist of the Year prize, and was part of a team that won GIJN's Global Shining Light Award for an investigation revealing an arms pipeline between Central and Eastern Europe and the Middle East.
"When you think about everything that journalism is now, from that mix of real shoe-leather reporting to using technology and data to really focusing on accountability journalism, she covers all the bases," US journalist Lynette Clemetson once said about Patrucic's work.
In her current role, Patrucic, who was born and raised in Bosnia and Herzegovina, oversees OCCRP's global operations, which consist of more than 50 editors across six continents. Tellingly, her Twitter bio still puts "investigative reporter" ahead of her new role as "editor-in-chief."
GIJN: Of all the investigations you've worked on, which has been your favorite and why?
Miranda Patrucic: We recently published The Shadow Investor simultaneously in five languages: Russian, Kazakh, Kyrgyz, Uzbek, and English — which may be a landmark in Central Asian journalism and certainly was a milestone for OCCRP. It is a fascinating investigation about a family of accused smugglers who built alliances with elites in Central Asia to become major investors in big developments in the region. It was published in collaboration with Vlast (Kazakhstan), Radio Free Europe/Radio Liberty's Radio Ozodlik (Uzbekistan), and Kloop (Kyrgyzstan). This investigation represents everything top-level investigative reporting should be about: hardcore digging in a place with very few public records, a systematic and carefully crafted approach to data collection, source development in circumstances where many are afraid to speak, plus a captivating, easy-to-understand narrative.
GIJN: What are the biggest challenges in terms of investigative reporting in your country/region?
MP: Before I took this job, I worked mainly in Central Asia and Azerbaijan, some of the most difficult countries in the world to report on. Reporters there are regularly threatened or jailed, and access to documents and sources are super limited. But together with our partners, we work in a lot of tough countries and publish stories about topics few others are covering in-depth. You really have to think outside the box to get the kind of stories we do. It can be hard, but very rewarding.
GIJN: What's been the greatest hurdle or challenge that you've faced in your time as an IJ?
MP: I see every investigation as an opportunity to challenge myself, learn something new, or push myself out of my comfort zone, and I've had many opportunities to do this. Many years ago, I learned how to scrape [data online] in order to find if a person I was investigating had a property in Montenegro. Another story I did required me to get a top-secret set of banking records. It took three years of constantly asking different people before I finally met someone who had access to them and was willing to share them. Working on a story about human trafficking forced me to learn how to talk to vulnerable people, to help them overcome their reservations and feelings of shame to discuss being a victim.
But also, there were many difficult situations: personal threats, arrests, jailing, and even the murder of a colleague. I am fortunate to work at OCCRP, where we take security risks very seriously and spend a lot of time mitigating risks.
GIJN: What is your best tip or trick for interviewing?
MP: Take your time, ask questions that will help a person open up and engage, and then just listen. Very often people will reveal more than you could have ever hoped for if you give them time to relax and forget they are being interviewed.
GIJN: What is a favorite reporting tool, database, or app that you use in your investigations?
MP: OCCRP's Aleph! When we needed the best tool to follow the money, we built it. It does so much, including allowing journalists to index documents and datasets and cross-reference them. It is one of the biggest repositories of data available to journalists in the world. And on top of that, you can create a network diagram that can be shared with other reporters on your team. Can't ask for more. (Much of the data in Aleph is also available to the public; journalists can apply for access to the extended database here).
GIJN: What's the best advice you've gotten thus far in your career and what words of advice would you give an aspiring investigative journalist?
MP: Many years ago, OCCRP-co founder Drew Sullivan would tell me "Go get the miracle." What he meant was: dig deep, turn over every stone, talk to anyone you can think of, and you will get that last piece of evidence for your investigation. To this I would add: Believe in yourself. Even in the most difficult situations, I would tell myself "you can do it." And in the end, even against all odds, I always did.
GIJN: Who is a journalist you admire, and why?
MP: There are so many! Stevan Dojcinovic, founder of Serbian investigative center KRIK for his passion and endless drive to report on organized crime and their connections to the government. Joachim Dyfvermark, a Swedish investigative reporter, for his ability to dig into the most complex topics and turn them into deeply researched, captivating documentaries. Kelly Bloss, an OCCRP investigative reporter for her ability to persevere until she digs out the specific thing she is after.
GIJN: What is the greatest mistake you've made and what lessons did you learn?
MP: Trying to do everything perfectly. I used to spend hours/days/weeks procrastinating if I had to do something I didn't think I was great at. I had to learn to accept that sometimes "good enough" is good enough.
GIJN: How do you avoid burnout in your line of work?
MP: I actually had a burnout several years ago and going through it taught me several lessons. Sleep is super important. I invested in a good bed and pillows. I used to work all night long to meet an important deadline or catch up on work. Now I will work as hard as I can until midnight, but then I am off to bed. (I sometimes miss great parties if they go on long into the night!)
I have also learned to recognize when I am getting overworked and super stressed and am at the breaking point. That is when I slow down and just accept I can't do it all. I also learned not to feel guilty when that happens. Exercise is important. Being in nature is important. Finding something that will keep your mind off work is also important.
Having experienced this has helped me recognize burnout in other people and I want to help others to try to find balance.
GIJN: What about investigative journalism do you find frustrating, or do you hope will change in the future?
MP: In an ideal world, we would have no problems accessing information, there would be no security risks, and each story we do would have an impact. At OCCRP, we have always wanted to see investigative journalism thrive in every corner of the planet and we do everything we can to make that happen. More investigative journalism equals more change. And more change equals a better world. Maybe one day.
Additional Resources
10 Questions: Lessons Learned from Mexican Investigative Journalist Anabel Hernández
10 Questions: Lessons Learned from Investigative Journalist Hayatte Abdou, from the Comoros
10 Questions: Lessons Learned from Puerto Rican Journalist and Media Entrepreneur Omaya Sosa
---

Laura Dixon is an associate editor at GIJN and a freelance journalist from the UK. She has reported from Colombia, the US, and Mexico, and her work has been published by The Times, The Washington Post, and The Atlantic. She has received fellowships from the IWMF and the Pulitzer Center.