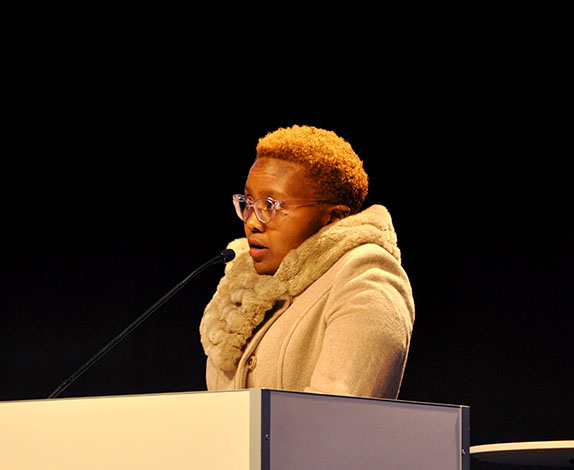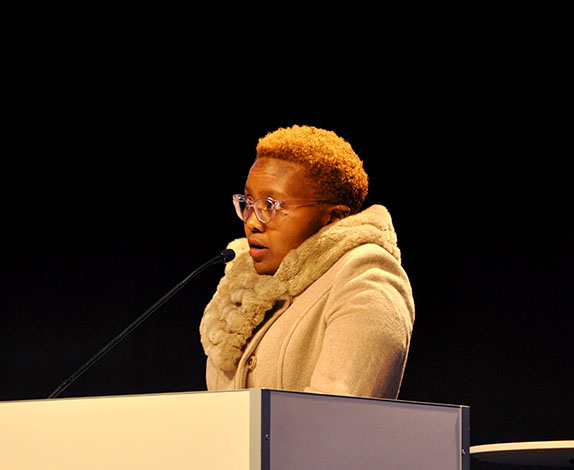 Naipanoi Lepapa, an investigative journalist from Kenya, gave tips on surviving as a freelancer, at a GIJC23 panel. Image: Wiktoria Graca for GIJN
Freelancing Survival Tips for Investigative Reporters
Read this article in
From cold-pitching to collaborating, and from promoting your work to getting top commissions, being freelancer brings a whole series of challenges, especially for investigative journalists.
In a session on freelance survival tips at the 13th Global Investigative Journalism Conference (#GIJC23) in Gothenburg, Sweden, independent reporters from Germany, Kenya, and Syria shared their strategies for getting noticed, and for getting work
Pitching Tips
German investigative journalist Sylke Grühnwald makes the following suggestions for pitching stories to media outlets and organizations:
Pitch to a human being: "Pick the editor, learn the full name," said Grühnwald, a European Press Prize winner who investigates power and technology. "Don't be shy, they're used to it… pitch a human being, not some random info email address."
Know who you're pitching to: Related to the point above, you should read the publication you're pitching to, know their audience, their reach, their focus, and their political standpoint, she advises.
Pitch a story, not a topic: The war in Ukraine is a topic. "Cum-ex" — a multi-billion tax evasion scandal — is a topic. Syrian refugees going to Switzerland is also a topic, but these are not stories. Stories need characters, settings, and context, Grühnwald says.
Structure your pitch email: Your first paragraph should give enough context to set up the story. The second should have a newsy hook, and indicate what makes the story timely. The third paragraph should make your angle clear, that is, who you're planning to interview and what you're planning to research. Finally, she says, the last paragraph should let know the editor why you're the right person to do this story and include a link to your portfolio.
Pitch first, but send draft later: Only once you get a green light should you draft your story, and then reframe it according to the editor's requests.
State a deadline: Let the editor know you'll wait for an answer until a certain date. After that, pitch to someone else.
Avoid qualifier words like "may," "might," and "likely": You have to be very clear on what you know and what you don't know when pitching a story to an editor. There is no need to oversell or undersell, she says. Be honest.
Indicate key sources and documents: But just give a sense of who you'll be talking with. Don't make them identifiable, Grühnwald advises, at least not when you're pitching.
Check spelling, facts, grammar, and tone: Remember your pitch also offers an editors a preview of your writing and accuracy, don't set yourself up to fail before you even get started.
Have someone read the proposal: Find a like-minded colleague who can understand the work you're trying to do, but also someone who can give you a different perspective, to read over your pitch. Consider asking a visual journalist if you're a writer, or a writer if you're a visual journalist.
Be able to follow through: Don't pitch a story you will not be able to write.
Become a member of a union: Joining a journalists' union can help you navigate the challenges of the industry.
Promote Yourself and Collaborate
"When someone asks me how I survive as a freelancer… I send them my Twitter handle and they see my LinkedIn," said Naipanoi Lepapa, an investigative journalist from Kenya. "That is how I do self-promotion."
Lepapa's social media and website show her interests, the topics she covers, and her achievements. She thinks of herself as a journalist, but also as a brand, and as a brand, she has to stand out.
But besides promoting herself, Lepapa also suggests promoting other journalists' work and asking them to recommend yours, and she is always looking for other journalists to collaborate with in Kenya and abroad.
Why is collaboration important to her? She says it breeds high-quality journalism, ensures her work reaches a wider audience — especially if it's across borders — and often means reporters can share resources. In addition, if the investigation is widely published and has many names on it, she says, reporters are typically safer and less at risk for legal attacks.
"When you bring all that together you produce something impactful, something beautiful," said Lepapa.
But collaborating can also be difficult, especially for journalists who are used to working on their own. Because of that, Lepapa gives the following recommendations to deal with challenges in collaborations as a freelancer.
Ask for equal payment according to the amount of work done by each party.
Set timelines and deadlines.
Get proper credit.
Stand up for yourself.
Know that it's okay to walk away if the proposal doesn't suit you or is unfair.
Have an Organizational Mindset
Mais Katt is a Syrian journalist based in the Netherlands. She used to work on staff at media organizations before jumping into the freelance world.
"When I became a freelancer I was really, really worried," said Katt, in front of a room full of freelancers from around the globe, adding that she felt the risk so acutely "because I had a daughter, I'm also a refugee in the Netherlands, and I'm a single mom."
Katt likes to think of herself as a small business or as an individual organization, and makes the following three recommendations to freelancers setting out on their own.
Make a profile of yourself.
Have multiple CVs and samples of your work.
Look forward: Prepare, connect, apply, and grow possibilities.
"I thought that it's important to [know]… where I am strong? Where am I weak? What are the places that I need to develop or how can I introduce myself? What is my vision?" Katt said. "And then this way, I can also introduce myself in a better way for the clients that I will work with."
Different jobs require different profiles, and she advises reporters to edit theirs when applying to different positions and opportunities. Katt has a journalism-oriented CV, but when she's applying to or offering workshops, uses another CV that stresses her teaching experience.
She also recommends investing in attending conferences or events where freelancers can show the work they do and connect with people that they might want to work with in future.