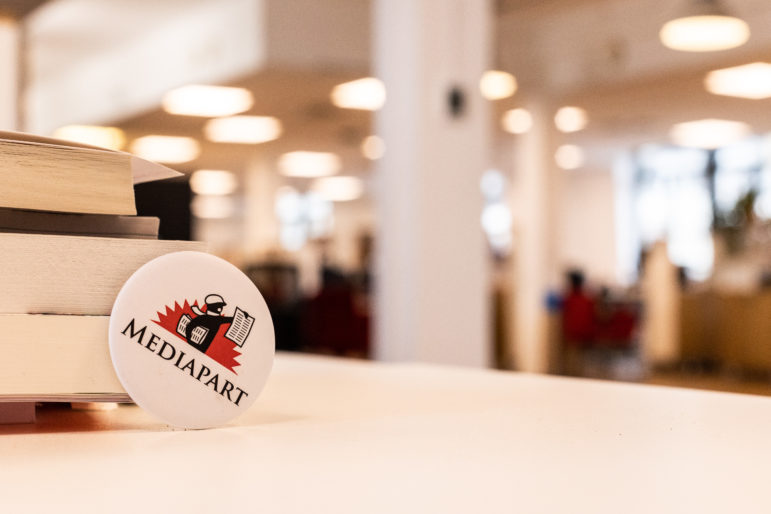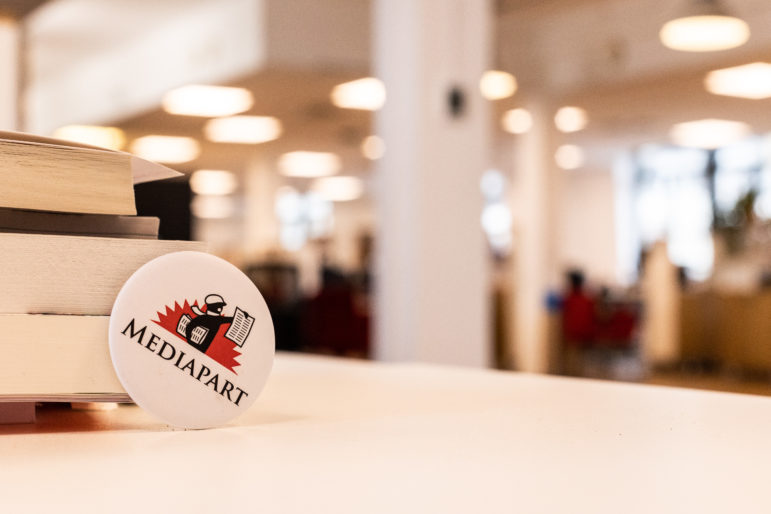 Image: Courtesy of Sébastien Calvet
How France's Mediapart Built a Successful News Model Around Investigative Journalism
Read this article in
"A winning bet," "a success," "a cash cow": Over the years there has been no shortage of superlatives in the press to describe Mediapart's fortunes. The growth of the paywalled investigative news site exceeds that of nearly all other media outlets in France, most of which are in the hands of industrial conglomerates. Amid a crisis of confidence in the media, the financial health of this wholly independent organization commands respect. In 2021, Mediapart attracted an average of 6.5 million visitors a month. The site contains no advertising and does not take state subsidies: 98% of its €21.3 million (US$23.9 million) in annual revenue originates from its 213,533 subscribers.
At the time of Mediapart's founding 14 years ago, few believed that Edwy Plenel, former editor-in-chief of the daily Le Monde, and his six co-founders had any chance of achieving their dream of building a successful investigative news site that would "belong only to its readers." In their statement of purpose, the founders said they were aiming for absolute economic independence. The newspaper was launched with the personal savings of its founders (60% of the initial capital) and the investments of shareholders and friends (40%). They intended to grow thanks exclusively to the support of subscribers.
The project went totally against the conventional wisdom followed by most media outlets in the late 2000s: publish short articles, for free, and as fast as possible to be the first to reach readers and optimize search engine rankings. The founders of Mediapart advocated the opposite approach. They chose not to cover everything, but rather to focus their efforts on producing long and detailed articles on matters of public interest. Investigative work was at the center of their business model. Exclusives were expected to attract subscribers, who would then be convinced to stay by the quality of Mediapart's public-interest coverage.
The idea was appealing, but would it work? The difficulty, in those early days, was to convince readers to pay about €9 a month to access content without knowing whether it would be any good, at a time when other news sites were offering their articles for free. "The first three years were very, very hard. We did not at all achieve the growth we had expected," recalled Mediapart's chief executive and co-founder Marie-Hélène Smiejan in a 2021 podcast. Within two years of the launch, the site's coffers were nearly empty. Mediapart had painstakingly gained 20,000 subscribers, well below its forecast and break-even point. The team was preparing for the worst.
That all changed in the summer of 2010 with an investigation into the Woerth-Bettencourt affair — a scandal with national implications. Mediapart published clandestine recordings that revealed conflicts of interest between Eric Woerth, the then-Minister of Labor, and the billionaire owner of L'Oréal, Liliane Bettencourt. The political-financial soap opera Mediapart revealed led Florence Woerth, the minister's wife, to resign as director of the company managing the billionaire's fortune, as well as Eric Woerth to step down as treasurer of the UMP, the political party of then-President Nicolas Sarkozy.
"This marked a turning point. There was an alignment of the planets: a good news site and a good scandal deal that allowed us to make a name for ourselves," recalls Stéphane Alliès, editorial director, who joined the Mediapart at its launch. "L'Obs magazine and Le Monde had declined these recordings, so the fact that we were willing to publish them really brought home the idea that you could read on our site what you couldn't elsewhere." Within months, the number of subscribers had doubled, and the newspaper had finally broken even.
Investigations: Central to the Business Model
But a news outlet must be able to do more than carry out investigations. "The day of the publication of the first recording, the site shut down after 10 minutes!" says Alliès, recalling how the massive surge of web traffic quickly overwhelmed their poorly-made site. With an initial team of 23 journalists and three technicians, the founders of Mediapart had put pretty much all of the site's resources into editorial, at the cost of a properly functioning website. "We totally missed the launch, we worked round the clock to stop the computer bugs that kept crashing the site, journalists were losing their articles, it was hell," Marie-Hélène Smiejan explained in the podcast. The team learned by doing, and slowly built a technical and marketing department.
As for the journalists, they kept producing hard-hitting investigations, often serialized, which attracted many new subscribers. "We defend the idea that information is a job and that it has a value" explained Edwy Plenel in a previous interview with GIJN. "We submit that our information is useful, credible, original, and exclusive; if readers have confidence in this information and its independence, they can support us by subscribing."
Since 2011, Fabrice Arfi, who leads Mediapart's investigative unit, has helped produce numerous exclusives that have sent shockwaves through French politics. His team uncovered the Sarkozy-Gaddafi affair — the claim that Libya funded Nicolas Sarkozy's 2007 presidential campaign, for which the former French president has been indicted. In 2012, Arfi revealed that then-budget minister Jérôme Cahuzac owned a Swiss bank account. This led to Cahuzac's resignation, as well as to creation of the French National Financial Prosecutor's Office. And in 2016, reporter Lenaïg Bredoux published an investigation into the Denis Baupin affair, in which the vice president of the National Assembly withdrew from political life after allegations of sexual harassment were made against him by colleagues.
These are just some of Mediapart's most high-profile investigations. Its journalists have produced hundreds over the past 14 years, on political and financial corruption as well as on social, sexual, and police violence, environmental damage, and public health. "In our view, investigative work should not only take place within the dedicated investigative unit," explains Alliès. "All journalists have already done investigative work and revealed something that others did not want to be revealed."
Mediapart's reporting, which targets both private and public sectors and all political parties, has sparked more than the odd backlash, and led to numerous attacks, particularly in the courts. All journalists are therefore trained in press law and the editorial team often works in consultation with the newspaper's lawyer.
"As soon as we have the slightest doubt about a story, we send it to him," notes Alliès. "We discuss it, we agree on what sentences can avoid us a trial." Still, because the site now has the means to defend itself, Alliès says they're more confident when publishing revelations that could be controversial or embarrass the powerful.
Out of the 200 hundred legal proceedings the news site has faced, only five have led to judgments against Mediapart.
Paradoxically, the Bettencourt case, which marked a turning point in Mediapart's success and popularity, will remain one of the news site's greatest legal defeats, as a court in 2013 ordered that all traces of the leaked recordings be taken down. The recordings had been made secretly by Liliane Bettencourt's butler, using a dictaphone hidden under a sideboard. The French courts ruled that, although the recordings revealed information of public interest, their publication still violated the privacy of L'Oréal's owner. Plenel has blasted the ruling as "an act of censorship."
Innovating to Connect with — and Grow — the Audience
Mediapart's daily editorial meeting, held at 10:30 a.m., is open to all staff, including the technical and marketing teams. It is a key opportunity for information to circulate within the newsroom. "Everyone can speak, if they have ideas, objections, criticisms: it's a place where all can contribute," explains Renaud Creus, Mediapart's communications director, who was the site's first community manager in 2014. This shared sense of purpose is also seen on social networks, where the site's journalists frequently promote their colleagues' work. "We all take responsibility for the stories we publish and are proud to be part of this community. We want our work to be shared widely," says Creus, who notes that this effort to celebrate others is not mandated by company policy but happens organically.
The site continued innovating during the COVID-19 pandemic, launching a daily show on YouTube, "A l'Air Libre" (Outdoors). The newspaper is also one of the first in France to have published investigations on sexual violence, even before the #MeToo movement rose to prominence, and was the first French media outlet to name a gender editor.
Mediapart is one step ahead in other ways. For example, by campaigning for news sites to be taxed at the same rate as the printed press (a tactic that earned Mediapart an audit of its fiscal contributions). The news site also decided to feature what it calls a "black box" at the end of each investigation, in which it publishes that investigation's methodology and any relevant documents. And in another show of transparency, since 2018 Mediapart journalists have published a declaration of interests.
These innovative streaks rely above all on Mediapart's team spirit, according to members of the editorial staff. "What impressed me from the start was that each journalist had at least co-authored one article with every other member of the newsroom," Alliès points out. "We defend a collective approach to our work. We know that solo investigations can lead to mistakes."
Turning Tables on the Critics
Nor do Mediapart journalists hesitate to go into the public sphere to defend their work — and fight back. They have argued that criticism of their work in high places proves Mediapart's independence, and that the news site is holding power to account. The site even published a humorous video featuring the 10 times Nicolas Sarkozy mentioned (or rather, attacked) Mediapart during a single television appearance, alongside the marketing message: "But what does Mediapart really say? Subscribe."
"I don't think we had much to lose in being combative and in trying things out," says Creus. "Before I was hired, the journalists promoted their work as they felt like it. So the marketing efforts were run in a rather haphazard manner that allowed us to be creative, to do certain things very quickly while giving up on other ideas."
In addition, Mediapart journalists have tirelessly collaborated with the marketing team to recruit new subscribers. To draw in a larger audience, the site has also allowed subscribers to gift articles and subscriptions to acquaintances, offered subscriptions for just €1 for the first month, and pulled down the paywall on certain days.
"One of their strokes of genius is to have been able to open their content to as many people as possible and then to close the following episodes to force readers to subscribe to find out more," comments Cyrille Frank, director of ESJ PRO, a media training organization.
However, some have criticized the decision to feature subscriber contributions so prominently, especially because staff reports are sometimes hard to distinguish from the blog, where conspiracy theories or false accusations have sometimes appeared. "The 'Club' is one of their strengths and one of their weaknesses," says Frank. "Mediapart understood very quickly how important the community was. They were able to value their readers, create a group that shares common values, but sometimes it can also be the relay of conspiratorial information." Mediapart is taking this issue seriously, and journalists from the site now edit reader contributions, as reported by Arrêt sur Images.
Mediapart also organizes online interactions with subscribers once a month. During these events, journalists answer readers' questions live, on camera. An annual festival allows the newsroom to spend even more time with their audience. "It's essential for us not to position ourselves above our readers," explains Creus. "We want to involve them fully in our projects, in our discussions. We want to create a relationship with our readers, rather than simply distribute content."
Planning for the Future
In 2019, to ensure the news site's continuing independence and prevent any potential takeover, Mediapart's founders transferred all of their shares to a nonprofit endowment, the Fund for a Free Press, which provides economic support to independent French-language media. Mediapart thus remains a private, for-profit independent media organization, but its capital is "inviolable, non-transferable, and non-purchasable." To buy out the original shareholders, the news site took out a loan of €10.9 million (US$12.25 million), of which it repays €1 million each year.
"We didn't want anyone to be able to afford Mediapart," Marie-Hélène Smiejan has said, specifying that the team still considered it essential that Mediapart continue to be profit-generating, to have the resources to innovate and remain relevant.
"This endowment fund is really something they invented," says Benoît Huet, a former legal advisor to Mediapart and a co-author of the book "L'information est un bien public" ("Information is a Public Good") with the media economist Julia Cagé. "It is the first media organization to do this in France. It was extremely delicate for them because this model was not legally regulated."
Today, 14 years after a difficult launch, Mediapart now boasts 131 staff: 72 journalists and 59 employees in charge of marketing, technology, human resources, and subscriber relations. The latest figures, for 2021, reveal that the pace of growth may have slowed slightly last year after the pandemic boom, with subscriber numbers plateauing and site visits falling compared to 2020. But Mediapart is also looking at how to expand: the site publishes some of its investigations in English and Spanish and is partnering with more and more foreign as well as local news outlets.
"Building a network with other sites and other contacts allows us to increase our resources tenfold," says Creus. "In numbers, there is strength, creativity, and reach. We are stronger together." The site has also inspired the creation of other independent media organizations, breathing new life into French-language investigative journalism.
"Most French media outlets belong to large industrial groups or to businessmen who have conflicted interests," says media researcher Nikos Smyrnaios. "Mediapart became a model of what can be achieved. The success of its business model is encouraging the launch of numerous initiatives. They succeeded in showing that an independent news site can be profitable without relying on advertisers, the state, or Google, but only on its readers."
Additional Resources
Editor's Pick: 2021's Best Investigative Stories in French
5 Journalism Tips from Edwy Plenel
The Small Nonprofit Shaking Up French Investigative Journalism
---

Marthe Rubio is GIJN's French editor. After working for five years in Spain and Argentina, she is now based in her native France. She worked for two years on the data team of Argentina's La Nacion, has published in Slate and Libération, and worked as a correspondent in Buenos Aires for Le Figaro and Mediapart.