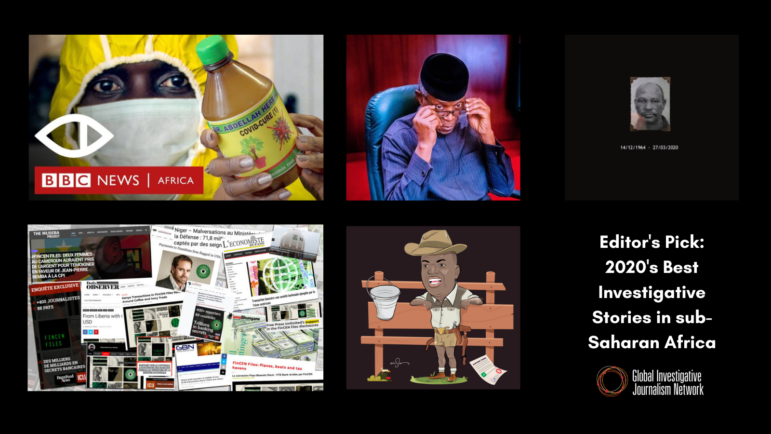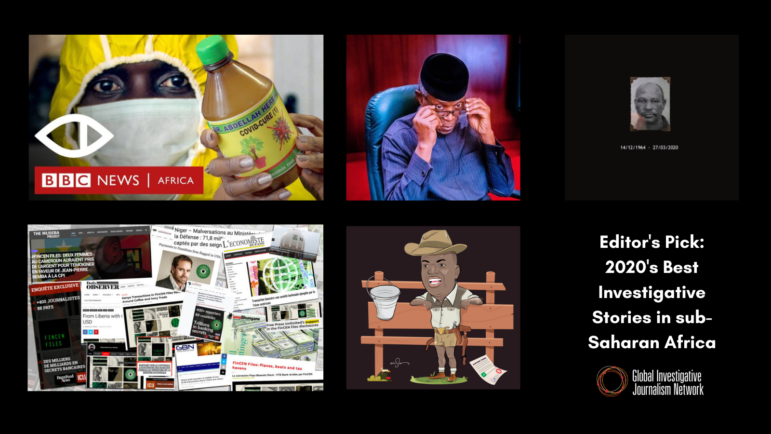 Editor's Pick: Best Investigative Journalism in Sub-Saharan Africa 2020
Read this article in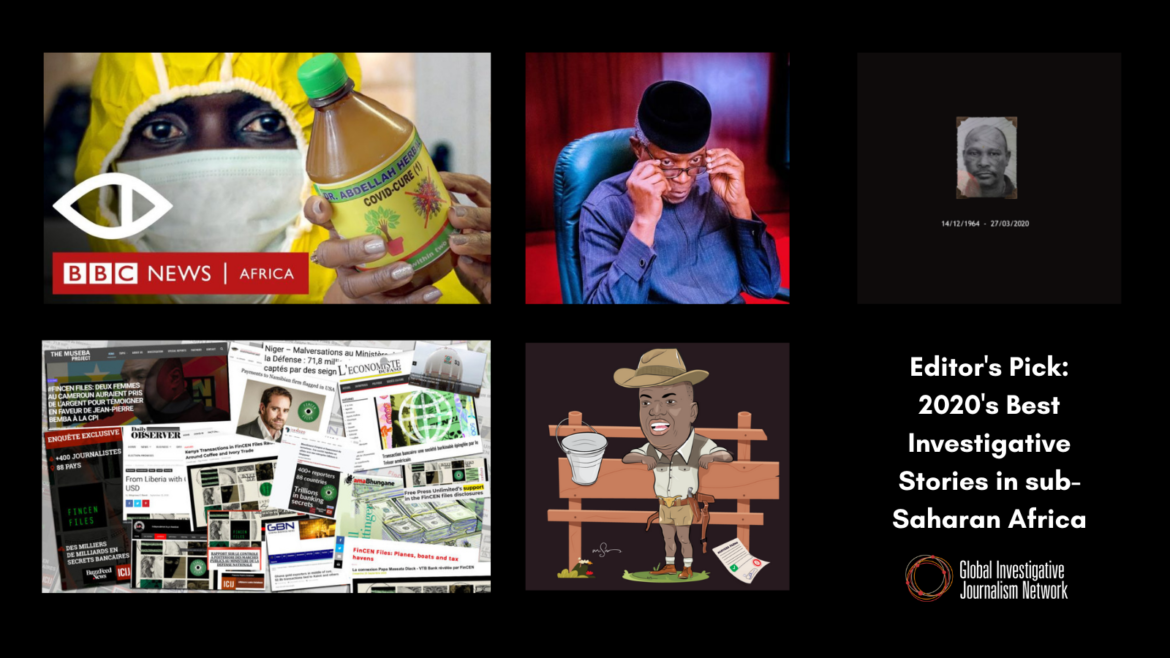 At the best of times, doing investigative journalism in sub-Saharan Africa is fraught with challenges. With the outbreak of COVID-19, the environment for undertaking investigative reporting in the region became even more difficult. Still, journalists across the continent continue to find innovative ways to serve their audiences, consistently churning out a host of remarkable stories.
In this year's GIJN's Editor's Pick series, Africa editor Benon Herbert Oluka compiled a list of some of this year's best investigative stories produced by media organizations based in sub-Saharan Africa, a region of 1.1 billion people in 50 countries. These investigations were chosen for a mix of reasons: Sometimes the reporting teams effectively leveraged cross-border collaborations. Other stories resulted in impressive impact at a national or international level. Some journalists used innovative tools to dig deep into their stories. 
Lake Victoria is Africa's largest freshwater body, straddling Kenya, Uganda, and Tanzania. It is also the source of the Nile River — the continent's longest waterway. An investigation into activity that spans the lake would require a reporting team with the capacity for cross-border work. So, in February of 2020, the Nation Media Group (NMG) attempted to do just that.
When the team published and broadcast its three-month-long investigation, the coverage was unmatched in the region. Using print, online, radio, and television news outlets in the three East African countries, NMG collected 54 samples of water, fish, and sediment from 28 different points on the shores of Lake Victoria. Their reporting found "at least eight metals in various concentrations" including lead, mercury, cadmium, chromium, zinc, iron, manganese, and fluoride; the most toxic of the metals were 75 times above recommended levels. From their findings, the NMG team developed a series of multi-platform investigative stories that they published and broadcast on the multimedia company's outlets in the three countries. These country-specific reports went out on NTV and Daily Nation in Kenya; The Citizen in Tanzania; NTV Uganda and Daily Monitor in Uganda; and the regional newspaper, The East African.
The shores of the Nile River make up some of the most expensive and prime land outside various African capitals, with most of it secured for tourism-related activity. However, until recently, little was known about who owns that land. That's until InfoNile, a Uganda-based geo-journalism nonprofit focusing on issues in the Nile Basin, embarked on an extensive collaboration. The investigation spanned the 11 countries which straddle the Nile Basin, bringing together a group of journalists, researchers, and media-support organizations to bolster its reporting effort. Among the groups in support: a journalist network created and maintained by Water Journalists Africa; the independent land monitoring initiative Land Matrix, which generated data; and the Pulitzer Center and Code for Africa. The story — which found that two-thirds of the acquired land in the country was allocated to international investors — included text, interactive data-driven maps, drone and satellite imagery, and video documentaries. In September, it won best data visualization at the 2020 African Digital Media Awards.
When BuzzFeed received vast troves of documents leaked from the US Treasury Department's Financial Crimes Enforcement Network, its journalists there worked with the International Consortium for Investigative Journalism (ICIJ) who, in turn, tapped CENOZO Afrique, a GIJN member based in Burkina Faso; it was the CENOZO team which coordinated reporting of the story across the continent. The FinCEN Files, totaling at least 2,500 Suspicious Activity Reports, show possible large-scale money-laundering involving politicians and private businesses around the world and orchestrated via US financial institutions. CENOZO's network of reporters from about 20 African countries spent months scrutinizing the documents and following leads on illegal transactions from Africa. The result was nearly 20 investigative stories on covert and illegal currency movements from Liberia and Cameroon in West Africa, to Botswana and Namibia in southern Africa, and Kenya and Tanzania in East Africa. The project builds on an earlier 2018 collaboration, in which CENOZO and ICIJ jointly produces investigative stories based on the West Africa Leaks documents.
Around the time the World Health Organization declared the coronavirus a global pandemic in early 2020, many governments around the world ordered nationwide lockdowns to curb the spread of the disease. In many African countries, police enforced lockdown measures with a heavy hand, often beating those found in violation. One of the victims in South Africa was Petrus "Pietman" Miggels, who died after being assaulted by police on the first day of the national lockdown. Police said their internal investigation found that Miggels died of natural causes. But independent investigative outfit Viewfinder took its cue from the many doubts surrounding Miggels' cause of death and went digging. Its findings suggested that Miggels died as a result of the assault, not from natural causes. The investigation forced the matter to the floor of the South African Parliament, from where police officials promised another investigation, but there appears little follow-up.
http://gty.im/912015114
This three-month investigation by Gideon Sarpong in Ghana and Olivia Ndubuisi in Nigeria alleged that leading global technology companies did not pay taxes in some African countries where they receive revenues. Through supporting documents and interviews, the reporters found that some tech giants had not paid taxes in Ghana and Nigeria for over a decade. More than putting the tech companies on the spot, the story helped identify weaknesses in both countries' tax laws, highlighting the need for a review of regulations to bring them into the increasingly digital global economy. Five months after the investigation was published, a report by Action Aid found that 20 developing countries in Africa, Asia, and South America had lost up to $2.8 billion in potential tax revenue from top tech companies.
As much of the world went into lockdown early this year, a group of government officials and business owners in Zimbabwe were finding ways to cash in on the pandemic. One investigative report published by ZimLive.com alleged the government had wired $2 million to a company that was just two weeks old. This report, along with dogged reporting by journalists such as Hopewell Chin'ono and other revelations and follow-up stories, eventually forced President Emmerson Mnangagwa's government to cancel its contract with Drax International, and sack and arrest Health Minister Dr Obadiah Moyo. He was later granted bail. However, when the allegations into COVID-19 corruption in Zimbabwe got too close to the President's family, government officials issued threats. Eventually, police raided the home of Mduduzi Mathuthu, one of the journalists who contributed to the story, ransacked it, and arrested his sister. Mathuthu subsequently went into hiding. Meanwhile, investigative journalist Chin'ono, who unearthed some of the documents, received threats and was subsequently arrested. He's been detained twice this year.
Government officials and big business were not the only ones trying to make fast money by exploiting the COVID-19. Two undercover investigations by investigative journalist Anas Aremeyaw Anas in Ghana, and broadcast by BBC Africa Eye, exposed illegal activity by herbalists and medical personnel. The first investigation, Corona Quacks, revealed how herbalists in Ghana were selling bogus concoctions they claimed would cure them of COVID-19. The second project, Cashing in on COVID, reported that medical personnel in Ghana were selling personal protective equipment (PPE) that the government had purchased for use in the country's hospitals.
Throughout the COVID-19 lockdown period, the INK Centre for Investigative Journalism kept Botswana President Mokgweetsi Masisi on his toes — but not for any coronavirus-tied corruption. Instead, the GIJN member newsroom dug up a series of questionable business dealings in which the president was involved. For starters, INK reported that Masisi had business interests in at least 10 companies, many with controversial businessmen in the country. The investigative unit also revealed that Masisi violated bid requirements in his application to take possession of a portion of the farms that his own government was leasing out. Three months after the story on the president's bid, Masisi was awarded a farm.
This collaboration between Premium Times in Nigeria and Finance Uncovered in the United Kingdom sought to investigate the West African country's efforts to recover money stolen by past politicians and hidden in the UK. The investigation named a number of questionable actions taken by the government of President Muhammadu Buhari as it sought to return assets that Nigeria lost to leaders in previous governments. The journalists alleged that there were secret deals being undertaken with both local and international firms that were likely to lead to loss of some of the money that the government said it would recover. The journalists have continued to focus on controversy with follow-up stories.
Before 2015, South Africans were perpetually in the dark about the money paid by the world's largest mining companies to South Africa's government — and where that money ended up. This was because, until five years ago, no law required publicly listed companies to disclose payments to authorities in countries where they operated. But a data-driven investigation by the Oxpeckers Centre for Investigative Environmental Journalism, a GIJN member, has helped place where the money goes. The Oxpeckers report was made possible by a recent change in the laws, which requires disclosures by UK companies. The group also collaborated with organizations such as the Publish What You Pay South Africa coalition, Publish What You Pay UK, and Global Witness. Through this investigation, done with the help of Oxpeckers' #MineAlert digital tool, miners in South Africa could for the first time see a breakdown of the billions of South African rands paid by mining companies.
In this story, The Platform for Investigative Journalism in Malawi published documents revealing that outgoing President Arthur Mutharika bent the rules to import cement for a business family closely associated with him. In Malawi, the law allows the president to import duty-free items for personal use, but the same can't be done for the president's associates or business partners.
Due to the shortage of jobs in most African countries, many of the continent's inhabitants attempt to go beyond their borders in search of better opportunities. Often, they end up living in dehumanizing conditions, with no one to expose their plight and no support from their governments. Two investigations in 2020 have helped bring to light the tough conditions for immigrant African workers. The first was an undercover investigation by a Ugandan journalist who went through the process of securing a job in the Middle East and ended up spending months working as a domestic servant. The second was from a Nigerian journalist whose report helped to expose the enslavement of young women who worked as servants within Africa and beyond. While tackling similar themes, the stories exposed different sides of the modern-day forced labor of African workers.
---

Benon Herbert Oluka, GIJN's Africa editor, is a Ugandan multimedia journalist. Benon is a co-founder of The Watchdog, a center for investigative journalism in his home country, and a member of the African Investigative Publishing Collective.