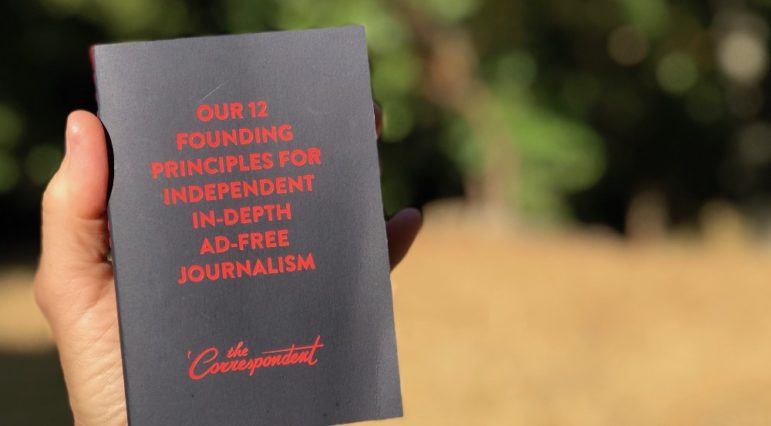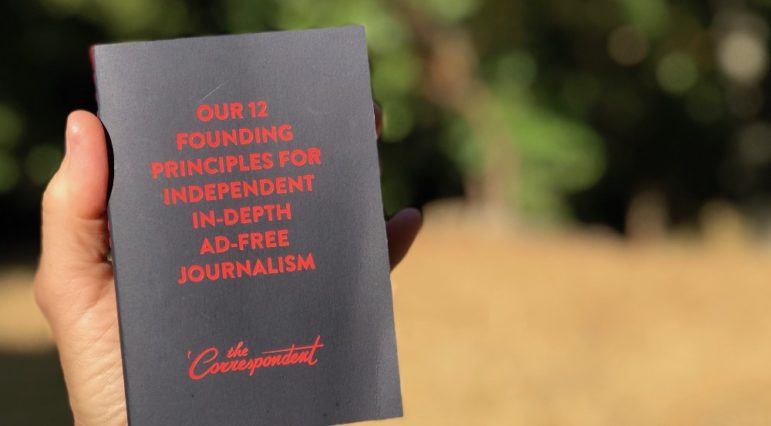 Started in the Netherlands in 2013, De Correspondent wants to export its membership model to the United States. Will it fly? Served by a remarkable execution, its peculiar DNA will certainly help.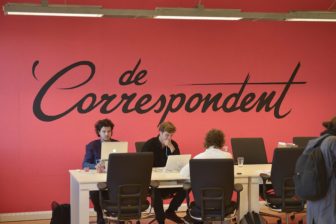 If De Correspondent were published in the United States, it would have more than one million paid-for readers, more than half The New York Times' number. If it were in France, it would have 230,000 subscriptions, nearly twice that of Le Monde. In its home country, it has 60,000 paid-for members. Not bad for a four-year-old publication.
The Dutch news website's achievement results from the near-perfect execution of a few key elements:
"We cover stories that tend to escape the mainstream media radar because they don't fit neatly into the drama of the 24-hour news cycle. De Correspondent provides an antidote to the daily news grind  —  shifting the focus from the sensational to the foundational and from the attention-grabbing headline to the constructive insight. We refuse to speculate about the latest scare or breaking story, but work instead to uncover the underlying forces that shape our world."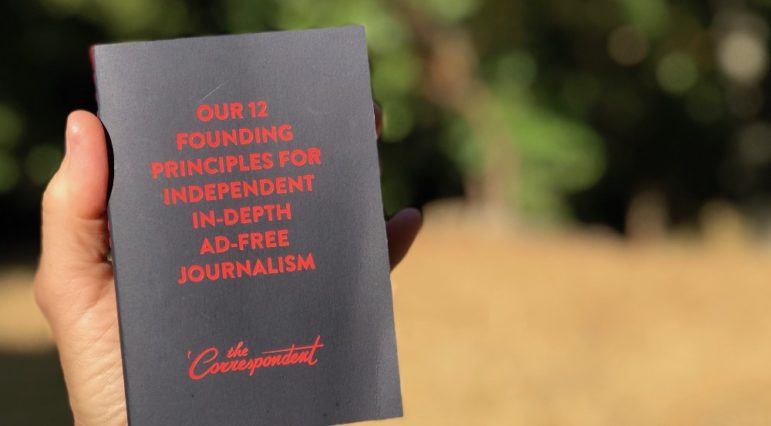 This philosophy is summed up in 12 principles:
 Redefinition of the concept of news: "An authors' platform," as the co-founder and editor-in-chief Rob Wijnberg, explained at the recent Online News Assocation conference in Washington. "Reporters are not organized by desks. They have their own beat, passions or obsessions" (a wink to Quartz).
 No soundbites stereotypes, and clichés; transparency in journalistic choices.
 Explicit and deliberate subjectivity, but no ideology, nor partisanship.
 "Constructive journalism," as opposed to the media's perennial cynical posture.
 Involvement of members in the journalistic process: DC's founders' theory is that there is a trove of untapped expertise among its readers, and the bonding of a clever membership mechanism is the best way to get value from such readers.
 No ads (hence De Correspondent's neat layout, which yields a distraction-free reading).
 No target groups: readers are individuals, not the atomic components of a marketing strategy.
 "Enduring relationship with readers/members" (more below).
 No profit maximization: "We spend what we earn, we reinvest our cash-flow in development and journalism".
  Commitment to diversity; the biggest problem is Western newsrooms is the lack of diversity, especially social diversity.
  Respect of members' privacy: no tracking, no data collection.
  "De Correspondent is ambitious in its ideals, yet modest in its claims." Not completely sure what that means, but it looks cool to me.
Let's give a closer look the point #8, the close relationship with the reader.
Each contributor to De Correspondent is required to have their own weekly newsletter. This further increases the tie between journalists and their followers. DC currently has 30 staffers' newsletters. There is no escape from it: for journalists, dragging their feet on this interaction with readers is a big no-no at DC.
"It helped us not just for stories but also in managing our business," explained De Correspondent's founder and editor-in-chief Rob Wijnberg. "For instance, knowledgeable members helped us to reshape our own energy consumption system (a big deal in the strongly green Netherlands) and in rewriting our privacy policy, suggesting tools and processes…"
The close relationship to its members also enhanced De Correspondent's business model. Its revenue structure looks like this:
Membership: 68 percent
Books: 14 percent. DC published five books so far; they all became best-sellers in the Netherlands. The recipe is simple: a timely topic, (privacy protection, the left-right political fracture in Europe), a solid promotion directed at members ,  who buy en masse, springing each book to the top of the charts. DC takes a cut of sales.
Targeted funding: 10 percent (occasional fundraising campaigns)
Journalists Speaking fees: 5 percent (same as books: talks are promoted through the site and draw large audiences).
Donations: 2 percent
Events and syndication: 1 percent
Altogether, based on my estimation, it gives De Correspondent a revenue of about €5M (nearly US$6m), for a team of 46 full-time staffers, including 23 writers.
De Correspondent's model caught the interest of Jay Rosen, a New York University journalism professor. At an ONA panel, he recalled a question Aron Pilhofer asked at the Newsgeist "Unconference" in 2016: "How would a news organization look like it was optimized for trust? How can we optimize everything we do for trust?"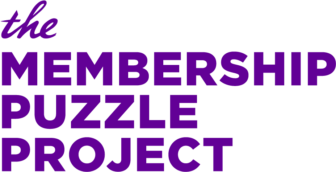 "Among the news organization I know, De Correspondent, definitely was the one optimized for trust," said Rosen. That was the starting point for the Membership Puzzle Project, which was launched early this year, thanks to a large combined grant from the Knight Foundation, the Democracy Fund and First Look Media (Pierre Omidyar's publishing venture actually has a successful experiment with the Honolulu Civil Beat, which started subscription-based and morphed into membership).
Rosen's idea is about finding a sustainable path in system squeezed between the collapse of the historic model and the crushing emergence of the giant platforms:
"It seems increasingly likely that readers who value a public service press are going to have to sustain it themselves  —  by contributing money, sharing knowledge and spreading the word. A good term for this is membership. But membership won't work if it's just begging for cash. There has to be a social contract between journalists and members. Working out what that contract should say is the core challenge of the Membership Puzzle Project."
One of the first achievements of the Membership Puzzle Project was to build a remarkable database of membership-based publications.
According to the NYU professor, the De Correspondent model is a credible path to follow, including in the United States. Some questions linger, though:
Can De Correspondent scale on a market 20 times larger than the one in which it originated?
How to adapt the editorial positioning of De Correspondent  — writing about exceptions and passions –  to the audience of the upcoming US version The Correspondent?
How to address the key question of the relationship with readers for such a large and diversified public?
On the business side, how to maintain the low recruitment costs of paid members that worked so well for the Dutch version when we know how scattered markets drastically increase acquisition costs?
How loyal will an American audience, even a carefully selected one, be — considering that it is already overstretched on such kinds of community-driven calls for contributions?
How to develop a sustainable model that will survive the current "Trump Bump," which will be inevitably exhausted in a few years?
Wijnberg knows well the U.S. market (he is an American, among other things). Over the years, he has been able to weave a robust network of allies. His age (35), track record and drive, make him and his co-founder and CEO Ernst-Jan Pfauth agile entrepreneurs that will adapt swiftly to economic conditions. (That wouldn't be the case if The Correspondent were owned by, say, Tronc Inc…)
At the same time, he acknowledges that he faces a different game, here. "In Netherlands, I participated in a show that has two million viewers. There is nothing like that in the United States; he's right: that would be the equivalent of a 37 million audience-show in the US. We'll need to be more grassroots, more bottom up."
A solution is a massive investment in Facebook ads, in which De Correspondent only spend about €50 a week , which is to say nothing. But for The Correspondent's audience, Facebook is better at promoting hyper-partisan types of publications than at helping a clever niche news outlet, one that might be more a kind of supplemental reading, as opposed to a mainstream national news media.
Hence the imperative for differentiation. Wijnberg is considering every novel approach. When I asked him where The Correspondent will be headquartered, he hesitated: "Not necessarily in New York," he said, willing to avoid the coastal syndrome that plagues every major elitist publication (and certainly not in San Francisco). He notes that a De Correspondent's U.S. contributor in fact lives in St Louis, Missouri: Sarah Kendzior is a prolific journalist and writer, but also a trained anthropologist who wrote a noted essay collection titled "The View From Flyover Country."
It is the perfect illustration of De Correspondent's interesting and different DNA that could make it an American success.
---
This post first appeared on Monday Note by Frederic Filloux on Medium and is cross-posted here with permission.

Frederic Filloux is currently International Fellow at the John S. Knight Fellowships at Stanford University. He is a journalist and an entrepreneur, an editor of Monday Note, a newsletter and blog covering the transformation of digital news media and the strategies of technology companies.