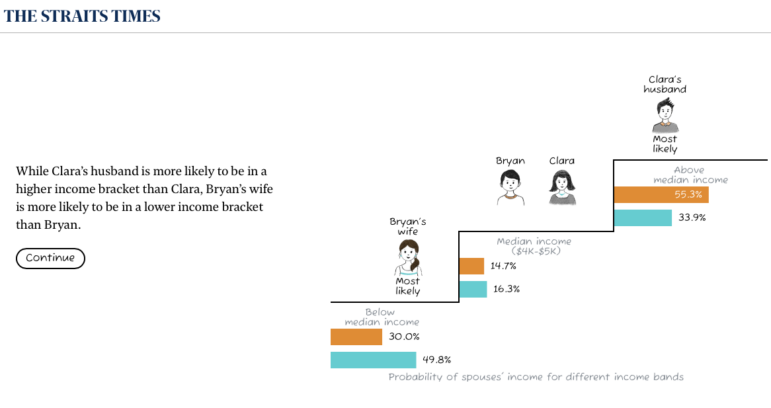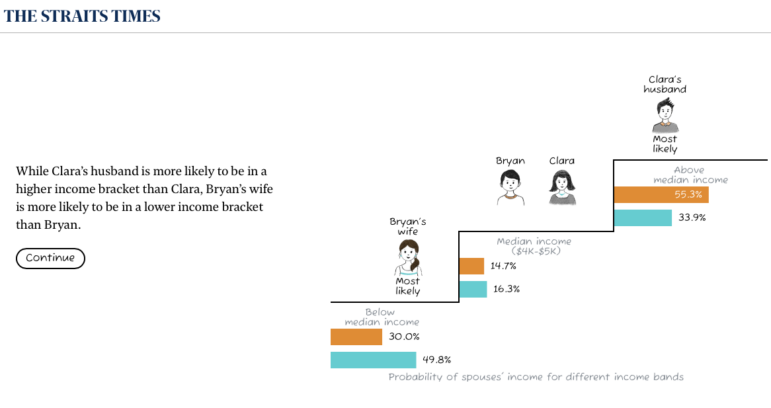 Data Journalism Top 10: Spanish Marital Rates, Gender Income Disparities in Singapore, and Tropical Deforestation
Read this article in
Data journalists have found creative ways of parsing census data. In Spain, El Confidencial's mapping of its population's marital status revealed the neighborhoods where the most single people live. In Brazil, journalists at g1 built a system for creating updated, bespoke reports for over 5,000 municipalities following the release of the country's 2022 census — the first since 2010. And in Singapore, The Straits Times looked at the trends in gender income differences over two decades. This week, GIJN also highlights stories on tropical forest loss, the effect of banning race-based university admissions, and reducing your individual carbon footprint.
Shrinking Tropical Forest
Tropical forest loss increased globally 10% in 2022 — an area the size of Switzerland. The largest loss was in Brazil, where — during the final year of Jair Bolsonaro's presidency — criminal groups operating in the Amazon took advantage of his indifference to the issue and accelerated their activities ahead of his electoral defeat. The Financial Times, looking at data from University of Maryland and the World Resources Institute's Global Forest Watch, also found that in April 2023, deforestation in the Brazilian Amazon had fallen almost 70% from the previous year — a tentative sign of its changing environmental trajectory under the county's new president.
Banning Race-Based College Admissions
The United States Supreme Court recently ruled that colleges can no longer consider race as a factor for university admissions. The court's decision has been criticized for taking away an important tool for correcting historic race discrimination in higher education. The Washington Post reviewed 30 years of race and ethnicity data from eight states that currently ban race-based admission policies in universities to predict how a federal ban might affect minorities across the country. Journalists found that "already underrepresented racial groups had even lower representation when compared to states without bans."
Unmarried Spaniards, Street by Street
Not the premise — yet — of a reality dating show, but Madrid's Almendra Central zone is "an island of bachelors." That was the conclusion of digital newspaper El Confidential, which created a search engine map based on census data from Spain's National Institute of Statistics, revealing marital status — single, married, separated, or widowed — in different areas of Spain. More single people also tend to live in the center of Barcelona (in Gracia and El Raval). Nationwide, there are more married women than men, and there were 31% fewer weddings in 2021 compared to 2001.
Dual Income Households in Singapore: Who Earns More?
In Singapore, a growing percentage of wives earn more income than their husbands. The Straits Times dug into data from the last three census reports (2000, 2010, and 2020) to see how this trend has changed through the decades. It also highlighted the gender differences that exist when comparing across different income groups.
Malaysian Election Predictor
By using and analyzing voter data from Malaysia's 15th general election last November, Malaysiakini launched an election prediction series that projects potential scenarios that could occur in upcoming state elections. Using a bespoke calculator, readers can also experiment with the data, specifically two variables — supporter turnout and percentage change in voting preference — to see how the rates could affect the outcome of the election.
German Academic Performance by Gender
Girls outperforming boys in school is not a new trend — but it does not mean that boys are "disadvantaged" in education. German daily Frankfurter Allgemeine looked at a wide set of data on gender in education, including grades and further education enrollment, and found that despite outperforming boys at a younger age, representation of women in higher levels of science or academia still lags behind that of men. Boys from the "educated middle class" also tend to have worse grades than the girls, but are disproportionately represented in groups of best-performing students. There are greater differences among the sexes than between them, explained Margrit Stamm, a Swiss professor of education.
Breaking Down Brazil's Census
At the end of June, the Brazilian statistical authority IBGE released the country's 2022 census — the first in a decade. Only two days later, Brazilian news portal g1 was able to publish 5,570 automated reports — using base text, visuals, and updated census data reviewed by its reporters — to present detailed, updated multimedia reports for every single one of Brazil's municipalities, covering population change, density, household numbers, and more. Browse the map or read more about the project's automated system.
Which Generation Has it Best in the UK?
Make a guess: which generation has an easier and wealthier life? The Baby Boomers, Generation X, Millennials, or Gen Z? British daily The Times looked at data on household spending, home ownership, and home repossession across the ages to find out. One of its findings: even though younger generations are growing up with far more spending power than the previous generations, they are reaching the milestone of home ownership later.
Ukrainian Children in Russian Families
Since the invasion of Ukraine last year, there have been reports of Russian forces deporting more than one thousand Ukrainian children to Russia. Using data from open sources, exiled Russian investigative outlet IStories located 290 children from Ukraine in 23 regions of Russia.
Swiss Carbon Footprint
The Swiss have a disproportionate climate impact. The average individual carbon footprint of Swiss residents is more than double the world average, according to data from the "Climpact" project by the École Polytechnique Fédérale de Lausanne and analyzed in French-language Swiss daily Le Temps. Climpact is a quiz-based interactive site that allows users to test and perhaps reduce the environmental impact of their daily activities. Combining answers with machine learning, Climpact assigns a carbon footprint value to user responses. So far, the platform has collected more than 100,000 responses.
https://twitter.com/benjmagie/status/1676202770225872896
Bonus: Summer Sports Edition
With the 2023 pro tennis season in full swing, Reuters has released a visual deep-dive into the sport's most revered tournament: Wimbledon. It covers the complex tennis calendar, surface court speeds, serve and volley patterns on grass courts, and more — as well as big-picture trends in the sport. In France, Le Monde's comprehensive Tour de France guide provides a detailed timetable — even letting you know when it's safe to take summer naps without missing key events.
GIJN's Data Journalism Top 10 list is curated weekly. Send your suggestions to us.

---

Alexa van Sickle is an associate editor at GIJN. She was previously a senior editor for the foreign correspondence magazine Roads and Kingdoms. She has also been an editor at the International Institute for Strategic Studies and a publisher at an international law non-profit in London. She lives in Vienna, Austria.
Eunice Au is GIJN's global team manager based in Budapest, Hungary. Previously, she was a Malaysia correspondent for Singapore's The Straits Times, and a journalist at Malaysia's New Straits Times. She has also written for The Sun, Malaysian Today, and Madam Chair.