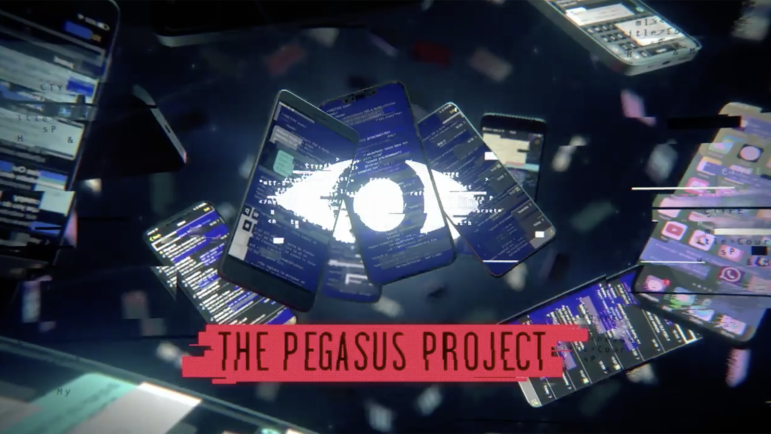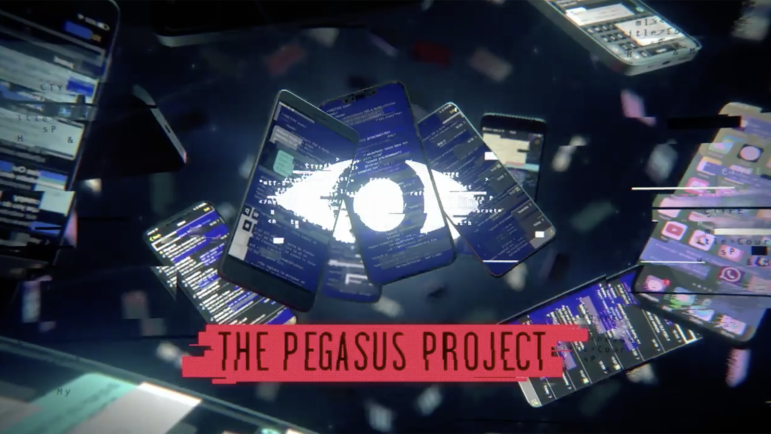 Data Journalism Top 10: Pegasus, Silencing Reporters, Europe Flooding, Diversity Mapping, K-pop
Read this article in
The far-reaching Pegasus Project, by an international team led by GIJN member Forbidden Stories, uncovered how spyware developed by Israeli company NSO Group has been systematically abused for years by governments around the world. Our NodeXL mapping from July 12 to 18, which tracks the most popular data journalism stories on Twitter each week, found lots of coverage of this collaboration that analyzed over 50,000 phone numbers selected for surveillance. In this edition, we also feature an insight into Facebook's data wars by The New York Times, an interactive piece by Al Jazeera on how the holy city of Mecca has expanded, and a colorful project by the Washington Post on the rise of K-pop.
Pegasus Project
More than 180 journalists worldwide were selected as potential targets for surveillance with NSO Group's Pegasus spyware, according to an investigative project coordinated by Forbidden Stories. The French nonprofit worked with 16 media outlets to reveal how digital technology has been used to unleash a cyber attack on global democracy. Revelations from the Pegasus Project continue to make headlines across the world. Bonus: If you want to find out what spyware your government is buying in the shadowy surveillance market, check out GIJN's guide with tips from investigative journalists.
https://twitter.com/FbdnStories/status/1416789869624430595
Silencing Reporters on Twitter
Government demands to take down content posted by journalists and news outlets on Twitter increased last year, Reuters reported, citing a transparency report released by the social media platform. In the second half of 2020, verified accounts of 199 journalists and news outlets faced 361 legal demands from governments to remove content. Most of the requests were submitted by India, followed by Turkey, Pakistan, and Russia. Twitter has removed five tweets from these accounts in total.
https://twitter.com/Reuters/status/1415354162729082881
Inside Facebook's Data Wars
Discussions over the use of CrowdTangle, a data analytics tool owned by Facebook, have caused a clash among executives at the social network. In his column for The New York Times, Kevin Roose gives a detailed account of how two teams were fighting over how much data Facebook was giving to journalists, researchers, and other users. Eventually, the company decided to selectively disclose its own data in the form of carefully curated reports rather than risking to damage its reputation by being more transparent.
https://twitter.com/kevinroose/status/1415313782797062148
Flooding in Europe
Devastating floods have hit Germany and Belgium in Western Europe where hundreds of people have died and dozens are missing. Meteorologists and German officials have said floods of this size have not been seen in at least 500 years. Using satellite data and news reports, The New York Times created a detailed map to show the extent of flooding in the hardest-hit regions.
Social Media Dashboard
The election campaign in Germany is in full swing as the nation prepares to go to the polls in September. Social media platforms have played a comparatively small role in previous federal elections. This time is different. Der Tagesspiegel newspaper reports that both the majority of politicians and more people in Germany in general have accounts on social media. The media outlet created a live interactive dashboard to show which politicians are most active online, who gets the most response, and even highlight the most used emojis.
https://twitter.com/Tagesspiegel/status/1414574778460131333
How Mecca Has Expanded
Over the past 50 years, more than 95 million pilgrims have traveled to Saudi Arabia to perform the annual pilgrimage in the holy city of Mecca. This year no more than 60,000 vaccinated domestic pilgrims will be allowed to perform the Hajj. Satellite images analyzed by Al Jazeera show how quickly Mecca has expanded since 2004. The outlet previously produced a VR experience taking viewers on a tour to see the major landmarks that Muslims visit during the Hajj.
https://twitter.com/AJEnglish/status/1416061311469957121
Mapping Diversity
Street names help us to find our way around a city. But they also have strong symbolic power that shapes our collective historical memory. In many countries, there is a significant gender gap in toponymy. The European Data Journalism Network led a project mapping the names of streets in major Italian cities. The team found that in the 21 capitals of the regions and autonomous provinces, only 1,626 of 24,572 streets (about 6.6%) are dedicated to women.
https://twitter.com/EdjNet/status/1415635504893239297
A Tale of Two Pandemics
While many Western economies have curbed the spread of the coronavirus through their vaccination programs and started to reopen, countries in the developing world have seen COVID-19 deaths soaring to record highs. The Financial Times analyzed the surge in infections caused by the Delta variant across Africa and Asia, highlighting that for nations with low vaccination rates the pandemic is far from over.
https://twitter.com/jburnmurdoch/status/1416805508724502533
Retired Soldiers
Between 2018 and the first half of 2021, the Brazilian Ministry of Defense or agencies under its umbrella spent R$610 million (around US$118 million) on companies belonging to retired or retired military personnel, according to an investigation by Metropoles. The newspaper created a chart showcasing the funds received by companies from ex-military personnel according to their rank, including generals, colonels, and captains.
https://twitter.com/LucasMarchesini/status/1416737861219586051
How K-pop Conquered the Universe
Mainstream pop music from South Korea, also known as K-pop, has achieved global success in recent years. The genre has grown in popularity through a combination of catchy hook songs, signature dance moves, and flashy videos circulating on social media. In 2010, there were 5.1 million K-pop-related tweets globally, according to data analyzed by The Washington Post. In 2020 alone, the number rose to 6.7 billion. The Post's interactive project traces the rise of K-pop and examines several songs to demonstrate its formula for success.
https://twitter.com/Tan_Shelly/status/1415300181772341253
Thanks again to Marc Smith and Harald Meier of Connected Action for gathering the links and graphing them. The Top Ten #ddj list is curated weekly.

---

Peter Georgiev is GIJN's social media and engagement editor. Previously, he was part of NBC News' investigative unit in New York. He also worked as a correspondent for Bulgarian National Television and his reporting has been published by the Guardian, Deutsche Welle, and other international outlets.
For a look at NodeXL's mapping on #ddj and data journalism on Twitter, check out this map.