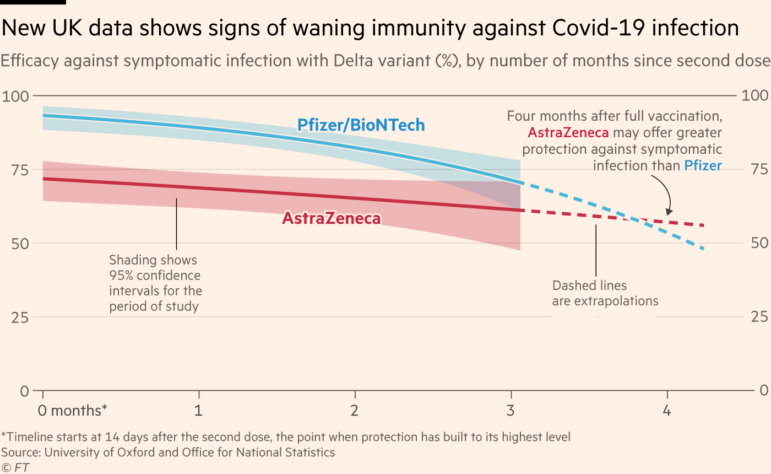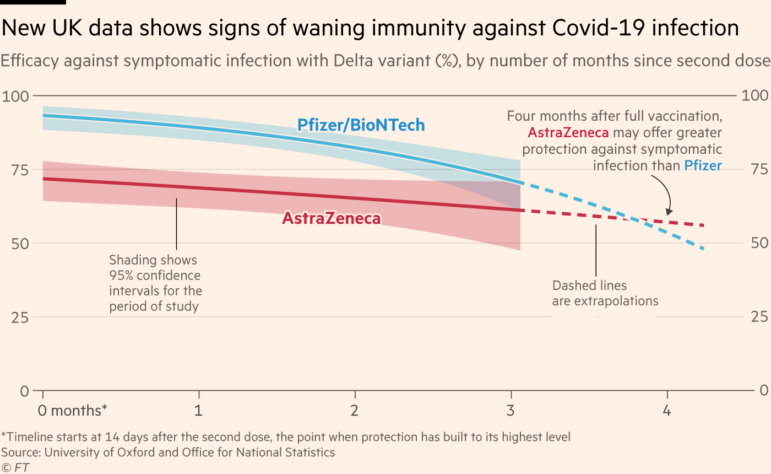 Data Journalism Top 10: Fading Immunity, Women Losing Work, Myanmar Murders, Teen Pregnancy, Britain's Wealth Gap
Read this article in
The debate about vaccine efficacy and the need for third shots has intensified in recent weeks, with countries seeing a rise in coronavirus cases among vaccinated people. Tracking the most popular data journalism stories on Twitter from August 23 to 29, using NodeXL mapping and our own human curation, we found a thread by Financial Times journalist John Burn-Murdoch exploring what we know so far about the long-term effects of immunizations. In this edition, we also look into the pandemic's impact on the global female workforce from The Washington Post, an investigation into teen pregnancies in Peru by OjoPúblico, and a live tracker of German election polls by Reuters.
Foreign Aid Cuts
The UK is cutting aid spending for overseas programs. But research suggests some of the countries that benefit the most from UK-backed projects are becoming more unstable. Data analysis by the Guardian examined the scale of the UK's foreign aid spending, revealing that African countries received the largest share of funding in 2019. The paper highlights that the cuts could have an economic impact, leading to political fragility and increased violence.
https://twitter.com/guardian/status/1429762543233417217
A Crackdown in Myanmar
Seven months after the military coup in Myanmar that sparked mass pro-democracy protests, security forces are continuing a crackdown on dissent. As many as 1,000 people have been killed, according to data analyzed by Reuters and provided by the Assistance Association for Political Prisoners, a nonprofit that tracks arrests and deaths. Many have been killed during demonstrations. The Reuters team produced a visual piece to tell the story of seven victims and used the AAPP data to paint a detailed picture of civilian deaths.
https://twitter.com/Reuters/status/1431238456353726466
Vaccines: How Long Does Immunity Last?
Reports suggesting the efficacy of COVID-19 vaccines wanes over time have raised concerns around the world. In a thread on Twitter, The Financial Times' John Burn-Murdoch explores the available data on the most popular vaccines. He notes that the reason behind one's immunity falling may not be due solely to a vaccine's fading potency, but to such factors as being exposed to the virus multiple times over a longer period.
A New Wave in China
The highly contagious Delta variant has fueled a new coronavirus wave in China,  prompting the government to respond with strict border control measures, mass testing, and new local lockdowns. The South China Morning Post used data on accumulated cases between July 19 and August 20 to illustrate how this new wave spread through the country, with clusters traced back to two places  — an airport in Nanjing in eastern China, and a hospital in Henan province, north of Wuhan.
A Setback For Women and Work
The pandemic has been particularly damaging to women in the workforce. Around the world, 54 million of them lost their jobs in the first year of the global health crisis, setting back years of progress. To find out how this happened, The Washington Post gathered data from Peru, Thailand, and France to look at how pandemic lockdowns caused millions of women to lose their jobs. Two takeaways: many women have poor job security, and they are also disproportionately represented in the hospitality, retail, and food service sectors that were devastated by the lockdowns.
Britain's Wealth Gap
The pandemic is also amplifying wealth inequality in London and other regions in the UK. While millions of people were unemployed or put on furlough during the pandemic, others have benefitted from rising property prices. Bloomberg looked into the reasons behind inequality in a country where million-pound apartments sit alongside food banks.
Teen Pregnancies
In Peru, an adolescent becomes a mother every eight minutes, and 15% of teen mothers under the age of 19 will experience a second pregnancy during their adolescence. Other countries in the region such as Guatemala, Colombia, Bolivia, and Brazil are experiencing a similar trend. An investigation by GIJN member OjoPúblico analyzed data from the United Nations Population Fund and other sources to explore how adolescent birth is deepening the cycle of poverty and limiting opportunities for young mothers.
German Polls
This month, German voters go to the polls to choose a successor to long-standing chancellor Angela Merkel, who has held the position for 16 years. Reuters created a live dashboard following the latest polls with short profiles of each party and information about potential coalitions. The latest figures show Germany's oldest party and the main center-left force, the Social Democratic Party (SPD), passing the traditionally Catholic conservative bloc of which Merkel's Christian Democratic Union (CDU) plays a central role.
The Price of Going Green
Living "green" is promoted as a way to protect the environment and ensure a sustainable future for our planet. But it can also be expensive, which puts off many people who simply can't afford eco-friendly products. The Kontinentalist, a site that tells "simple, powerful data stories about Asia," looked into the cost of sustainable living in Singapore and the challenges created by the high prices of various household goods.
America Divided
From extreme droughts to deadly floods, the contrasting effects of climate change can be seen across the land mass of the United States. The New York Times used data from the National Oceanic and Atmospheric Administration to create a map showing how people living in the eastern half of America are experiencing vastly different — and wetter — weather conditions than their compatriots in the west.
Thanks again to Marc Smith and Harald Meier of Connected Action for gathering the links and graphing them. The Top Ten #ddj list is curated weekly.

---

Peter Georgiev is GIJN's social media and engagement editor. Previously, he was part of NBC News' investigative unit in New York. He also worked as a correspondent for Bulgarian National Television and his reporting has been published by the Guardian, Deutsche Welle, and other international outlets.
For a look at NodeXL's mapping on #ddj and data journalism on Twitter, check out this map.