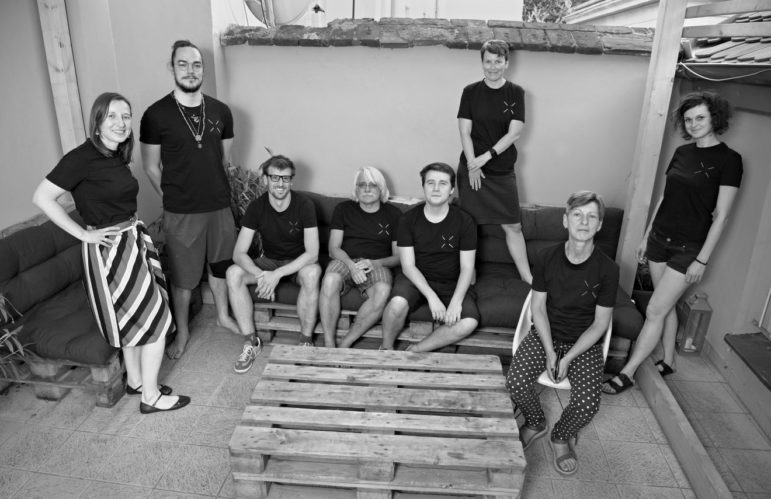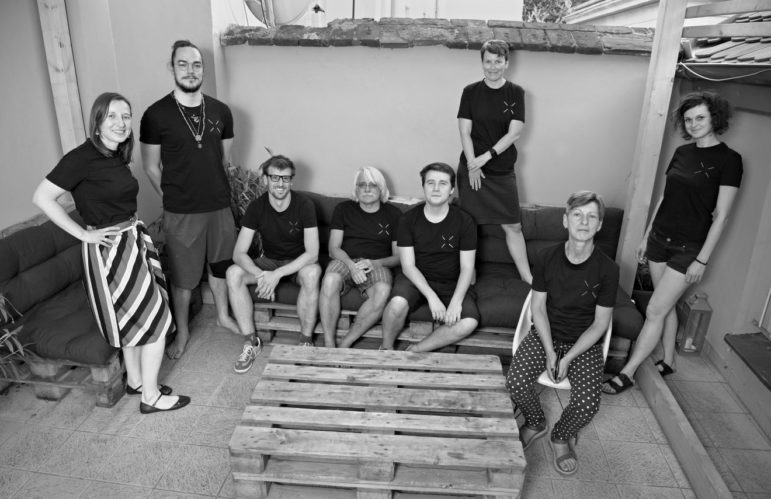 The Czech Centre for Investigative Journalism (CCIJ) was working closely with Slovak reporter Ján Kuciak when he and his fiance Martina Kušnírová were murdered in 2018, a crime that rocked neighboring Slovakia and eventually brought down the country's government.
"We shared everything," said CCIJ founder and director Pavla Holcová, who was in contact with Kuciak on a daily basis at the time. Kuciak, a 27-year-old reporter, was working on a story for the news website Aktuality.sk about alleged ties between Italy's 'Ndrangheta mafia and senior Slovak politicians.
"Usually if you deal with mafia, there is a clear line – this is an organized crime group, this is business, this is politics – and you can usually kind of separate those three groups," said Holcová at the CCIJ's bustling offices on an out-of-the-way street in central Prague. "What we found in Slovakia was that it was all mixed together."
A Slovak man has confessed in court to the killings of Kuciak and Kušnírová at their home near Bratislava. The trial of several suspects, including the prominent businessman accused of ordering the hit, Marian Kočner, is ongoing. Kočner received an 19-year jail term in late February on another charge, forging promissory notes worth EUR 69 million (about US$61 million).
When Holcová and a number of other journalists established the CCIJ in Prague in 2013 it also covered Slovakia, as the neighboring state lacked an investigative journalism organization of its own. The Investigative Centre of Ján Kuciak has since been set up in Slovakia in the late reporter's memory.
The CCIJ's chief focus has always been international, says Holcová, who first took a serious interest in her present line of investigative work in the unlikely surroundings of a Cuban jail. After being caught illicitly teaching opposition reporters she was locked up alongside Organized Crime and Corruption Reporting Project (OCCRP) director Paul Radu, who explained to her their approach to cross-border investigative projects.
The CCIJ's work is largely centered on organized crime, an area that Holcová says has never received sufficient attention from the media in the Czech Republic.
This is despite the fact that a significant number of mafia bosses from around Eastern Europe have registered businesses and bought properties in the Czech Republic, where they are usually engaged in "logistics" rather than violence, according to the CCIJ chief. In one investigation, Holcová and Stevan Dojcinovic of Serbia's Crime and Corruption Reporting Network (KRIK) found that senior Balkan mafia figures were running companies and acquiring residences in the Czech Republic.
"I don't think there was much tradition [of such reporting] and it needs a lot of cooperation with other countries, which was not really well established on the Czech media landscape," said Holcová, who in 2017 shared in a Pulitzer Prize as the only journalist from her country to work on the Panama Papers collaborative investigation, coordinated by the International Consortium of Investigative Journalists.
International Collaboration
Global cooperation is essential for media organizations investigating international crime as ill-gotten financial gains tend to flow across borders, the very point where law enforcement typically stops.
"All big fraudsters, all mafia members, all terrorist groups have one thing in common and that's money laundering," said Holcová. "So the golden rule is: Just follow the money."
CCIJ editor Jaroslav Formánek says that Prague is in fact the third largest European hub, after London and Vienna, when it comes to money laundering. Russians, Azerbaijanis, and Kazakhs are particularly active in the Czech Republic when it comes to schemes aimed at making criminal earnings appear legitimate, he said.
One of the organization's greatest successes in its seven years of existence was centered on the then head of the secret service in Macedonia (today North Macedonia), Sašo Mijalkov, who had covertly made major investments in real estate in the Czech Republic. When Pavla Holcová and Macedonian reporter Saška Cvetkovska broke the story of the The Landlord Spy in 2014, it helped force him out of office.
"It was kind of the first crack in the wall," said Holcová. "After this reporting, which was republished by the Macedonian media, there were more and more cracks and within two years the government fell."
The Czech reporter and Cvetkovska later won the EU's Investigative Journalism Award for their work on this case, which ultimately led to Mijalkov being prosecuted for abuse of power.
Editor Jaroslav Formánek, a veteran of several newsrooms who is decades older than most of his CCIJ colleagues, says the readers of its stylishly designed website are believed to include police and security officials combating organized crime, drug trafficking, and the infiltration of Czech territory by Russian and Chinese spies.
Resources to Investigate
The nonprofit is virtually unique in the Czech environment in allowing reporters the time to follow through on important stories, Formánek said. "I have never before experienced a situation where a journalist has three weeks or a month to put together a good piece."
In the view of the president of the country's Syndicate of Journalists, Adam Černý, the organization occupies a unique and valuable position in the domestic media sphere.
"The Czech Centre for Investigative Journalism supports the kind of journalism projects that require a lot of time and a lot of investment and which, with economic conditions getting worse, traditional media just can't afford very often," Černý said.
Pavla Holcová says deteriorating political conditions are also making it tougher to undertake complex journalism projects in the Czech Republic, which has been slipping down Reporters Without Borders' press freedom index and placed 40th out of 180 states in last year's barometer.
This is in part because of the acquisition of major media outlets by local oligarchs such as Andrej Babiš, who is now Czech prime minister. In addition, there is considerable pressure on public broadcasters, including from President Miloš Zeman, notorious for "jokes" such as wielding a fake Kalashnikov bearing the inscription "for journalists" at a press conference.
The CCIJ partners with Deník N — a Czech newspaper with a considerable online presence that was founded in 2018 — whenever it publishes a major local story, greatly expanding its potential audience.
Inspired to Continue
The center has a staff of around 10 journalists, including some who work part-time. The organization got by on a budget of roughly EUR 110,000 in 2019. It depends wholly on grants and donations, including the Endowment Fund for Independent Journalism, which was set up by a group of Czech business people.  The organization is only able to seriously plan about nine months ahead at any time.
While it will continue cross-border collaborations, the CCIJ plans in future to do more in-depth reporting purely pertaining to the Czech Republic.
Many of the center's reporters have recently been concentrating on the trials in Bratislava of the alleged murderers of Kuciak and Kušnírová.
Looking back two years later at their shocking killings, Pavla Holcová says the correct procedures in terms of digital security and other precautions were followed at that time and she would not do anything differently today.
What's more, the murders never made the CCIJ chief reconsider her career path. "I didn't doubt – quite the opposite," she said, adding that the same applies for her team. "We felt that if we shut up, they would win, because they killed Ján and they wanted us to stop reporting. We need to do the exact opposite and be much more motivated and productive regarding reporting."
---

Ian Willoughby is an Irish journalist based in Prague. He has been a reporter and editor for Radio Prague International for almost two decades and has also done freelance work for a number of international media outlets.