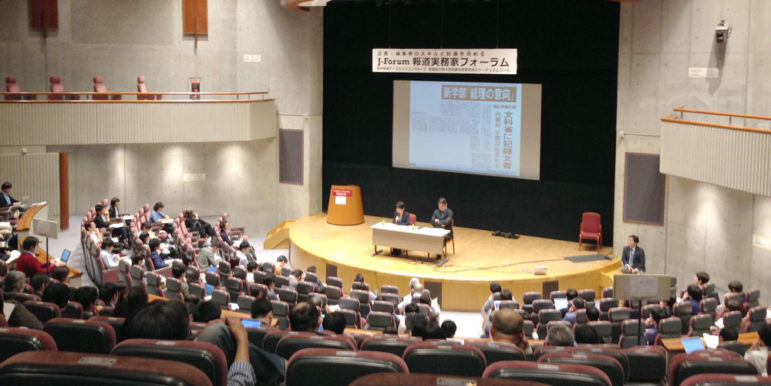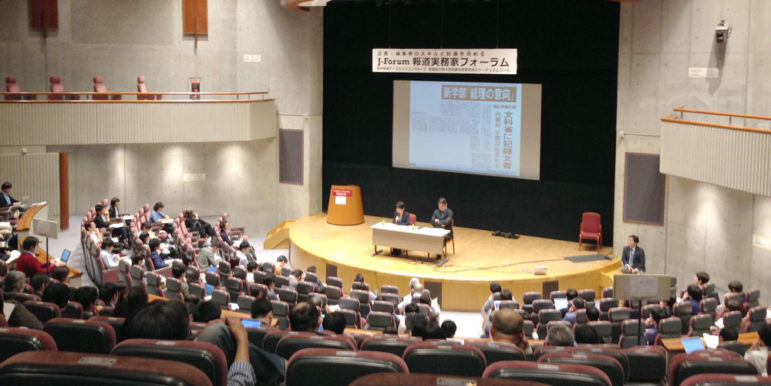 The Japanese Journalist Fighting for Better Data, Public Records, and Human Stories
The International Consortium of Investigative Journalists (ICIJ) collaborates with hundreds of members across the world. In its monthly series, Meet the Investigators, it highlights the work of these tireless journalists.
This piece spotlights Japanese investigative journalist, Yasuomi Sawa, a senior writer with the investigative unit of Kyodo News, Japan's largest news agency. Sawa also teaches investigative journalism to graduate students in Tokyo and is a fierce advocate for open records and freedom of information. He also recently helped translate ICIJ's secure document research platform Datashare into Japanese.
What led you to a career in journalism, and investigative journalism in particular?
I believe in the power of communication, telling stories, and sharing information to change the world for a better place. We need to know if something is going wrong in this world.
Three decades ago, my university friends went on a hunger strike to protest a draft National Secrecy Law. I helped the protesters by handing fliers to fellow students, but they showed almost no interest, ignoring the political activists and refusing flyers. It was the late 1980s, Japan was in the middle of a jubilant bubble economy.
On the day The Asahi Shimbun, Japan's leading daily – and ICIJ partner – ran the hunger strike story, students began asking for fliers and expressing their interest in the protest. I was shocked — I couldn't believe a newspaper article made such a difference. I was half-scared and half-impressed by the impact of journalism.
However, I also became aware of another aspect of journalism: News media often frustrated me because they didn't seem to do their job, and instead focused too much on giving voice to those in power, and their version of the events, rather than listening to the voiceless.
Journalism should be for the people, especially those in need, I thought. I was young and ambitious enough and decided to become a reporter myself, and contribute to putting journalism back on the right track.
Now, 30 years later, I am not sure if I am doing well — perhaps not enough, but I am still trying my best.
What's the most rewarding project you've worked so far and why?
The 2016 Panama Papers investigation was an incredible experience. It was my first project with ICIJ. I didn't know anything about cross-border collaboration. I just gave it a go without knowing what was coming next.
The surprise came late at night on the third day after publication. My colleagues in our "News Centre," which is the heart of our newsroom, told me excitedly that Iceland's prime minister was stepping down.
This news spurred the interest of all Japanese news outlets which were still slow to react. They began talking about Panama Papers and ICIJ day in and day out. Our investigative unit of four members got many visitors and phone calls asking for special feature stories, TV interviews, magazine articles, presentations for other journalists, public lectures, and so on. As a news wire service, we usually do not expect to be in the spotlight; we just support newspapers and broadcasters, staying behind the scenes. But this time we felt extremely honored and proud.
The project's impact in Japan was enormous. Although the Japanese government reacted lukewarmly, activists tackling poverty and inequality appreciated the reports.
Recently you and your colleagues achieved remarkable results with another investigation you led. Tell us about it?
We looked into the arbitrary disposal of court documents. This investigation exposed how badly Japanese courts have been dealing with court records. As a general rule, courts dispose of most civil case documents five years after they are closed. We found that out of 137 landmark cases of free speech, equality, and others cited in a prominent constitutional Casebook, 118 documents were gone. Final judgment documents have survived, outlining what courts concluded. But we can't scrutinize the process.
Our story moved many people, including a member of the Diet [the Japanese parliament], and prompted heavy criticism. Now courts have suspended disposal of court documents, until new rules on document archival procedures are established.
Has any experience in particular changed or reinforced the way you approach investigative reporting? An "Aha!" moment that made you consider things differently?
One of my investigative journalist friends, Satoshi Kusakabe, said that when we use public information for our reporting, we don't have to rely on somebody, we don't have to care about keeping good relationships with sources.
It was eye-opening for me. Using public information doesn't involve any human interaction. You will be clean-handed, you don't have to politely ask anybody to open doors, because doors are already open for the public. Data-driven investigation liberates journalists.
In 2015, I began gathering statistics about school enrolment and residency of immigrant children from Japan's major municipalities. By analyzing the data, I found a surprising gap between the number of children who were registered in school and residence information.
I also found that the vast majority of them — more than 10,000 — were ignored by local school boards: they don't check immigrants' school enrollment, while they routinely do it for Japanese nationals. Residence registration data may be skewed because quite a few families leave Japan without communicating it to the local offices. However, such a big gap between Japanese and immigrant children shows that immigrants are ignored by local education boards.
In addition to using data to support my reporting, another thing stories can't do without is the "human element."
"Stories must be about people," a British journalist once told me. He was a crime editor for a tabloid, but his words struck me. Since I realized that, I have been trying to humanize my stories.
You teach investigative journalism at one of Japan's most prestigious universities. What's the one lesson you want your students to take with them after they graduate and go work for a news organization?
I teach them field investigative journalism and want them to become confident in digging independently and using their own news sense. After they get a journalism job, they will be assigned to a beat, perhaps a police beat or a city hall.
Out of the five W's (Who, When, Where, What, Why), the key question is 'Why?" Why did this immigrant worker who got injured in an accident come to my country? Why did this strange car accident occur? Why was this old man arrested for shoplifting small pieces of food? There might be serious social problems underneath such stories.
Aspiring journalists nowadays want to use emails or other digital communication instead of talking to people. I wonder if it is just a phenomenon among Japan's extremely shy youngsters… It is easy, but I don't think it's a great way to get to know people. You don't see your source's frowns or smiles, hear what his or her tone of voice is like. You might also lose an invaluable chance to establish mutual trust and extend the relationship with a potential whistleblower.
What are the challenges for in-depth, investigative journalism in Japan?
First, the lack of the concept of public information. Japan has a Freedom of Information Act [or FOIA], but I don't think it works as it should; many exemptions undermine its function. A few years ago, I tried to investigate the extremely high rate of foreign students at a private university. Many private schools in Japan are suffering from the country's shrinking young population and some try to survive on massive foreign enrollment.
It is good, of course, that schools become international — as long as they educate students properly. But what if the school's dropout rate is suspiciously high? Is there any possibility that the school is just a scheme to obtain a visa and doesn't educate students?
I needed valid documents describing the dropout rate. So I requested the information through a FOIA application. But the Japanese government refused to disclose those statistics, saying it would cause "possible undue detriment to the university," which is an exemption of the law in Japan. I appealed and lost again. They protected the information for the sake of the university's reputation rather than putting it out in the open to have a fair public debate.
The second challenge is the way Japanese news media too often value "getting the story first" over in-depth journalism. This means that, in order to break stories, reporters have to rely on sources who give them immediate access to information. As a result, and in my own experience, we sometimes become more worried about keeping "good relationships" with sources, rather than being critical.
Investigative journalism in Japan is growing, but not quickly enough. It could be that, just like in other sectors of Japan's society, editors in this country are somehow conservative and prefer choosing safe paths.
Japan recently passed laws such as the State Secrets Law that effectively restrict freedom of the press. How do these kinds of laws affect the quality of investigative journalism in Japan?
I am afraid the State Secrecy Law has a negative impact on investigative journalism. In a clause that serves as a safeguard, Article 22 of the law says that "its interpretation must not be expanded to unfairly violate the fundamental human rights of the citizens" and that "due consideration must be paid to the freedom of news reporting" because it "contributes to guaranteeing the citizens' right to know." But the law offers no particular help to whistleblowers who give classified information to reporters in the name of public interest. My colleagues covering security and defense say their sources feel an insidious chilling effect.
But personally I think that the Personal Information Protection Law [enacted in 2003] has a stronger negative impact on press freedom. When the law was introduced, "personal information" and its protection became a recurring phrase, very often confused with privacy. Now it's like a magic formula used to dodge unfavorable scrutiny, far beyond its legitimate criteria.
You specialized in court reporting – and one of your biggest battles is about open data and court document disclosure. What's wrong with the current system?
The Japanese Constitution establishes that "trials shall be conducted and judgment declared publicly." So we can go to court and watch them freely, as in other democracies. Court records are also open — but this is only in the books. Practically, access to court records is prohibitively limited in Japan.
Civil case documents are quickly disposed of; courts keep civil case records only for five years after the case is closed. Even if the court record is within the five years, you are not allowed to photocopy the documents unless you have special interests in the case such as, for example, a business contract with the party. Being a journalist doesn't make any difference.
The other issue is that criminal court records are not kept and managed by courts, but by prosecutors. The law says they are free to access, but there are exemptions. Prosecutors can decline to give journalists access when three years have passed since the case was closed.
Journalist Shoko Egawa, who is well known for her rigorous coverage of the cult group Aum Shinrikyo and its crimes including the Tokyo subway sarin gas attack, was denied access to records about a capital case involving cult members. They applied the "three years" exemption against the most knowledgeable journalist of the case.
In one case, I was given access to the records regarding Japan's first-ever hate speech case that resulted in a conviction, but only to limited documents. Almost all names were removed, including the identity of the victim, his family, his lawyer, and even the name of the internet service provider used by the perpetrator. It makes me angry.
To change the situation, three years ago I started a discussion group with some friends — including Egawa — called "Real Open Court Project" (ほんとうの裁判公開プロジェクト). We discuss, research, and study what rights we should have and share our ideas with fellow journalists and law professionals.
Another initiative you recently launched is J-Forum. What is it?
J-Forum, or Journalism Practitioners' Forum, is an event to develop journalistic skills and knowledge, especially investigative reporting. Prompted by organizations like Investigative Reporters and Editors in the US and the Global Investigative Journalism Network, my decades-long friend and fellow ICIJ member Toshi Okuyama came up with the idea of holding the Japanese version of such conferences.
We began the first annual event over a weekend in May 2017 with eight sessions and 100 attendees. We were surprised that tickets sold out so quickly. Since then, more and more journalists from all over Japan have shown interest in J-Forum: the following year, we had 15 sessions and 250 attendees. In 2019, thirty sessions and 370 attendees. It is now one of the biggest journalism events in the country.
Japanese newspapers have some of the largest circulation rates in the world. But they're not exactly known for their "daring" or "aggressive" journalism. When I lived in Japan (between 2007 and 2014) I noticed so-called legacy media would tend to censor themselves and be very sensitive to corporate advertising and government pressure.  Is it still the case?
I agree with your view that there are, roughly speaking, two different types of media. Even though there are so many great exposes by daily newspapers or broadcasters, I believe we can do more. Recently, it is mostly tabloid type weekly magazines that have made politicians step down, rather than daily papers or TV.
People in broadsheets or TV work hard, but sometimes tend to be sort of posh, or perhaps elegant, I suppose. We are taught to consider whether our stories bring too much embarrassment to somebody who shouldn't be put on the spot. It all stems from the Japanese concept of "meiwaku" or nuisance. Preventing it is highly valued in a culture of harmony and politeness, and preferred to a relentless free press and uncomfortable public debates.
I don't say we need no sensitivity or politeness, but I would like to quote The Guardian's editorial from July 23, 2015: "Mainstream Japanese journalism is not corrupt, but it is respectful, like the culture around it… but it is also possible for respect to shade into the kind of incurious deference to power which lets scandalous behavior flourish."
This kind of behavior may contribute to the Japanese people's distrust towards the media. What's the media's responsibility in that and how can they fix it?
A 2019 report by Oxford University's Reuters Institute for the Study of Journalism shows that, among 48 countries, Japan's media trust score is 35. It is not good, but the most problematic aspect is that the survey found a significant discrepancy between journalists' conception of their role as a watchdog and audiences' evaluation on that. While 91% of journalists said monitoring and scrutinizing political leaders is "extremely important" or "very important," only 17% of the audience was satisfied with our work as watchdogs.
So our remedy should be clear: More independent and biting journalism, namely, more investigative journalism.
---
This story was first published on the International Consortium of Investigative Journalists' website and is reproduced here with permission.

Scilla Alecci is an investigative reporter and video journalist for ICIJ. She heads ICIJ's Asia Desk, coordinating the investigative work of ICIJ's partners and members in Asia. In 2016 she was a member of the Japanese reporting team that took part in the Pulitzer Prize-winning Panama Papers investigation.