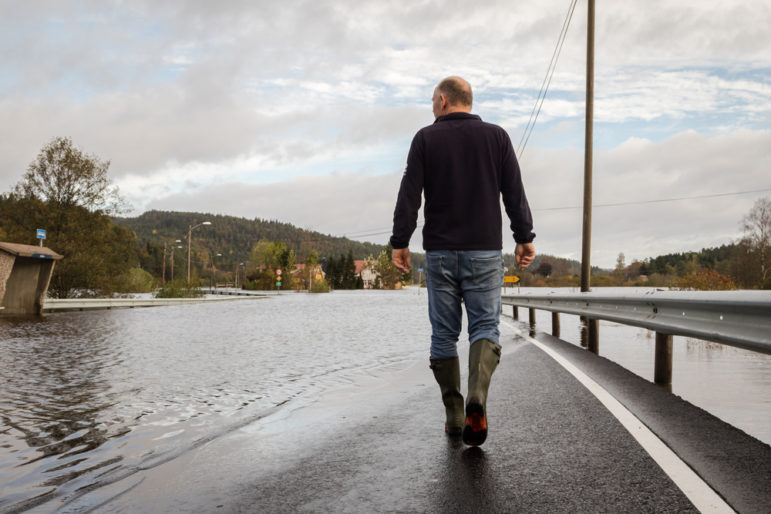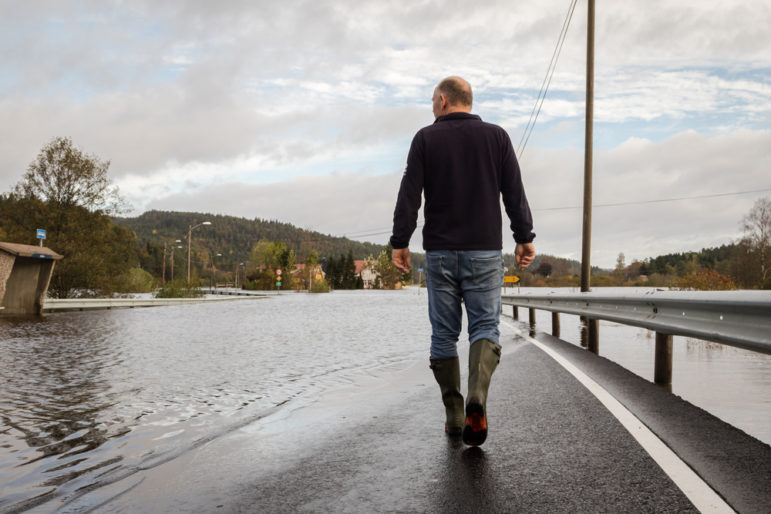 Climate Storytelling Impact: Lessons from Norway's Public Broadcaster
Read this article in
How do you increase your readers' interest in climate stories? Two award-winning projects from the online team at Norway's NRK offer insight that could help newsrooms increase impact and engagement in climate coverage.
Conventional newsroom wisdom is that it is nearly impossible to get a lot of traffic to a climate story.  The theory goes that this is because either the storytelling is weak or the content lacks relevance.
And so it was at NRK, the Norwegian public broadcaster.
NRK's online team wanted to test their ability to pique interest by designing a premium piece of online journalism, featuring top-notch, interactive storytelling, that would resonate with ordinary Norwegians and how they live their lives.
"We created an interactive project, not dissimilar to a time machine, that tried to bring the story of climate change close to individuals, both in sense of time and place," explained NRK's editor of digital storytelling, Reidar Kristiansen.
The 2019 story package, Chasing Climate Change, succeeded in bringing climate change closer to readers by focusing on the climate change that was already happening in Norway. "The main message was climate change is real, it's not just something we expect in the far future, it is happening right here, right now," said Kristiansen.
The project was a huge success, drawing one million page views (in a country of just five million people), and winning awards for its digital storytelling. It was optimized for mobile, extremely visual, had limited text, and all the scientific details added as extras in separate popups, said Kristiansen.
Buoyed by their success, the team embarked on a more ambitious and sophisticated climate storytelling project, "Your Climate Future," which was published at the end of November 2020. It has had 1.4 million page views to date.
It is an interactive and engaging piece of journalism, underpinned by over 40,000 data points. Depending on the information the user enters, the project can yield 356  individual stories, one for each of Norway's municipalities.
While you can pull up an interactive scenario for each of the municipalities — the journalists did not sit down and write an individual article for each. Instead, one piece of text was written, leaving gaps for numbers that were added from a mapping exercise, and allowing them to tailor the text and animations according to whether they were highland, lowland, inland, and seaside.
"By entering their city or home town onto the homepage, the user can follow a timeline to see what impact climate change will have 80 years into the future," said Kristiansen.
The user can explore the likely scenario for their town and one other, through issues at are important to most Norwegians: temperature, sea level, precipitation, what kind of animals will be around and which will be extinct, will the temperature allow you to go skiing, what will happen to the glacier, and will you need rainwear?
Kristiansen's project team comprised three journalists, two designers, and two developers who worked effectively for around six months, but spread over the period of a year, sourcing climate projections and research from Norway's top scientists and credible, globally recognized datasets. The main data is on an Excel spreadsheet.
In their narrative, the journalists have steered clear of any emotive or polarizing language and controversial issues, sticking to scientific data and evidence-based facts. They use explainers throughout to ensure the content is easy to understand and credible. "Based on the experiences from "Chasing Climate Change," we kept the idea with the footnotes – clickable links that explain difficult words or expressions, give additional background facts about the science, or provide transparency around our own considerations regarding for example how to deal with scientific uncertainty. That way we were able to tell a story, without losing the readers' attention in that kind of discussion," said Kristiansen.
The climate scenarios are based on the world having moderate success in reducing emissions.
The takeaway learning for Kristiansen and his team is that proximity to the story matters — in sense of both geography and time: "Storytelling matters. Digestible, interactive, fact-based journalism will get traction if it's relevant. The closer journalists can bring the story to their audience, by showing direct relevance, the better read the content will be."
"I think the good response came partly because both these stories differed from the fragmented reporting we usually see on climate change. Here we managed to collect a huge amount of data from different areas and sources and paint a more complete picture of a probable future for the readers' children and grandchildren. That makes it look more real," said Kristiansen.
The storytelling package has yielded numerous articles in local newspapers across the country, with journalists using the NRK data and story as a base for local discussions about climate change adaptation, how to prevent damage, and possible effects on businesses and nature.
"Your Climate Future" has won several prizes including:
This is a reprint of an original article published by the World Association of News Publishers. It is republished here with permission. 
Additional Resources
Climate Crisis: Ideas for Investigative Journalists
New Data Tools and Tips for Investigating Climate Change
Climate Change: Investigating the Story of the Century
---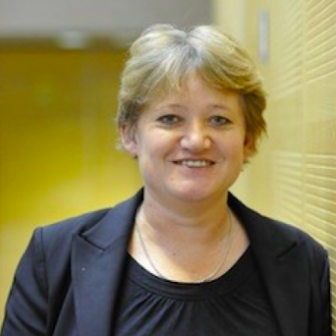 Cherilyn Ireton is the executive editor of the World Editors Forum, the community for professional editors within the World Association of Newspapers and News Publishers (WAN-IFRA). Now based in the United Kingdom, she worked as a journalist and editorial manager in South Africa before joining WAN-IFRA in 2012.