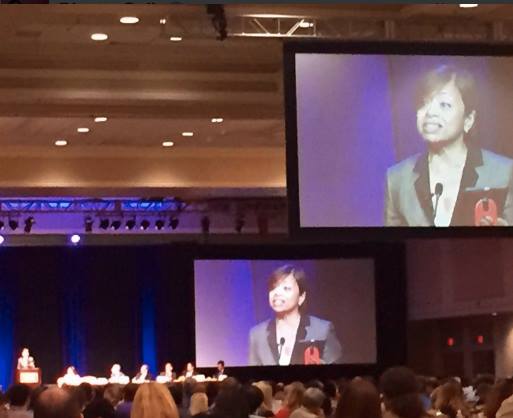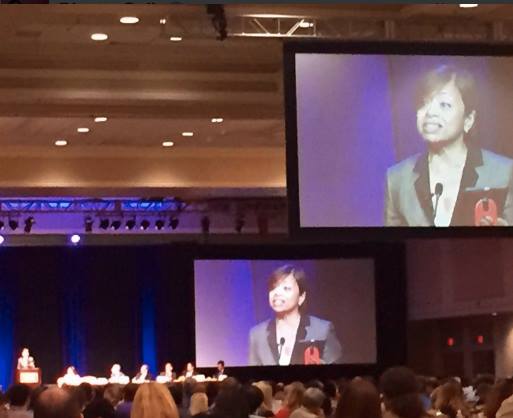 Editor's Note: We are pleased to present this transcript of the keynote speech by Columbia University's Sheila Coronel at the 2016 conference of Investigative Reporters and Editors on June 19. Coronel, who has played a key role in spreading investigative journalism worldwide, spoke to 1,850 people — the largest ever gathering of investigative journalists — about networks, collaborations, nonprofits, and a new golden age of global muckraking. 
---
Ten years ago, when I first moved to New York and gave my first lecture at the Columbia Journalism School, I told students that I believe we are at the dawn of a Golden Age of global muckraking. They were a great class, but they didn't believe me.
But look at where we are now: It may not feel like it to some of you, but we are seeing, like never before, an explosion of investigative reporting around the world. There are now over 100 investigative reporting centers and organizations outside the U.S. Today, there are muckrakers even in places like Armenia, Bulgaria, Nepal, Venezuela, the Arab world.
These watchdog groups have seeded the unprecedented collaboration of journalists working across borders and across newsrooms. This past year has shown us how far international investigative reporting has come. Three examples.
This was the year the Panama Papers shook the world. Some 400 reporters from nearly 80 countries produced stories that made headlines everywhere. Their reporting on a leak of 11 million documents from the Panamanian law firm Mossack Fonseca caused the downfall of Iceland's prime minister, Spain's industry minister and Armenia's most senior justice official. It also sparked tax evasion and money laundering investigations in several continents.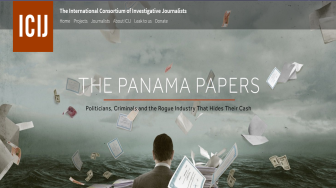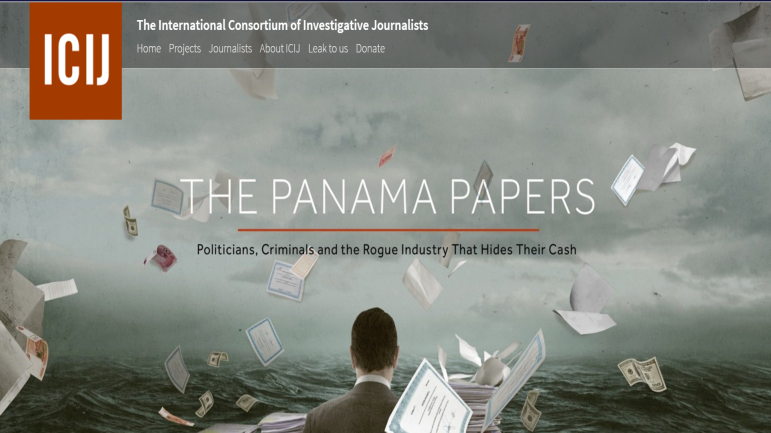 Working together under the direction of the International Consortium for Investigative Journalists, these reporters proved ­– once and for all – that there is no such thing as offshore secrecy. Thanks to them, tax-evading billionaires, kleptocrats, drug lords and assorted money launderers are quaking in their private jets.  They can run but they can't hide.
Also this year, Seafood from Slaves, an investigation by the Associated Press, won the Pulitzer Prize's highest honor. A global team of AP reporters found thousands of poor workers from Laos, Burma, and Cambodia held in bondage by operators of Thai fishing vessels.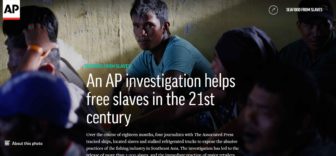 The AP's reporting led to the release of 2,000 slaves like Myint Naing, who had been trafficked from Burma and found on one of the Spice Islands in Indonesia. He had been kept 22 years a slave.
Finally, this is also the year the Azerbaijani journalist Khadija Ismayilova was released from prison.
Khadija was arrested in Dec. 2014 and found guilty of tax evasion, embezzlement and abuse of power. Her reporting had exposed how Azerbaijan's president, Ilham Aliyev and his family had snapped up state assets. Using shell companies and nominees, they squirreled their wealth in luxury goods and real estate around the world. And yet it was Khadija, not them, who was accused, tried and jailed.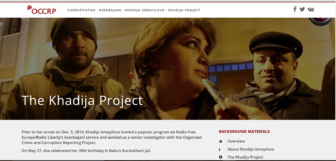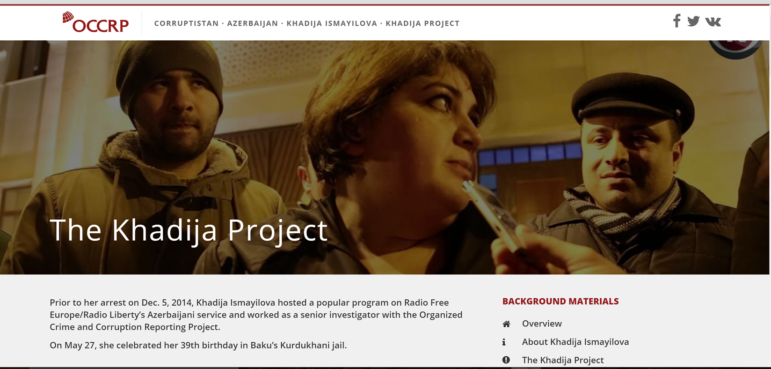 Khadija would still be behind bars today. But journalists all around the world, including many of you in this room, wrote about her and advocated on her behalf with their own governments and with the EU and the UN.
Her colleagues in the Organized Crime and Corruption Project and elsewhere also collaborated on stories exposing the corruption of the Aliyevs. They called it the Khadija Project, after the IRE's own Arizona Project.
Many of you know that in 1976, a team of investigative reporters from IRE got together after Dan Bolles, an investigative journalist at the Arizona Republic, was killed by a car bomb. They agreed to continue reporting the story that Bolles had not lived to tell.
Their principle was: You can kill the journalist, but not the story.
Similarly, the Khadija Project's message to the Aliyevs was: You can jail Khadija, but you cannot put an end to exposés. In the end, the Aliyev government realized that the political cost of keeping Khadija in prison outweighed the benefits of setting her free.
Last month, Khadija was released.
A lot has been said about  how technology has empowered the new global investigative reporting. The Panama Papers and similar stories benefited from software that allows reporters to communicate and share documents securely across oceans, and from algorithms that enable them to search millions of documents in real time wherever they are.
Technology has given us new tools for dealing with big digital leaks and new sources of information, including, as in the case of Seafood from Slaves, ship sensors and satellites.
But let me tell you this: It's not machines that made all this great work possible. It's people. People like us. The successes I've described demonstrate not so much technological power as collaborative power… the power of individual reporters working together to produce journalism that is greater than the sum of each of their individual efforts.
Since the late 1990s, journalists from around the world have been meeting regularly in conferences and training workshops – like this one —  and working jointly on increasingly ambitious cross-border reporting projects. These activities – and also those spirited discussions after hours (and by spirited, I mean alcohol-fueled)  –  have fostered camaraderie and trust. They have laid the groundwork for a truly global and networked journalism.
The era of the lone wolf is over.
Local and national accountability reporting will continue to be important, but the muckrakers of the future will no longer be so tightly tethered to the nation-state. Crime, corruption, you name it, pollution, human trafficking, money laundering, tax evasion, viruses like Zika, purchases of luxury real estate, the food we eat, the clothes we wear: All these breach national boundaries.
And thanks to a global community of muckrakers, the barriers to doing cross-border reporting are no longer insurmountable.
A borderless world needs watchdogs who can transcend borders. The Panama Papers, the Khadija Project, Offshore Leaks are examples of how this can done. They showcase the new global, networked investigative journalism.
Today, the news industry is facing huge challenges in terms of falling revenues. Moreover, all around the world — even in countries that have a free press  — governments, corporations and in too many cases, terrorists and demagogues, autocrats and mafia lords, are stifling independent reporting.
There is no silver bullet, no Holy Grail that will end this crisis of news. We are in uncharted terrain. The new, global, networked journalism provides us ONE path forward, ONE model for doing ambitious, high-impact accountability reporting efficiently, rigorously, more cheaply, also more securely.
This network model is still fluid and evolving. Unlike traditional newsrooms, networked journalism is, for better or for worse, horizontal and non-hierarchical. Membership in the network is informal – there are no membership lists or dues. Members are linked by bonds of reciprocity and trust, and also by self-interest. Units within the network may be competitive, but they choose to share and to work together on specific projects and for particular goals.
Crime and corruption networks work this way and so do jihadist groups. Their activities and lines of communication reach across national borders. Like the mythical Hydra–many heads, hard to find, difficult to exterminate. There are hubs, but no single mission control. Cross-border journalist networks operate the same way, that's why they are effective. As the Pentagon has now realized about fighting jidhadists, "It takes a network to defeat a network."
But how can networked journalism be sustained? Until about a decade ago, investigative reporting in the US was robust because it was propped up by a support structure of profitable news organizations that invested in reporting, independent courts that protected press freedom and the right to information, journalism schools that trained the next generation of muckrakers, and prizes that celebrated outstanding work. And of course, there's IRE. You don't know how lucky you were, and still are.
Elsewhere, there are huge gaps in the support structure. The most daring and cutting-edge accountability reporting around the world is being done by nonprofits, financially fragile newspapers or online news sites, and freelancers. They can barely scrape the money for ambitious reporting. They are also extremely vulnerable to legal harassment and physical threats. In these places, the courts are compromised and governments are unable to protect journalists from those who would them harm.
In too many places, investigative reporting is a high wire act – without a safety net.
Behind its many successes, cross-border investigative reporting is a flickering flame. It needs to be funded and protected. But how and by whom? Who pays for a global public good?
For sure, we have vibrant organizations that keep the fire burning. The Global Investigative Journalism Network is the communications & resource hub for watchdogs around the world. GIJN organizes meetings that bring international journalists to talk about tradecraft. Many of the early collaborative reporting projects were conceived in the corridors of these global conferences.
We have watchdog groups in Latin America, Europe, Africa, and the Arab world that train journalists, bring them together to discuss common issues and problems, and also fund their work. The OCCRP reports on the Balkans, the former Soviet Union, and other regions on the issues of crime and corruption. And of course, you are all familiar with ICIJ's stellar work as a hub for distributed, cross-border reporting. It's headquartered in Washington, D.C. but its staff is a microcosm of the world: The ICIJ director is Irish & worked in Australia, his deputy is from Argentina; the data team is headed by a Spaniard, my former student Mar Cabra, and the chief data analyst is Costa Rican. And there are some very talented Americans there, too, of course.
But funding is tight. David Kaplan, the guru of GIJN, estimates that donors invest at most $20 million a year in international investigative reporting.
That's about 0.2% of the 7 billion pounds worth of London real estate secretly purchased by prime ministers, business magnates and others using offshore companies established by Mossack Fonseca. Thanks to the Panama Papers, The Guardian found all these properties. Seven billion pounds.
In other words, the investment in global investigative reporting pays off. Massively. The reforms that the Panama Papers have set in motion worldwide will hopefully result in billions of dollars in recovered wealth or unpaid taxes. The OCCRP estimates that the total of money frozen or paid in fines since it started work has reached $3 billion.
The Arab Reporters for Investigative Journalism has nearly single-handedly introduced investigative reporting techniques and the notion of accountability in the Arab world. In the past 10 years it has trained 1,600 journalists, including the Arab reporters who worked on the Panama Papers. If we know now that Syrian president Bashar al-Assad  and his allies skirted international sanctions by registering shell companies in places like the Seychelles, it's because of ARIJ.
What a spectacular return on investment.
In the end, however, the most valuable investments in global watchdog reporting have been made by individual journalists willing to put their lives and their freedoms on the line in order to expose wrongdoing. Khadija Ismayilova remained in Azerbaijan to report, knowing that she would sooner or later end up in jail. Not many of us – I hope – will ever be in her situation but we're inspired by her courage and strength of purpose.
Hamoud Almahmoud continued teaching an investigative reporting course at the University of Damascus, despite the artillery fire around him. "The university was very close to the frontlines of the fighting," he recalled "I was teaching despite all the shelling."
Hamoud is in Amman now, where he is research director of ARIJ. But many of his colleagues in Syria have been killed or fled the country. "We see the window of hope is narrowing," he told me, "but we are surviving and we are still doing stories."
Lina Attalah edits the independent website Mada Masr in Egypt that could be closed any time under onerous press laws. But she and her young staff continue to do investigative reporting in order, she says, to "activate the conversation, to reopen the political space, and engage the public in conversation."
Oscar Martinez heads the investigative unit of El Faro, an online news site in El Salvador. He's received numerous threats for his stories on gang violence and extrajudicial killings. Last year, he had to flee the country. He's back but he has panic buttons and other security systems in his house. He can't even take his three-year-old daughter to the park for fear of attack.
Oscar writes beautifully about the most horrific things that people do to each other. Recalling his reporting on migrants crossing from Central America to the US, this is what he told the Texas Observer:
If there are women who had the courage to tell you how they'd been raped along the path… you as a journalist don't have the right to just pit that back out onto a page. You have to take the time, dedicate energy and put in a lot of work to write this the best way you can so that that person's story can generate the feeling of impotence, the rage, the compassion and the hate that it should generate.
Writing, he said, is an ethical responsibility.
For Oscar, for Lina, Hamoud and Khadija, as it is for me, and I'm sure many of you, investigative reporting is more than just exposing the bastards, although that is immensely satisfactory. I started reporting during the twilight of Ferdinand and Imelda Marcos, when the press was so heavily censored, we couldn't even publish photographs showing Imelda's double chin. For me, investigative reporting is about opening up spaces, providing facts to inform intelligent public debate, making readers empathize with the suffering of others.
Where there is despair that everything is broken and nothing can be done, we offer some hope that if we shine the light on the wrongdoing, the world can be a better place. I am proud to be part of this global community of muckrakers. We can; we should; we must keep going and I hope – I KNOW – we will all stand together.
---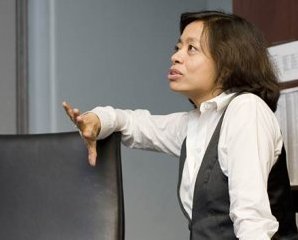 Sheila S. Coronel is Dean of Academic Affairs at the Columbia Journalism School and director of the school's Stabile Center for Investigative Journalism. She is co-founder and former executive director of the pioneering Philippine Center for Investigative Journalism, based in Manila.