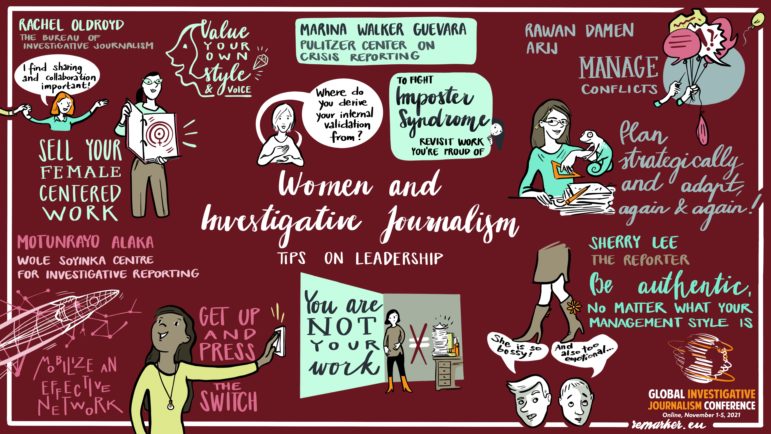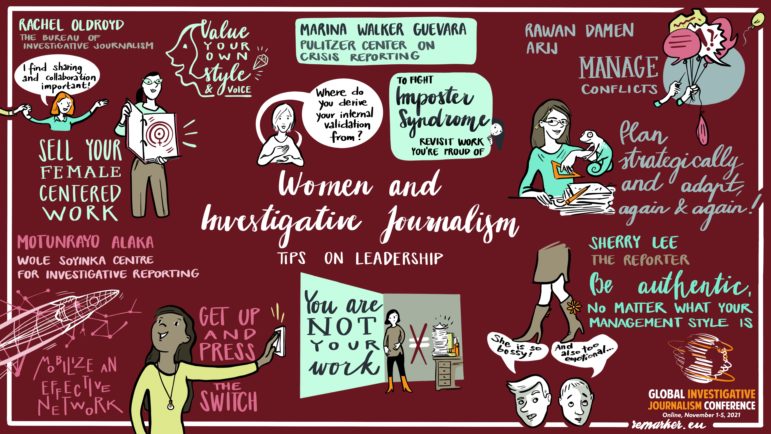 9 Leadership Tips for Women in Investigative Journalism
Read this article in
Journalism as an industry has been a lonely place for women, and investigative journalism even more so. This was the consensus at the session titled "Women and Investigative Journalism: Tips on Leadership" at the 12th Global Investigative Journalism Conference (#GIJC21).
The panel was made up of editors currently at the helm of leading investigative journalism organizations around the world: the UK's Bureau of Investigative Journalism (TBIJ), Nigeria's Wole Soyinka Centre for Investigative Journalism, Taiwan's investigative site The Reporter, the grant-making Pulitzer Center in the United States, and Jordan-based Arab Reporters for Investigative Journalism (ARIJ).
Drawing on decades of collective experience, the panelists detailed how they had risen to the top despite the challenges facing women in many newsrooms. They also pointed out the steps that had allowed them to advocate for themselves and for others in the field. Here are nine of their tips for women-identifying investigative reporters, while readers can watch the full video of the GIJC21 panel below.
1. Ditch the Lone Wolf Archetype
Rachel Oldroyd, TBIJ's managing editor and CEO, said that the prevailing image of an investigative reporter being a "lone wolf," digging away on a story alone, is outdated. She argues that journalists need to let go of this idea and embrace the fact that many women are team players and this can bring its own benefits, especially in terms of collaborative investigative journalism. "We tend to be better at sharing, collaborating, at networking, at empathizing, and all of these skills are extraordinarily important in investigative journalism," she said, adding that women could also put more emphasis on how important these ideas are to journalism.
2. Know that Not Every Career Is Linear
Marina Walker Guevara, the executive editor at the Pulitzer Center, was working as a senior reporter in Argentina when she decided to move to the United States. At the time, her family thought the move was a step backwards, as she moved from a high-profile reporting position to become an intern at the International Consortium of Investigative Journalists (ICIJ). But as she rose through the ranks, what seemed to some like a gamble paid off: she later became the ICIJ's deputy director and then the organization's director of strategic initiatives and network. She advises women to embrace the idea that their careers are not always predictable, and that work trajectories do not necessarily always follow a straight path or continue in the same direction.
3. Seek Out Other Women Editors
Oldroyd reminded women to fight so that their perspectives are heard in newsrooms and by commissioning editors, and points out that it is important to tell women-centric stories which in the past have not been given due prominence. She believes this is changing as recent, global stories centered around women and their experiences are winning awards and getting clicks from audiences, too. She said these award-winning stories could serve as a model and be used by reporters as an example in their newsrooms to advocate for similar work.
4. Use Data to Make Your Case
Motunrayo Alaka, executive director and CEO at the Wole Soyinka Centre, encouraged women to use data for their cause. She told the audience that she had done her own research on the "masculinity of the newsroom" and found that in Nigeria there are two women for every 10 men at the management level, and two women for every seven men at the board level. This, she said, not only allowed her to challenge management, but also to advocate for the hiring of more women for ethical and economic reasons.
5. Call for Help and Support
Oldroyd said that women should also ask for more security and support if that is what they require from newsrooms, especially when working on more sensitive stories such as "#MeToo" investigations about powerful men and harassment. "Female-centered stories are often very hard and require additional support because you're talking to very vulnerable sources, such as talking to rape victims or the #MeToo movement," she said, adding this could lead to "vicarious trauma."
6. Be Authentic to Your Management Style
Sherry Lee, editor-in-chief of Taiwan's The Reporter, cautions that it is common for pejorative adjectives like "bossy" or "emotional" to be used to describe female leaders, but not men in the same position. One of her colleagues once told her: "Sherry, you play bad cop really well." At first, she did not know how to respond but when another colleague used the same words, she knew she had to address it. She told them that as a leader her job was to take responsibility, which was exactly what she was doing. "I also asked them to not refer to me in that way again," she said, which allowed her to draw a boundary. She believes that different women have different styles of management, which they should embrace rather than change based on newsroom prejudices.
7. Adapt Again and Again
While Walker Guevara emphasized the importance of flexibility at a personal level, ARIJ director-general Rawan Damen focused on adaptability and flexibility at the organizational and professional level. While journalists can always plan, they should also be able to change course when situations demand it. "You need to adapt a lot and you need to plan a lot," said Damen, stressing that flexibility and having a plan were both "two sides of the same coin."
8. Watch for Burn Out
"Study after study has shown burnout affects more women than men," noted Walker Guevara, suggesting this could be because of the difference in how men and women set out their priorities. She remembered a time in her own career where she had the words "Failure is not an option" printed on a T-shirt. She said that it was this kind of pressure that can eventually lead to burnout, but that she has realized the importance of learning to say "no," setting boundaries, and communicating those boundaries.
9. Nurture the Next Generation of Leaders
Alaka said that it is not only important to advocate for yourself but also to encourage and to mentor other women. Alongside putting out a call for applications for specific positions, she also looks for women journalists by looking through stories to find potential candidates. "When one woman wins, all women win, because you are able to make way for others," she said.
See tipsheets and presentations from the speakers on the GIJC21 site. For more, read this story from the GIJC19, Women Investigative Journalists on Work and Life, and  GIJN's Resources for Women Journalists.