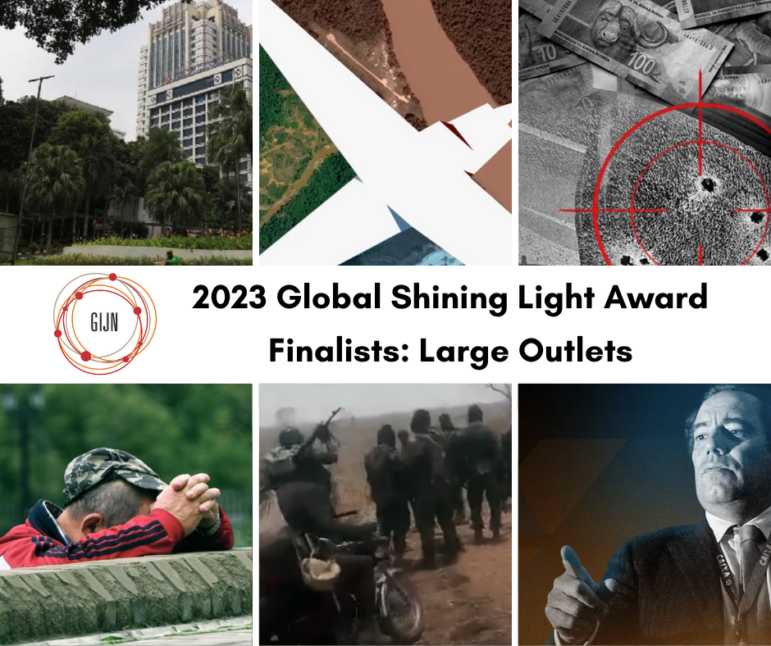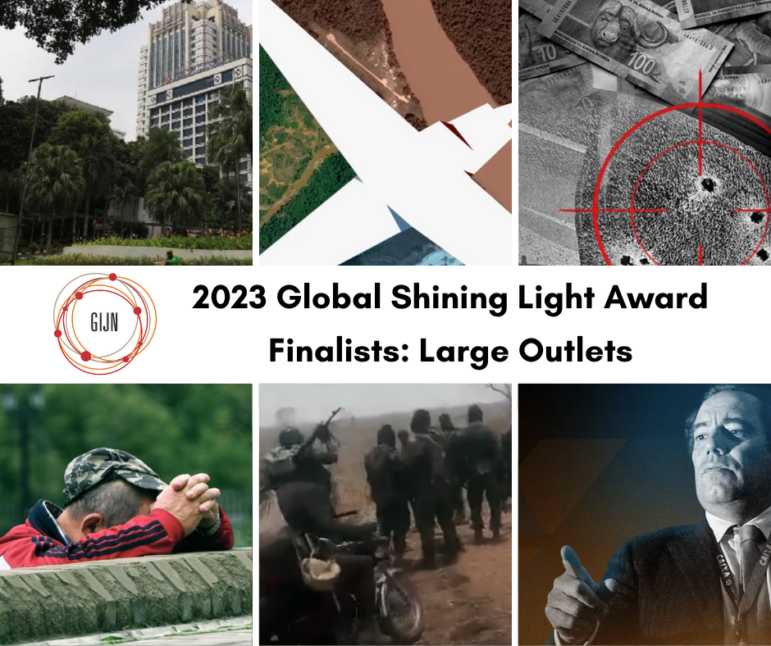 Twelve outstanding investigative projects have been selected as finalists for the 2023 Global Shining Light Awards (GSLA) — the prize honoring watchdog journalism in developing or transitioning countries that was carried out under threat, or in perilous conditions.
Following a pause during the COVID-19 pandemic, the award ceremony will return at the 12th Global Investigative Journalism Conference (GIJC23) — the world's premier international gathering of investigative and data journalists — to be held from September 19-22 in Gothenburg, Sweden.
The competition attracted a record 419 applications from 84 countries. Category winners will receive an honorary plaque, a $2,500 cash award, and a trip to the event in Sweden's historic second city to accept the prize. Total entries were 43% higher than the previous competition, announced at GIJC19 in Hamburg.
Following an exhaustive review process by GIJN staff that surfaced a shortlist of 50 outstanding investigative stories, a jury panel of veteran investigative editors from five global regions selected 12 finalists from 11 different countries. These comprised six finalists for the Small & Medium Outlets category (organizations with staff of 20 or less, including freelancers), and six for Large Outlets.
While there are many excellent awards that recognize and encourage groundbreaking investigative reporting, from the Pulitzer Prize to the European Press Prize, the Global Shining Light Award specifically seeks to recognize courageous and innovative investigative reporting from the Global South and transitioning nations.
The jury chose to focus on stories reported by local outlets, and reporting conducted within these challenging press environments. The panel was  "impressed with the number of quality cross-border collaborative projects involving Western media, but we chose to place our emphasis on local and regional media outlets that did extraordinary work under duress."
Indeed, while several local team projects achieved major impact, judges were struck by the fact that, in some cases, solo reporters — like a young journalist who traversed a hidden warzone in northwest Nigeria, and one who tracked a whistleblower assassination in South Africa — were able to develop comprehensive sets of sources largely on their own, at great personal risk.
The award is sponsored by the Global Investigative Journalism Network, an association of 244 organizations in 90 countries that works to foster and strengthen investigative reporting around the world.
We list the six finalists for the Large Outlets category below — and GIJN will publish the list of the six Small & Medium Outlet finalists in a separate post tomorrow. The five jurors will remain anonymous until the announcement of the category winners on September 21. However, we have included some remarks by the jurors in the below list, which help explain why these stories were worthy finalists.
In a statement from the panel on the shortlisted Large Outlet stories, jurors said: "The finalists whose work we have chosen to honor demonstrate how the torch of investigative journalism burns brightly, shining the light on war crimes,  corruption, and scandalous abuse of power, and holding to account those responsible through rigorous and innovative reporting and storytelling."
Finalists for this category came from Indonesia, Ukraine, Brazil, Nigeria, Venezuela, and South Africa. In their deliberations, jurors noted that they were impressed by impactful stories about corruption, environmental exploitation, potential war crimes, rights abuses enabled by government institutions, and the use of courageous and innovative reporting techniques. In particular, they hailed the pioneering use of new open source and AI-driven data tools by Global South reporters who were at risk of intimidation, or worse.
Despite severe resource limits, some nonprofit newsrooms created their own searchable databases on human rights and environmental misconduct — and then opened these resources, so that other newsrooms of all sizes could use them freely to hold bad actors accountable. This is not just shining a light, but also keeping the lights on when you leave — a wonderful example for the global craft.
2023 Global Shining Light Finalists: Large Outlets Category
Team: Mustafa Silalahi, Anton Septian, Linda Trianita, Riky Ferdianto, Nurhadi, and Shinta Maharani
In 2021, Indonesia's independent Tempo magazine helped expose a major tax evasion bribery scandal that was just the "tip of the iceberg" of this form of corruption, which implicated several companies with ties to the executive government. And as a chilling example of the dangers associated with this kind of blockbuster exposé, one journalist on the team was abducted and beaten by two police officers during the reporting process. The story's impact contributed to several prosecutions, including the bribery conviction of a top tax official, and the imprisonment of those police officers. The jury noted that reporters used several enterprising methods to gather facts, from document analysis to intrepid "door-stop" interviews in the field: "This investigation involved severe threat elements. One reporter even gatecrashed a wedding to talk to the official; there were documents leaked to him from the anti-corruption division — it's a huge story to say tax officials are getting money from people they are auditing."
Reporter: Jeff Wicks
When a provincial government finance officer was shot and killed in her car in South Africa in 2021 — and shell casings from three different guns were found at the scene — News24 reporter Jeff Wicks realized this was no ordinary carjacking or murder. Instead, Wicks showed that the woman, Babita Deokaran, had been the target of a hired assassination for blowing the whistle on suspicious service payments made by a state hospital. After a year-long project where he faced threats and intimidation, Wicks effectively completed Deokaran's investigation, producing a series that revealed massive corruption, and which led to the suspension of executives and independent probes of the scandal. Having obtained 60,000 emails, hundreds of corporate documents, and a mass of phone and WhatsApp records, Wicks used a variety of methods — including an AI-driven data tool and physical visits to dozens of business addresses — to show that scores of hospital spending beneficiaries were fake companies. One judge remarked: "This reporter was able to piece together a really thorough and exhaustive investigation, and you could see all the courageous work put in." Another noted: "This piece was important because they finished the investigation this whistleblower was doing."
Corredor Furtivo (Furtive Corridor) — Armando.Info (Venezuela) and El Pais (Spain)
Team: Joseph Poliszuk, María de los Ángeles Ramírez, and María Antonieta Segovia
This epic project involved sophisticated data mapping, innovative sourcing, and courageous field reporting to reveal a vast network of illegal mining operations in Venezuela and their corresponding threats to the environment and Indigenous communities. Published simultaneously by Armando.info and the Spanish daily El Pais, with support from the Pulitzer Center, the project mapped 3,718 illicit mining locations across an area twice the size of Germany, and also exposed routes used by cross-border organized crime gangs. The team used AI tools, databases, a satellite tracking program, and physical surveys of remote jungle routes to tell a story that also included powerful graphics. One jury member noted that "This story is taking us to where journalism is going — and it was a task so immense they used AI to crack the code of a story we would not otherwise have seen." Another judge noted: "Yes, they used tools like AI, but there was also the threat of guerilla and narco gangs — so it was difficult and dangerous work; it was really brave."
Team: Kira Tolstyakova, Valeriya Iegoshyna, Nataliya Sedletska, Kyrylo Lazarevych, Pavlo Melnyk, Maksym Asyka, Heorhii Shabaiev, and Anna Peterimova
Several newsrooms — including iStories, Slidstvo, and The New York Times visual forensics unit — produced outstanding investigations into suspected Russian war crimes in eastern Ukraine.
Schemes, an investigative project of Radio Liberty's Ukraine service, submitted a number of excellent stories on this topic for the Global Shining Light Award, all of which were produced under harrowing conditions. For a finalist spot, the jury chose one Schemes story that not only exposed the origins of mass graves in the Kharkiv region, but also found evidence of civilian torture, and identified the overlapping Russian occupation brigades behind these systematic human rights abuses. The reporters even unearthed conversations in which Russian soldiers discussed their crimes. While the team used documents and open source tools, this emotionally powerful story revolved around interviews with volunteers who had to bury hundreds of fellow Ukrainians. One jury member noted: "This story really showed the drama of the murder of civilians, which is important. This is a group of reporters who worked as a single newsroom — assigned to report parts of de-occupied Ukraine — and they revealed crimes and even the Russian military units involved."
Team: Rodrigo Rangel, Fabio Leite, and Jeniffer Gularte
In this highly impactful investigation, Brazilian digital newsroom Metrópoles exposed one of the largest harassment scandals in former President Jair Bolsonaro's administration. Over six months, the team identified numerous alleged victims of sexual harassment at Brazil's largest public bank, while also taking special care to conceal the identities of those who wished to remain anonymous. Despite episodes of intimidation, the team revealed a systematic effort to target female employees, cover-ups, and the central role of a Bolsonaro ally in the scandal. A top bank executive was ousted from his post a day after the story was published, and the revelations triggered a series of corporate and federal investigations. "They persuaded some women to talk, and this has had an impact," noted one member of the judging panel, "leading to the resignation of a politically significant figure, and he's now being prosecuted."
Team: Yusuf Anka, Tom Saater, Jamil Mabai, Daniel Adamson, Kai Lawrence, Bulama Bukarti, Tom Roberts
Every few years, a piece of journalism emerges that reveals an entire, largely hidden world — and one that should deeply concern the world outside. In a two year-long investigation that involved stunning bravery, BBC Africa Eye exposed the pervasive conflict and banditry that has engulfed Nigeria's northwestern state of Zamfara. For the first time, it also showed the motives and causes of a conflict that killed hundreds of people in 2022, and which has displaced hundreds of thousands more. The reporting centered on the unique access to warlords and victims gained by one reporter who traversed dangerous roads by motorcycle to get to equally dangerous interviews. According to BBC Africa Eye: "At huge personal risk, a young Nigerian journalist and law student, Yusuf Anka, visited bandit leaders in remote encampments across the state — including one of the men who, in February 2021, abducted nearly 300 girls from a high-school in Jangebe." One Global Shining Light juror noted: "It's a great piece of work, with the reporter going from one side to the other, giving us context — amazing." Another panel member added: "He displayed extraordinary bravery in going to the heart of the conflict between ethnic groups in Nigeria, and was at the scene almost as soon as some of the events happened. He really took us to the heart of a story I haven't seen anyone else tell."
GIJN has also announced the six finalists for the Global Shining Light Award in the Small & Medium Outlet category. 
Additional Resources
About the Global Shining Light Award
Investigations From Peru, Philippines, South Africa Win Global Shining Light Award
Global Shining Light Finalist: The Profiteers (South Sudan)
---


Rowan Philp is a reporter for GIJN. Rowan was formerly chief reporter for South Africa's Sunday Times. As a foreign correspondent, he has reported on news, politics, corruption, and conflict from more than two dozen countries around the world.