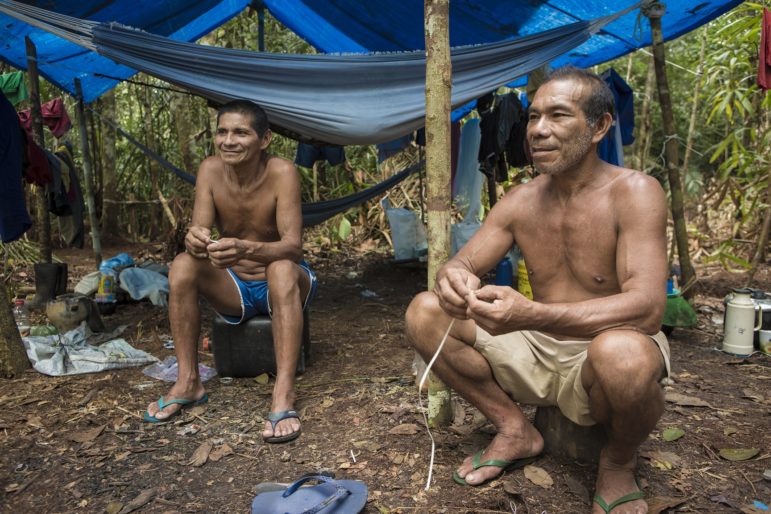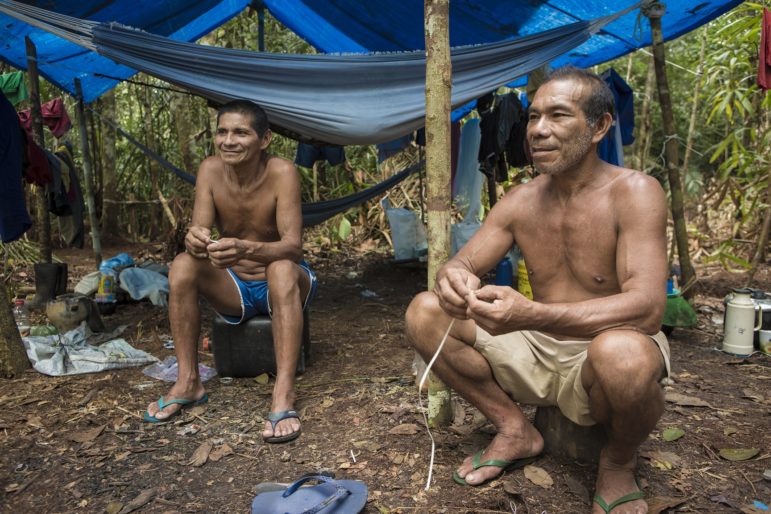 São Gabriela da Cachoeira, Amazonas, Brasil 31-05-2017 Viagem pelos municípios de São Gabriel da Cachoeira e Santa Isabel do Rio Negro para série de reportagens. Fotos : Fernando Martinho / Repórter Brasil.
"I say I'm not the same person after an investigation, and I thank journalism for that," said Brazilian reporter Thais Lazzeri.
For generations, the workers in the Brazilian Amazon who cut the palm straw used for brooms have been functionally enslaved by a system of loans provided by the bosses.
Lazzeri, an investigative journalist for Repórter Brasil, a nonprofit based in Sao Paulo, had to win their trust as she delved deeply into this topic for her October 2017 article, "100 Years of Bondage" (in Portuguese and English). The poignant story is beautifully illustrated with photographs by Fernando Martinho.
The process of reporting and writing the story is explored in the following email interview with GIJN. Lazzeri has been working in newsrooms for 14 years and won six journalism awards. She is the editor of Repórter Brasil's online news agency.
How did you come up with the idea?
I started as an editor with Reporter Brasil last December. I knew that one of my missions in 2017 was to discover good stories about traditional communities, like indigenous people and rural workers. I started to get in touch with my sources on human rights, like community leaders, lawyers, prosecutors and so on. One prosecutor told me about the most dramatic job he has ever gone through in 2014: The criminal cycle of the piaçaba, the straw of the broom, in Amazonas. Piaçabeiros (which is what we call people who work with piaçaba) work to pay debts with the boss. I knew it was a good story, and I started working on it on the same day.
What did you do to report this story?

There are many steps to tell a good story. First, I needed to make sure that it existed, that it was unprecedented and that it was worth the investment — even financial because the story was in the northwest of Amazonas [Brazil's huge state in the Amazon Basin] where you arrive after seven hours of flight and another 12 hours in a speedboat.
I contacted the Public Ministry of Labor and asked for all actions related to the topic piaçaba. I read hundreds of pages until I found the history I was looking for. The documents also gave me the names and the addresses of the rescued workers. I started looking for contacts.
The process to check if the story still existed took almost three months. Why so much work? I would be able to travel to the Amazon to make history, but I could not leave without a plan for reporting, with no sources in the region, not knowing what to expect.
I talked to the prosecutors who participated in the action in 2014. When prosecutors recover workers from conditions analogous to slave labor, several documents are produced. One of them contains the information on the worker (including address and age). I was looking for that one.
I wanted to know if they had contacts with any leadership there. They didn't. I called the largest indigenous association in the country. Nothing came.
So I got the phone book online and manually searched for the street names that were in the prosecutors' reports. In a small town, I thought, everyone knows everyone. I was able to track down four workers. All four had returned to work in piaçaba in conditions of slave labor. The history repeated itself as a tragedy. One of the people I contacted indicated the name of an activist in the area — but he didn't reply.
I then sought master's dissertations on the subject at a public thesis bank. I found a master's degree in the work of the piaçabeiros — there was no analogy with slave labor. One of the sources of research was an anthropologist's book. I got the phone number of the anthropologist, and good news began to emerge. She not only confirmed the violations of human rights but also knew a young leader in the Rio Negro, where the extraction of piaçaba happened.
It was hard to get in contact with him. For two months, we negotiated my trip. He knew where the piaçabeiros were, but he needed to trust me. In addition, I needed him to be with me on the trip. With the agenda organized, a photographer and I flew to Amazon. We traveled for 11 days — seven of them staying in an indigenous community.
You spent considerable time there, interviewing 30 people. Were there some breakthrough moments?
Most shocking, no doubt, is the worker in a condition analogous to slavery not recognizing the violations he suffered (though this is very common). I think I will never get used to it, but that is how it goes. The breach sprung to generations gains normality status. Slave labor also undermines one's ability to react, to impose itself, to undermine spontaneity — something very similar to what happened to the Jews in Nazism, as Hannah Arendt brilliantly wrote.
When I approached one of the piaçabeiros, who had been trying to get out of the criminal cycle for two years, he told me that he didn't have much history to tell (hearing things like that is also common because they don't recognize the importance of their lives). The first thing he said about the work on the piaçaba was: "First I lost my children."
We prepare ourselves for many situations in journalism. I do believe that I tell my stories better if I don't forget that I am a journalist and that is my work. However, on some occasions, the story moves you. It's no exaggeration to say that I almost fell to the ground — my legs softened — when he said three sons died because the patron didn't provide help.
It was also shocking to realize that some people do understand the violation suffered but deny it for fear of reprisals or for having no other way to survive.
Any lessons learned?
I say I'm not the same person after an investigation, and I thank journalism for that. Who would look at the straw on the broom and imagine the criminal cycle behind it? Who could have imagined that an indigenous community, so far from the state capital, managed to organize itself, and today helps piaçabeiros to get rid of the slavery cycle?
I wanted people to feel everything I saw and (heard), so I chose the "Snow Fall" (style) to tell the story. I borrowed the title of One Hundred Years of Solitude, from Gabriel García Marquéz, and used (the book's village of) Macando as a reference to try to explain what seemed surreal. We also used photos, videos and a lively map for any reader to quickly locate and understand what it was and where the story went. Everything about the structure was thought about before the trip — because if you don't plan it, you can't go back without a major part of a video or an important scene.
---
Thais Lazzeri's article, and many others, are included in GIJN's Resource Page on human trafficking and slavery, along with resources to assist investigative reporters in this area. GIJN continues to add to the resource, most recently linking the Counter-Trafficking Data Collaborative.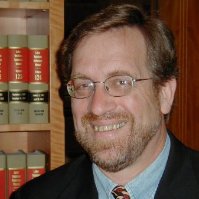 Toby McIntosh is director of GIJN's Resource Center. He was with Bloomberg BNA in Washington for 39 years. He is the former editor of FreedomInfo.org (2010-2017), where he wrote about FOI policies worldwide, and serves on the steering committee of FOIANet, an international network of FOI advocates.