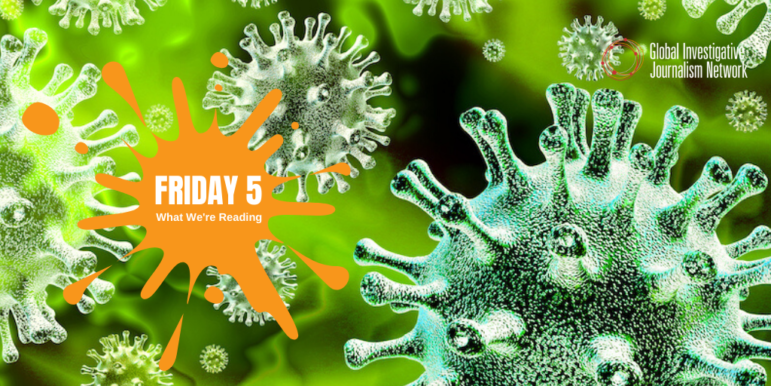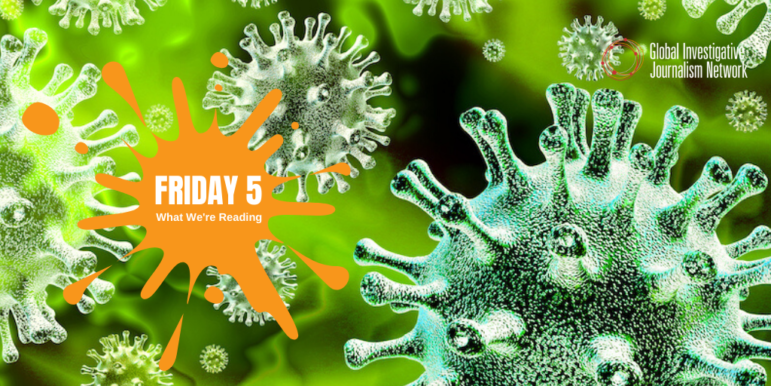 What We're Reading: Tools for Investigating Coronavirus Fakes and Disinformation
This week's Friday 5, where we round up our favorite reads from around the online world in English, includes tool from Bellingcat on investigating disinformation during the pandemic, the Journalist's Resource on referencing biomedical research preprints, and Oxford's new Government Response Tracker, a project aggregating public data on government responses to COVID-19.
Investigating Coronavirus Fakes And Disinfo? Here Are Some Tools For You (Bellingcat)
Bellingcat rounded up some of its best guides for conducting online investigations — a great way to use your #stayathome power for good digital reporting during the pandemic. You'll find an online investigation toolkit, a case study on tracking photos, and a guide for how to geolocate using Google Earth, among others. Elsewhere, helpful tipsheets on the crisis continue to come out daily, including this one from the Institute for Nonprofit News, another from the American Press Institute, dashboards and datasets from Storybench, some mental health tips from The Carter Center, as well as GIJN's own briefs on new funding sources and media sustainability. But, while working remotely, be wary of Zoom trolls and the platform's other privacy issues; these safety tips on using Zoom could help.
Covering Biomedical Research Preprints Amid the Coronavirus: 6 Things to Know (Journalist's Resource)
Online publishing platforms allow biomedical researchers to share what they've learned quickly so medical professionals, government leaders, and others can respond quickly to prevent, treat, and control infections. But these preprints — research papers that have not undergone peer review — come with important caveats. Journalist's Resource talked to Bill Hanage, an associate professor of epidemiology at the Harvard T.H. Chan School of Public Health, and John R. Inglis, co-founder of platforms medRxiv and bioRxiv, on crucial issues around referencing these preliminary, and sometimes theoretical, reports. Journalists who lack expertise in research methods should not cover preprint research on COVID-19, says Hanage, warning: "Don't go near it if you are not a science journalist."
Launched last week, the Oxford COVID-19 Government Response Tracker is counting data from countries around the world, including China, South Korea, Italy, the UK, and the US. The project is collecting publicly available information on 11 indicators of government response, including policies such as school closures and travel bans, and financial indicators such as fiscal or monetary measures. The measures are scored by stringency and aggregated into a common "Stringency Index" to help researchers, policymakers, and citizens understand whether increasingly strict measures affect the rate of infection, as well as to help identify what causes governments to implement more strict or less strict measures.
People Read a Lot of COVID News—but It Won't Save the Media (Wired)
It was impossible to ignore the continued crisis this week of already fragile news organizations during the pandemic. Philip M. Napoli, professor of Public Policy in the Sanford School of Public Policy at Duke University, underscored in Wired what we noted in last week's Friday 5: while many news organizations are seeing sharp rises in traffic due to COVID-19, our incomes are plummeting. This week, news from the UK's Press Gazette was that the pandemic could "force closure of 'most' hyperlocal news publishers within weeks," while in a snap poll Digiday found that 85% of publishers expect to see a decline in ad revenue due to the pandemic. The Toronto Star called Canada's situation a six-alarm fire and South Africa's Mail & Guardian, which has been under pressure for years, sent out what read like a last ditch plea for support, saying it wouldn't be able to pay salaries this month.
10 Movies To Watch If You Love Spotlight (Screenrant)
To help get your mind off COVID-19 for a bit, here are some good old investigative journalism-inspired stories on the little screen. While I suggest that you avoid the 1995 movie Outbreak like, um, the plague, this line-up from Screenrant might be a good way to fill your #stayathome streaming weekend. The list is not entirely about investigative journalism in the same way as Spotlight — which is based on the Boston Globe's investigation into abuses by members of the Catholic Church — but it does have journalism-flavored favorites, such as the In Cold Blood-inspired Capote; the stuff of every editor's nightmare in Shattered Glass; 60 Minutes' Big Tobacco-inspired investigation, The Insider; and, of course, All the President's Men.
---

Tanya Pampalone, GIJN's managing editor, rounded up this week's Friday 5. Tanya is the former executive editor of South Africa's Mail & Guardian and former managing editor of Maverick (now Daily Maverick). She is a contributor to Unbias the News: Why Diversity Matters for Journalism and Southern African Muckraking: 150 Years of Investigative Journalism Which Has Shaped the Region.