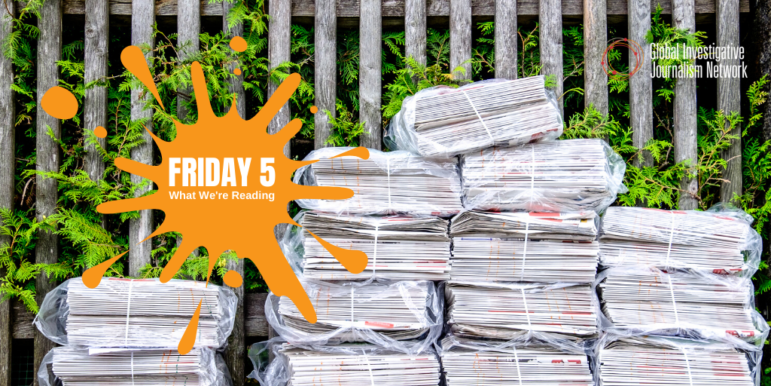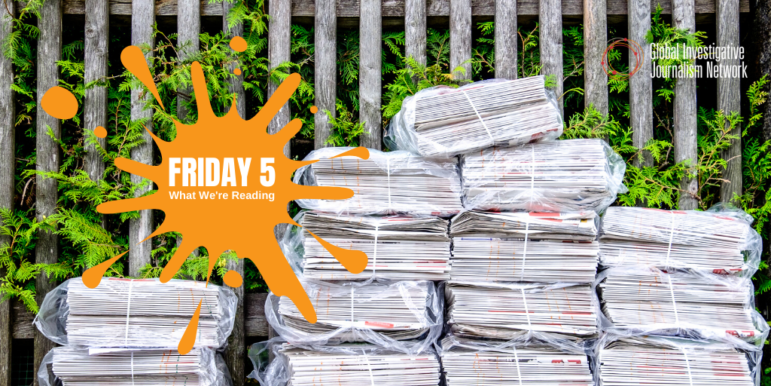 What We're Reading: The Winners of the Inaugural Sigma Awards for Data Journalism
The Friday 5, where we round up our favorite reads from around the online world in English each week, includes the Sigma Award winners for data journalism, a story from the Columbia Journalism Review about increased surveillance on journalists, and an interview with BuzzFeed's Craig Silverman.
The Sigma Awards 2020 Winners (DataJournalism.com)
The Sigma Awards emerged from the ashes of the Global Editors Network, which hosted the Data Journalism Awards since 2012 before closing down in November. The 10 winners — along with two honorable mentions — for the inaugural Sigma Awards were announced this week. GIJN's Alastair Otter was on the jury alongside co-chairs Reginald Chua and Aron Pilhofer, along with 21 other international experts. The winners include the global collaboration behind The Troika Laundromat; Disclose's Made in France; Texty's Hot Disinfo From Russia;  The New York Times' See How the World's Most Polluted Air Compares With Your City's; South China Morning Post's Why Your Smartphone is Causing You 'Text Neck' Syndrome; Pointer's Danish Scam; AP's Datakit; El Universal's Zones of Silence; OjoPúblico's Funes: An Algorithm to Fight Corruption; Poder's Todos Los Contratos; the collaboration from USA Today, The Center for Public Integrity and The Arizona Republic for Copy, Paste, Legislate; and young journalist Rachael Dottle, in recognition of her work at fivethirtyeight.com.
Governments Ramp Up Spying on Reporters (CJR)
Last year, Ahana Datta, the head of IT risk and cyber security at the Financial Times, started to look into a string of incidents where WhatsApp messages were draining batteries and freezing screens on the phones of reporters. The affected reporters were working on a story about surveillance on journalists and human rights activists in the Middle East. It turned out to be the first in a series of attacks on FT correspondents, most of which bore the hallmarks of the involvement of state actors. Datta visited several FT bureaus around the world and found that each region or nation has its own signature style of attack on reporters.
Conversations with Data: Craig Silverman (DataJournalism.com)
In its first "Conversations with Data" podcast, DataJournalism.com spoke to Craig Silverman, BuzzFeed's media editor and a leading expert on online misinformation and content verification. He spoke about verifying numbers and his work with BuzzFeed's data team. Listen to the full 30-minute interview here, and be on the lookout out for an updated version of his excellent Verification Handbook. It's out in April and will be free and available online. And if you still want more Silverman, check out this GIJN interview and his tips for investigating disinformation from GIJC19 in Hamburg.
7 Guides to Help Start Your Podcast (NPR)
If you're interested in getting into audio, NPR Training has some terrific resources to help get you started. In its latest newsletter, the team lined up seven guides for journalists who are looking into podcasting.  Start here, then familiarize yourself with audio production terms. You'll also find tips for improving your recording and how to mix like a pro. Here's the full archive of audio training resources.
A Guide to Winning Grants to Fund Your Journalism (Better News)
While this is a US-based guide, tagged as "one part how-to, one part roadmap, one part reference" for media groups interested going after journalism grants, some of its nuts and bolts apply around the world. It goes into everything from what you'll need to to fill out your application and how to create a project budget, to what to look for when you're getting ready to sign that contract, as well as a glossary to help make sense of grant-funding lingo.