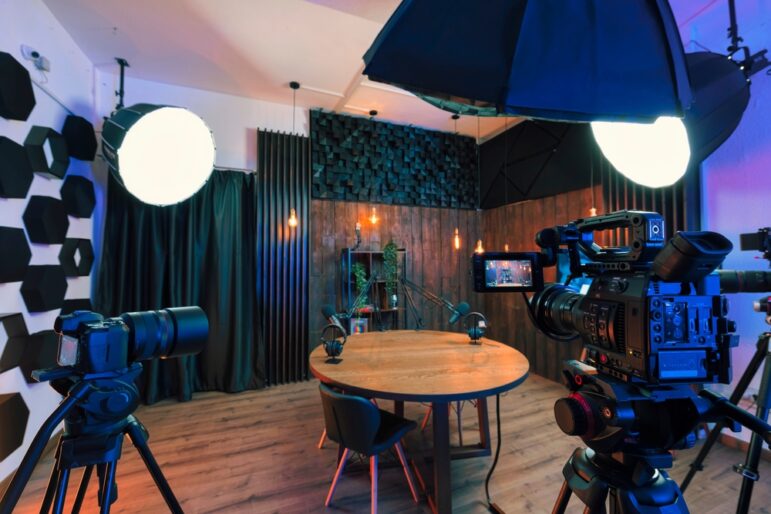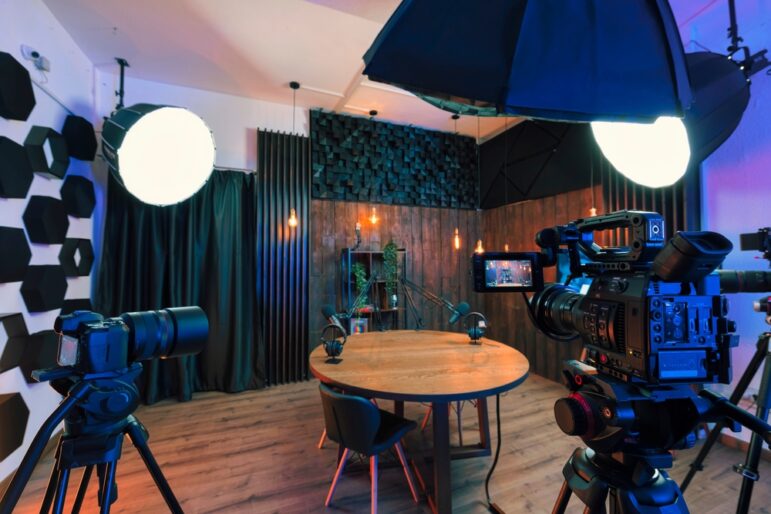 A podcast recording studio will now often also feature a video camera and lighting setup. Image: Shutterstock
Podcasting Goes Visual: How Video Can Help Investigative Storytelling Reach New Audiences
For many of us, podcasts are quintessentially an audio format: news shows, stories, and investigations we can listen to while on trains or out walking, doing chores, waking up or going to sleep.
But the format that found widespread popularity for making us listen in is undergoing another change: some podcasts are going visual.
The video site YouTube has become a huge listening platform — in the United States it is now the top platform for podcasts, according to the latest Digital News Report from the Reuters Institute for the Study of Journalism. And the platform's popularity ranks second in Australia and Germany.
While some podcasts featured on YouTube contain just a still thumbnail image for hungry eyes, others are now being filmed entirely in a studio. Increasingly, podcast fans are given the option to listen on Spotify, Apple Podcasts, Google Podcasts, or to "watch on YouTube."
Watching, in this instance, means watching the podcast host and interviewee as they speak in a recording studio. The audio microphone still takes center stage, and what you hear on the audio podcast is exactly the same as what you hear on the video, the "extra" is that you can see the host, the facial expressions, the pauses.
"You can't just record in a cupboard anymore," said Dinos Sofos, the former head of podcasts at the BBC and the founder of Persephonica, which makes The News Agents, a popular UK podcast show. "Having a video strategy is really important."
That might mean "cameras, lighting, makeup," he added, while speaking at the Podcast Show in London earlier this year. "You aren't producing a TV show" though, Sofos acknowledged, "it's a lot lower maintenance."
But filming a chat show podcast is not the same as producing an investigative report. Can detailed, complex, narrative stories be told in a video podcast? And doesn't that destroy the very things that made investigative podcasts so popular in the first place: the intimacy between storyteller and listener, the time to unfurl complex stories, the ability to be nimble and get people on the microphone who would not agree to go on TV?
Everyone GIJN interviewed for this piece was very clear that visual podcasts can't be full-length feature television, which requires infinitely higher budgets and larger crews.
"Elevating a podcast from an audio to a video requires investment, time, money," said Raphael Rowe, a former BBC investigative journalist who recently added a YouTube offering to his Second Chance podcast. But, he says, there are compromise possibilities.
"Some of my audience had been asking if I could video record some of the guests," a middle ground that avoids needing a full film crew and a big editing budget, he said. While this was "a big decision, because a lot of the people we talk to are talking about sensitive issues," ultimately he decided that video can augment his stories.
"When I am speaking to someone who is trying to say that they did not mean to kill their daughter, hearing that person — someone might dislike them. Seeing them, they may understand that person differently," he told GIJN. "Given that my mantra is really about changing the narrative; it's one thing doing that through storytelling, it's another thing doing that from expression."
Sam Austin, the head of audio at the communications agency Goodstuff, advises podcast creators to find their audiences on the platforms where they already are. "Younger audiences are coming to podcasts from social media platforms like TikTok and Instagram," she explained at the Podcast Show. "Podcasts find new audiences on visual platforms, social platforms are really important. People are listening to these now differently, it's not just about audio it's about the visuals."
The pivot to visual podcasts doesn't please everyone: Helena Wadia, the co-host of the podcast Media Storm, said at the same event: "Anyone else find it really annoying that this is an audio format and you now need to be on video?"
But as her colleague Mathilda Mallinson pointed out, social media sites, and the algorithms within them, reward visual content. A recent tranche of funding the duo received all went toward video so they could make social reels — and, Mallinson says, it's worked.
"A lot of people consume their podcasts by sitting down and watching," said the podcast host Jordan Theresa on the panel The Unstoppable Rise of the Visual Podcast. She now makes one YouTube video podcast episode of her social-commentary show Voicenotes each month, which is scripted, planned, and filmed with high production values, and then makes one audio podcast each week which is filmed at the same time as she records the audio-only version.
"People feel more connected, it can drive engagement. It feels like you have created a real community. You are cutting out a really big chunk of audience if you are just going to put it on Spotify," Theresa said.
One report, based on a 2022 survey of podcast fans in the US, found that the number of people who prefer podcasts with video is increasing, with nearly six in ten weekly podcast listeners saying they prefer podcasts with video. Some 28% said they like a podcast video they can "actively watch" while listening, while 29% said they like to have the video in the background. (43% said they prefer audio only.) YouTube also says that podcasts with a video element do better. According to their creators page, podcasts "that featured hosts on video" received double the number of views of those that used a static visualization.
Still, not every investigative podcast can work in a video format. Mike Newman, vice president of UK content and partnerships at Audioboom, a global podcasting platform, said: "Serial, the Marvel film of our medium, that is not a podcast that could have been visualized. It's not going to work."
But, Newman told GIJN, there are ways to give investigative podcasts a visual element. "If you have an investigative journalism podcast, do you need to put the whole 45 minute episode up, or is a five minute interview that's at the heart of your podcast enough?" he pointed out. "It's not that the whole thing gets put on YouTube as a visual version of your podcast."
"When I was in my late teens, the big things were director's cuts, people who loved the film would go out and buy it again to see the extra material, what was cut, and the director's commentary," Newman said. "We look at that in podcasting as a model – what's the extra benefit? Not everyone will want that, but a hard core of people will. What can you provide, what extra can you give them? Maybe that's the tale from the cutting room floor, what we as producers didn't need."
Maeve McClenaghan, an investigative journalist at the Guardian and the host of the Tip Off podcast, which goes behind the scenes of major investigative stories, seconded this idea that there might be a hybrid option: a product that fills the "big gap between a full broadcast documentary and solely audio."
The audiences that listen to investigative podcasts, she said, "might not want to be in front of their computer for 30 or 40 minutes. But is there a gap within that? Is there space for a highlight reel? It would be interesting to see how audiences engage."
Georgia Catt, an investigative journalist and the producer of the investigative podcasts The Missing Cryptoqueen and Burn Wild, also cautions that, on the production side, there are sensitivity considerations that come with investigative podcasts.
"For me, what I like about investigative storytelling in audio is that people would speak to you that would not want to speak on camera." Audio also gives journalists the chance to be "really nimble. You can get somewhere relatively quickly," she said. "But I think it could work. As long as it does not get in the way of a journalist and the story."
Rhian Roberts, the commissioning editor for podcasts and digital for BBC Radio 3 and BBC Radio 4, said that one model that has worked well at the BBC is pairing a filmed documentary with an audio podcast, a model they used for A Very British Cult. Making the documentary at the same time meant the team had "lots of visual assets" to promote the audio content, she said. "Otherwise having to find those episode by episode is very hard."
While some podcasts producers and hosts might shiver at the thought of podcast videos, others see this change as a chance to reach new, and especially younger, audiences, the latest iteration of a media landscape that is constantly in flux.
"Once upon a time there were only four or five TV channels, and radio, then there were streaming channels," Rowe noted. "Once there were newspapers that got ink on your fingers when you turned the pages, now you can read your paper on the iPad. You need to move with the times and video podcasting is another one of those opportunities."
---

Laura Dixon is an associate editor at GIJN. She was previously a freelance correspondent reporting from Latin America and her work has been published by The Times, The Washington Post, The Atlantic, and US News, among others. She has received grants and fellowships from the International Women's Media Foundation, the Pulitzer Center, and Journalists for Transparency. She is based in the UK.