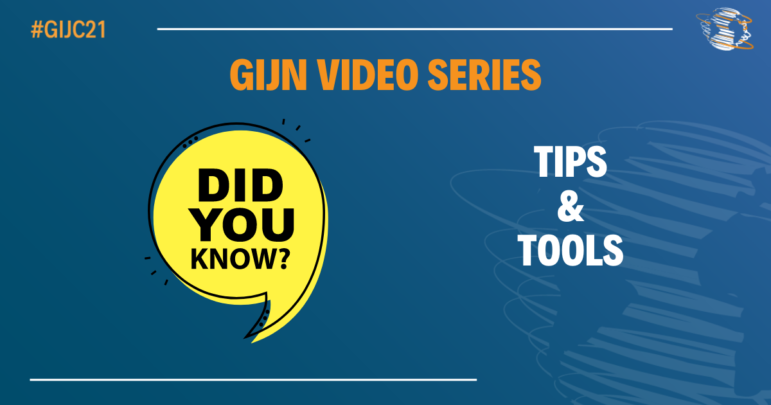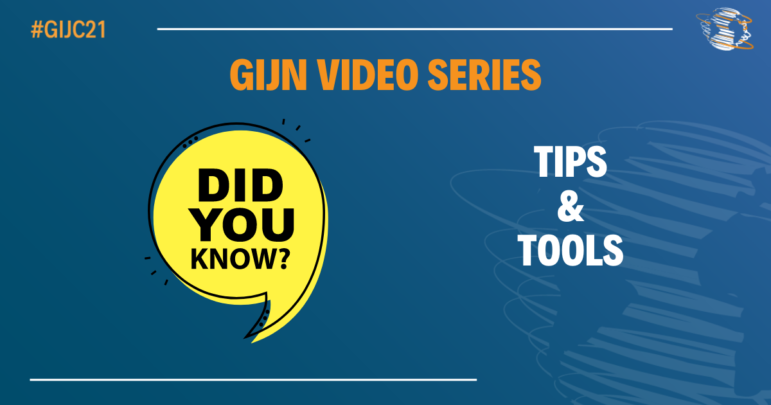 Video Resources for Mapping, Satellites, Storytelling, Testing, Tracking, and Disinformation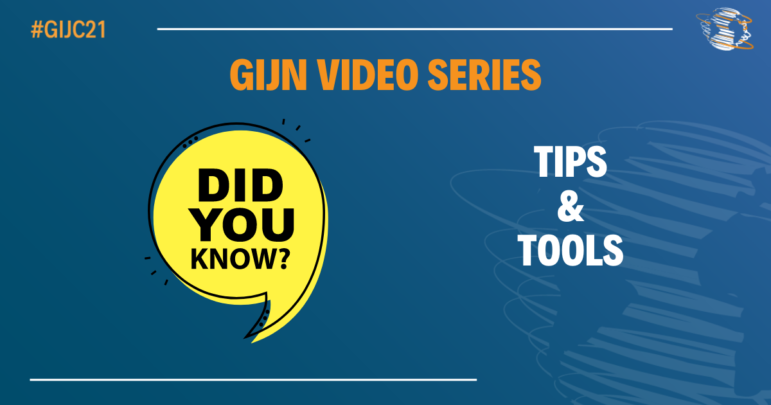 For 20 years, GIJN conferences have helped spread the best practices related to investigative journalism around the world. Our last Global Investigative Journalism Conference — GIJC21, held in November — was no different. We're now releasing videos from the conference, and this week we're featuring tips and tools on using satellite imagery, flight tracking, citizen-driven reporting, and exposing disinformation.
Mapping and Satellite Imagery
Mapping and geospatial analysis can drive powerful investigations, especially when the media's mobility and access are restricted. This GIJC21 panel featured some extraordinary examples of this reporting, ranging from a Pulitzer-winning exposé of internment camps in China's Xinjiang province to the mapping of industrial-scale deforestation in the Amazon. Panelists Alison Killing, John Eromosele, Laura Kurtzberg, and Marina Walker Guevara also shared practical tips about data gathering, analysis and validation, and how to combine these techniques with traditional shoe-leather reporting.
Workshop: Flight Tracking with Icarus
Tracking aircraft around the world has never been easy. But now there is a game-changing tool for reporters interested in digging into everything from autocrat shopping trips to warlord arms shipments. Washington-based nonprofit C4ADS has released Icarus Flights, a robust new system that promises to help journalists background and track nearly any flight or aircraft. The Icarus tool kit includes transponder data, aircraft ownership records, and analytical capability. In this GIJC21 panel, C4ADS experts Jake Glass and Eva Kahan discussed how Icarus is a powerful new resource for investigators.
Innovative Storytelling
Open any video subscription service or podcast player and you'll find stories of fiction with powerful narratives and brilliant production quality. Yet real-life journalism can often offer more drama and impact. What do news and investigative journalism need to do to rise to the pinnacle of compelling storytelling in the 21st century? This GIJC21 panel of journalists shared groundbreaking storytelling techniques — from Peruvian outlet Convoca's graphic novels on community poisoning and StoryWorks' plays on injustice to the Outlaw Ocean Project's "making music from journalism."
Citizen Investigations
Journalists don't have a monopoly on exposing wrongdoing and abuses of power. Increasingly, citizen investigators – which can include individuals working alone on laptops, small and large NGOs, as well as professors and their students — are playing important roles in public interest investigation and opening up new opportunities for collaboration. In this GIJC21 session, cutting-edge investigators at Citizen Lab, Forensic Architecture, the UC Berkeley Human Rights Center, and the new SEEK project talk about tools and techniques they use to expose illicit activity and how they collaborate with journalists.
Testing and Tracking
Tech tools are invaluable to today's investigative reporting, and innovative examples range from scientific testing to telecommunications locators. In this session, veteran journalists explain how reporters can use small GPS and GSM tracking tags to reveal unethical export practices, as well as which new testing techniques are being used to expose environmental abuses. This GIJC21 panel featured five investigative reporters and editors based in Kenya, Finland, and Bangladesh.
Exposing the Roots of Disinformation
While fact-checking organizations do heroic work separating fact from fiction amid waves of disinformation, the task facing investigative journalists is different: identifying and exposing those responsible for coordinated disinformation. This GIJC21 panel features ProPublica's Craig Silverman and the Harvard Shorenstein Center's Jane Lytvynenko, two investigative reporters who have used their cutting-edge expertise in media manipulation to expose scammers, far-right propagandists, and secret troll farms. The two journalists offer an array of open-source tools to track digital footprints, free resources for content verification, and tips that might just change your reporting life.
Previous installments of this video series include "Investigating Organized Crime and Corruption," "Investigating with Data," "Funding Your Investigations and Business Strategies," "Key Issues," and "Safety and Security." Coming next week: GIJC21 videos with a "Focus on Asia." Check GIJN's YouTube channel for more.
Additional Resources
How to Expose Lies from the Skies Using Satellites and Drones
Using Comics, Music, and Theater to Bring Investigative Journalism to New Audiences