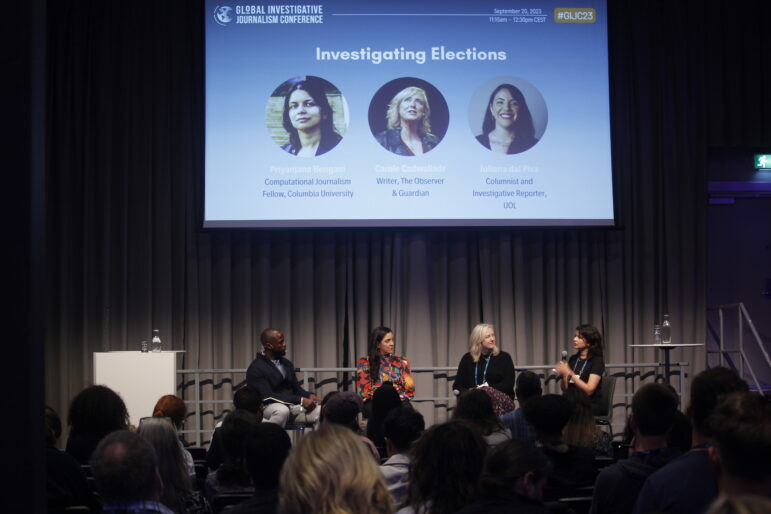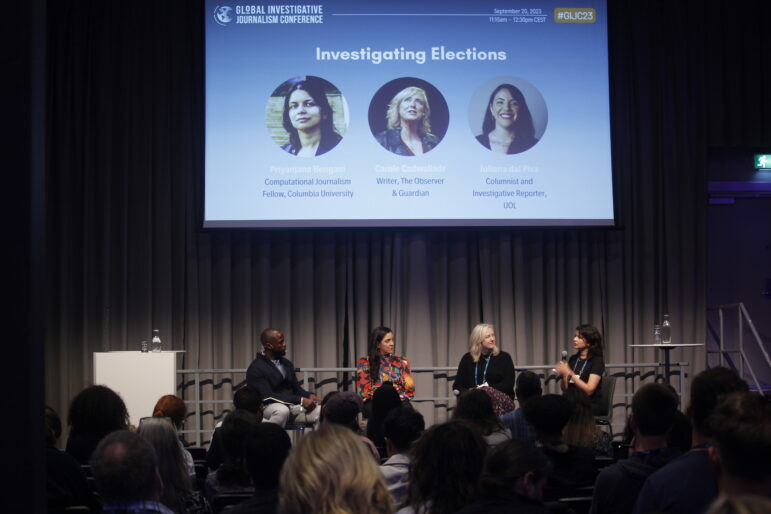 Image: Heino Ollin for GIJN
5 Looming Threats to Democracy — and Tips for Exposing Them
Read this article in
Carole Cadwalladr, investigative reporter for the Observer and the Guardian and Pulitzer Prize finalist for exposing the Facebook-Cambridge Analytica data scandal, shared an alarming observation during a panel on investigating elections at the 13th Global Investigative Journalism Conference (#GIJC23): "We are entering unknown territory. The water is coming down the line. In the next 18 months, half of the world is going to the polls… and at the same time we have these incredibly powerful new tools being unleashed."
The panel — moderated by Kenyan investigative journalist and CEO of Africa Uncensored, John-Allan Namu, and including Priyanjana Bengani, Senior Research Fellow at Columbia University's Tow Center for Digital Journalism, and Juliana dal Piva, a columnist for UOL and a Brazil investigator at the CLIP (Latin American Center for Investigative Journalism) — discussed some of the greatest threats to free and fair elections and how journalists can fight back.
The Big 5 Threats to Democracy
During the session, the speakers delved into what they called the "big five" threats to free and fair elections all over the world.
AI and tech companies. One of AI's first casualties will be truth and evidence-based reporting. "Elections accelerate technological disruption because they are a singular event. It is a zero-sum game, you have motivated actors, you have a lot of money, and you have the ability to try different things and see what sticks," said Cadwalladr. Social media companies such as X — formerly Twitter — and Facebook have eliminated the filters they applied during past elections, enabling authoritarian propaganda and misinformation.
Electoral communications companies. The new tools of disinformation will be unleashed by communications companies and consultants that, for the past few years, have already disrupted free elections in a wide range of countries. Their playbook is replicated from one place to the next. "There's lots of money, no transparency between the platforms, and they engage people in lies and hate," explained dal Piva, who collaborated with journalists across the Spanish-speaking world to reveal connections between extremist candidates and campaign consulting companies.
Echo chambers. As the saying goes, the best lie is a half-truth. Bengani noted that turning distortions of truth into a weapon was more effective than fake news. "We have come into… this idea of creating either a surround-sound ecosystem or an echo chamber, where you have multiple parties working in conjunction or coordination to push the same narrative," she said. When these groups push it on TV, on the internet, and on the radio, making people listen to the same thing again and again, that narrative becomes the basis for what is real — and that's one of the reasons evidence-based reporting is not necessarily a persuasive tool.
Authoritarians also win when they lose. Questioning elections and eroding public trust in democracy allows authoritarians to win even when losing. "It's not even now about winning an election. We've seen with Trump and now with Bolsonaro that it's no longer the key play," Cadwalladr said. "We need to reframe our understanding of elections."
Gender-based violence against journalists. Using gender-based violence to silence and intimidate journalists is a way of targeting those who publish the strongest investigations of authoritarian leaders. "I think we as women were most of Bolsonaro's targets during his presidency," said dal Piva, citing sexual harassment and doxxing attacks. "We women led this process of investigating him, and he came after us."
10 Tips and Tools for Investigating Elections
Bengani, Cadwalladr, and dal Piva also shared ideas and best practices for investigating politicians and elections.
Don't be afraid to start small. Getting to the juicy financial information of campaigns and politicians can take a lot of time. Do the reporting basics and eventually you will get to the financial documents. Dal Piva said she never had a source give her a huge leak — the "spider method" of drawing a chart with the target politician in the middle and looking into all the people around his web was more effective.
Look into the three biggest names that are starting a campaign and organizing events, because they will usually have a bigger role, and build a map of sources early.
Don't assume you know the background of a politician because you have reported on them for years; always look at their past, because some overlooked elements may be more relevant now than before. Also, bear in mind that the best sources are usually people who were once close to the politicians or are now their antagonists, or allies that feel slighted or overlooked.
Find organizations with a lot of money or influence, and social media influencers. Try to trace their networks and who they are. Who else is amplifying what they're saying? Are they creating an echo chamber? Who might be behind it?
Look at Facebook ads of organizations that you know influence elections and trace, whenever possible, the source and amount of digital campaign ads. Digital expenses are sometimes used to violate campaign spending laws because they're hard to trace.
To avoid perceptions of bias, publish stories in which all the evidence can be displayed and presented to the reader.
Collaborate with colleagues from other media and other countries if possible. Investigating elections is a time-consuming activity done against the clock, and some political manipulation playbooks are applied in several countries.
Don't listen to people who are unconvinced that the conduct you're investigating can influence election results. Focus on whether the conduct is legal or not.
Have a diverse newsroom. Journalists from different backgrounds provide unexpected insights and ideas.
Have conversations in your newsroom about how you will prepare for covering the next elections. Make a game plan now.
The slide from democracy to authoritarian is global, and journalists are the front line of defense. "Twenty percent more of the world is under authoritarian government at this point than a year ago," said Cadwalladr. "We can't keep on covering elections as if they were horse races."