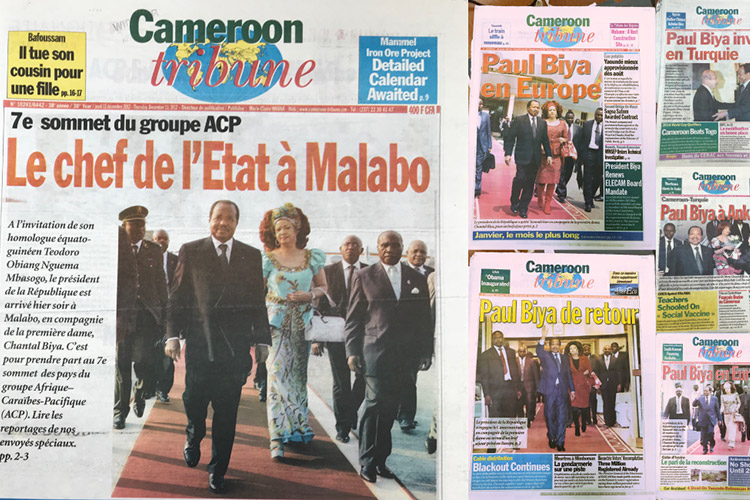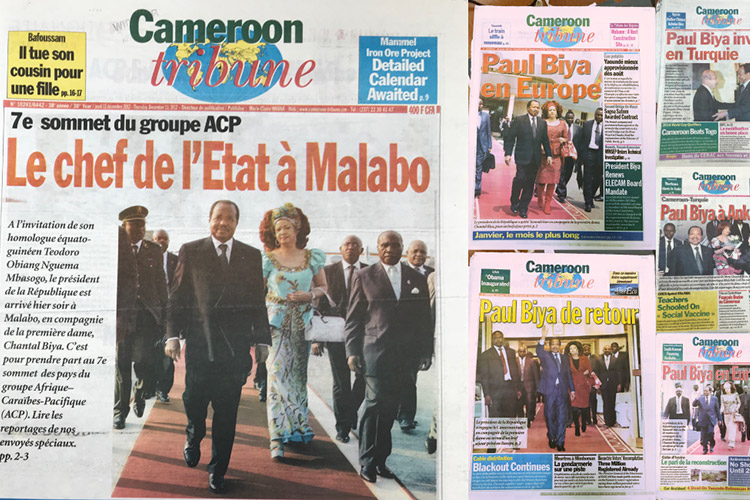 How They Did It: Tracking the Copious Travels of Cameroon's President
Cameroon's government is up in arms after an investigation into President Paul Biya's extended "private trips" away from his own country. Here's how three journalists collaborated across continents to count his days abroad and built their story.
The topic was obvious. The numerous overseas trips of President Paul Biya have long irritated many Cameroonians, particularly due to the street closures that accompany his return, which can block traffic for hours in the capital of Yaoundé. Their annoyance deepened in October 2017, when Biya was away in Switzerland while protests in the west of the country were violently quashed. Yet all the while, nobody had calculated the full scale of Biya's absences from the country he has ruled since 1982.
I pitched the idea to the Organized Crime and Corruption Reporting Project (OCCRP) who immediately got on board with a budget, and finally published our investigation on February 18. It showed that, since the 85-year-old Biya has been in power, he has spent at least four-and-a-half years on "brief private visits" overseas. This total excludes official trips, which add up to an additional year. We found that, in some years, like 2006 and 2009, Biya spent a third of the year out of the country.
It didn't take too long before the story raised interest among quite a few international media outlets, with activists and journalists asking the United Nations and the government of Cameroon about Biya's travel habits. Cameroon's authorities were not quick to react, but when they did, it was all hands on deck.
Brushing It Off
On February 28, the government-owned Cameroon Tribune splashed the headline "the denigrators are back" across its front page and dedicated five articles and one interview to our investigation, with titles such as "cloudy method, doubtful investigation" or "a clear electoral propaganda."
In one of the articles, government spokesman Issa Tchiroma Bakary was quoted saying "we are dealing with a real office of destabilization, bankrolled by the secessionist movements and hidden interests who only dream of bringing chaos to our country."
The same day, Jacques Fame Ndongo, Cameroon's minister of higher education and a high-ranking member of Biya's party, was asked on France's influential RFI radio about the affair and explained that: "Even when Biya is abroad … he governs Cameroon in a very beautiful way …with (the help of communications technology) it is possible to pilot an organization from wherever you are. I formally deny this apocalyptic vision that President Biya spends most of his time abroad. He's regularly in Cameroon."
Likely feeling under pressure to justify itself to the powers that be, the publisher of The Cameroon Tribune, the Society of Press and Editions of Cameroon (SOPECAM), wrote an open letter claiming that our report's "pseudo-revelations" did not come from their archives, which they assured were very difficult to access and not yet available online. They're right.  While we used about 4,000 copies of The Cameroon Tribune to source our information, we did not use the newspaper's own archives, knowing full well that it would not be possible because of their political leanings.
On March 1, the prime-time news broadcast of the government-run CRTV station called our allegations "toxic" and a "denigration campaign." They then claimed that since we did not access the newspapers via SOPECAM, it was not clear were we got them and our investigation was not credible. It was even suggested that the publication was timed to coincide with the run-up to Cameroon's presidential elections, to be held this October.
In one of the Cameroon Tribune articles casting doubt on our methodology, journalist Yves Atanga wondered whether "attempting by a rather vague process to evaluate the cost of these travels might deserve a great global prize of investigative journalism, or the Nobel of mathematics applied to presidential travels."
We don't disagree.
Nevertheless, given the nature of these responses, we feel compelled to respond to them — and show our readers just how we collected the data for our story.
Unlocking the Archives
Joining me on this project were bloggers Gaelle Tjat and Frank William Batchou. I knew they'd be the best partners because they had published an analysis of all of Biya's ministers since 1982, along with their age and background.
We knew that the government's paper, the Cameroon Tribune, features a cover article on each of Biya's trips, praising his achievements, so the data was public.
This will be easy, we thought. We'll collect all the newspapers, then input the data and publish the results.
Wrong. Although the Cameroon Tribune is arguably the country's most widely-distributed newspaper, and owned by the government, it's actually very difficult to get your hands on its archives. While the publication was founded in 1974, its own archives, we were told, only go back a few years. Archival copies were also quite costly to obtain and it's unlikely SOPECAM would have been keen to give us a discount had they known our aims.
That's how Frank ended up on a bus to Buea, the capital of the country's South West region, at the foot of the mighty Mount Cameroon. The town is famous for its gruelling race where competitors run up and down the steep mountain at dizzying speeds. A lesser-known fact, but more useful to us, was that a small building at the foot of the mountain hosts government archives that date back to the early 1900s. They have been fairly well-maintained, although the older documents are slowly disintegrating in the town's humid air.
He made several trips to Buea, occasionally (though not literally) wrestling with the archive's officials to gain access to the documents. His efforts provided us with around 390 papers, primarily from 1983-1991 and 2002-2009.
But that wasn't enough for our project. We needed much more data.
I explored the internet to find out where we could find copies of the Cameroon Tribune. Luckily, I found some in two libraries: in Paris and Boston.
The French National Library in Paris is composed of four tall buildings overlooking the Seine River. The corner-shaped towers are meant to remind one of open books but feel more like nightmarish office blocks. We didn't mind their appearance, as they held an invaluable collection of many of the Cameroon Tribune newspapers from 1974 to 1996 and from 2002 to 2010, although there were a number of gaps. Still, those would go a long way towards achieving our goal.
I just had to find an unsuspecting victim to spend days in this dark place, scanning hundreds of the newspaper's covers. Luckily, I grew up in Paris and so managed to find a good friend with the time and willingness to do the job. I was wondering why JB accepted, but didn't ask, fearing he'd rescind his offer. JB prefers to stay anonymous so he can travel again to Cameroon's lush hills, forests and beaches without fear. A few days later, he took the metro to the library and I relaxed.
Then I got a phone call. JB said the library only allowed readers to peruse 20 boxes of newspapers per day. It would take him much longer to get everything we needed, and he didn't have that much time off work to devote to the project. We could write a letter to the library to request withdrawing more newspapers at a time, but this was a very long shot given the sluggishness of French administration.
Luckily, across the Atlantic Ocean, the archives of Harvard University also held copies of the Cameroon Tribune, spanning from 2005 to 2016.
We updated our strategy. JB would concentrate on 1990 to 2005, and we'd get the rest in Boston. Over several days, he snapped 3,095 photos of newspapers in the National Library.
In Boston, Gaelle took over. She visited Harvard University library and took 786 photos of its Cameroonian newspapers.
We now had a unique collection of material in our hard drives. Although several years were missing, it would have to do.
Traveler Without a Cause?
Flipping through 35 years of Cameroon Tribune front pages was fascinating: over the years, Biya has met with world leaders like Ronald Reagan, Margaret Thatcher and François Mitterrand. He's outlasted all of them in power, and outlived them, too.
After our archival research, we built the website www.cameroundebiya.com to offer access to all the pages and the raw data, in the hope that others might use it to unearth other interesting stories. Displaying over 4,000 images turned out to be quite tricky, but we made it work thanks to the expertise of our programer, Michael Gardiner.
As well as simply collecting the papers, Frank and Gaelle entered all of the information into a large table, a herculean task which they achieved with great precision. Once we cleaned up the data to remove duplicates and partial entries, we ended up with 190 trips spanning over three decades. Documenting each trip required at least two newspapers, one detailing Biya's departure and one announcing his arrival, but often it would take several articles to establish all the details.
Quite often, while traveling abroad on official business, the president extended his trips by spending time on "private visits" to Geneva. Therefore, for each trip, we calculated how much time he spent on its official purpose (such as attending the UN's General Assembly) and counted the rest as private time. Where available, we also cross-checked our findings with information from GVA Alert, a Twitter bot that records the comings and goings of dictators through Geneva Airport.
To estimate the costs of Biya's private travels, I got my hands on a few leaked documents thanks to two very helpful journalists, Félix Cyriaque Ebolé Bola and Marie Maurisse.
I also tried to get comments on our findings from the Intercontinental Hotel in Geneva, CS Aviation (a company used by the Cameroonian government to charter planes for Biya's journeys), and of course the president's office. None replied to our questions.
When I called the Cameroonian president's civil cabinet office at 9:30 am local time, the switchboard operator told me that "apparently nobody's in the office yet" and instructed me to call back two hours later. When I called again, a women with a weary voice confirmed that my email would be forwarded to "those in charge." We never heard from them again.
After a thorough editing and fact-check process by OCCRP, especially Khadija Sharife, Rosemary Armao and Sergiu Ipatii, the article was finally ready to go.
It seems our findings may have travelled further than president Paul Biya himself — which is quite a tall order.
Click here to read the investigation.
---
This post first appeared on the Organized Crime and Corruption Reporting Project (OCCRP) website and is reproduced here with permission.

Emmanuel Freudenthal is a freelance investigative journalist and photographer who covers East and Central Africa, with a particular focus on business, corruption, natural resources, land and human rights. He also trains journalists in investigative methods for the Thomson Reuters Foundation.