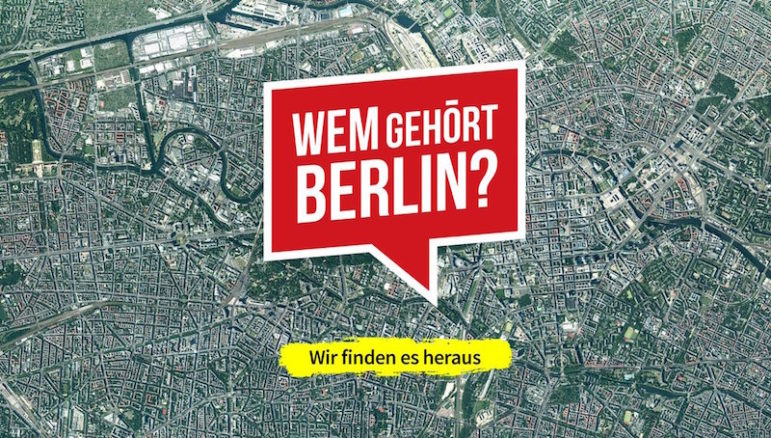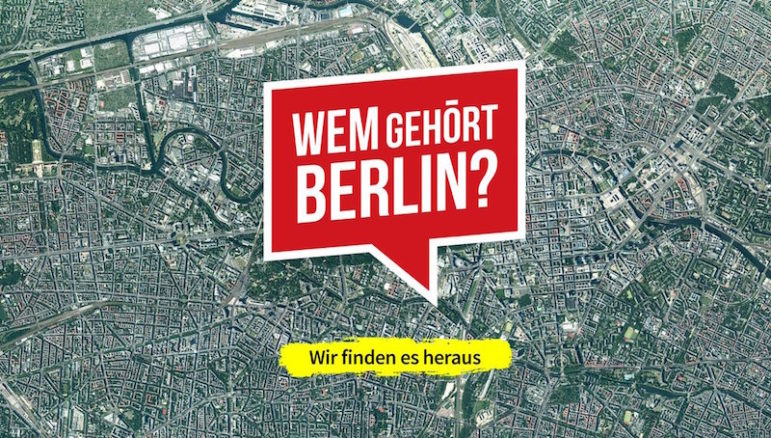 For the project "Who Owns Berlin?", the German nonprofit investigative newsroom Correctiv, in partnership with the daily paper Tagesspiegel, used crowdsourcing to collect data on the Berlin housing market. Photo: Screenshot
Last fall, Hamburger Abendblatt, a daily newspaper in Hamburg, Germany, published a deep look at the challenges facing the housing market in the city.
In one telling anecdote, the paper highlighted the differences in living conditions between a pair of residents who live just a two-minute walk from one another in the same neighborhood. One lived in an affordable, well-kept brick building. The other lived in a dilapidated flat that was falling apart — and they had a higher rent.
These were two of the 15,000 or so apartments that the paper, working with the nonprofit investigative newsroom Correctiv, collected data on to gain a better understanding of the Hamburg housing market. (Editor's Note: Correctiv is a member of GIJN.)
The project was assembled through CrowdNewsroom, a reporting platform Correctiv developed to use the power of its readership to assemble non-public data sets.
"CrowdNewsroom is like a Google system for answers that are not given yet," Correctiv publisher David Schraven told me over Skype.
Solution Set, the weekly report from The Lenfest Institute for Journalism, took a look at Correctiv's CrowdNewsroom platform to see how it involves readers in its reporting, how it creates community and how it thinks about actually producing the stories. (And I want to thank Ariel Zirulnick and Jay Rosen of the Membership Puzzle Project for introducing me to CrowdNewsroom.)
Here's the TLDR (Too Long, Didn't Read):
TLDR
• The Challenge: The German nonprofit news site Correctiv wanted to cover important issues — such as property ownership in German cities — that didn't have accessible public data.
• The Strategy: Correctiv created CrowdNewsroom, a platform that enables it to empower readers to contribute to investigations.
• The Numbers: More than 4,000 people have contributed data to various CrowdNewsroom projects.
• The Lessons: CrowdNewsroom has put community at its core and has structured its call-outs to readers to make their contributions as effective as possible.
• The Future: CrowdNewsroom is expanding the approach to different topics and it wants to expand to the United States.
• Want to know more?: Scroll down to read a great profile of CrowdNewsroom from its early days as well as other smart examples of crowdsourcing.
The Challenge
In Germany, property ownership records are not publicly accessible. While local municipalities keep registries of who owns land and buildings, that information cannot be looked up by members of the general public.
That's a problem if you care about transparency or want to have a better understanding of who is investing in property across the country. Correctiv, a nonprofit investigative newsroom, was interested in both.
Correctiv, which was founded in 2014, wanted to uncover who was investing in property across major German cities. And to do so, it found a way to get data — while also complying with the law.
According to the German land registry law, which is called the Grundbuchordnung, individuals with a "legitimate interest" are allowed to inspect the property records. And under the law, tenants are considered people with a "legitimate interest." (Interestingly, most Germans rent their homes.)
So, Correctiv turned to its readers, asking them to help the site get information about their landlords.
"This is the only option to learn about the buying strategies of investment funds in the real estate market," Correctiv publisher David Schraven told me via email.
And to help readers submit the information, Correctiv turned to CrowdNewsroom.
The Strategy
CrowdNewsroom is a platform Correctiv began building in 2015 to enable large-scale reader involvement in investigations.
"Crowdnewsroom is like a Google system for answers that are not given yet," Schraven said.
Correctiv began working on the property ownership project, called "Who Owns Your City?", last summer. But it previously used the platform to cover financial irregularities in local banks and to track class cancellations in public schools.
In collecting data on the local banks, Correctiv used CrowdNewsroom to highlight banks that were systematically under-performing.
With the class cancellation report, CrowdNewsroom was able to show that the North Rhine-Westfalia government was misreporting the number of cancelled classes. "This became one of the most important reasons why the government lost the following elections," Schraven said in an email.
And the more recent "Who Owns Your City?" project showcased that Scandinavian pension funds were some of the most aggressive investors in the German property market.
For each CrowdNewsroom project, Correctiv partners with a local newsroom. Correctiv and its partner newsrooms will together promote the project, collect and analyze the data, and then produce stories based on the submissions.
The initial promotion is one of the most important parts of any CrowdNewsroom project. This type of crowdsourced investigation doesn't work unless people know about it, and Correctiv leans heavily on the partner organizations to promote the initiative to its readers.
The site approaches this part of the project as if it were a political or fundraising campaign, unleashing a torrent of coverage and in-person gatherings to build buzz and get people excited about participating in the journalism.
In Berlin, for example, it partnered with the daily paper Tagesspiegel to create "Who Owns Berlin?".
"Before you start the campaign, you collaborate with the newspaper to give people a sense of what you're doing, why you're doing it and why it's important," Schraven said. "It's a series of articles, it's radio interviews, it's a real journalistic series of stories."
Then, for about a month to six weeks, they continue promoting the project and collect data from readers.
"Throughout this time, you publish stories every day," he said. "On the schools, we did 100 stories in one town over the course of four weeks. It's all over the place. Everyone is talking about it."
Once the data collection period has finished, the journalists start to process the collected data and begin looking for stories. Working together, they fact-check and verify everything.
With the "Who Owns Your City?" project, for example, participants were asked to upload their leases to the database and to then give Correctiv permission to pull the records from the land registry in their name. For the schools series, Correctiv asked students, parents and teachers to upload documents that show definitively that classes were cancelled.
Correctiv will only publish or report on data that is verifiable.
"Every data point needs to have a proof in a document," Schraven said. That process can be time consuming.
"Everything we collect is part of our knowledge within the newsroom," Schraven said. "It's not publicly available. We don't collect data and just publish it. We collect it, we process it and we assess it so we can see what's really in there. Is it a story, or is it just random information that's not helpful? This is a big difference. We do journalistic work with the help of a database that a lot of people are working on."
Once the reporting is done, the coverage is then published on the partner news organization's platforms. Journalists from Correctiv and the partner outlet work together to report on the stories and both teams have complete access to the database.
"Then we take the most important stories and report on them," Schraven said. "But we keep the other stuff just private because this is private data and we're not going to publish — like Wikileaks — everything that we've found."
The Numbers
In total, more than 4,000 people have contributed to CrowdNewsroom projects. More than 800 people contributed to the initial bank investigation and more than 500 people helped report on school cancellations. The rest have contributed to "Who Owns Your City?" in places such as Berlin and Hamburg.
I hope I made this clear in The Strategy, and I'll emphasize it again in The Lessons, but involving and empowering the community is key to the success of the CrowdNewsroom.
And a central tool that has allowed Correctiv to effectively work with large numbers of contributors has been the CrowdNewsroom platform itself, which it developed in-house.
The outlet spent about 1 million euros to develop CrowdNewsroom. Half of the funding came from a three-year, 500,000-euro grant from Google's Digital News Innovation Fund. "The rest was from our other sources of income," Schraven said. "We have foundations funding us, we have individuals donating money to us as a nonprofit. We even have a small for-profit outlet that publishes books."
Correctiv decided to invest in building its own platform because there was nothing else on the market that would enable the scale of collaboration that Correctiv was looking for and also allow it to effectively create a structured database that's efficient to navigate.
"The only thing that was available was something where you could ask questions but after everything that you have for answering questions you don't have the structured database in this background, and without this database it's all futile," Schraven said.
The Lessons
• Community at the Core: CrowdNewsroom would not be possible without the community that assists with the reporting and contributes their information.
"But to be clear: [It's] not the published stories [that] are most important in running the CrowdNewsroom," Schraven told me over email. "Most important is the debate and the engagement within the community of the newspapers and media organizations we are running the CrowdNewsroom with. It is like a campaign for good journalism in a community."
By inviting people into the process, Correctiv is able to build trust and get readers invested in the journalism.
In turn, it then actually works with some of the most loyal participants to help with the verification. There are different roles and permissions that people can be given within the CrowdNewsroom system.
Schraven also said that CrowdNewsroom can be a powerful fundraising tool for both Correctiv and its partner organizations.
"When it comes to community building, something like this is really important," he said. "People understand that we care about their issues, we're working on it, and we're not just talking about it. We really put effort into it. They understand that if we want something like this to happen, we need to support those guys. It works. When you see this CrowdNewsroom, it's not something you just do for one month — it's for a few months. You build community around the newsroom. When you're in the local area, it's exactly the area you're publishing [about] day-to-day and all these readers and contributors understand why you're there."
• Focus is key: For its first CrowdNewsroom project on local banks, Correctiv asked readers 20 questions about the health of their local institutions. The responses were all over the place and difficult to interpret.
Correctiv quickly realized that it needed to create a more focused way to ask readers to contribute.
"It's more important to focus on one thing," Schraven said. "Then, when you have this focus, you can target everything that you want. This is the most important. Even an answer to one question can be difficult and complicated, so we needed to develop an answering tree where you have different options to answer."
News organizations should absolutely ask their readers to get involved with their journalism, but they need to structure the programs in a way that makes it as easy as possible for communities to participate in a valuable way.
• Partnerships: Correctiv also quickly realized that its reporting would have more impact through working with other organizations.
By partnering with other publishers for CrowdNewsroom, Correctiv is able to reach audiences it would not have access to otherwise.
The site also realized that it makes sense to partner with a variety of different publishers. Different news organizations have different relationships with different communities, and Correctiv has tried to find the right organization to reach the audiences it's looking for. That means it doesn't always make sense to work with the largest or most well-known outlet.
When it covered the schools issue, for example, one of Correctiv's partners was a student newspaper.
"In each investigation we collaborate with the publications that are specifically interested in answering the question we also want to be answered … Through this approach, we were able to target exactly the people who were interested in what's going on in this field," Schraven said.
The Future
Correctiv is continuing to build out CrowdNewsroom and add new features.
It built an English-language version of the platform, and it's looking to bring the CrowdNewsroom in the United States.
In Germany, its next project is going to focus on climate change.
It's already identified a large partner newsroom, and it's working to find ways to ask people from across the country to help measure how climate change is affecting their communities by trying to measure how local animal and plant populations are impacted.
"How many doves do you have in your community? How many bees do you have in your garden? We are talking with scientists, and they're also interested in this data, and they didn't have a way to bring together people around these questions all over Germany," Schraven said. "This is something we are working very hard on right now. It's a way to evaluate how climate change is impacting Germany right now."
Want to Know More?
• Here's a 2017 Nieman Lab profile that takes a more in-depth look at the CrowdNewsroom story on school cancellations.
• One cool organization that focuses on this type of audience-involved coverage is ISeeChange, which uses reader-collected data to cover climate change. It also partners with news organizations. For example, in 2016 WNYC used volunteers to help cover the impact of extreme summer heat. Here's a Poynter story on the project.
• Do you want to do more audience-focused journalism in your newsroom? Hearken has a great toolkit you can use to introduce some of these engagement-focused concepts. (You have to enter your email to access it.)
Anything to Add?
How's your newsroom asking readers to participate in your reporting? Are there any cool projects you're working on? Let me know about them! I'd love to showcase your work in a future issue of Solution Set.
---
This post first appeared on The Lenfest Institute website and is cross-posted here with permission. Solution Set is a weekly report from The Lenfest Institute for Journalism and the Solutions Journalism Network.

Joseph Lichterman is a senior business associate at The Lenfest Institute for Journalism. He previously wrote about journalism innovation for the Nieman Journalism Lab, reported for Reuters, Automotive News, Michigan Radio and was editor-in-chief of The Michigan Daily.