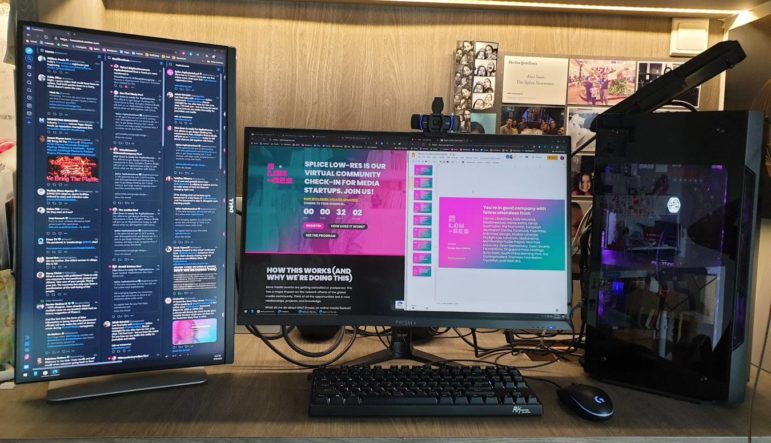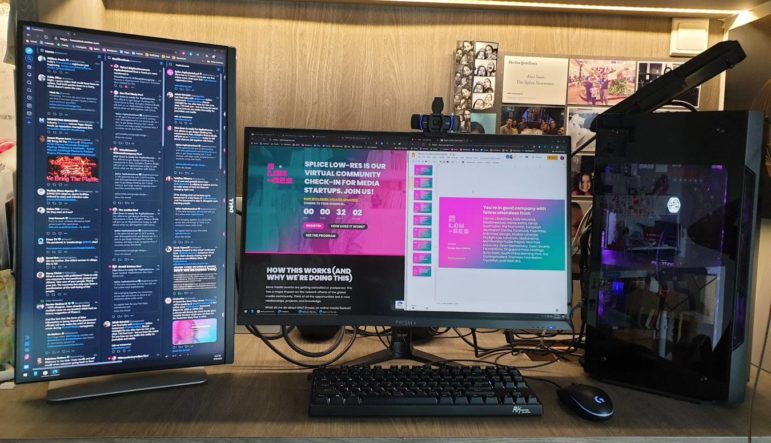 Splice Media have run online events called "Low-Res" to engage with their audience during the pandemic.
The COVID-19 pandemic has changed the way the media work, according to Alan Soon, co-founder of Splice Media, which supports media start-ups in Asia. So Splice decided to launch a regular online session — which they call Low-Res — to help them check in with colleagues in the media and offer tips on how to handle the crisis. Their first session dealt with how media entrepreneurs are coping, the second looked at the financial impact of COVID-19 on newsrooms, while the third looked at the effect the pandemic is having on freelancers. Here's what Soon learned on taking their community online:
---
How We Organized Splice Low-Res               
If you're reading this, you're probably trying to figure out how to do your first online event. We decided to do Splice Low-Res because 1) we needed to learn how to do this as COVID-19 leads us deeper online and 2) we wanted to see how the media startup community was holding up.
So here are some tips. We haven't figured it all out. But this is what we've learned so far. Let us know where you think we could have done better.
Know What You Need
Start with your use cases. It's not about the tech — that comes once you've decided what's important for your event (that's why you'll only find the stuff about tech at the bottom of this post).
There isn't a single platform that did what we needed end-to-end — not the way we wanted, at least. So break it down so you're thinking clearly about what you need, what you want, and what you can do without.
We're community-focused, so capturing email registrations and making this content available widely are essential for us.
Registrations are a success metric for us. It's not the sheer number — we wanted to know that we were indeed reaching specific people in the community. If we're not reaching the kind of people we're trying to serve, what's the point? The idea is to be relevant. We also want to be able to do these events regularly, so keeping people in the loop through email is key.
Software
Hopin: We tried this — spent $100 on it — and realized it was too cumbersome and too inflexible for what we needed. That said, this ticks many of the boxes, from registrations and speaker management to chat conversations and output. There were just too many levels of complexity. We were also disappointed with the slow response by tech support (granted, these are busy days for them).
Zoom: A favorite for many. We didn't like the UI [user interface]. But the deal-breaker was that people needed to download the app just to join the call.
Google Hangouts/Meet: We went with this in the end for two good reasons: Everyone has joined a Hangouts before — this is familiar ground. And it just takes one click to get you in. It doesn't tick all the boxes, but this was the most frictionless option we found. We had to manually let everybody in, but it wasn't a massive problem. The bandwidth, given how many people were online at the same time, was amazing. Meet also allows you to record straight into your Google Drive, which is helpful when you need to share the video quickly. (Disclosure: Google News Initiative sponsored Splice Low-Res. But they never once asked us to use their services.)
OBS Studio: We stole this idea from the gaming community, which has been using OBS for years to dress up their live streams. OBS, which is open source, allowed us to add graphics, scenes, and branding — and output it all as a live stream. OBS also works across Windows and Mac. We actually created all our scenes in OBS, but decided against using it in the end because it would be hard to manage from multiple locations across six hours. Instead, we used Google Slides to create branded welcome slides, program rundowns for Asia and Europe, as well as house rules. But we'll probably revisit OBS the next time we do Low-Res.
YouTube Live: From OBS, we wanted to get it out to YouTube in real time; it would have been the most obvious way to archive our show. But then we decided against that — the goal should be to drive all real-time participation through Meet, and upload the video to YT after the event.
MailChimp: We manage almost the entire Splice business on MailChimp — our newsletters run on this, as well as landing pages, some social automation, and now surveys. It made sense to collect all email registrations here, so we could quickly send updates to folks.
Carrd: We used this for our splicelowres.com website. It's one of the most beautiful one-page website builders out there. If you only need a single page, this is perfect.
Hardware
Sound: This is quite simple. Sound is more important than video when it comes to keeping an audience engaged at an online event. Even if the video is iffy, it's essential that people are able to listen to it. So always insist that people plug in headphones and mics (even those iPhone earbuds make a huge difference). But even the best mic isn't helpful in an echo-y room, or a noisy street. So make sure your speakers are in quiet rooms — and that the rest are on Mute.
Video: Most standard webcams will do the trick. Google Meet will only take you up to 720p in resolution, so you don't actually need crazy stuff like 1080p or 4K. If you want to do a little better, just add lighting. Face a bright window, or get a simple lighting kit.
Tips
Collaborate: Don't do this on your own. It was challenging enough for just Rishad and I. So we worked with Jakub at Outriders to bring it all together. He organized the European segment, while we handled the Asia program. If there's one lesson from COVID-19, it's the importance of collaboration.
Slides: Some people had some problems sharing their presentations on Meet. So as a backup, make sure you get them to share their decks with you separately. You can present it for them if you need to. Google Slides are always easier than PowerPoint attachments.
Timekeeping: Some speakers will run late. Some will have problems connecting. So make sure you have people you can count on to do a bit of quick banter to keep the conversation going.
Networking: Plenty of people will want to stay in touch with each other. Just get them to leave their email addresses in the chat window if they're up for that.
Over-communicate: Many people will have the same questions, e.g., is this recorded? how will we stay in touch? how can I get that deck? You'll have to repeat the ground rules often, especially for newcomers.
Welcoming: Call out new people as they join. Make them feel at home.
Feedback We Received
From our survey form after the event (21 responses):
"The moderators were great, actively responding to questions and building [a] connection with the audience. The atmosphere was open and nice."
"Range of speakers with a whole load of experience. More of this!"
"I particularly liked the fact that journalists from Asia and Europe could cross-pollinate ideas. That might not have been a primary aim but it was certainly a corollary outcome."
"The content (relevant case studies), the interactivity, the good spirit, the double moderation by Rishad/Alan."
43% say they stuck around for three to six hours
A majority said they would recommend Low-Res to other media professionals
95.2% said they would attend another Low-Res in the coming weeks
Recommendations for improvement included:
More short breaks in between
Bring in speakers from other continents, especially from Africa
Six hours is too long
Set aside time for more questions
---
This article was originally published by Splice Media and is reproduced here with permission.

Alan Soon is the co-founder and CEO of Splice Media, which supports media start-ups in Asia, and advises both commercial and nonprofit media on sustainability and revenue.