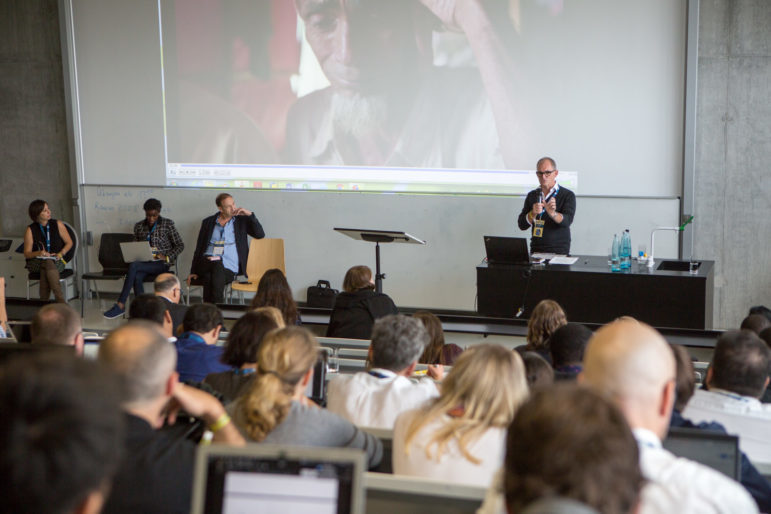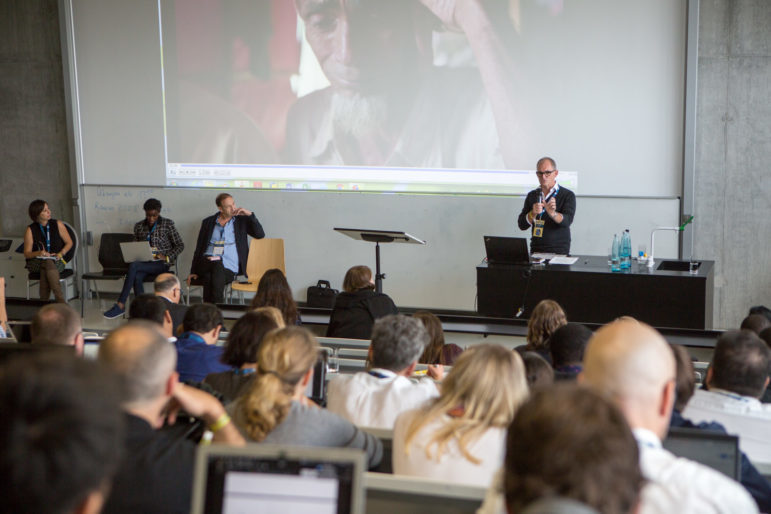 Investigative Stories with User-Generated Content at GIJC19. Photo: Nina Weymann Schulz
The User-Generated Content Revolution: 8 Steps on Gathering and Using it for Investigations
In the summer of 2017, Evan Williams was watching news on TV about the Rohingya exodus from Myanmar and wondered what other footage might be out there. Surely there were people recording videos of the crisis in Rakhine state?
"In the old days, I would have been put on a business class flight to cover this story. That is finished," Williams said at the recent 11th Global Investigative Journalism Conference in Hamburg. "But technology and innovation means that people are filming something on their phones as it's happening. This is the way that user-generated content (UGC) is revolutionary to reporting."
A veteran documentary producer, Williams discussed the potential and challenges of using UGC with Purity Mukami, a data journalist and open source investigator at the BBC, and Andrea Lampros from the Human Rights Center at the University of California, Berkeley.
Finding videos "is only the start," Williams said. "There are so many things you've got to get right to make it work."
Here are steps they take to gather UGC, and to use the content in investigations.
1. Find the Content
After Sudan's past president Omar al-Bashir was overthrown in April, many journalists thought the story was over. But Sudanese protesters stayed on the streets, calling on the military to hand over power to civilians.
Mukami's colleague at BBC Africa Eye, Ben Strick, kept in close touch with the protesters, who sent him videos and images from the protests. In early June, Sudanese forces opened fire on protesters in the capital of Khartoum, killing dozens of people. The government had shut down the internet, but as soon as people found ways to get online, they uploaded their footage.
As the BBC Africa Eye team verified the videos, Strick posted them on Twitter. "In investigative journalism, most of the time you don't want anyone to know you're working on a certain story for security reasons," said Mukami. "But for this story we made sure everyone knew we were working on the story so they kept sending us things."
Soon there were so many videos coming in that the team had to set up a Twitter-scraping tool to process them all. They analyzed nearly 400 videos of the massacre.
For the Myanmar story, Williams' first step was to ask contacts in Southeast Asia if they knew of any groups filming inside Myanmar. They referred him to a small NGO who had been documenting life under military rule in Rakhine state for three years. Williams approached them to ask if it was possible to see more of their material. They sent him a hard drive with thousands of video clips.
2. Find the Content Producer
Next, Williams talked to the people who filmed the clips and then reached out to as many people as possible around them. Vetting the source of UGC material is important, as it helps you understand their connection to the story as well as their motive. Even if they ask for anonymity in the final piece, you need to know as much as you can about that person, Williams said.
3. Keep Track of the Content
Mukami's team of four open-source investigators were soon overwhelmed by the number of videos they were collecting from Sudan. They created a spreadsheet with descriptions and verification details so that everyone could keep track ⁠— and the graphics, video, and story editors could start working on the story simultaneously.
4. Verify Everything
The master spreadsheet also helped them keep track of the verification and cross-checking process: Each of the videos was independently geolocated by three of the open source investigators. "There's no formula for geolocation," Mukami explained. "Another set of eyes can see something different."
Very few of the videos from Sudan were fake, but it was important to take the time to verify them all. They initially hoped to complete the investigation in two weeks, but it ended up taking a little over a month.
"We think of it as building a case," said Williams of his process for the Myanmar documentary. "We take the UGC as a starting point, and then you look for reasons not to use it: How do you know it's the right location or the right area?" While metadata is useful, he cautioned that it's often incorrect. Williams' team also showed images to forensic pathologists to ask if they were consistent with the version of events they'd been told.
5. Find Your Story and Focus
There can be a tension between open-source investigation and storytelling, Mukami noted. "It was kind of a fight when we had to select the most important videos, because everybody thought this one was more important," she said. "We wanted every video in the film, but we had to select the videos in order to tell the story in an interesting way."
Williams spent hours at night going through the volume of material from Myanmar. Was there a story in there that hadn't already been told? After some time, he realized that the videos showed how well organized and widespread the military campaign was in Rakhine, which the military was denying. "This was the lie we could catch them in through the use of UGC," Williams said.
6. Additional Reporting
This was the starting point for their on-the-ground reporting. Williams' team identified three to four areas where some of the most egregious attacks had taken place. They commissioned a few trusted colleagues in Bangladesh to go interview all the Rohingya refugees who could be identified from the videos. "Then you've got a good 360-degree verification," he said.
First they interviewed people off-camera about what happened, and then showed them the video clip. "This way they won't just tell you what you want to hear," Williams said.
7. Triple-Check Everything
The verification process continues right up until the final moments of production, Williams warned. He once caught a 5-second unverified clip that had been inserted at the last minute by an overzealous editor.
"You have to be 10,000% sure everything in your documentary is true. Nothing must go in that you're not absolutely certain about," he said. "It will damage your credibility and could do even more damage."
On copyright issues, Williams noted that you need to write to the copyright owner to give you permission to use their footage, but there are some cases where, in consultation with lawyers, you might be able to use the content even if they don't respond. Andrea Lampros of the UC Berkeley's Human Rights Center recommended this journalists' guide to copyright law and eyewitness media from the nonprofit organization First Draft.
For Makumi, the biggest takeaway from the Sudan investigation is the importance of being part of a team. "Because this content is massive and messy and sometimes it breaks," she said. "Sometimes we don't know what to do and don't have much time to decide. Teamwork is really important from the word go."
8. Deal with Aftermath
The moment of broadcast is not the end of the process. After the investigation aired, Makumi and her colleagues kept in touch with the people whose faces were shown in the program in order to monitor whether they were safe.
Williams' team sought support for the trauma of working on the investigation. "When you go over this stuff hour after hour, it will affect you and it should affect you," he said. "We're only human."
It's important to include these considerations in your reporting plan right from the beginning, said Lampros of the Human Rights Center. "How do we keep people safe: both those who we're interacting with on the ground and the people working with us tracing this material?"
---
Charlotte Alfred is an investigative journalist and editor who has reported from the Middle East, Africa, Europe, and the US. Her work has been featured by HuffPost, De Correspondent, The Guardian, News Deeply, Zeit Online, El Diario, and First Draft, among others.