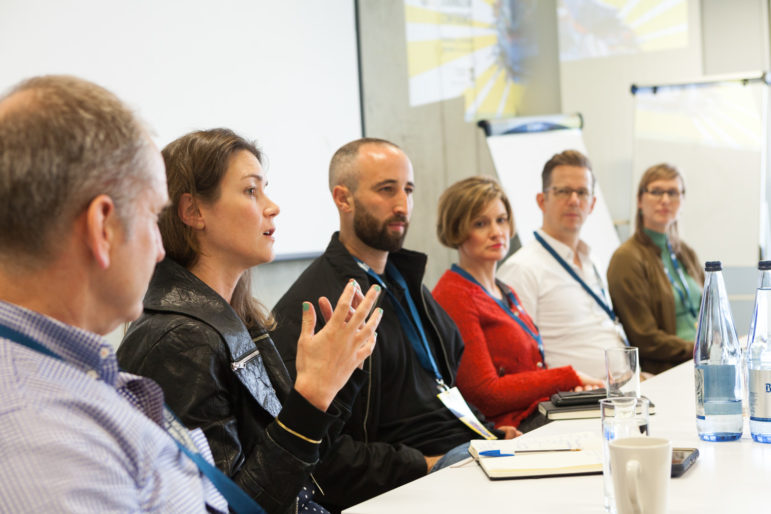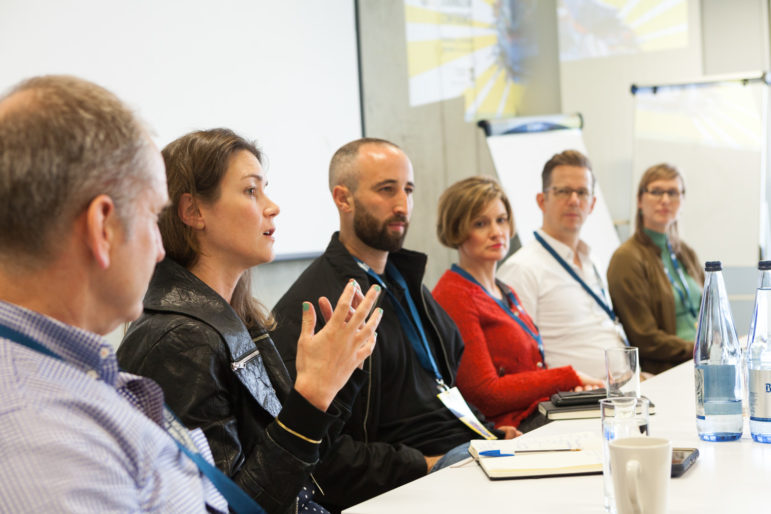 Emily Goligoski spoke about membership models for nonprofit newsrooms during a panel at the Global Investigative Journalism Conference. Photo: Nina Weymann Schulz
Survival Tips for Nonprofit Newsrooms: Fundraising, Membership, and Sustainable Models
Revenue options for nonprofit newsrooms now include everything from story sales and membership to crowdfunding and even cryptocurrency tokens.
But a workshop at the 11th Global Investigative Journalism Conference made it clear that fundraising – for better or worse – remains the foundational key to the survival and growth of nonprofits around the world.
Across the conference – which featured a record 10 sessions related to nonprofit health and well-being – the message was not just that these newsrooms, armed with smart business models, had a bright future in investigative impact, but that their role could become indispensable for accountability in government. Indeed, at the conference's launch event, one panelist, Drew Sullivan, founder of the Organized Crime and Corruption Reporting Project, made this prediction: "The for-profit world for investigative reporting will almost disappear, I'm afraid, and we will go back to a public service [model]. The nonprofit world of investigative reporting will win out against for-profit." (Reg Chua, COO of Reuters News, did not agree with his gloomy prognosis for for-profit newsrooms, but agreed that nonprofits had a growing role.)
However, the world's growing network of start-ups and nonprofit newsrooms will first need to find more sustainable business models, and the skills to make them work.
At the all-day workshop, participants and fellows heard that unique opportunities now exist to access new funding — provided that nonprofits use a strategic approach and consider the needs of potential funders.
While up-to-date funding figures for investigative journalism globally are not available, data from the Institute for Nonprofit News, cited in a recent Media Impact Funders report, shows that funding for US nonprofit journalism in general has grown markedly since 2009. The research also shows that the growth has been driven by individuals and families, who now account for almost 40% of nonprofit newsroom revenue, while the foundation share of the pie has dipped below 50%.
While a relatively tiny number of the globe's quarter-million charitable foundations traditionally give to journalism, let alone investigative journalism, Bridget Gallagher, fundraising specialist and principal of the Gallagher Group in New York, said US donor concerns about the rise of misinformation and anti-democratic practices in the West had opened up new potential channels for grants.
"Post-2016, I think there was a realization among many donors that mainstream media was not doing the job of engaging communities in substantive discussions about what their frustrations were, and saw an opportunity to get involved with mission-driven news organizations," said Gallagher. "The concern about misinformation added to that. Donors are having this 'holy shit' moment, saying, 'The media is broken; is there something we can do to fix it?' I've probably been 40% busier since November 2016, with more journalism organizations feeling like there were new opportunities to make their cases."
Although fundraising continues to be the mainstay for most organizations, many other approaches are being tried. While they cited cases where these alternative sources of funding did work, experts on a series of panels were notably lukewarm on the importance of public donations, crowdfunding, and start-up investors.
For instance, even though a number of organizations such as Hungary's Atlatszo have had great success with crowdfunding, this was generally recommended for one-off story campaigns. A successful campaign, noted crowdfunding veterans, takes considerable investment.
Instead, membership emerged as the most reliable sustainability strategy to complement fundraising, not only in terms of revenue, but also for gaining better audience understanding and building long-term loyalty.
That, they agreed, was because there is an often underestimated desire among community members to be an active part of something they believe in – especially in local media markets. Perhaps, too, in some parts of the world consumers are becoming more willing to pay for strong independent journalism again.
British media cooperative The Bristol Cable has developed a sustainable community model in just five years, where about 2,000 members pay for reporting that is freely available to the entire community, and contribute 35% of the budget. Although donations are accepted, the nonprofit decided not to include a donation button on the website in order to underscore its commitment to membership.
Alon Aviram, co-founder of The Bristol Cable, said community involvement went far beyond financial contributions, with members having a role in data stories, distribution, training, and in the direction of the nonprofit itself.
"We've found that people are inspired to join a cause, and are less interested in transactional relationships," said Aviram. "But you need a user-centered approach to create community-led media organizations. That said: Don't expect membership growth to continue organically. Ours began quite quickly and slowed down. You need to invest in a membership team, good comms, deep engagement to ensure continued sign-up, and you need to learn by doing."
Emily Goligoski, until recently the research director at the Membership Puzzle Project and currently senior researcher for audience research at The Atlantic, said audience engagement strategy had seen a major shift among nonprofits in the past five years.
"Community members are contributing their time, money, ideas, contacts; whatever they can offer to contribute to the mission," she said. "We've heard about news organizations that offer the opportunity for community members to serve as fact-checkers, language translators, contributors of code, and much more. This is a great trend because a point of frustration [has been] that reporters would involve community members only at the point of publication. 'I'm not going to let you in on anything until I want your money or I want you to distribute my work.' We need to work in more inclusive ways."
However, Goligoski warned that the benefits of the membership model were generally long-term.
She said: "From the organizations I've studied, most in their first three years of hosting membership make less than 10% of their revenue from that model. Membership isn't for everyone, and it takes time."
Moreover, there is no doubt that finding sustainable funding for investigative journalism remains tough for most nonprofits. Despite breaking major public-interest stories, many of them continue to eke out a living on precarious budgets, as was evidenced by several struggling founders at the event. For instance, Alvin Ntibinyane, co-founder of Botswana's INK Centre for Investigative Journalism, said that despite breaking big stories, donor funding was not only declining for INK, but typically involved the anxiety of annual renewal applications. As a result, Ntibinyane said INK was trying an "everything" approach to revenue, exploring everything from selling stories to publishers and membership in a centralized fundraising hub to a parallel for-profit mobile platform.
Chua, who chaired the workshop, cautioned against going in too many directions in the search for sustainability.
"You'll be tempted to try all the [revenue ideas]," said Chua. "Please don't. Stretching yourself too thin is a really good way to fail. The biggest shortage for nonprofits isn't a lack of money, it's a lack of management time. So it's important to know what not to try, and rather to focus on the needs of your potential donors and audiences."
This focus on the needs of others – both donors and community members – emerged as a central message to the nonprofit community, along with the need for a strategic approach.
Anne Koch, program director at GIJN, said: "It is all of our responsibilities not only to make sure we have a very clear understanding of donor need, but to inform donors why we are important, and how our work contributes to that need which often is to strengthen civil society."
Gallagher said: "The number one mistake nonprofits make is they spend the first 10 minutes with the donor talking about their great story in journalism. It needs to be about how the donor benefits."
And the reason that so many organizations forget about donor needs, she said, is the broad misconception that "donor grants are charity."
Gallagher said it was crucial that nonprofits understood that foundations and donors had specific needs and objectives in choosing beneficiaries, including advancing a broader social agenda, tax benefits, and furthering existing investments.
 Gallagher's tips for fundraising included:
Think about small local donors – and even contacts from friends and family – before approaching the major, institutional funders, like the Bill & Melinda Gates, Ford, MacArthur, and Open Society foundations. Gallagher said: "I know these are really tempting targets for a lot of clients, but, as a young organization of smaller size, you might not be ready for those types of donors."
After exploring funding options through people you know, conduct analyses of donor lists for journalism nonprofits, and identify how those donors benefit. Then match those needs to your unique proposition. "Look at the lists for, say, an ICIJ, a ProPublica, a Bureau of Investigative Journalism in London — but thinking about approaching those donors with the idea that you are creating channels that make their existing investments with those organizations go further."
You should then go beyond the journalism space, and analyze the donor lists for nonprofits that simply share similar, progressive values with investigative journalism. "For many donors, building a culture of investigative journalism is fundamental to human rights, or it's an economic development issue. So find out what donors are funding: a Human Rights Watch, a Witness?"
While it's true that if you ask for money, you tend to get advice, it is also often true that if you ask for advice, you'll find yourself getting money. Take print-outs of relevant donor lists to well-connected people you know, and ask them: "What [potential donor] am I missing here?"
Do not launch into a monologue about your newsroom's virtues at the first donor meeting. Instead, start with small talk, then ask them about the projects they're excited about – and see if you can link what you're doing to their need.
Be prepared to say "no" to funding that does not fit with your ethical framework – and be prepared to hear the word "no" from the funders you do want far more often than you hear "yes." Do not take the nos personally, and remember that you are not asking for charity.
Do not over-promise on deliverables. Do not promise 20 items if you're only certain of 13, or a potential long-term donor relationship can turn into a one-off grant.
While small newsrooms do not necessarily need to hire a full-time fundraiser or admin professional, ensure that your accounting and reporting processes are sound. Avoid being a headache to donors at all costs.
Identify one or two supplemental revenue streams that you can count on – especially membership contributions that can turn into long-term community support. Crowdfunding is useful for single projects, while the sale of stories to larger publishers or broadcasters for small fees might be worthwhile if it generates impact that generates other revenue.
Check in with existing funders with an email every four to six weeks.
For more advice, see Gallagher's tipsheet Fundraising Research Resources.
---

Rowan Philp is a multiple award-winning journalist who has worked in more than two dozen countries. Currently based in Boston, Philp was the chief reporter and London bureau chief for South Africa's Sunday Times for 15 years.