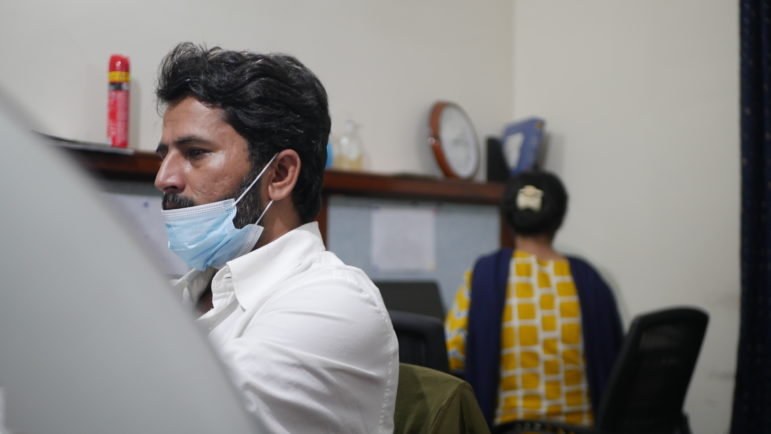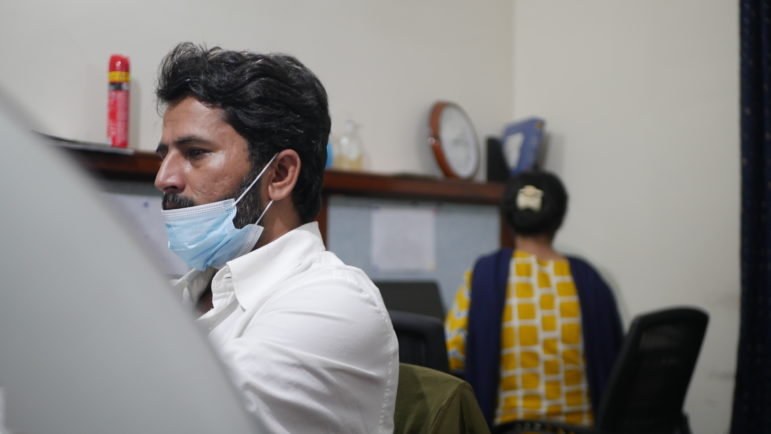 Sujag: Investigative Journalism from the Margins of Power in Pakistan
Read this article in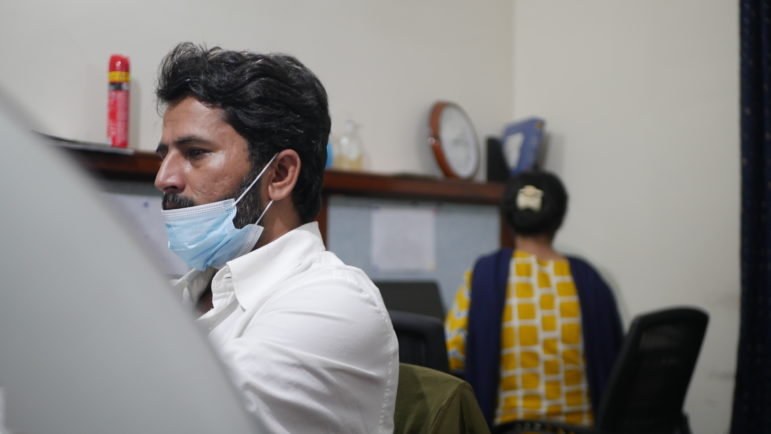 The small newsroom of Sujag sits inside a residential house in Lahore, Pakistan. Image: Courtesy, Sujag
When 13-year-old Deepa was married off to a man 23 years her senior, she cried and begged her parents to change their minds. But despite her protests, three days after she was told she would be married, she was sent away. Nobody had listened. 
When Muhammad Abbas Khaskheli, a reporter who covered the story for the Pakistani investigative outlet Sujag, sat down with Deepa, the girl sat on the ground, frightened and scared, as she recounted how she had been so young when she was married that she had taken toys with her. In August, as part of the same investigation into underage brides, Sujag published the story of 16-year-old Sonari, who had died after a miscarriage: her middle-aged husband told reporters he did not take her to a clinic for fear of being arrested for marrying a minor. (In most provinces in Pakistan, it is against the law for anyone under 16 years of age to marry.)
That series is one of a number of deep-dive investigative reports produced by Sujag, a long-form digital journalism platform in Pakistan that publishes in English and Urdu. It's also typical of the kind of journalism the outlet is committed to: highlighting voices from the margins, rather than the centers of power. Sujag's editors proudly say their journalistic ethos prioritizes "siding with the marginalized" over neutrality.  
With a reputation for covering topics that other outlets in the country avoid, recent investigations have looked at the impact of inter-caste marriages in Pakistan, why women from poor and remote communities find it so difficult to access coronavirus vaccinations, and how the country's divorce laws perpetuate domestic violence. Other Sujag investigations have looked at coronavirus vaccines being offered for sale on the private market in Pakistan, water shortages affecting lower-middle and working-class neighborhoods in Islamabad, and how government wheat price caps affect small farmers.
Headquartered in Lahore, the second-largest city in Pakistan, Sujag has a team of 21 full-time staff members. The head office is small — located in a house in a residential area of the city, with reporters and video editors sharing one room. Editors also work with a network of 10 freelance reporters around the country who are hired on a story-by-story basis, with the team committed to reporting from the small towns and rural areas often missing from national coverage. 
Although the office is modest, the outlet is building a name for itself as a budding independent media organization in Pakistan, especially in the Punjab province (the name "Sujag" means awareness in Punjabi.) The outlet is the country's only media organization publishing long-form, public interest journalism in Urdu. It is also known for its ad-free revenue model.
Filling a Void
Sujag's roots lie in political and cultural activism: Lok Sujag, the nonprofit organization that was the forerunner of Sujag, was registered in the late 1990s, and was involved in activism and promotion of Punjabi culture. In 2013, Sujag was spun off from the nonprofit as a separate news site, later adding a video service that has received critical acclaim. 
Just over a year ago, in September 2020, Sujag was rebranded to focus purely on investigative journalism. There were several reasons for this shift. First, no other digital platform was doing this in Pakistan. Second, the team wanted to work on investigative stories that impact those living far from the margins of power. And finally, they recognized a demand for serious public service investigative journalism in the nation.
Badar Alam, editor-in-chief of Sujag since April 2020, was editor of the Herald, Pakistan's premier long-form journalism magazine, from 2010 to 2019. Alam told GIJN that Sujag aims to publish at least six investigative stories per week, a schedule that allows reporters plenty of time to dig deep into every story. "We are focusing on who is reading us and then we produce content based on our audience," Alam says. While readership figures vary by topic, the team says the most popular stories receive as many as 16,000 unique views, with more shares on social media platforms like Facebook and Twitter.
The pivot towards investigative journalism, he says, came when the team decided to work on stories that were not quickly forgotten. There was also a desire, according to Alam, to bolster the ranks of so-called "serious journalism" in the country: to articulate the social and economic needs of the people and increase awareness of the key issues facing the country.
One reporter, Asif Riaz, has been working with Sujag since 2016. He says as a result of his reporting on agriculture — a key beat in a country where nearly 40% of the labor force works in farming — farmworkers now reach out to him to tell him what is happening in the sector. He travels a lot in the heartland of Punjab province to dig out stories of the farmers and then tell them to the world. "The good thing about Sujag is that there are no desk stories and we travel and meet people to produce stories," Riaz says.
Media experts in Pakistan also appreciate Sujag's unique approach. "The journalism that Sujag is doing is what I want to do but cannot do because I work for a commercial interest-driven media organization," says Asha'ar Rehman, a senior journalist and former resident editor of the highly-respected Dawn newspaper in Lahore.
A Repressive Media Environment
The work takes on particular relevance given the context in which the Sujag reporters operate. Pakistan ranked 145th out of 180 in the 2021 Reporters Without Borders (RSF) Press Freedom Index, making it one of the toughest countries in the world in which to report. Prime Minister Imran Khan has also been declared a "Predator of Press Freedom" by RSF, due to the repressive actions his government has taken against various media outlets. The security situation is challenging, too: Four journalists were killed in 2020 in connection with their reporting, "especially investigative reporting on corruption or drug trafficking," the most recent RSF report noted. 
Ignoring its detractors, the government is also planning to go a step further with the establishment of the Pakistan Media Development Authority (PMDA), a new regulatory body that will have authority over all forms of media. It will have the power to slap heavy fines and punishments on journalists for criticizing the government in different ways.
Daniel Bastard, the head of RSF's Asia-Pacific desk, says the bill "carries within it the seeds of a centralized censorship office typical of the worst authoritarian regimes." 
Alam warns that the main aim of the PMDA is to inhibit digital media in Pakistan, and says it poses a real threat to independent journalism. "We are working on an alternative strategy to disseminate our content if the government bans our website through PMDA," he says.
But there are other challenges, too. Fatima Razzaq has been working with Sujag for the last year, covering human rights and religious minorities. She did a series of stories on the men and women who were left severely burned and disfigured by acid attacks — the "weapon from hell," Razzaq calls it. Part of the series used document-based investigative reporting to examine allegations of financial fraud against an organization accused of embezzling money raised to help acid attack victims. 
This reporting led to Razzaq being interviewed by media development organizations in Pakistan, but covering such a traumatic topic had repercussions: Razzaq experienced clinical depression after publishing the series. "I do a lot of trauma reporting and suffering depression is a natural consequence," explains Razzaq, whose treatment is being supported by Sujag. 
But her profile covering acid attack cases and incidents affecting religious minorities has also afforded Razzaq a higher profile. "People tag me on social media whenever there is a case of forced conversion of Hindu community because they believe I can highlight their problem and help them get justice," she notes.
There are also challenges that come from reporting on these taboo or delicate subjects, which can leave the staff exposed to emotional abuse or physical threats. Razzaq, who is also the workplace equity officer, says the team is working on a safety protocol for its reporters and the provision of "a basic safety kit to female reports which will include Tasers and pepper sprays."
Striving for a Membership-driven Model
Currently, Sujag runs on funding from its parent organization, Lok Sujag, and applies for occasional grants from organizations including International Media Support (IMS) and Community World Service. And while the Sujag team prefers not to reveal their budget, they confirm the site has enough resources to operate for the next 18 months at current capacity, even without new funding. Any revenues earned by the site are reinvested into the platform for public interest journalism.
But Sujag also has an ambitious plan to turn readers into monthly paying members who would then get a say in the organization's editorial and managerial affairs. The editor-in-chief aims to have 10,000 paying supporters within the next three years, ideally each paying around the equivalent of $100 USD a year. (Pakistan's average monthly household income is around $200). If it hits that target, Sujag would be financially self-sustainable and remain free from advertisement-driven corporate influence.
Alam believes that one of the biggest challenges faced by Sujag is that of technology. "We simply don't have that expertise yet," he acknowledges. But there are other needs, too: The team wants to strengthen its capacity in reporting, marketing, and business planning. 
Enhancing its regional focus, Sujag also plans to develop 35 regional clusters in Pakistan and train a reporter to cover each one. This would give them a team of 50 full-time, well-trained journalists by 2023 to expand investigative journalism throughout the country.
Is that viable? "It will be very difficult to achieve, but the current Sujag team has the will to achieve this target," says Rehman, adding a caveat that so far no media organization in Pakistan has succeeded in the long term without a focus on commercialization. "If Sujag is successful in implementing a reader-driven business model, then it will be a game-changer for the media industry in Pakistan," he says.
Additional Resources
Dawn, Pakistan's Paper of Record, Under Pressure as Military Tightens Grip
A Cross-Border Collaboration Exposes Digital Sex Crimes in Asia
Member Profile: A Small Publication in India Plays a Big Role in Citizen Matters
---

Adnan Aamir is a freelance journalist based in Pakistan. He is the editor of Balochistan Voices, a community-based online media platform. He writes about politics, economy, conflict, and Belt and Road projects in South Asia. His work has been published in The Financial Times, Nikkei Asia, and the South China Morning Post.