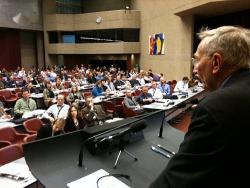 Event Date:
Thu, 2010-04-22 00 – Sun, 2010-04-25 00
Legendary investigative journalist Seymour Hersh delivered today's keynote address at the Global Investigative Journalism Conference in Geneva, sharing details about his work on My Lai in Vietnam, Abu Graïb, and about his particular relationship with sources.
Hersh then participated in a panel discussion moderated by Brant Houston, a co-founder of the Global Investigative Network and currently the Knight Chair in Investigative Reporting at the University of Illinois. To read excerpts of Hersh's remarks, click here.
French filmmaker William Karel, known for his investigative documentaries including "The World According to Bush," presented a talk on how to profile public figures. He is currently working on a film about Nicolas Sarkozy. Sergio Gonzalez Rodriguez gave a presentation about investigating the brutally violent drug cartels in Mexico. And a panel of journalists, joined by the brother of slain reporter Paul Klebnikov, led a session on investigating the secret service in Russia.
Other sessions focused on human trafficking in Pakistan, Somalia and Sudan; kidnapping and diplomatic negotiations in Colombia; and corruption in the sport of soccer.
Each day of the conference also offered classes on using computer-assisted reporting for investigations.